Quito, the proud capital of Ecuador, stands majestically beneath wandering clouds that drape the city with long shadows that shift dramatically as the clouds are blown about by fickle weather patterns. At an incredible 9,350 feet above sea level, the city is the second highest official capital city in the world after La Paz, Bolivia. The rarefied air invites visitors to breathe deeply, slow the pace, and soak in a magnificent setting where the natural world of nature reigns.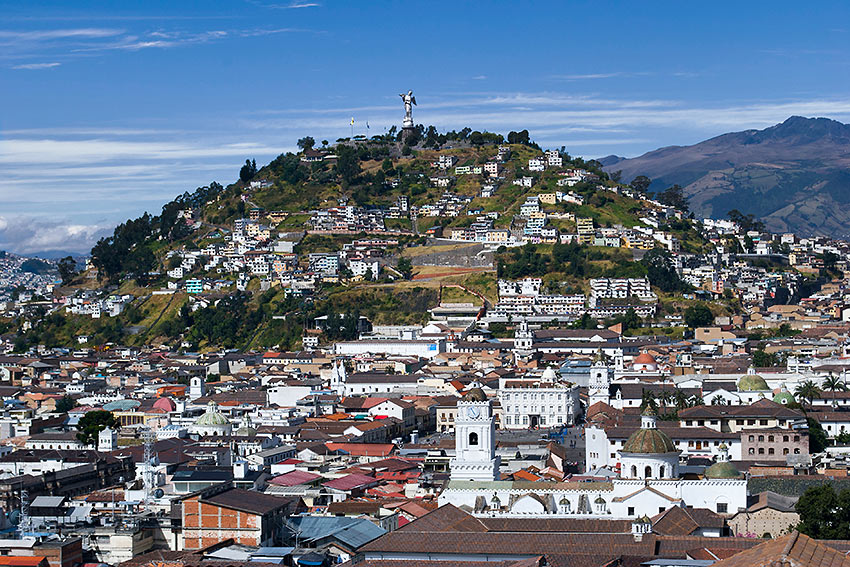 The historic city, as high as it is, is entrenched in a river basin tucked between towering Andean Mountain peaks and snow-capped volcanoes lying on the eastern slopes of Pichincha, a Strata volcano. The ageless landscape dictates a long and narrow city with an Historic Center that is one of the largest, least altered and best protected in the Americas, not unlike Bordeaux Historic Center in France and the walled city of Antiqua in Guatemala.
In 1978 Quito was honored by UNESCO as the World's First City for their Cultural Heritage, Traditions and Architecture, and Geographical Beauty, a tribute that also recognized the opportunities Quito provides to experience an historic slice of South America.
A View City Where Nature Speaks
The historic area is crisscrossed with narrow cobble-stone streets covering an impressive 800 acres. From the 15-room Hotel Castillo Vista del Angel high on the eastern flank of Old Town, astonishing 360* views and vivid impressions emerge under the night sky. Countless twinkling stars above are mirrored below as though their twins plunged downward into the valley, landing across the mountainous landscape in a romantic display of Ecuadorian design.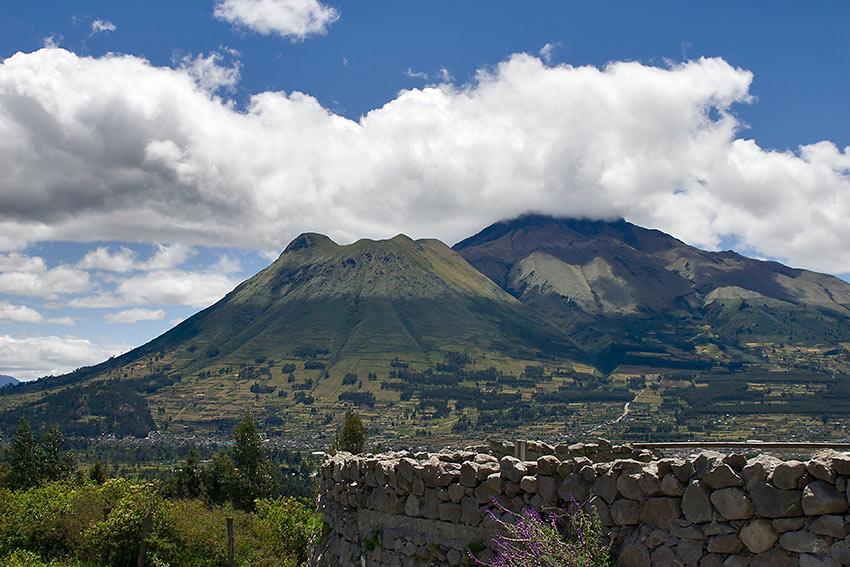 The Quitenos explain, "We compare the weather to politics, unpredictable and tricky. We can have four seasons in one day so a rain coat, sun block, and sun glasses are ideal when you're out and about. On a clear day we can see 22 volcanoes, but when the afternoon rains arrive it's time to pop into a cafe for a cup of coffee."
In the heart of Quito, thousands of houses, and dozens of churches and Cathedrals line Old Town streets just wide enough for a horse-drawn carriage. A maze of white, sky blue, light yellow, and pale peach buildings spread up the sides of the surrounding steep-sided mountains and ancient volcanoes like a mind-boggling jumble of puzzle pieces not yet assembled that challenges visitors to put on their walking shoes and explore.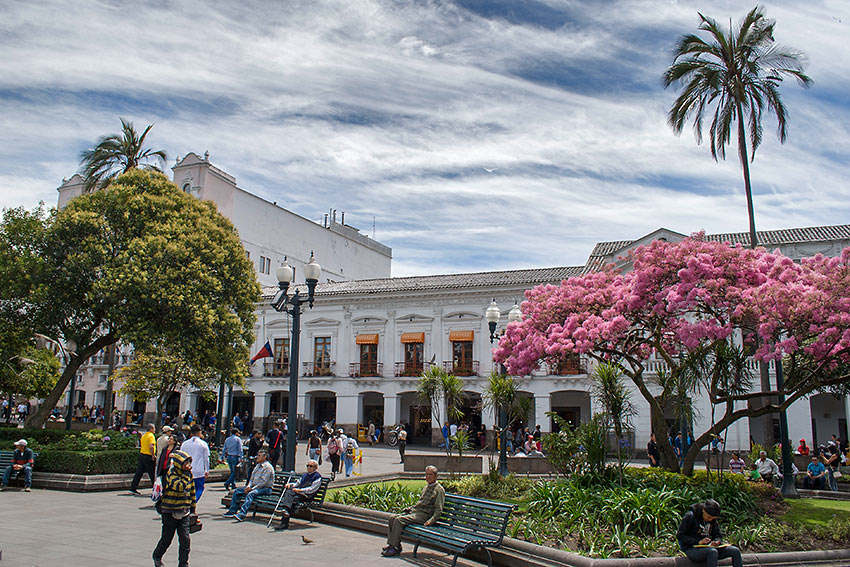 The streets and narrow sidewalks in Old Town are alive with Quitenos, an engaging blend of students, young nicely dressed business women, families, indigenous groups from the Andes Highlands, Otavalo and Cotacahi, some ingeniously carrying their babies in the traditional backpack, and vendors selling fresh fruit. Yellow cabs weave like crazed ants in search of their Queen through the streets, expertly navigating the five pedestrian-free streets that lace Old Town and connect with legendary Plaza Grande or Independence Square in the heart of the city. The 16th century square is neatly lined with the Presidential Palace, City Hall, the Cathedral, Archiepiscopal Palace, restaurants, coffee shops, and Café Galeria. The café offers Pacari organic chocolate tastings, not unlike the wine tastings of other regions, where it's explained that Ecuador's climate is ideal for producing some of the world's finest cacao which is shipped in great quantities to Switzerland.
Cathedrals and Churches: An Historic Understanding
Quito's churches reveal the history of Ecuador and her people preserving the art of the 16th and 17th centuries, the architecture, extraordinary wood carvings, rare fine art, and the traditions of the Ecuadorians. Quito has 27 churches in a 33 block area, including La Compania de Jesus, 1605, adjacent to Plaza Grande. The church is considered the crown jewel of the Baroque Period in America with an interior exquisitely covered with 23-karat gold leaf. Nearby, the Cathedral with Rococo, Neo-gothic, Baroque, Moorish and Neo-classic architecture has a dome that can be accessed up a narrow passageway for views of the plaza, and, for those collecting photographs, a special memory.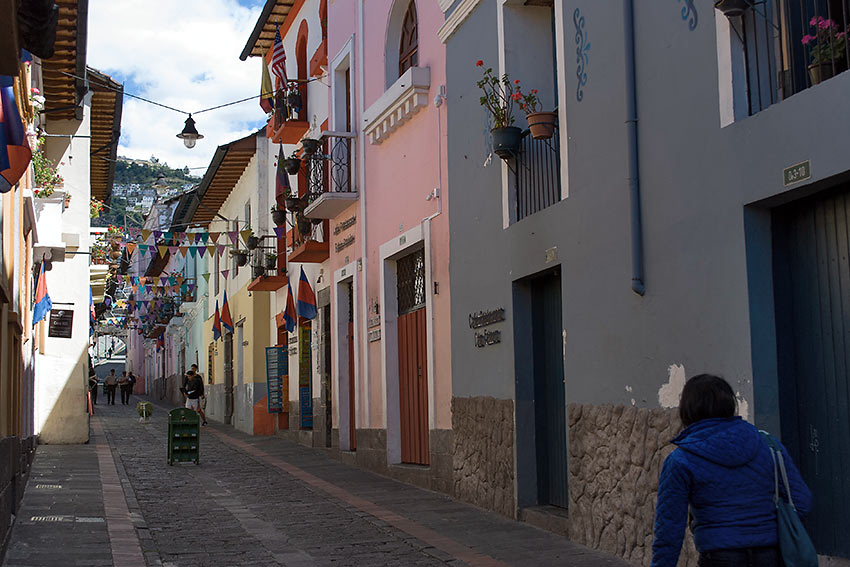 A guided walking tour leads to San Francisco Market, 1893, offering vegetables, meats, herbs, seasonal fruit from the Andean highlands, roses in abundance, and a food court to experience potato cakes, chicken stew, potato soup, and slow roasted pork topped with fresh juices. Indigenous holistic herb healers encourage an herbal massage and cleansing using leaves, branches, and flowers that leave legs and feet tingling and give instructions not to shower in the evening in order to let the herb treatment settle. Ecuadorian roses are a major export and foremost city adornment leading one local Quiteno to say, "You can buy 25 roses for one dollar so if you're not a romantic in Quito you have a big problem."
In this city of neighborhoods, La Ronda is a bit off the tourist trail in the Southern Historic District. It is an artistic and colorful block-long stone-lined alleyway, similar to those in Southern Spain, with flowered iron balconies, restaurants, classic museum-quality wood carvers and small wall to wall boutiques.
Leave The Driving To Your Guide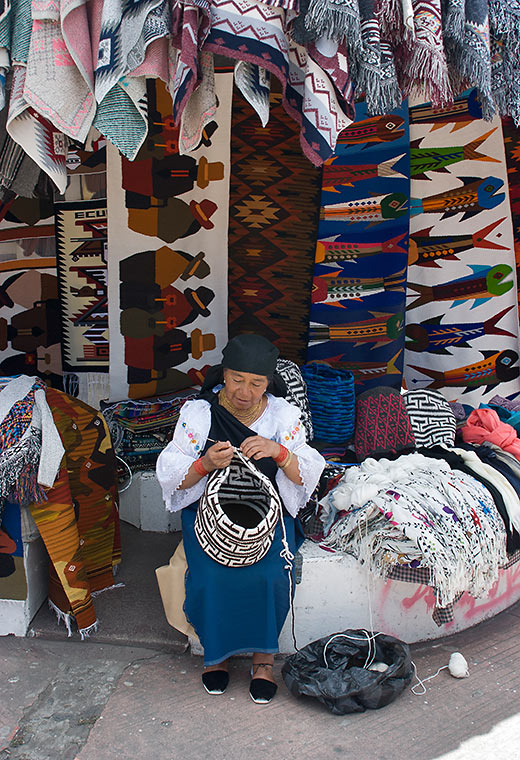 Sixteen miles south of Plaza Grande is a monument marking the general location of the equator while nearby a Solar Museum with a modern GBS unit calculates the 0 latitude exactly. A location known to Quitenos as "the middle of the world," the equator is also the origin of the country's name, in Spanish, Ecuador.
A two-hour drive brings travelers to Otavalo's craft market and Plaza de Ponchos, South America's largest outdoor market, a vibrant array of Indigenous weavings from scarves, blankets, and ponchos, to embroidered blouses, hammocks, and jewelry. In contrast, Cotacachi, 45 minutes northwest of Otavalo, is known as the city of leather with some 50 shops.
Cotacachi is also a glorious stop for lunch, home to the exquisite 23 room La Mirage Garden Hotel & Spa, a five-star expanse of beauty and elegance. A former hacienda, opened in 1987, La Mirage is the only Relais & Chateaux property in Ecuador with a wall of prestigious awards. Chef Hugo Flores works with the local farmers and creates delightful specialties from the Andean Region. Out on the grounds, eight peacocks take turns staring through the windows at Chef Flores' shrimp, avocado, and pineapple salad.
The Annual Festival of Light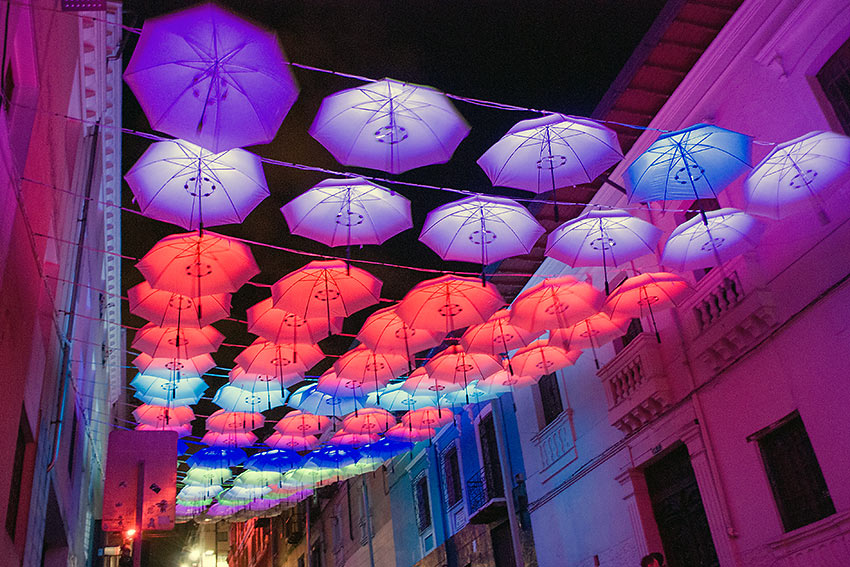 South America's premier Light Festival in August draws visitor's world-wide. Twenty-one buildings are cleverly lit along with a street of multi-hued umbrellas, and a stunning 12-minute presentation depicting the history and life of Ecuador, Quito, and their people, created with dazzling artistic skill similar to the quality of Pixar or Disney. The streets of Old Town are blocked from traffic and an evening under the lights of Quito is exceptional.
Drink only bottled water and Quito's diverse gastronomy offerings will be a distinctive highlight with recipes to share.
When You Go
The official Ecuadorian currency is the U.S. dollar with small bills and loads of singles essential. Driving in Quito is not recommended; a personal guide is. Marcelo Guerra, born and raised in Quito, speaks fluent English and can arrange a tailor-made itinerary. marcegl1@hotmail.com; marcegleon1@gmail.com or 011-593 9 8458-7400. Various airlines serve Quito including JetBlue connecting through Fort Lauderdale. The Quitenos recommend visiting from December to April with warmer nights, sunny mornings, and easily avoidable bursts of rain in the afternoon.
For further information, visit Quito Turismo