The distinguished city of Bordeaux in southwest France with its astounding urban historical center noted as a World Heritage Site boasts a glorious buffet of sidewalk cafes and restaurants with legendary cuisine honoring French culture and their indisputably sophisticated approach to gastronomy. Dining here offers a lifetime of pleasure for the Bordealais as well as an enduring love affair with some of the world's finest wines produced by hundreds of nearby wine chateaus.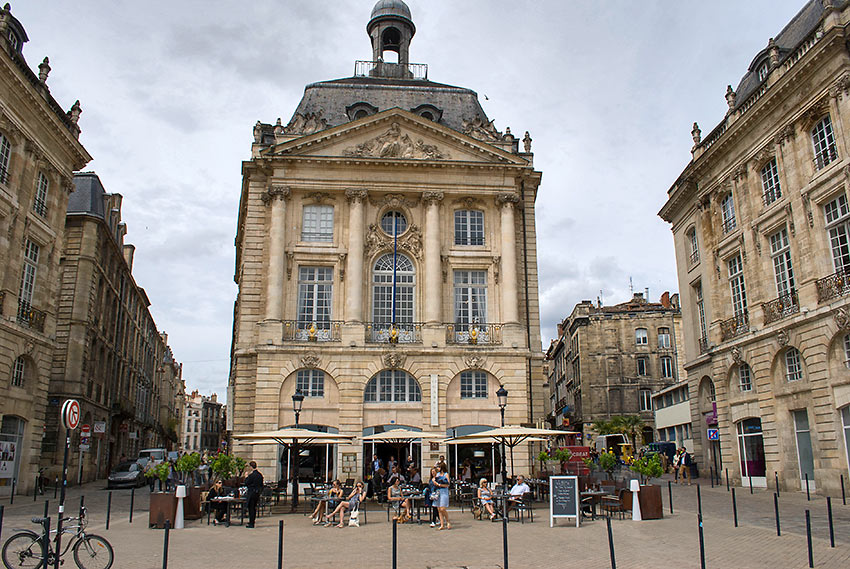 A delight for those who enjoy the art of inspired chefs, Bordeaux's setting is a journey through time to a grandiose site of restaurants, cafés, and classic French bistros. Tables, chair-to-chair, border the narrow streets in the historical center in a montage of activity as animated servers bustle about, not unlike ballet dancers on toe, deftly balancing clusters of wine glasses and sizzling plates.
The wide-ranging selection of produce sourced from local growers and a throng of covered markets, including Le Marche des Capucins and Bordeaux's oldest market, Marche Capucins, dating to 1749, is an incredible showcase of Bordeaux goodness. Appetizing pastries along with the beloved Canneles and Macarons are displayed brilliantly in the windows of patisseries like delicate works of art. A local tradition is savoring the indisputably divine marriage of Bordeaux and chocolate anytime day or night.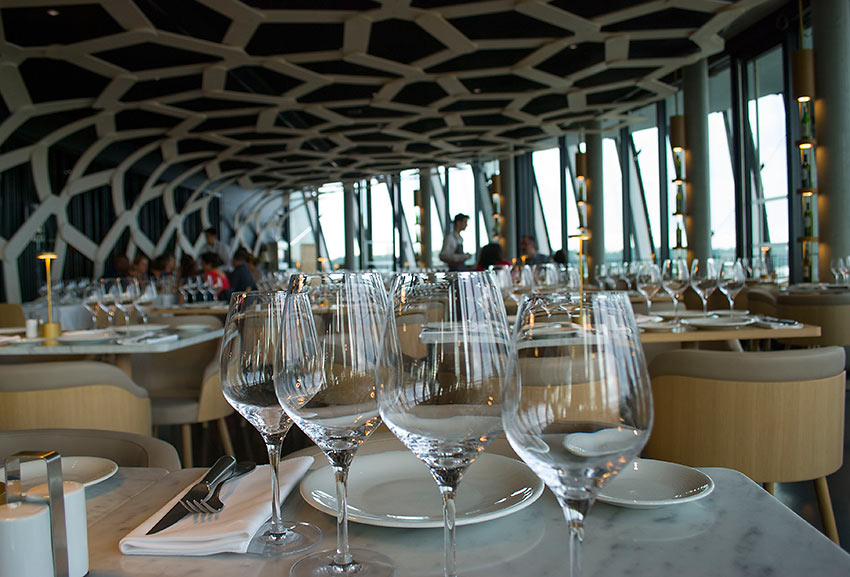 Three hours from the land of the Basques and the Spanish border, the Bordeaux region is the prime producer of farmed French caviar, and home to some 300 oyster farms led by Joel Dupuch's famed oyster bed. Bordeaux tables are blessed also by flourishing regional specialties like the traditional, richly flavorful Sauce Bordelaise, internationally copied and, depending on the chef, consisting of varying proportions of dry red Bordeaux wine, shallots, bone marrow, thyme, and bay leaf reduced into a demi-glace.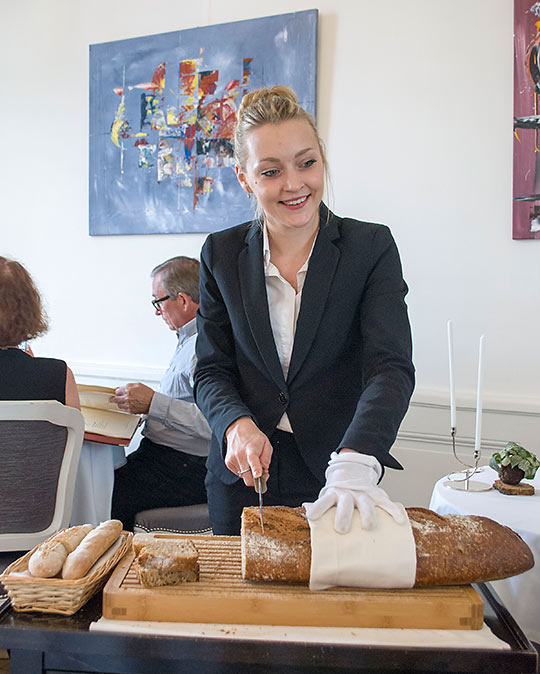 The city is jam-packed with an exceptional variety of dining venues with young innovative chefs presenting seasonally changing menus who echo one another as each explains, "We cook when you order because everything is fresh. So there is a bit more waiting time." Regardless, the Bordelaise dining aficionados each have their own collection of favorite restaurants, as do the "Top Ten Best Lists" although with remarkably little duplication, but if a server or chef is flaunting a bad day indigestion rules, regardless of the venue.
Chef Romain Guyot, 26, is busy creating dinner menu requests for six tables on the restaurant's second floor, while a Murano chandelier reflects dwindling strands of light as the lingering sun fades over Place de la Bourse and the Garonne River. Romantic, elegant and upscale, Guyot's selections are presented with a round glass cover removed with great ceremony to reveal sea bass with a swirl of olive oil and lemon, regional oysters with seaweed from Japan, local asparagus, thick loaf country bread made in house, and tasty Langoustines sprinkled with a hot ginger sauce. Select from a varied list of 700 wines.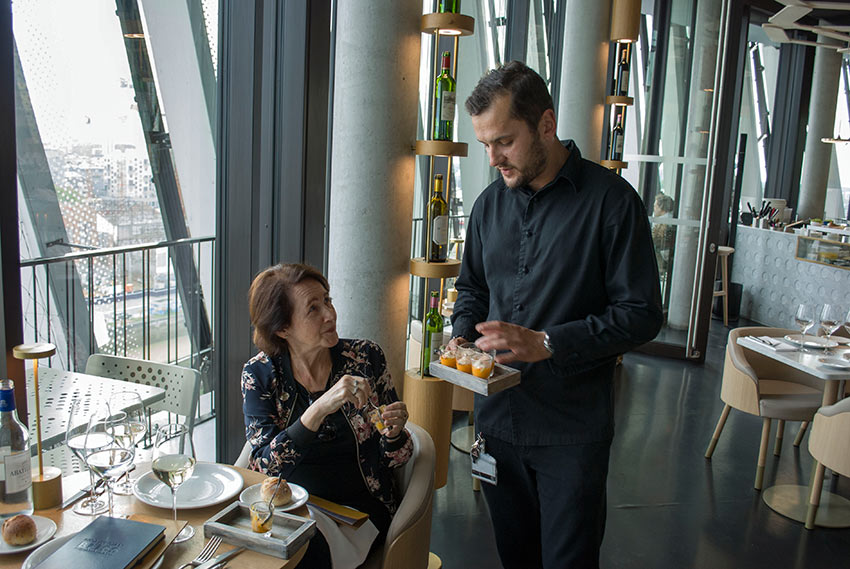 Tucked away on the seventh floor of Le Cite du Vin, a matchless Bordeaux landmark dedicated to the world of wine, Chef Djorde Ercevic prepares a Wild Catch of the Day from the Atlantic coastline with garden peas, ricotta cheese, and pine nuts tortellini in a marjoram foam.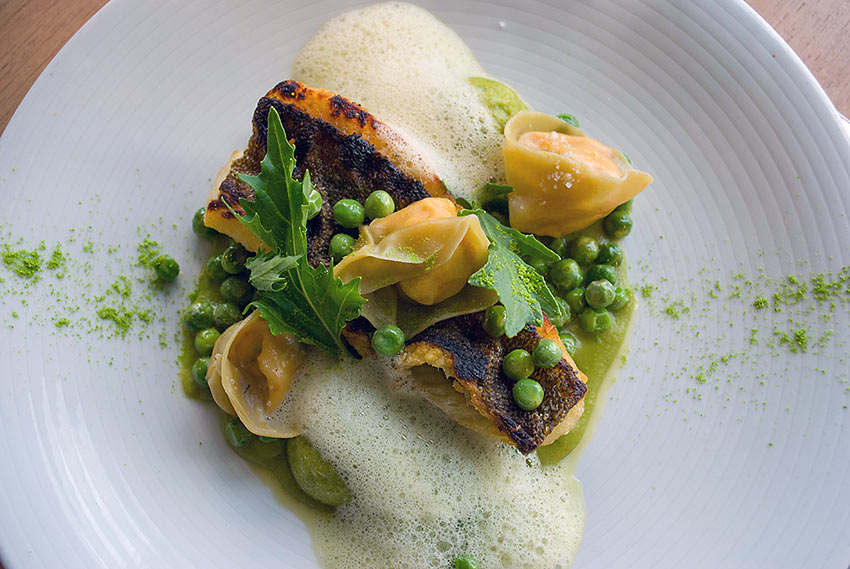 A creamy fish soup pairs well with a Chateau Gueraud 2017 Sauterne. Music background, American; extensive wine list with 455 listings, Bordeaux accentuated.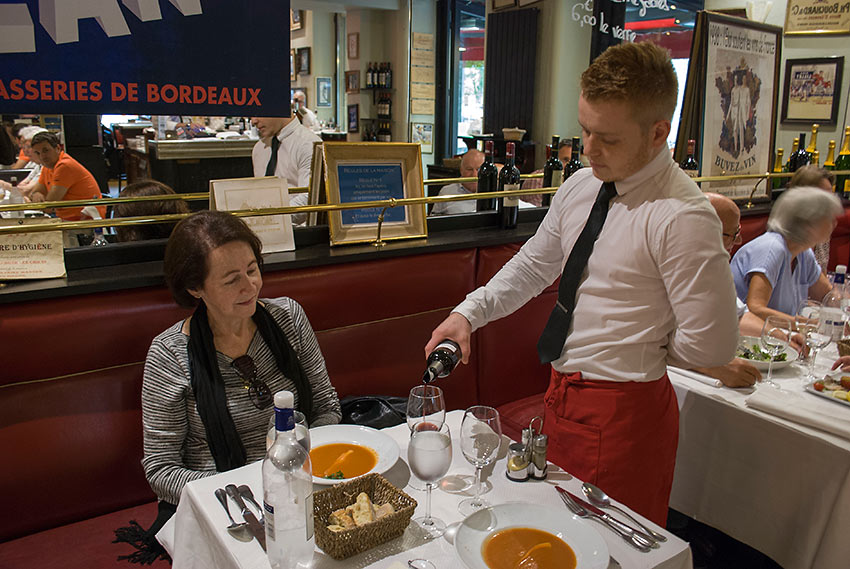 Opened in 1942, near the Hotel Normandie, l'Orleans is a festive, high energy, feel good Bistro with a robust bordelaise clientele. A vivacious English speaking server works with a chalk board menu offering a prawn risotto with lemon grass, ginger and peppers, and a fresh Caesar Salad, nicely prepared, along with extensive French specialties. Tables out front under an awning are great for people-watching while a rickety poorly-lit stair leads to an Old World wine cellar where rare bottles of Petrus reside, tagged E2,000 plus.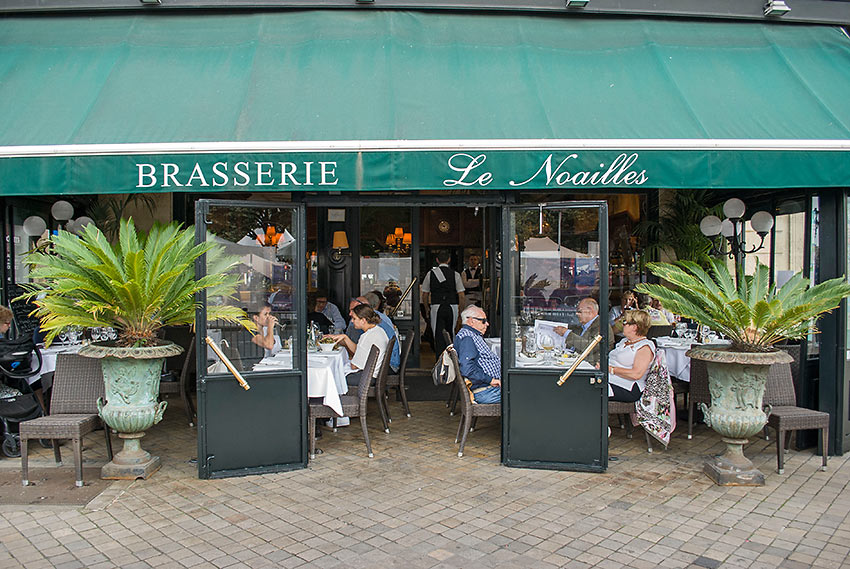 Opening in the early 30's, Le Noailles has the heart of a traditional French Bistro, with the appearance of a venue drawn from an early French film with mural frescos and classically garbed servers strutting an alluring sense of finesse. Regional oyster specialties, a selection of Caviar d'aquitaine, and wild Meager, a low-fat fish caught off the Atlantic Coast, moist and tender on the plate with a drizzle of champagne cream sauce are frontrunners. Found immediately off Place de la Comedie, the main city square, Le Noailles on 12 Allees Tourny is often missed by visitors but frequented by the Bordelaise. English menu available, dinner reservations advised.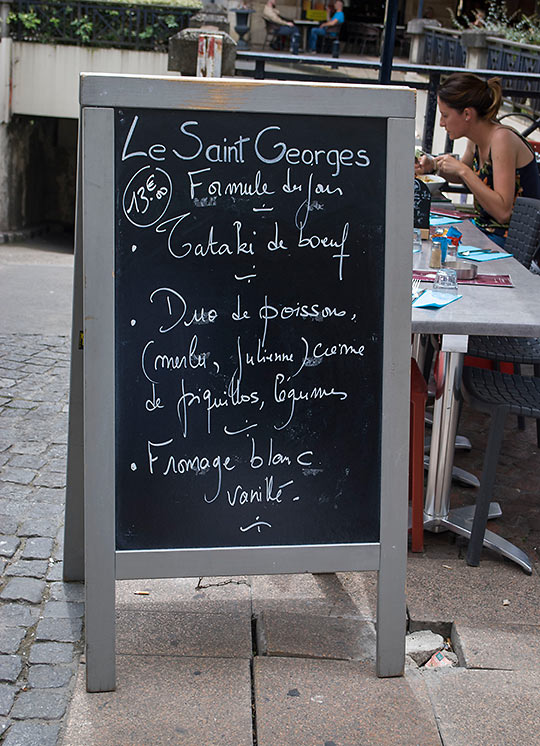 A traditional Bordelaise moment can be spent observing the long lines of diners, French and visitor alike, crowding the entrance of L'Entrecote and stretching down the street and around the corner waiting for the doors to open at 7 p.m., first come, first served. The French chain restaurant has a fixed menu of salad with walnuts in a mustard vinaigrette sauce, French fries, and a steak in a butter sauce with dessert, E20. Service in the two-level room is generally prompt and efficient.
A great lunch selection for those who need to practice their "Dining French," the restaurant has outdoor covered tables on both sides of the street at Place Camille Julian. One server who speaks a little English will run through the chalk menu explaining the merits of a vegetarian salad with fresh carrots, tomato and cucumbers, raisins, and sliced cabbage on a bed of couscous. After lunch, nearby St.Catherine Street the longest pedestrian shopping street in Europe awaits.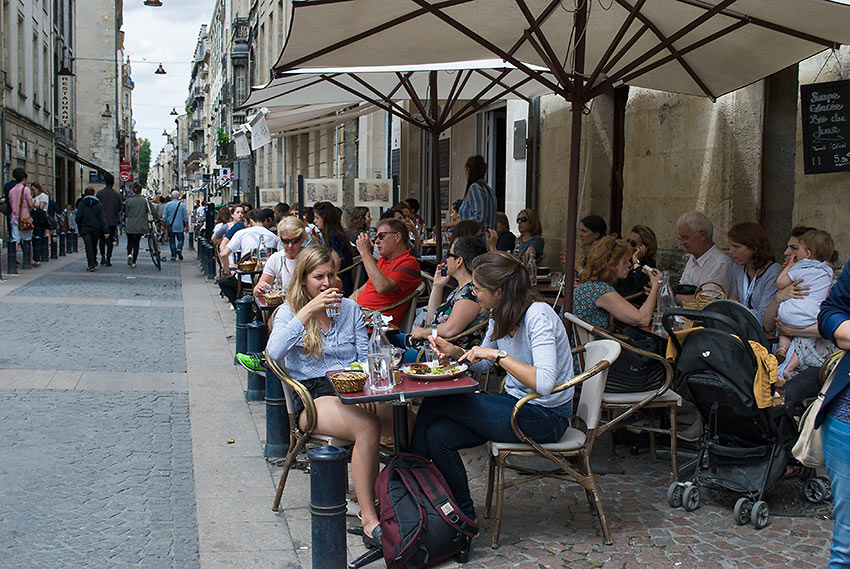 Following the Bordeaux wine trails to the world of vineyards and historic wine producing towns, leads travelers to a handful of chateaus offering dining opportunities, reservations essential.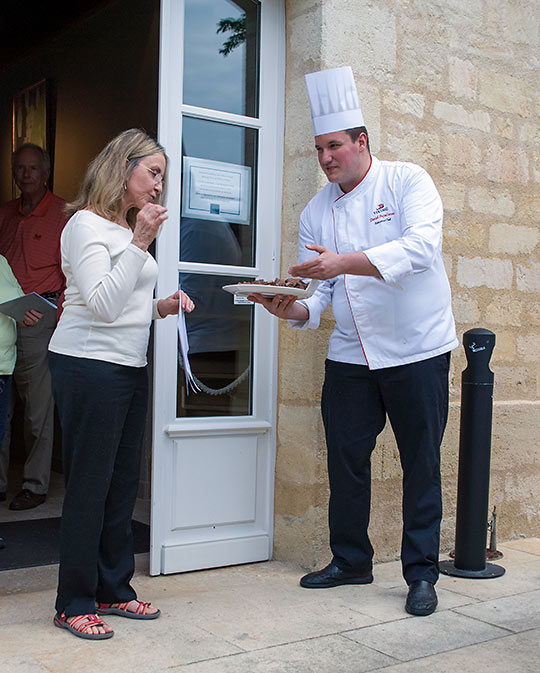 Chateau Dining
Chateau Kirwan, a family owned, 18th century chateau in the Margaux appellation, booked by Viking Cruises, with century old vines and fine wines; Le Table d'Agassac at Chateau d'Agassac, a 13th century castle, open lunch and dinner; La Table de Beychevelle at the 18th century Chateau Beychevelle; Le Hameau at Chateau Marquis d'Alesme Becker open noon to 7 PM;  La Terrasse Rouge at Chateau La Dominique, open lunch and dinner.
A Change of Taste
The best Mojito in Bordeaux is found at Casa Latina, 59 Quai des Chartrons.
The chefs in historic Bordeaux and those working in the Chateaus are a foremost French feature.