"First Look" at Swedish Lapland's Arctic Bath with Off the Map Travel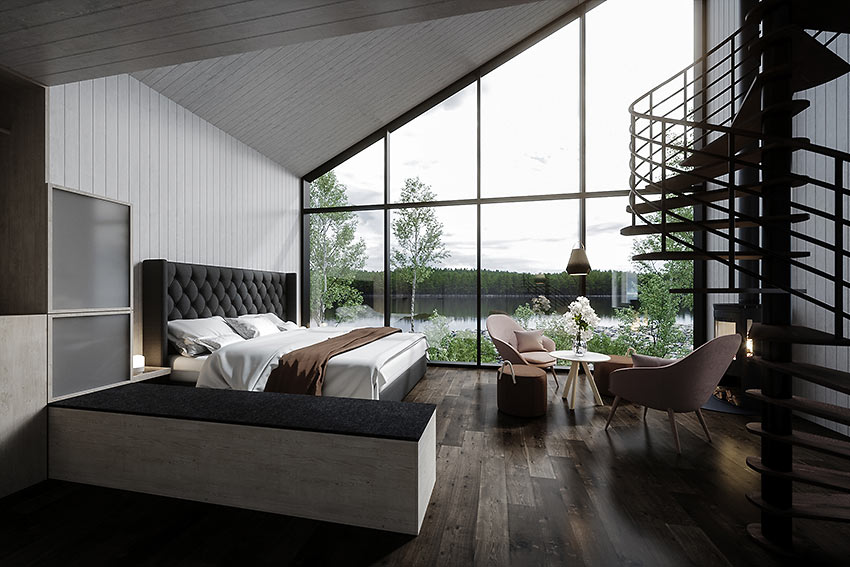 Travel experts at Off the Map Travel are pleased to release the first images of the Arctic's most exciting new tourism and wellness experience for this winter, the Arctic Bath floating hotel and spa.
The Arctic Bath Hotel and Spa, designed by architects Bertil Harström and Johan Kauppi, freezes into the ice of the Lule River in the winter and floats on top of the water in the summer. The Arctic Bath has 12 accommodations comprised of six detached floating cabins and six cabins on land, designed by AnnKathrin Lundqvist. Just announced, the team at Arctic Bath have completed the land-based cabins allowing the world to get a taste of what's to come.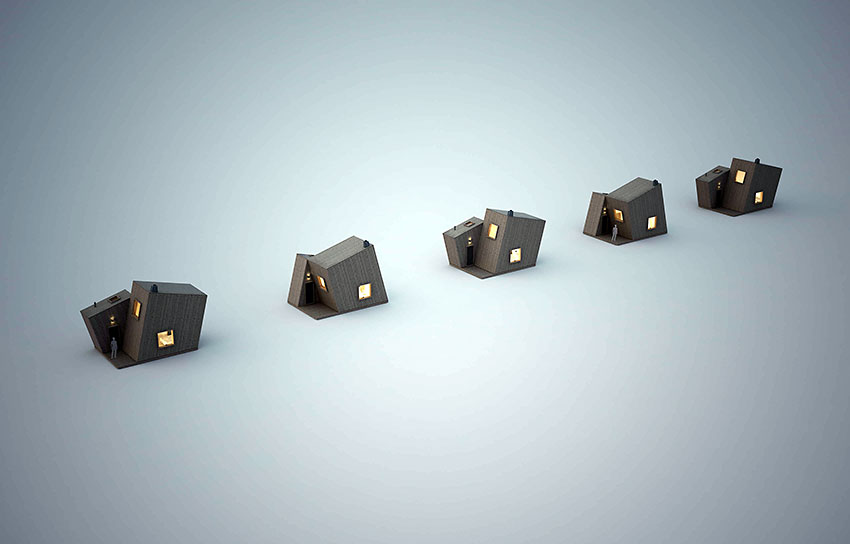 The land-based cabins will come with two different layouts both of which take full advantage of the floor-to-ceiling wall of glass looking out over the Lule River. One layout sees a bedroom including a super king-sized bed, seating area and large 8m2 bathroom downstairs with a spiral staircase leading to a mezzanine floor containing an additional lounge area and the ability to include up to three additional beds. Another configuration includes a double bedroom on the second floor with a living area and generous bathroom taking up the ground floor.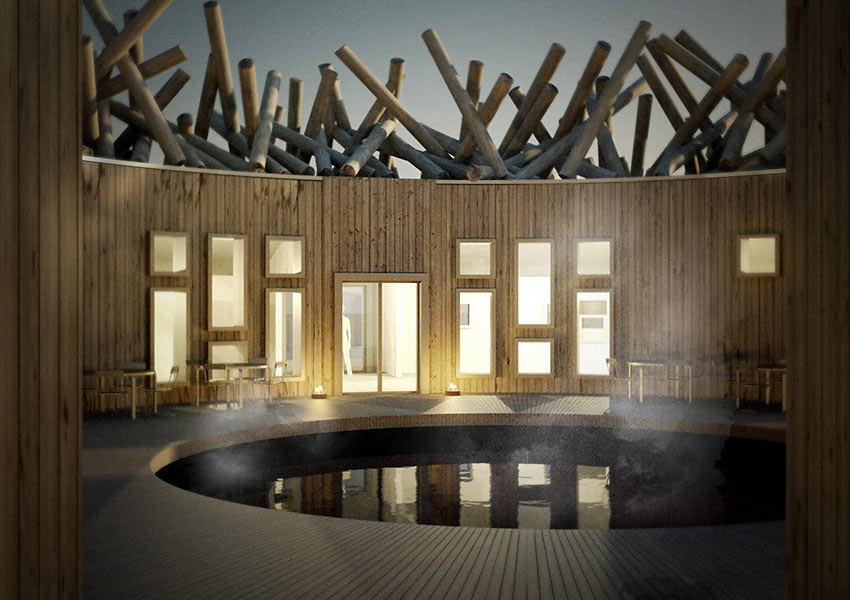 All of the cabins will include all of the details to make a stay at Arctic Bath comfortable and connected including free WiFi, the finest-quality bedding and linens, fully automated temperature controls with a cutting edge climate control unit, under-floor heating, room service, mini bar facilities, and an in-cabin tablet computer delivering local information and details of menus, treatments and activities. The tablet will also be used to communicate with reception and the spa.
The design of both the cabins and the Arctic Bath spa has been inspired by the timber floating era which recalls how felled trees were transported downriver for processing. The main inspiration for the striking wedge-shaped cabins was the 'Flottningshake,' a tool that was used by loggers in the timber floating work when levering apart a timber jam.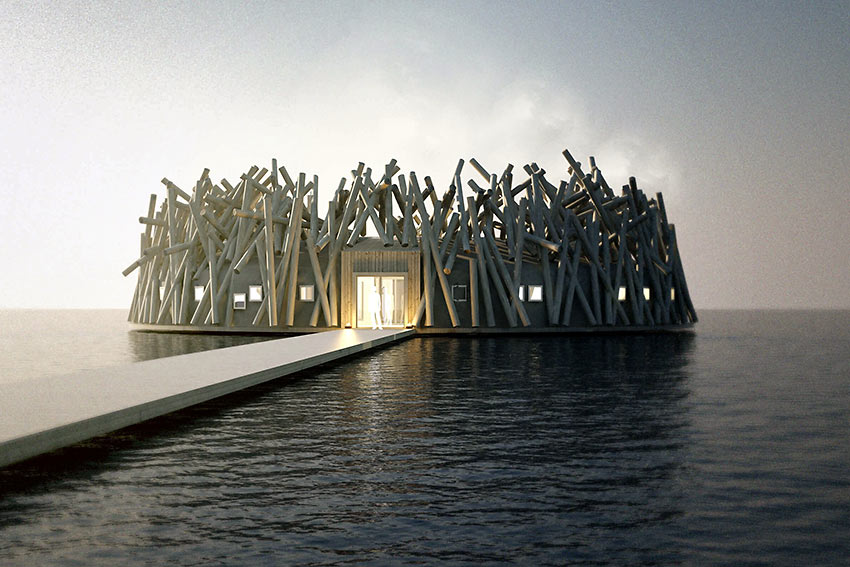 The cabins take a refreshing approach to Arctic Bath's core philosophy on wellness with affirmation statements used to support guests' peace of mind; smoothies made with local ingredients and created specifically for Arctic Bath available in the cabin's mini bar in support of the Arctic Bath's focus on proper nutrition; and complimentary Kerstin Florian toiletries and a local handmade soap in the cabin bathrooms to allow guests to pamper face and body.
The cabins are built from locally sourced materials with the interior walls clad in pine and the floor finished with dark oak giving the space an unmistakable Scandinavian design. Lighting has been supplied by award-winning Ifö Electric through their Ohm range with furniture selected from an array of Scandinavian designers to complete the look, all pulled together by designer AnnKathrin Lundqvist.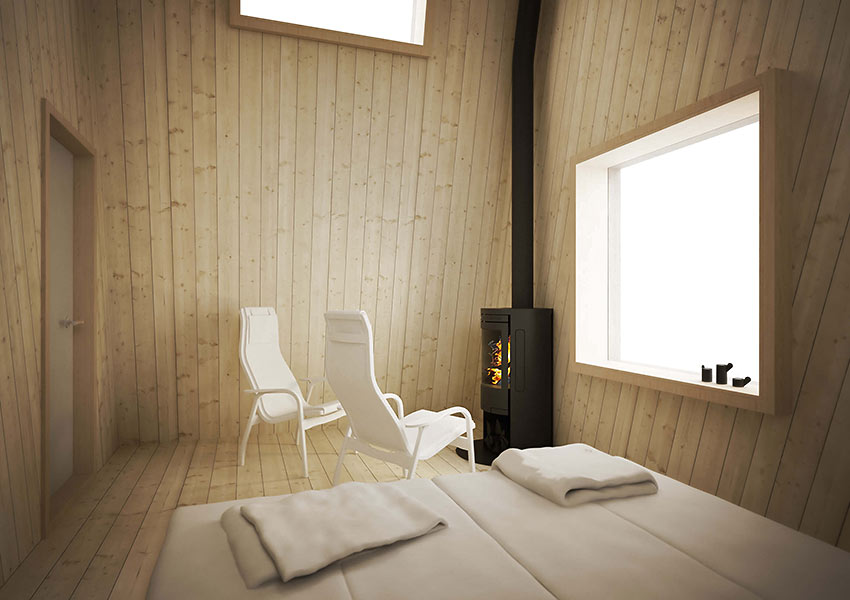 "The cabin space takes the best of contemporary and Scandinavian design giving the space a luxury yet comfortable atmosphere," comments Jonathan Cooper, founder of Off the Map Travel. "Add to this the huge wall of windows and the cabins really do make the most of the Arctic wilderness bringing the winter snow and the lush summer green into the space allowing guests to sit or lie back and feel a connection with the environment."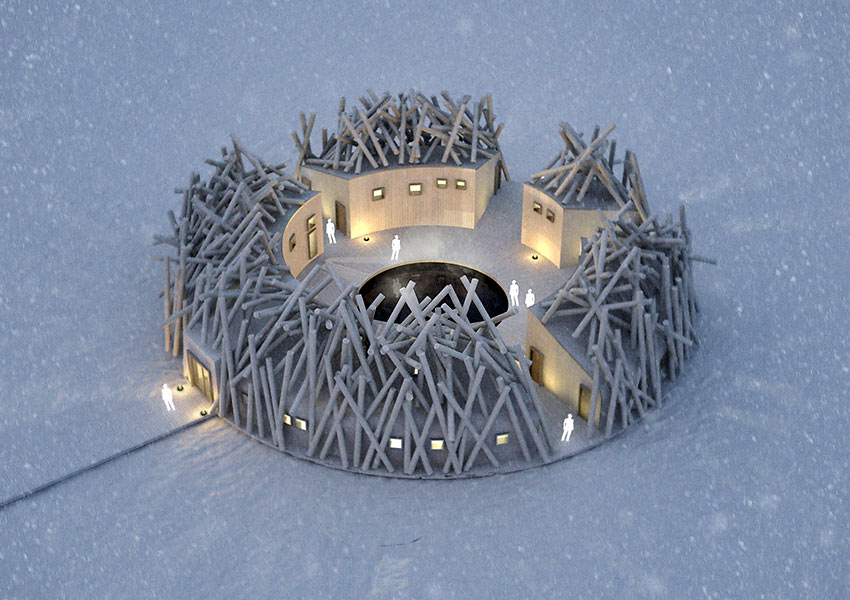 Arctic Bath's land-based cabins have also been built with minimal impact to the local wilderness. With the cabins elevated off the ground on poles, flowers and animals are still able to thrive underneath. The cabins are constructed with locally sourced materials, low-impact paints and oils, and a living sedum roof grown in Sweden that tops off the structure. The cabins are highly insulated and even the windows are prepared with a special coating to reflect heat in the summer and retain warmth in the winter. Green electricity is created locally using the river and a closed water and waste system ensures that nothing is released to impact the water system.
With the first images of the on-land cabins now released, we look forward to also sharing a "first look" at the floating cabins and main structure of Arctic Bath over the coming months.
Off the Map Travel offers both summer and winter itineraries to the Arctic Bath. Although every itinerary can be personalized, a three-day Off the Map Travel Arctic Bath itinerary including the new Arctic Bath Hotel and Spa is priced starting from $3242 USD per person. This includes cabin accommodations, breakfast daily, nightly five-course dinner, a guided Northern Lights hunt, transfers and spa. Flights are additional. Reservations are being taken for stays beginning February 2020.
To book an adventure to experience the Arctic Bath, contact Off the Map Travel by phone at 1-646-701-0041 (US) or +44 (0) 800 566 8901 in the UK; email info@offthemap.travel or join in the conversation on Facebook, Twitter, Instagram, YouTube or Pinterest. Visit this page for more information on Arctic Bath.
Background
The Arctic Bath project was developed by Kent Lindvall, Per Anders Eriksson, Robert Lundqvist, Patrik Jonsson and AnnKathrin Lundqvist. The wellness project grew out of the opening days of the Treehotel in Harads, Sweden when developers envisioned taking the wood concept from the air to the water as well. Specialist design architects Bertil Harström and Johan Kauppi, both of Sweden, translated the concept into design, utilizing their background of minimalist furniture and building design. The design of the spa and hotel is not only striking in its look but also in its creation with the highest environmental standards in mind, using local materials and leaving a minimal to zero-impact on the environment.
Off the Map Travel
Off the Map Travel is a team of travel experts who work with experiences and destinations that allow people to explore hidden wonders of the world. Specializing in soft adventure and viewing of the Northern Lights, Off the Map Travel creates tailor-made itineraries that offer a distinctive vacation based on first-hand experience. Off the Map Travel vacations anticipate travelers' needs with pre-planning and customization. Each bespoke itinerary is tailored to the ages of participants, creating experiences for families, groups, couples and singles that are comfortable and luxurious, with activity levels appropriate for all participants.
One In Five American Millennials Go On Vacation To Take Pictures For Social Media
11% of American millennials say the main reason for going on vacation is to get pictures for social media, with it being a top factor for as many as one in five
Two thirds upload pictures to social media whilst on holiday
The average millennial spends 40 minutes per day on vacation taking social media pictures
The study was undertaken by the team behind flight-comparison site www.us.jetcost.com, in which they surveyed over 4,000 Americans between the ages of 22 and 37 (deemed to be millennials). All respondents revealed that they have been on vacation (whether abroad or not) at least once in the past five years.
All respondents were asked what their main reasons were for going on vacation, and the following were the top five answers:
To take a break from work – 78%
To chill out – 74%
To explore new places – 68%
To get a tan – 63%
To spend quality time with friends and family – 56%
What's more, a further one fifth of American millennials (21%) revealed that one of the main reasons they go on vacation is 'to get pictures for social media', with one in nine (11%) citing this as the top reason they go away.
When asked which platform they uploaded holiday pictures to, the majority said Instagram (73%), with over half (56%) saying they also upload them to Facebook. Two thirds of respondents (63%) said that they upload pictures to social media whilst they are on holiday.
Close to two thirds of millennials (61%) also revealed that they would not go on vacation to a destination where they would not be able to take good pictures, and 24% said that the main criteria for choosing a destination is a good picture opportunity.
Each respondent was asked to estimate how long they spend taking pictures for social media each day, and the average came out at 40 minutes, totaling 4 hours and 40 minutes in a week's holiday.
The most popular locations for the social media pictures to take place were revealed as 'by a pool' (27%), 'by a landmark' (23%) and 'at the beach' (21%).
A further 10% admitted that they had uploaded a fake holiday picture to social media, whilst 15% had faked a fitness photo, and over a quarter (26%) have faked a picture in a restaurant for social media. What's more, one in three (34%) admit to either photoshopping their images or using filters to make them appear more impressive.
Commenting on the findings of the study, a spokesperson for www.us.jetcost.com, said:
"In the digital age that we currently live in, it is somewhat inevitable that people on vacation will take lots of pictures and upload them to social media, and there really isn't a problem with that at all. However, if the focus of the vacation becomes taking pictures to show off on social media, then you sort of lose the point of going away."
Discovering St Helena: Explore Life On One of the Most Remote Islands in the World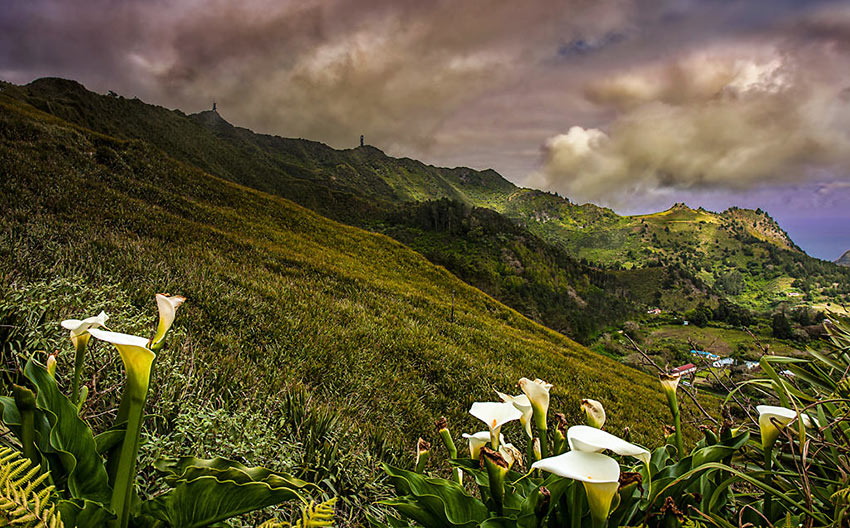 1,200 miles from Africa and 1,800 miles from South America lays a fascinating remote volcanic island named St Helena. Almost entirely cut-off from the outside world, the island has often sparked interest by historian enthusiasts drawn to the island's rich history, allowing them a glimpse into its role in fighting the slave trade, acting as a Boer prisoner of war site and the notorious home and prison of Napoleon, who was exiled to the island.
In more recent years, the island has become a sought-after destination for hikers, divers and nature lovers wanting a piece of the unique little 47 square mile island.
The subtropical island which until as recently as 2017 was only accessible by ship. It is a haven for walkers with its 21 post box walks designed by the St Helena Nature Conservation Group along the coastline and interior, experiencing 45 endemic plant species in contrasting subtropical volcanic terrain, many of which are endangered.
Visitors to the British Oversees Territory can expect to enjoy the hospitality of the Saints (local Saint Helenians) and spot humpback whales as they arrive between July and December. Those who visit during August might glimpse humpback whales with their calves as they migrate through the island's waters every year. St Helena is undoubtedly one of the world's finest destinations to discover the wonders of the sea, with the South Atlantic Ocean around its coastline visitors can marvel at the multitude of 750 different marine species which have been spotted around the island so far, with at least 50 of those considered endemic.
For any divers visiting the island, they can be kept busy swimming with whale sharks and exploring the eight shipwrecks around St Helena. Many of the dive sites are scattered with articles of marine archaeological artifacts such as cannons and anchors.
Timed correctly, visitors can enjoy one of St Helena's infamous festivals, the festival of running (November 3rd-9th) one of the most remote and challenging in the world, it comprises of a Trial Run, Marathons, Fun Runs, a Jacob's Ladder climb (an iconic landmark with 669 steps) and a Triathlon. December see's Jamestown come to life as crowds celebrate Christmas with their festival of lights, a colourful street parade with music and dancing.
Visitors can find a sense of isolation and calm which is virtually impossible to locate in this busy and super-charged paced world we live in, while St Helena's growing reputation as an eco-tourism destination is perfect for those who want to make a more sustainable destination choice. In 2017, St Helena created a 10 year plan outlining their intentions to remain green which included investing in renewable energy with a view to becoming 100% self-sufficient, have a long term water strategy for the Island, supported by adequate infrastructure, in order to reduce the impact of drought and climate change.
Those who want to embark on the remote and rugged island will find it more accessible as St Helena introduced additional flights to and from St Helena for summer 2019/2020.
For further information, please contact Sarah Long, Catharine-Rose Pracownik and Rebecca Riley at Finn Partners: sthelena@finnpartners.com / 0207 3269880.
For more information about St Helena visit www.sthelenatourism.com
Or read the Wirebird blog.  www.sthelenatourism.com/blog/
Join the official St Helena Facebook page at:  www.facebook.com/visit.sthelena and follow on Twitter
Half of Americans Would Take a Job With No Paid Time Off for a Higher Salary
Meanwhile, One in Three Workers Would Give Up Some Pay for Unlimited Vacation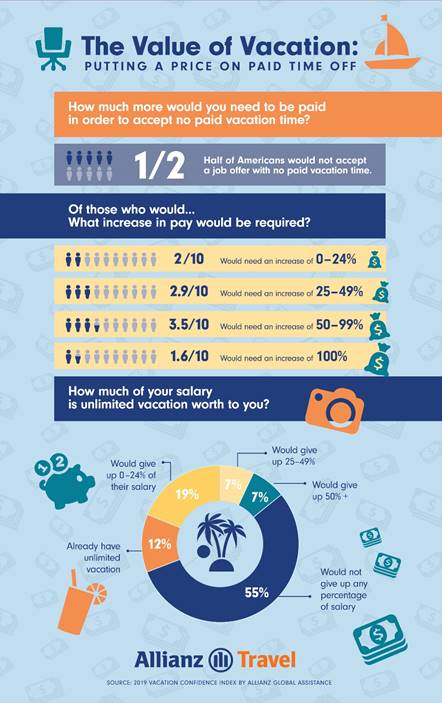 Half (49 percent) of working Americans would accept a job with no vacation time if they were paid more, according to the 11th annual Vacation Confidence Index* released by Allianz Global Assistance. Millennials (63 percent, compared to 47 percent of Gen X'ers and 32 percent of Baby Boomers) and men (57 percent, versus 41 percent of women) are the most likely to sacrifice paid time off for higher salaries.
The average American who would give up paid vacation time for a salary increase would require a 48 percent raise to do so, though a sizable one in five were willing to give up their paid time off for an increase of 24 percent or less. One-third (29 percent) would need 25 – 49 percent more, 35 percent would need 50 – 99 percent more and 16 percent would need double their salary to take this offer.
On the flip side, the Vacation Confidence Index also explored the worth of unlimited vacation time, an increasingly popular workplace trend. One in three Americans (34 percent) would give up a portion of their paycheck for unlimited vacation, with Millennials (41 percent) even more likely to do so. Millennials are the most likely to both give up vacation time for salary, and give up salary for vacation time, highlighting how important professional success and personal flexibility is to this generation. Another survey takeaway found that more than one in ten (12 percent) of Americans already have unlimited vacation.
Of those who would forfeit a portion of their salary for unlimited time off, the average would be willing to give up 26 percent, with Millennials willing to forgo 32 percent. Nearly one-quarter of these respondents (22 percent) would be willing to give up over half their salary, while 21 percent would give up 25 – 49 percent and the majority (57 percent) would give up 24 percent or less.
"We asked Americans to literally put a price tag on their vacation days, and one-third of U.S. workers said they would be willing to take a pay cut in exchange for unlimited paid time off," said Daniel Durazo, director of marketing and communications at Allianz Global Assistance USA. "Meanwhile half of Americans say they wouldn't accept a job with zero paid time off regardless of the salary. For those who value their vacation days, travel insurance offers peace of mind by protecting their trip investment from any covered travel disruptions."