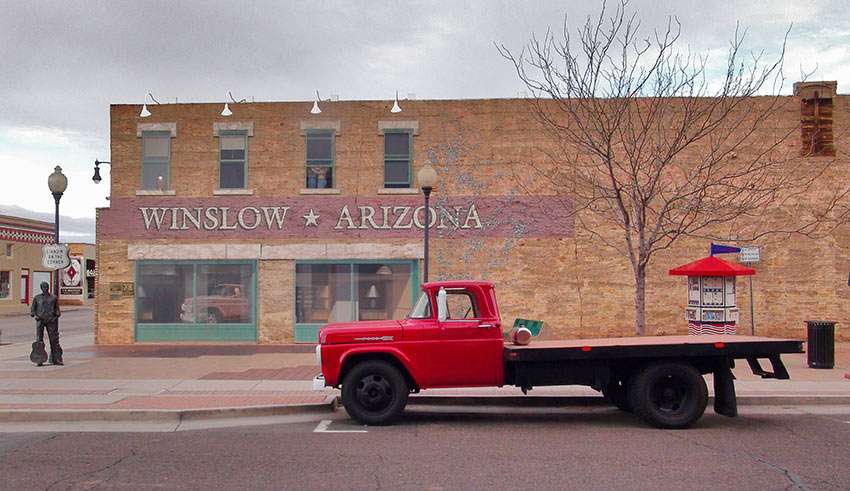 Winslow, Arizona made history when singer-songwriters Glenn Fry and Jackson Browne co-wrote "Take it Easy," which landed at #2 in the poll. Photo courtesy of Tpaairman via Wikimedia Commons / CC BY-SA 3.0.
Curated by Ed Boitano
11. On the Road Again – Canned Heat
On the Road Again was recorded by the blues-rock group Canned Heat in 1967. A driving blues-rock boogie, it was adapted from the 1953 Floyd Jones song of the same name, which is reportedly based on the Tommy Johnson song Big Road Blues, recorded in 1928. Canned Heat included mid-1960's psychedelic rock elements in their songs which added to their popularity. Though guitarist Alan Wilson sang lead vocals on On the Road Again and their smash hit Going Up the Country, Bob (The Bear) Hite was the co-lead vocalist and unofficial leader of Canned Heat, much due to his massive weight and presence on stage. The group has been noted for their interpretations of blues material and efforts to promote interest in its original artists. 
Listen to On the Road Again
12. Willin' – Little Feat
Willin' is a song written by Lowell George before he had formed his band, Little Feat. Released on their 1971 Little Feat album, the band re-recorded the song at a slower tempo to much greater success on their 1972 Sailin' Shoes album. The song tells a story of a truck driver traveling from Tucson to Tucumcari; Tehachapi to Tonopah and became a trucker anthem. Though not confirmed, some believe the lyrics, " . . . from Tucson to Tucumcari . . . " were taken from the 1961 Sam Peckinpah film, The Deadly Companions.
Listen to Willin
13.
Moonlight in Vermont

– Frank Sinatra Version

Moonlight in Vermont, considered the unofficial state song of Vermont, was written by John Blackburn (lyrics), Karl Suessdorf (music) and published in 1944. The lyrics are unusual in that they do not rhyme, with each verse (not counting the bridge) a haiku. The song was first introduced by Margaret Whiting in a 1944 recording, and has been covered by numerous other artists over the years, including our favorite version by Ol'  Blue Eyes himself, Frank Sinatra.

Listen to Sinatra's version of Moonlight in Vermont live
14. Walkin' Blues – Robert Johnson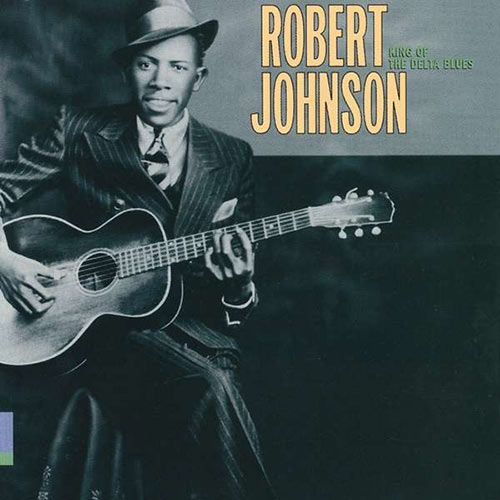 Robert Johnson was born in the Mississippi Delta, a dirt-poor, African-American who would grow up, learn to sing and play the blues, and eventually achieve worldwide renown in the decades after his death. He has become known as the King of the Delta Blues Singers, with his music expanding in influence to the point that rock stars – the Rolling Stones, Bob Dylan, Eric Clapton, the Allman Brothers – sing his praise and have recorded his songs. The itinerant blues singer and guitarist lived from 1911 to 1938, recording 29 songs between 1936 and '37.  Most of these songs have attained canonical status, and are now considered enduring anthems of the genre: Walkin' Blues, Cross Road Blues, Love In Vain, Hellhound On My Trail,I Believe I'll Dust My Broom and Sweet Home Chicago. Never had the hardships of the world been transformed into such a poetic height; never had the blues plumbed such an emotional depth. Johnson took the intense loneliness, terrors and tortuous lifestyle that came with being an African-American in the South during the Great Depression, and transformed that personal experience into music of universal relevance and global reach.
Listen to Robert Johnson's Walkin' Blues
15. Route 66 – Rolling Stones Version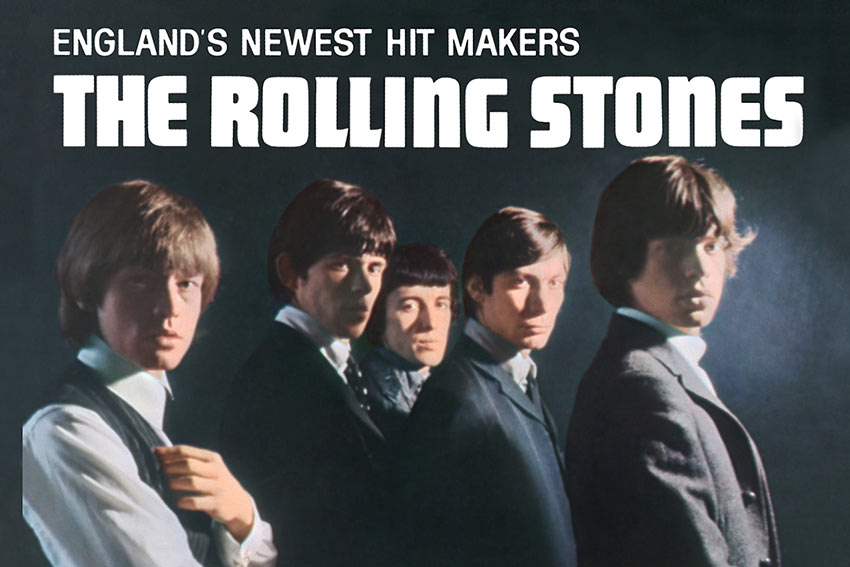 (Get Your Kicks on) Route 66 is a popular rhythm and blues standard, composed in 1946 by American songwriter Bobby Troup. The song became popular for the British Invasion crowd as it appeared on the Rolling Stones' first U.S. LP, England's Newest Hitmakers. It was a route well-taken by mid-1960's rock-and-roll British Invasion groups whose popularity in North America stemmed from anglicizing U.S. music, generally Afro-American, and sending it back to the America's as something new and exciting. Like the French New Wave, whose late 1950s and 60's films were highly influenced by Hollywood genre films, they were reintroducing America to their own music.  
Listen to the Rolling Stones' version of Route 66
16. Six Days on the Road – Dave Dudley Version
Six Days on the Road is written by Earl Green and Muscle Shoals Sound Studio songwriter Carl Montgomery. It was made famous in 1963 by country music singer Dave Dudley, leading to it being hailed as the definitive celebration of the North American truck driver. There  have been countless cover versions of the song, but Canadian Jerry Doucette does a rockin' blues of it like no one else, but is hard to find.
Listen to Dave Dudley's version of Six Days on the Road
17. Where the Streets Have No Name – U2
Where the Streets Have No Name is a track by Irish rock band U2. As the opening song from their 1987 album The Joshua Tree, it was released as the album's third single in August 1987. The song's hook is a repeating guitar arpeggio using a delay effect, played during the song's introduction and again at the end. The Joshua Tree cemented U2's status as one of the 1980's preeminent groups, assimilating their initial post-punk energy with their fascination and immersion in American roots music.
Listen to U2's Where the Streets Have No Name
18. On the Road Again – Willie Nelson
On the Road Again is written and made famous by country music legend Willie Nelson in the Jerry Schatzberg film, Honeysuckle Rose. The song, about life on a tour, was born when Nelson was on a plane with one of the film's executive producers. Nelson had just signed a contract to play the film's lead character, which would prove to be a box office hit, introducing him to a new legion of fans. He was asked  to write a theme song for the movie, and purportedly scribbled the lyrics on one of the plane's barf bags.
Listen to On the Road Again from Honeysuckle Rose
19. Running on Empty – Jackson Browne
Running on Empty is  written and performed by singer-songwriter Jackson Browne. It is the title track to his 1977 live album of the same name, recorded at a concert in Columbia, Maryland on August 27, 1977.  The album itself consists of live performances while Browne and his band were touring on the road. Breaking the usual conventions for a live album, Browne used only new material and combined live concert performances with recordings made on buses, in hotel rooms, and back stage. The collection of songs, along with the LPs' Late for the Sky (1974) and The Pretender (1976), are indicative of the heyday of Browne's remarkable popularity in the mid-1970s and early 1980s.
Listen to Running on Empty
20. Peace Train – Cat Stevens
Peace Train is a 1971 song by Cat Stevens, taken from his album Teaser and the Firecat. Pop songs with messages of peace were common in the Vietnam War era. Stevens later converted to Islam, and changed his name to Yusuf Islam. During the Iraq War he commented on the song's renewed relevance, saying: 'Peace Train' is a song I wrote, where the message is a powerful need for people to feel that gust of hope rise up again. Following 9/11, the song was placed on the list of post-9/11 inappropriate titles.
Listen to Peace Train
#1-10 Top Road Songs
Selected lists of T-Boy Society of Film & Music Members