It's surprising that something so automatically associated with Switzerland, should be one of England's top tourist attractions. As a kid growing up in Great Britain, and even then seeking out offbeat things to see and do in travel, I loved the Lynton and Lynmouth Cliff Railway. Situated in a setting of steep, ruggedly rolling green hillsides alive with unequalled beauty, below which lies a perfect picture postcard sea, and enriched by a town that looks as if it stepped out of a Beatrix Potter book, Lynton & Lynmouth in the English county of Devon and the Cliff Railway there, is a tourist treasure beyond compare.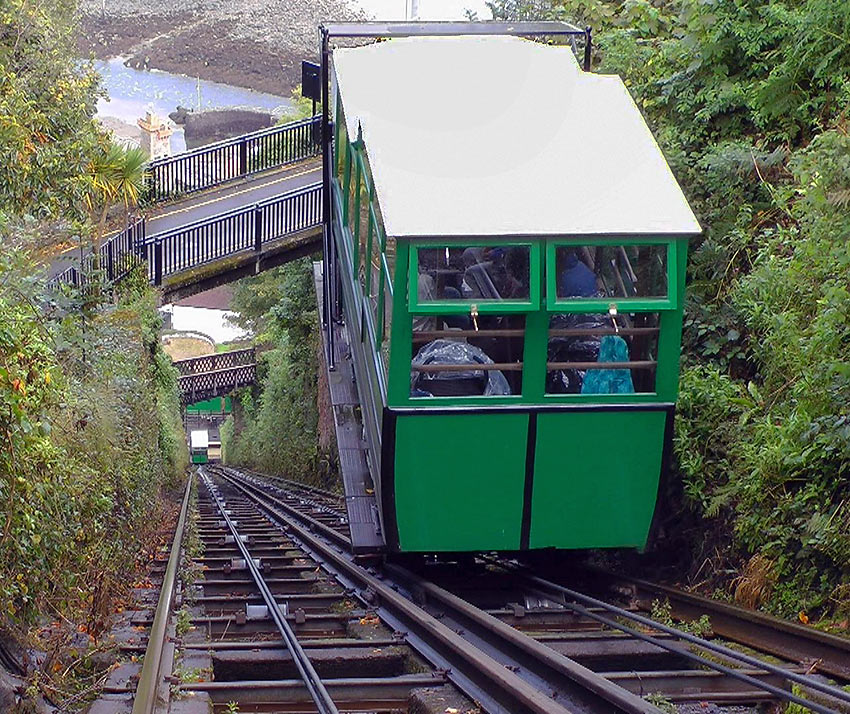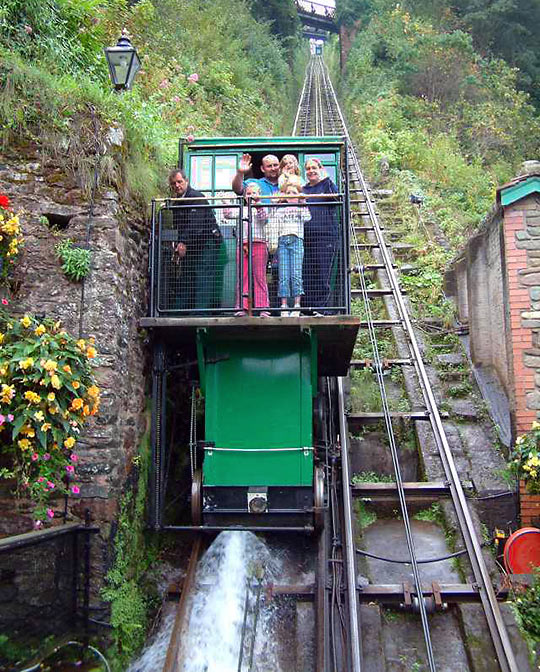 What makes this so exceptional is that the Lynton and Lynmouth Cliff Railway is powered entirely by water! Yes, you read that right. Built originally to bring cargoes and produce from Lynmouth up the hardy, steep cliffs to Lynton at the top in 1887, passenger and freight service began in 1888. The railway has 2 cars, or carriages, with each able to carry 40 people. They're connected by steel wire ropes, which go around a 5 ft, 6 inch pulley at each end of the incline. But here's where you get the most ingenious and, I think, truly unique aspect of this extraordinary "Must Ride" railway.
The car at the bottom in pulled to the top by the fact that the one at the top is heavier. That's because under each car is a huge 700 Imperial gallon tank filled with – are you ready – WATER! Water is discharged from the car at the bottom, until the heavier top car begins to descend – the departure and speed of each car is coordinated by a "Brakeman" or engineer, in each car. The 3 ft 9 in gauge track is 862 feet in length, with the top station at Lynton being 500 feet away – so giving the track an incline of 1:1.75.  They "Bend" in the middle part of track allowing both cars to pass one another.

The water comes in an endless supply from the West Lyn River (about a mile away) and is discharged from/by the "Bottom car" onto the nearby Lynmouth beach. Another fact I found equally intriguing, is that they're allowed by law, to extract 60,000 gallons of water a day from the nearby river.
As someone who loooooooves (!) Devon cream teas, you absolutely must have one of the famous Cream teas at the railway's Cliff Top Café  where you'll not only get a spectacular view of Lynmouth Bay and the  gorgeous scenery that surrounds you, but also enjoy homemade cakes, tasty sandwiches and, of course, their  mouthwatering cream tea. Aaah, wish I was there now.
I'm always on the lookout for classic, truly unique trains to tell you about. 4 miles from the Cliff Railway you'll find "an adorable, timeless steam train." Regular bus service is every day except Sunday. The steam engines? Well, you've got "AXE" and "ISAAC" built in 1952. They traverse gorgeous wild moorland, with super views of the picturesque coastline.  A replica of one of the lines original locomotives "LYN," and built by Baldwin in Philadelphia, is nearing completion and she'll bring a memory involving taste of the American West to the landscape of North Devon.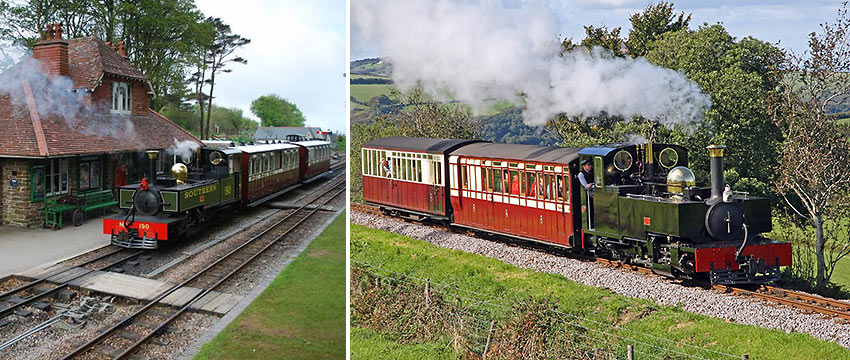 The engines, carriages and rolling stock and entire operation are one of the finest examples anywhere of narrow gauge railways, and I urge to see the Lynton & Barnstaple Railway at www.lynton-rail.co.uk Then relish a memorable trip back in time aboard this classic train of yesteryear.  I know you'll love it!
Next month, UNDER the Oceans. Would YOU go in one?