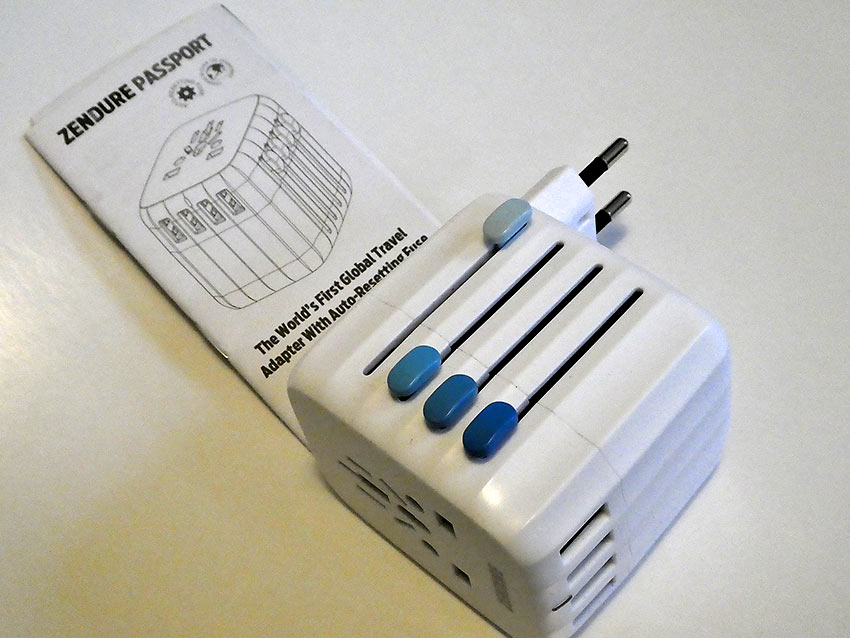 The Zendure Passport is the world's first global travel adapter with an auto resetting fuse. The Passport is approximately a 2.5 inch cube with four "press and slide" buttons that pop-up individual plugs able to connect to power outlets in more than 150 countries. It also accepts any compatible international plug, and offers four USB ports to either power or charge your devices. It comes with a handy black cloth carrying bag.
Pros
One Zendure Passport gives you more USB ports (4) than any other travel adapter.
It seems well-made after repeated usage.
The compact, one piece size is easy to pack and insures you'll never lose individual plugs.
Passport's first ever auto-resetting fuse allows it to easily recover from power overloads within a few minutes, without having the expense and inconvenience of having to replace the fuse or the entire adapter.
It is truly international, offering the same configuration of outlets as it does plugs.

Cons:
It's about the size of a baseball and weighs 5.6 oz. As luggage shrinks to fit in tinier overhead bins and under increasingly smaller seats, size and weight become more of a factor.
You can only plug one device at a time into the power outlet, and it can't be grounded, only two-pronged.
No USB-C port for speedier charging of the latest generation phones/tablets.
It is an adapter, not a power converter.
At $50, it's pricey, clocking in at up to 2.5x the cost of similar products.
Final Evaluation: The Zendure Passport is a sleekly designed and quite usable tool for travel professionals and frequent international travelers. While the price seems high, the resetting fuse feature won't leave you scrambling for a new fuse or adapter on the road, saving considerable expense and aggravation.  The Passport can charge and/or power up to five devices at one time using one outlet, without having any removable pieces to lose. If it could be redesigned to accept a USA grounded, three-pronged plug, it would be perfect.
ZENDURE PASSPORT POWER ADAPTER
DISCLAIMER: While Richard Frisbie sometimes receives products and/or services for review, every effort is made to present an unbiased, objective and fair assessment of their capabilities and value. Please rate this review in the comment section below.