Greece Cuisine, Culture & Wellness Tour
Featuring Celebrity Chef & Mediterranean Diet Advocate, Amy Riolo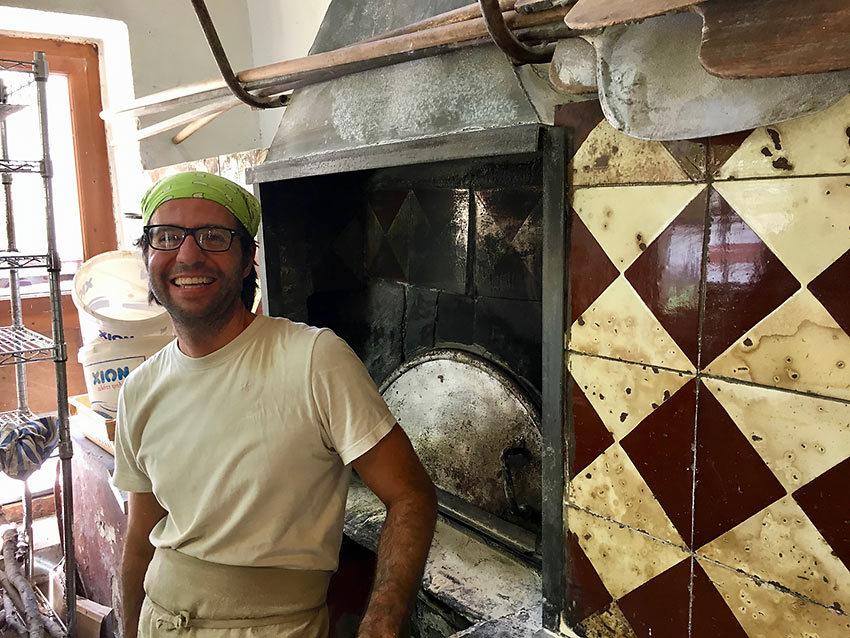 Get Global Expeditions (GGEx) is excited to offer a late spring 2018 journey to Greece that will showcase its effusive hospitality, Zorba-like zest for living, staggering beauty, incredible history, contemporary challenges – and its trademark simple, delicious, and healthy cuisine – for which this country is renowned. GGEx's Greece expert, Alex Safos, and celebrity chef, author, and Mediterranean Diet advocate, Amy Riolo, will lead this delectable, intimate, enlightening, and picturesque tour.
This unique, off-the-beaten path itinerary includes: cosmopolitan, pulsing Athens, with its iconic Acropolis, world-class museums, gamut of cafes and gourmet-to-street food eateries, and spirit of perseverance; the fabled, scenic nearby island of Samos, birthplace of Hera; the philosopher, Epicurus; and famous mathematician but lesser-known "Father of Vegetarianism in the West," Pythagoras; and the "Blue Zone" island of Ikaria, rugged and wild in the northeast Aegean, where indigenous diet (secret: honey) and lifestyle practices (secret: time is elastic) nurture an active population largely free of chronic diseases and cognitive impairment well into their 90s.
This experiential insiders' expedition will include hands-on cooking classes, wine-tastings, characteristic dining, olive oil/spice workshops, culinary lectures, cultural enrichment encounters, and independent time for R&R, swimming, shopping, antiquities touring, and sampling the diverse local fare (pastitsio, hortopita, soufiko, gigantes, gyros+fries á la Grecque, baklava, loukomades, outstanding wine, and clairvoyant Greek coffee). Join us and go deeper into this legendary culture through its sincere food and people!
Who: Chef Amy Riolo and Alex Safos
What: Greece Cuisine, Culture & Wellness Tour
When: June 11-22, 2017
Where: Athens, Ikaria, Samos
Why: Learn more on Chef Amy Riolo's blog
How: Payment information (New Deadline April 26th)
2018's Best Cities for St. Patrick's Day Celebrations
A WalletHub Press Release
With St. Patrick's Day around the corner and at least $5.9 billion expected to be spent for the holiday this year, the personal-finance website WalletHub today released its report on 2018's Best Cities for St. Patrick's Day Celebrations, along with cool stats about the holiday in its St. Patrick's Day infographic.
To determine the best cities for celebrating Irish-American heritage, WalletHub compared 200 of the largest U.S. cities across 17 key metrics, ranging from Irish pubs and restaurants per capita to lowest price for a three-star hotel on St. Patrick's Day to weather forecast.
Top 20 Cities for St. Patrick's Day
1.   Chicago, IL
2.   Boston, MA
3.   Philadelphia, PA
4.   Buffalo, NY
5.   New York, NY
6.   San Francisco, CA
7.   Fort Collins, CO
8.   Tampa, FL
9.   Madison, WI
10. Pittsburgh, PA
11. St. Louis, MO
12. Henderson, NV
13. Naperville, IL
14. Reno, NV
15. Seattle, WA
16. Omaha, NE
17. Columbus, OH
18. Rochester, NY
19. Syracuse, NY
20. Fort Wayne, IN
To view the full report and your city's rank, please visit: https://wallethub.com/edu/best-worst-cities-for-st-patricks-day-celebrations/19603/
St. Patrick's Day Facts
819%: Increase in Guinness consumption on St. Patrick's Day compared to the rest of the year (152.5% more beer is sold overall)
$1.3 Million: Market value of a leprechaun's pot of gold
$5.9 Billion: Amount that will be spent collectively on St. Patrick's Day 2018 ($40 per person celebrating)
33.1 Million: Number of Americans who claim Irish ancestry, second only to German and 7x Ireland's population
For the full infographic, please visit: https://wallethub.com/blog/st-patricks-day-facts/10960/
México Tourism Launches New Heritage Initiative in Los Angeles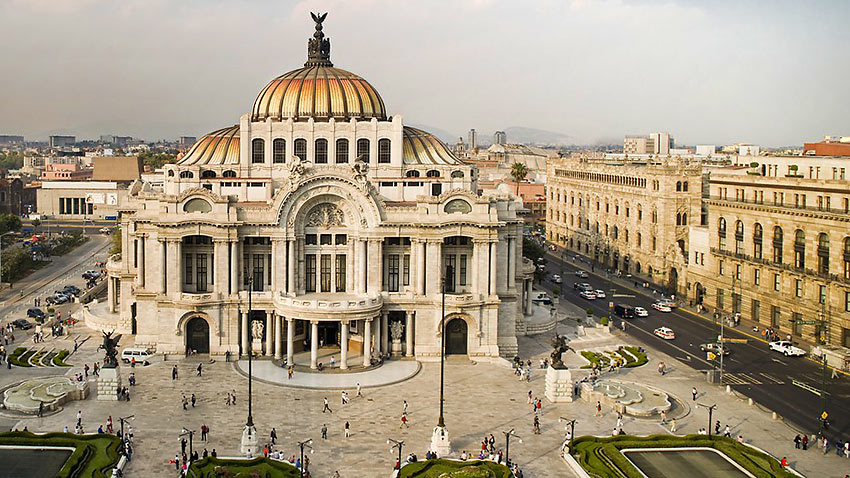 Fresh off a record-breaking year of visitation, the Mexico Tourism Board is rolling out a new marketing initiative, "Viajemos Todos por México," (Let's All Travel Across Mexico), with the aim of attracting many of the 35 million U.S. citizens who identify as being of Mexican descent. The campaign, which celebrates Mexico's beauty and its cultural and natural wonders, is designed to remind Mexican-Americans that those treasures belong to them.
The initiative was first announced on Feb 27 at the JW Marriott Los Angeles L.A. LIVE (Platinum Ballroom), hosted by Enrique de la Madrid, Mexico's Secretary of Tourism, in partnership with the Mexico Tourism Board CEO Hector Flores and Carlos Garcia de Alba, the Consul General of the Mexican Consulate in Los Angeles. The day-long series of events included a reception which drew more than 300 attendees, including U.S. and Mexican tourism companies, community and industry leaders, media and other influencers in the Mexican-American and tourism community.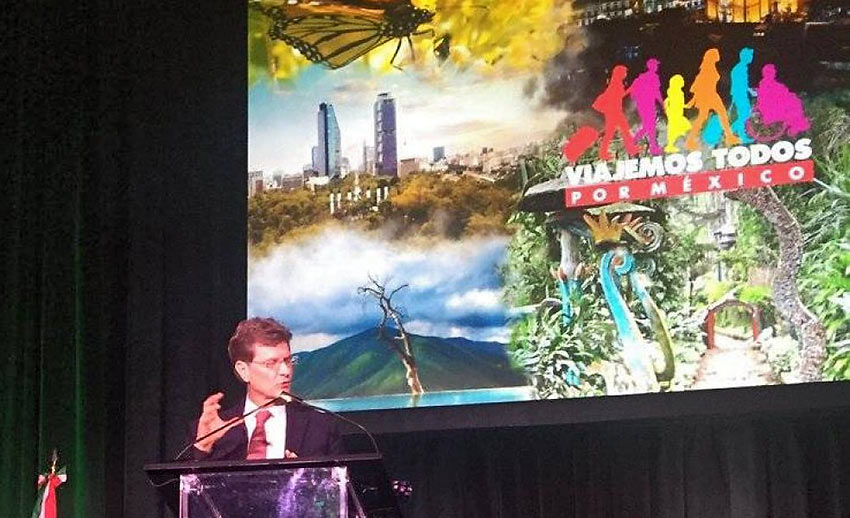 The presentations by the impressive group of dignitaries, was quite illumination: Mexico is the 8th most visited nation in the world, and that U.S is the #1 nation for tourism to Mexico, followed by Canada, UK, Argentina and Colombia. Statistics show that Mexican-Americans tend to travel internationally 2.5 times more than the average U.S. citizen, meaning that they make up a lucrative travel market that Mexico is keen to capture more of.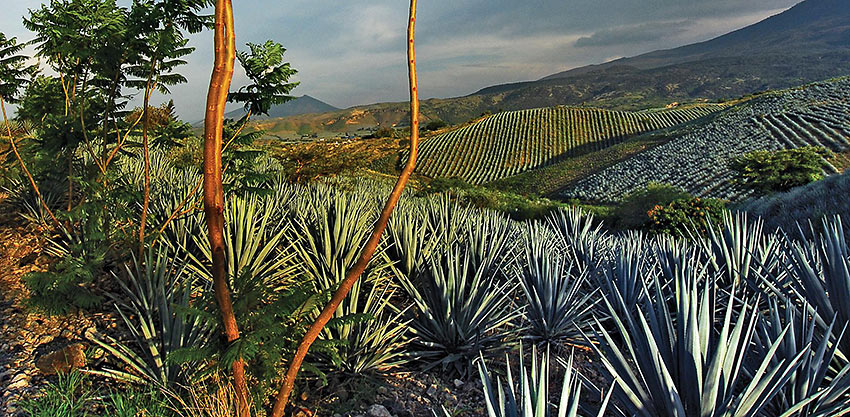 The tourism secretary announced last week that a record number of international tourists visited Mexico last year but added that the figure could continue to grow to reach 50 million annual visitors by 2021. "Our mission is to ensure that Mexico continues to sustain its track record of above-industry average growth for many years to come, and this includes seeking new ways to engage specific markets and audience segments that present opportunities for the industry," said Enrique de la Madrid.
Mexican-Americans are an attractive audience segment for the Mexico Tourism Board, as they tend to travel internationally about 2.5 times more than the average American. Mexico is hoping to capture more of that market, as it encourages Mexican-Americans to visit family or friends in Mexico while also discovering and reconnecting with their heritage. "Most people of Mexican descent live in California," said Consul General Carlos Garcia de Alba. "And of the 58 counties in California, Los Angeles has by far the largest number of Mexican-Americans."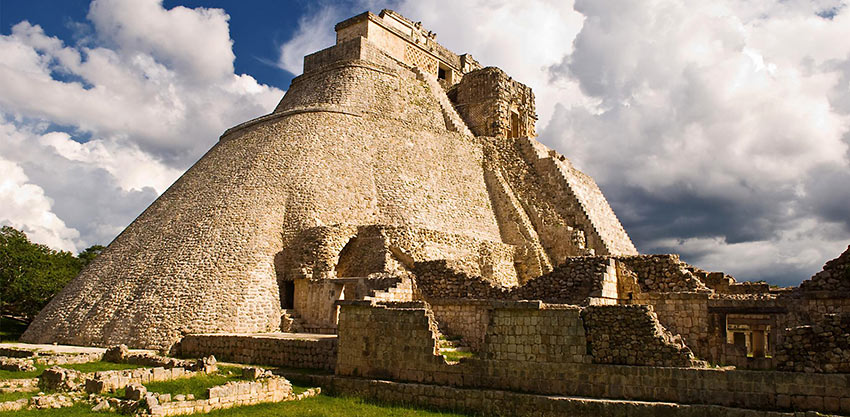 The campaign will showcase more than 200 Mexican destinations through "Mexican Routes" guides and offers travelers more than 1,000 tourism packages to Mexico
An integral component of the campaign will be promoting Mexico's "Pueblos Mágicos" (magical towns).
Author Richard Carroll, a contributor to the travel website, Traveling Boy, spoke earlier in the day. Carroll has lived in Mexico and written books on travel promoting the nation. "Enjoying Mexico's music and art, their internationally recognized cuisine, and 3,000 year old archaeological sites, are a special travel memory," said Carroll.
Here's a look back at some of Mr. Carroll's past articles about Mexico:
The tourism secretary and Mexico Tourism Board will also host promotional events for the campaign in New York, Chicago, Dallas, Houston and Miami, but chose Los Angeles for the kick-off event, due to the large number of Mexican Americans living in the area.
The "Viajemos Todos por México" initiative is a sub-component of the Mexico Tourism Board's larger, global "World of Its Own" campaign that launched last year, which focuses on personalizing marketing efforts by country and audience segment.
Mexico enjoyed a healthy surge of visitation in 2017. While final numbers are still being tallied, it is estimated that the number of air arrivals in Mexico from the U.S. grew by more than 9.6 over 2016. In total, a record-breaking 39.3 million international visitors traveled to Mexico in 2017, representing a 12 percent increase over the previous year. The tourism board recently announced it is hoping to welcome 50 million visitors by 2021.
10 Countries Where the Dollar Goes Furthest in 2018
 Courtesy Jamie Moore, SmarterTravel
Here are insider tips on the travel destinations where your dollar goes furthest in 2018.
Japan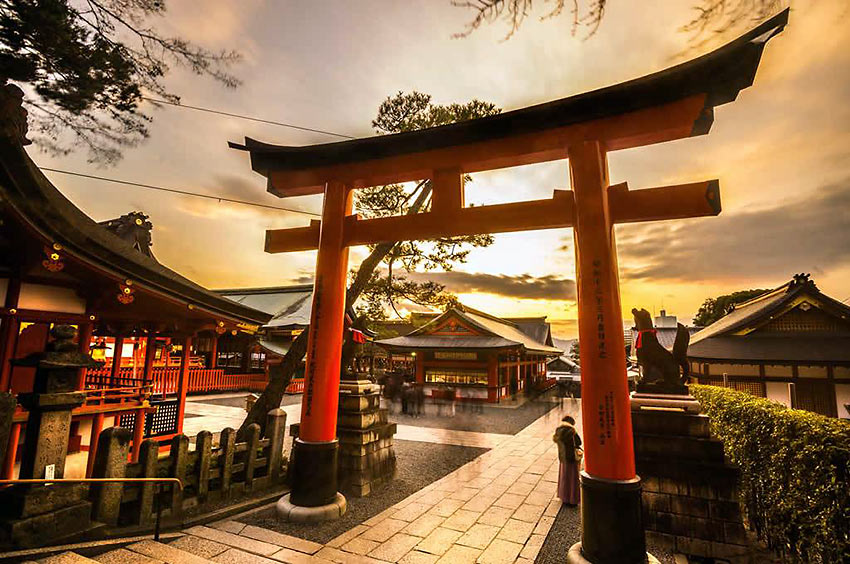 Now is a great time to leverage the strong dollar in Japan before prices rise and crowds descend on Tokyo for the 2020 Summer Olympic Games. This year, the yen is expected to depreciate 4.3 percent against the U.S. dollar, according to the 2018 Global Travel Forecast by the GBTA Foundation. The forecast also anticipates a 6.3 percent drop in airfare and 4.1 percent drop in hotel rates. Gearing up to host the world for the Olympics, Japan is opening a series of new and revamped hotels in the mountains around Tokyo.
If you go: Don't miss the temples and hot springs. The luxury KAI Alps Ryokan recently reopened near the Omachi Hot Springs in Nagano. In 2018, you can watch new Olympic venues under construction — including the Olympic Aquatics Centre, the National Stadium, and the Ariake Arena — start to take shape.
Book it: Get prices for Tokyo hotels
Denmark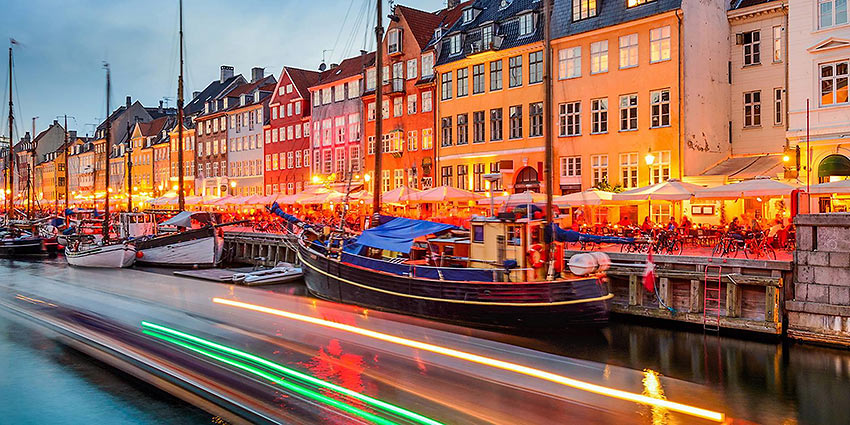 Denmark isn't typically chalked up as an affordable travel destination for Americans, but the dollar goes further in 2018. As of January, Denmark's currency was undervalued against the U.S. dollar by 6.6 percent, according to The Economist magazine's annual Big Mac Index currency comparison tool. And, although airfare and hotel rates are expected to jump more than 3 percent across the globe this year, they'll likely fall about a percentage point in Denmark, notes the 2018 Global Travel Forecast.
If you go: Head to Copenhagen's Tivoli Gardens for special 175th anniversary events in 2018. Flights to the Denmark capital are surprisingly reasonable — a recent Airfarewatchdog search for round-trip flights turned up fares like $502 from Seattle in May, $444 from New York's JFK in May and June, $399 from Boston in April and May, and $421 from Los Angeles in April.
Book it: Get prices for Copenhagen hotels
Brazil
A strong dollar will take you deeper into Brazil's colorful culture this year, giving you more chances to make your dollar go further while embracing iconic experiences like Copacabana Beach, samba shows, and even World Cup soccer mania. Although Russia is hosting the FIFA World Cup in June, Brazil is the top-ranked favorite, and is sure to draw game-day crowds watching from sunny plazas and bar stools throughout Brazil. This year, the country has loosened travel visa restrictions for Americans, dropping the cost from $160 to $40. Relatively steep declines of 8.7 percent are expected in the country's 2018 hotel prices. The Global Travel Forecast projection coincides with a booming hotel market in Brazil, where both Hilton and Accor Hotels recently announced expansion plans.
If you go: Tour the national soccer team's Maracana Stadium in Rio de Janeiro. An Airfarewatchdog search found round-trip flights to Rio from Miami for $597 in May and Boston for $716 in April.
Book it: Get prices for Rio de Janeiro hotels
New Zealand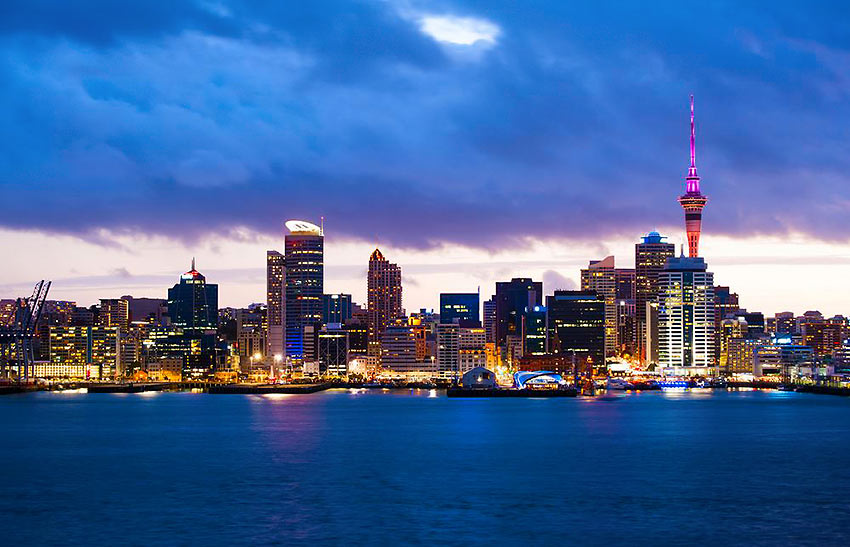 This year, New Zealand's currency is undervalued by 14.6 percent compared to the greenback, which means you can have fun imagining everything is on sale at 14 percent off. If you're a Lord of the Rings fan who hasn't seen the Hobbiton movie set or you're a nature lover longing to soak in New Zealand's geothermal mud baths, then 2018 is the year to go to make your dollar go further. Over the next six months, you'll likely score hotel deals: Airfarewatchdog search data found the average three-star hotel rate in Auckland was $95 per night during that period. Round-trip flights to Auckland start at $726 from San Francisco in May and August and $742 from Houston in June.
If you go: Before you go, watch episode one of BBC's new Blue Planet II nature documentary miniseries, which debuted in the U.S. in January. It features bottlenose dolphins and rare false killer whales that swim together in the waters off the north coast of New Zealand each spring.
Book it: Get prices for Auckland hotels
Morocco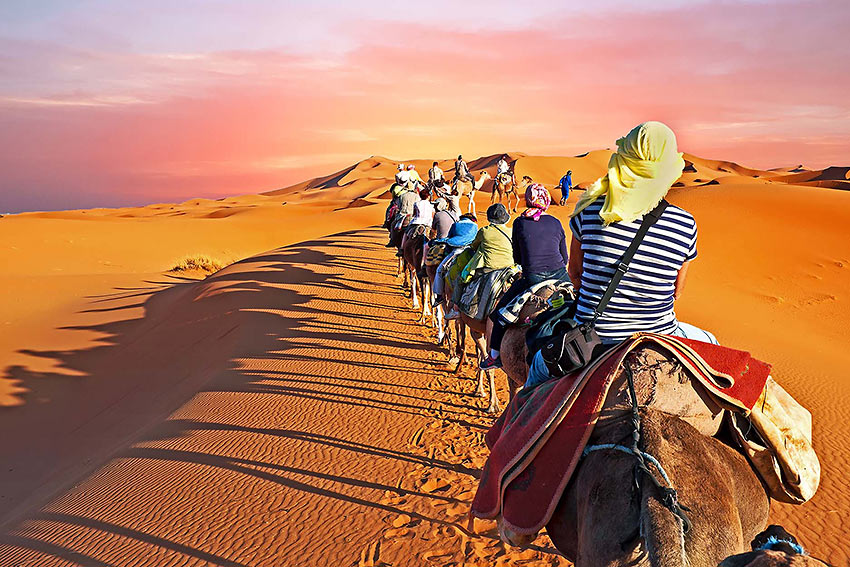 You need not be a professional haggler to score at Morocco's marketplaces this year; the 2018 Global Travel Forecast is projecting Moroccan currency to depreciate 7.7 percent against the dollar. The strong dollar will go further in the narrow alleys of the souks in 2018 and, according to the forecast, getting to Morocco will also be cheaper. Experts foresee a 7.4 percent drop in hotel rates and 5.8 percent drop in airfare. For March travel, Airfarewatchdog listed flights from Washington, D.C., to Casablanca for $750 round-trip.
If you go: Skip Marrakech and make your dollar go further by visiting the mosques and medinas in Casablanca instead. "Casa," as locals call it, is one of TripAdvisor's 2018 Top 10 Destinations on the Rise. Visitors say it's Morocco's most cosmopolitan, Western-feeling city.
Book it: Get prices for Casablanca hotels
Vietnam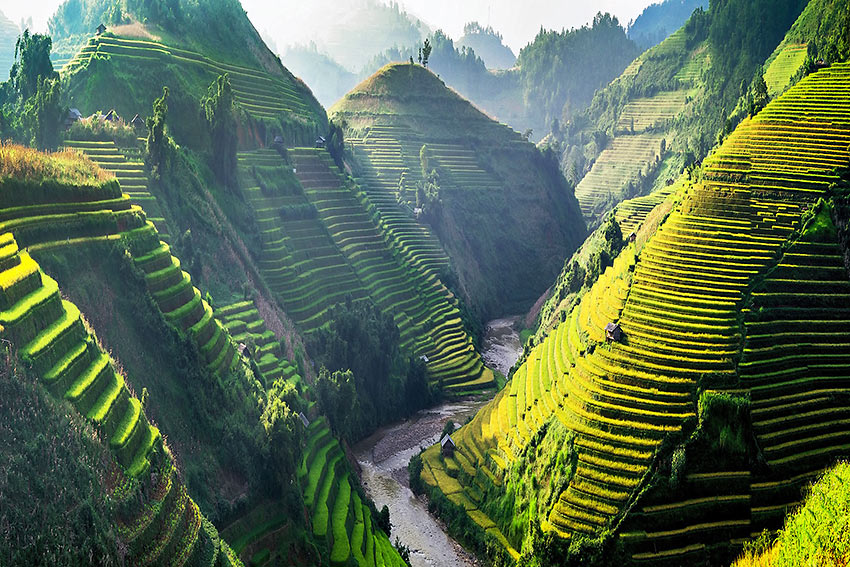 Get a beer for only 16 cents per glass in Vietnam's capital city, ranked the world's cheapest city to visit in 2018. Price of Travel's 2018 Backpacker Index listed Vietnam's Hanoi (#1) and Hoi An (#4) on the annual index of 138 international cities listed from cheapest to most expensive. In Hanoi, get your fill of pho soup and street food between visits to markets and little temples, or sit down at a tourist restaurant where the average meal is under $3. Three-star hotels averag $17 to $55 a night, according to the index. This year the 2018 Global Travel Forecast sees Vietnam's currency depreciating 7.6 percent against the dollar and airfares dropping 6.3 percent.
If you go: Stay at Hanoi La Siesta Hotel & Spa, ranked #4 on TripAdvisor's 2018 Travellers' Choice Top 25 Hotels in the World. On the northeast coast, the Quang Ninh province is the 2018 National Tourism Year host with 51 cultural, sports, and tourism events scheduled.
Book it: Get prices for Hanoi hotels
Costa Rica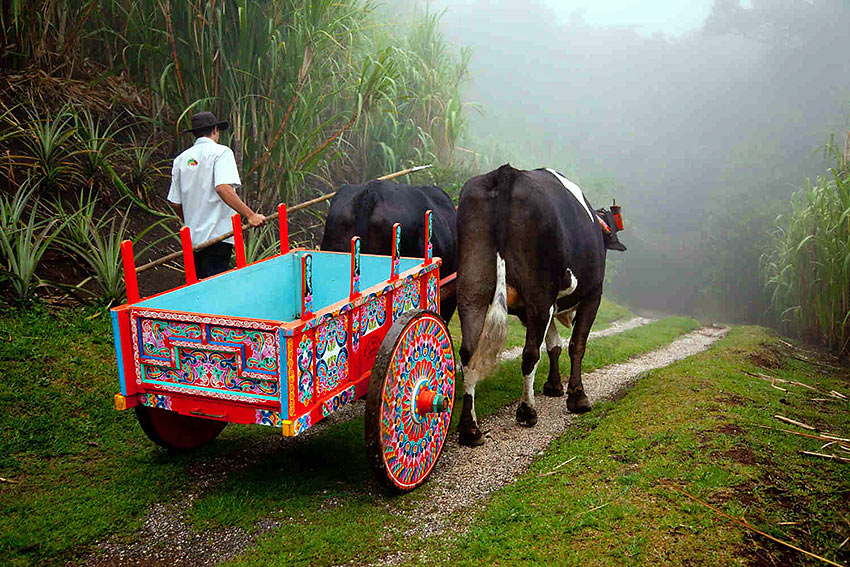 Plan your Costa Rica yoga or surf retreat, or book a beach escape in 2018 while the country's currency is valued 23.7 percent less than the dollar. The Global Travel Forecast expects it to depreciate another 4 percent, making this a good time to make every dollar go further. You'll get the most for your money in San Jose, which ranks as the #6 cheapest South and Central American city on the 2018 Backpacker Index. Or fly into Liberia in the Guanacaste region, a mid-priced beach area. According to a recent Airfarewatchdog search, three-star hotels in Liberia average $72 per night over the next six months.
If you go: There's lots to do in San Jose, the country's capital city that sits at number six on TripAdvisor's 2018 Top Destinations on the Rise list. Tour the coffee plantations on the city's outskirts and try fresh-roasted beans at the central market. The new gastronomy market in the city's Barrio Escalante is worth a stop before you head into the tropical rainforest for ziplining and hiking.
Book it: Get prices for San Jose, Costa Rica, hotels
Argentina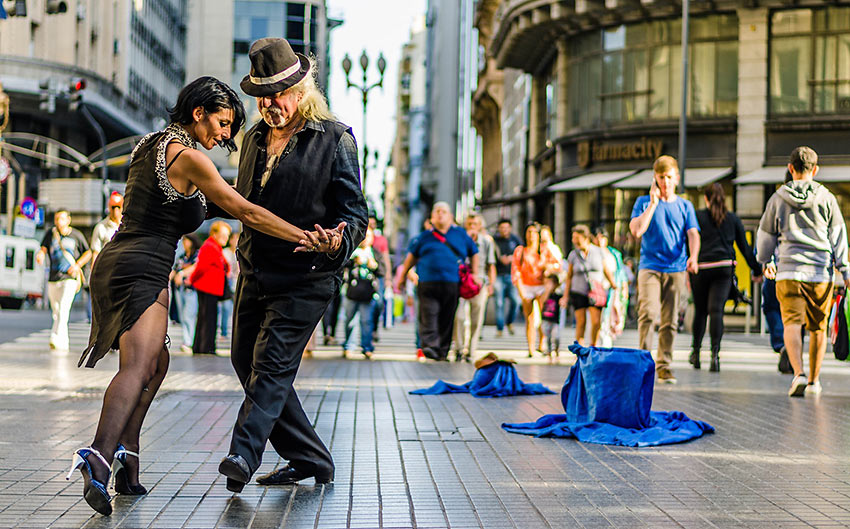 Now more than ever, Latin America's tourist destinations are offering rich experiences that rival Europe — all for a lot less coin thanks to undervalued currencies. The Argentine peso is undervalued by 25 percent against the strong dollar and predicted to fall 7.7 percent in 2018. Buenos Aires is a bargain compared to Barcelona. And its classic architecture, cafe-lined streets, esteemed museums, and foodie scene are no less enchanting.
If you go: You can find nightly rates of $90 at three-star hotels in Buenos Aires in the next six months. Most people only day trip from Buenos Aires to the iconic Iguazu Falls, but this year you can overnight at the new Awasi Iguazu lodge in the rainforest near the falls.
Book it: Get prices for Buenos Aires hotels
Mexico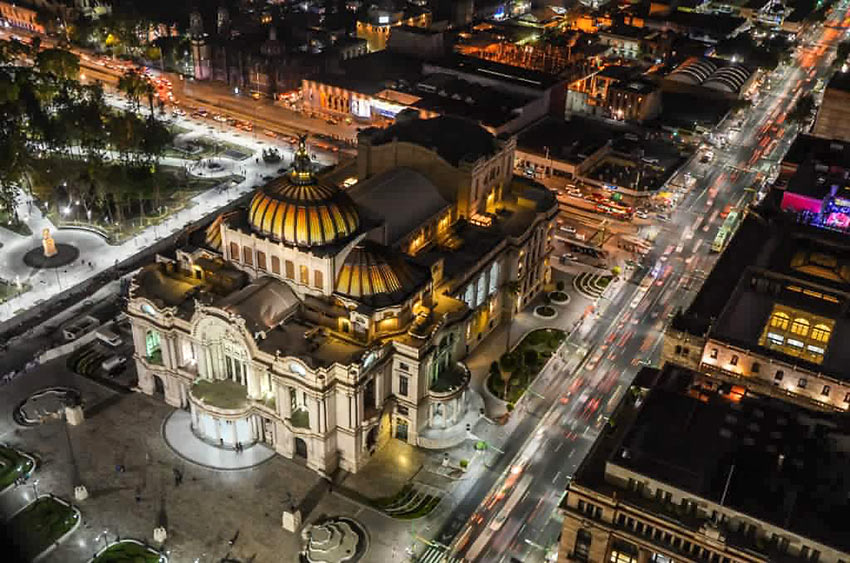 Of the countries listed here, the dollar goes furthest in Mexico. The peso is undervalued by 51.3 percent, according to The Economist's 2018 Big Mac Index. Hotels and flights are also affordable. The average price for a three-star hotel in Puerto Vallarta over the next six months is $92 per night. In Mexico City it's $104, according to Airfarewatchdog search data. Flights into Mexico City are a particularly good deal: Search data uncovered $224 round-trip flights from Los Angeles in March, $206 from Orlando in March, $263 from Baltimore in March and April, and $230 from Houston in April and May.
If you go: This year, check out special events and the innovative design in Mexico City, named the 2018 World Design Capital. Also try the new space-age Izzzleep Hotel sleep pods in Mexico City International Airport.
The World's Most Popular Travel Experiences, According to TripAdvisor
Courtesy Carl Unger
TripAdvisor recently released its 2018 Travel Trends Report, naming the most popular travel experiences, tours, and activities booked by its users last year. The data points to a shift toward non-traditional and experiential activities as travelers look to expand their options.
That doesn't mean travelers are neglecting the old standbys, however. The most-booked experiences include a skip-the-line pass for the Vatican Museums, St. Peters, and Sistine Chapel; the Chicago River Architecture Cruise; and admission to iconic sites including the Sagrada Familia and Eiffel Tower. Here are the rankings:
TripAdvisor's Most Popular Travel Experiences, Globally
Skip the line: Vatican Museums, St Peter's, Sistine Chapel
Chicago Architecture River Cruise
Skip the line: Ancient Rome and Colosseum Half-Day Walking Tour
Rome Hop-On, Hop-Off Sightseeing Tour
Priority Access: Barcelona Sagrada Familia Tour
Eiffel Tower Summit: Priority access with host
Warner Bros Studio: The Making of Harry Potter with Luxury Round-Trip Transport from London
Empire State Building Tickets
Murano, Burano, and Torcello half-day sightseeing tour
Tuscany in One Day Sightseeing Tour
TripAdvisor's Most Popular Travel Experiences in the U.S.
Chicago Architecture River Cruise
Empire State Building Tickets
NYC One World Observatory: Skip the line
USS Midway Museum: Skip the line (San Diego)
New York City PASS
Statue of Liberty and Ellis Island Guided Tour
Skydeck Chicago: Admission
Big Bus New York Hop-on, Hop-off
9/11 Memorial Museum Admission
Napa and Sonoma Wine Country Tour
According to TripAdvisor, "historic and heritage experiences saw the most growth (+125 percent in bookings), and culinary travel is an up swinging trend: cooking classes and food tours both appeared among the top five categories, each with 57 percent bookings' growth. By gross booking value, food tours saw the most growth in 2017."
It's important to remember that these numbers reflect bookings made on TripAdvisor, as opposed to trends observed across booking sites. Still, the insight of a popular booking site can help travelers during the planning process. These activities are in higher demand and may be worth booking well in advance of your trip. Lists like this can also help travelers avoid overcrowded activities, if you're not into crowds.
It's also a good idea to shop around and read reviews to make sure you select a good provider. You don't want to end up with random fly-by-night outfit capitalizing on a trend.