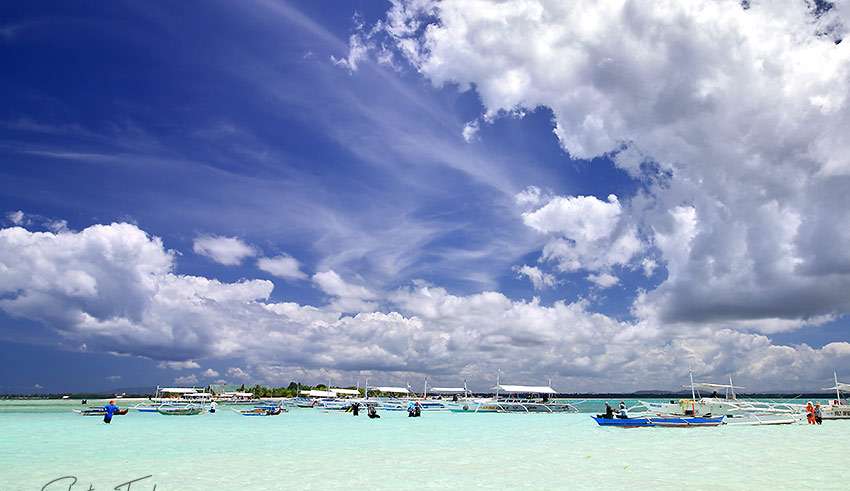 Photo courtesy of Leo & Nina Castillo
Fresh from catching glimpses of playful spinner dolphins navigating their way between Balicasag and Panglao Islands on an early Wednesday morning, we dropped anchor at a beach for a round of coffee and snacks. But our day was just beginning. Within an hour we were hauled off the beach in a small boat to a snorkeling spot not too far from Balicasag Island's white sand shores. Soon we were marveling at a variety of colorful corals and some of the largest reef fishes we've ever seen.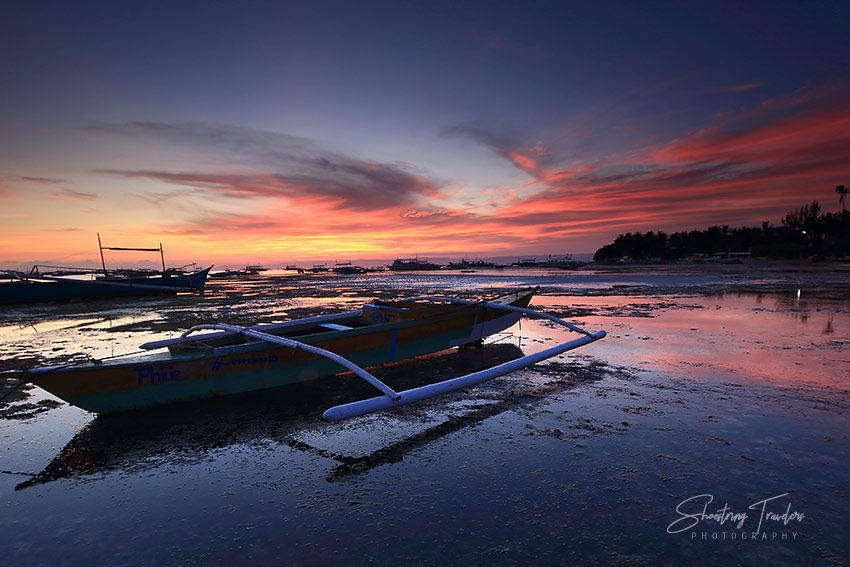 Balicasag and Panglao are just two of the many destinations in Bohol, an island province in the center of the Philippine archipelago. Bohol is well-known for its cute, large-eyed tarsiers and the remarkable Chocolate Hills but there's so much more to see and experience in this province. A large number of white sand beaches await sun worshippers while crystal-clear waters teeming with marine life beckon snorkelers and divers. Just inland are several waterfalls, caves, cave pools, rice terraces and historic churches waiting to be explored. Green, jungle-fringed rivers ideal for kayaking, paddle-boarding or – if you're feeling less adventurous – touring in a large boat while leisurely enjoying lunch, are there for the taking.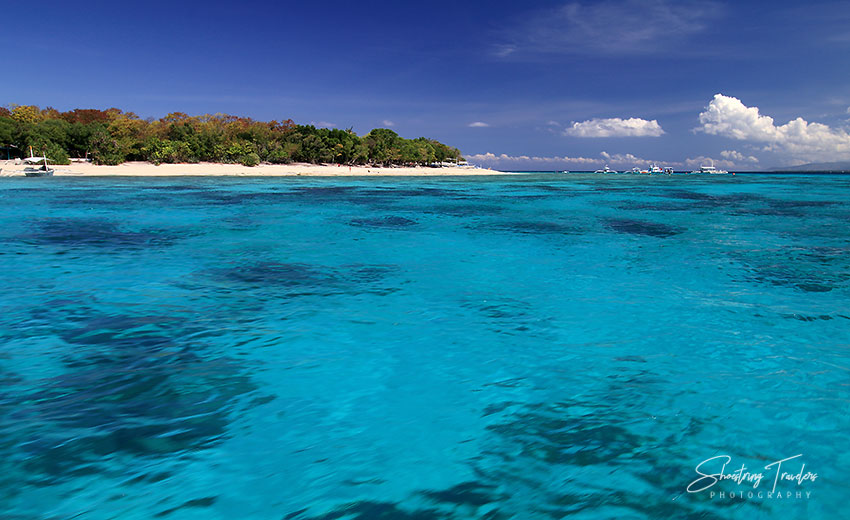 We were therefore faced with a bewildering array of choices upon arriving at Panglao Island where we checked in at a seaside resort. Deciding to go with the popular spots first, we drove for the Chocolate Hills Complex at Carmen town in the central part of the island.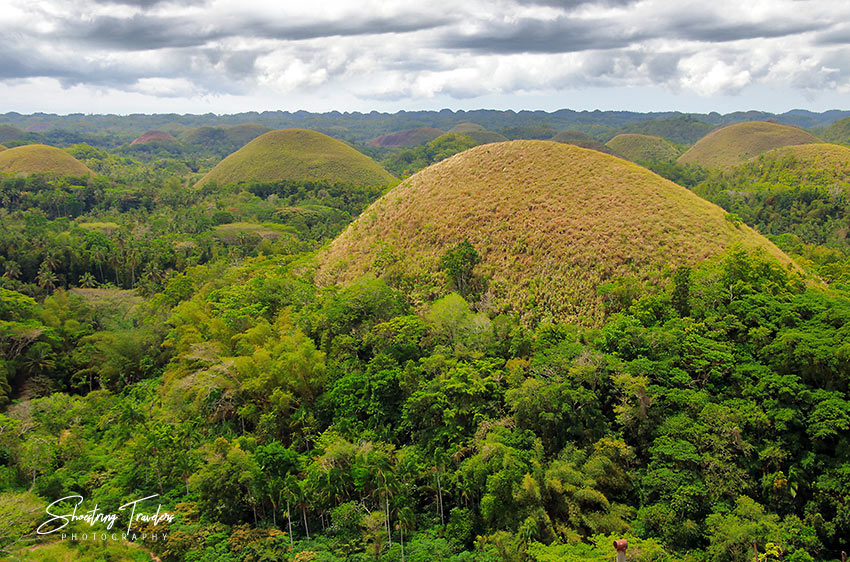 The Chocolate Hills are a collection of at least 1,268 – but perhaps as many as 1,700 plus – grass-carpeted limestone mounds. It was the start of the hot and dry season when we arrived here and the hills had already turned a yellowish green. Those colors would soon morph into brown at the height of the dry season resulting in a slight resemblance to chocolate kisses, hence the name. During the peak of the rainy season in August to September these hills take on a more verdant green hue.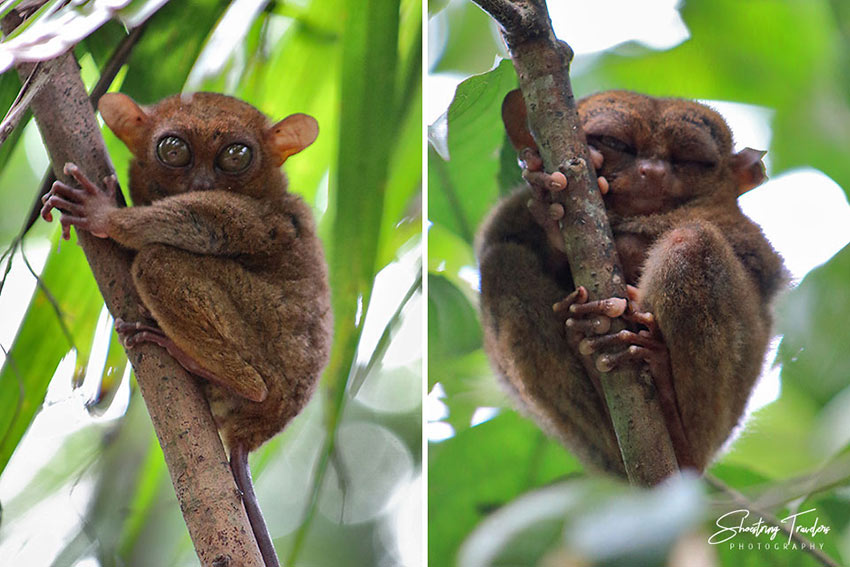 Next on the itinerary was the diminutive and lemur-like Philippine tarsier. There are a number of wildlife sanctuaries in Bohol that accommodate a few of the nocturnal primates and we selected the one in Bilar town since it was along our route. Most of the tarsiers in this sanctuary were asleep when we arrived, clinging to trees along a path that snaked its way through a forested area. Some eventually woke up even as we silently trudged along the pathway, their disproportionately huge eyes casting a shy stare in our direction. Those large eyes provide tarsiers with excellent night vision for hunting their prey.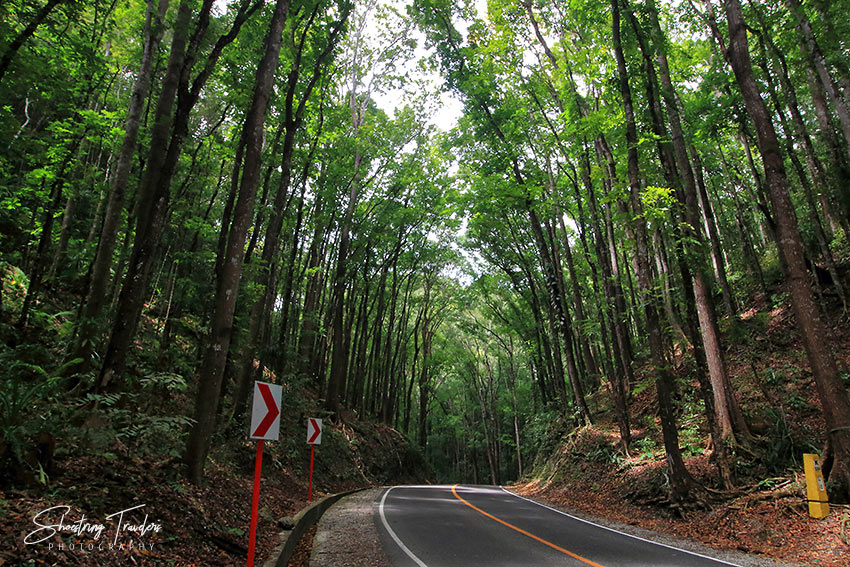 After our encounter with the tarsiers and on the way to our next destination we passed by the Manmade Mahogany Forest in the town of Bilar. After sweltering in the warm tropical surroundings in Carmen and Bilar we were soon relishing the crisp, cool air afforded by the thick canopy of the mahoganies. Carpets of fallen red and brown leaves cloaked the forest floor adding a colorful contrast to the thick green foliage of the mahogany trees that almost completely blocked out the sun.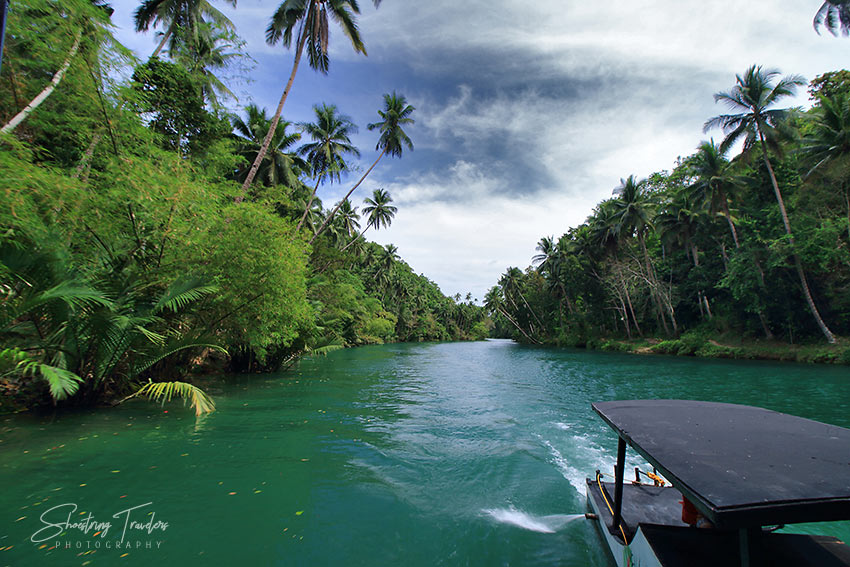 A Bohol countryside tour allows one to have lunch on the fly while touring a scenic river. That's exactly what we experienced on the popular Loboc River tour where lunch buffet is served on a wide-bodied boat while cruising down the jade-green body of water. This tour also allowed us to have a splendid view of everyday life in the typical Boholano barrio: locals at work in their backyards along the riverbank, others paddling around in small bancas and children jumping from tree branches into the waters below. A teenage show-off displayed his Tarzan-like skills, swinging on a long rope from a tree on the riverbank almost into our moving boat and practically kissing the people lined up on the starboard side. Dangerous for him perhaps but pretty impressive.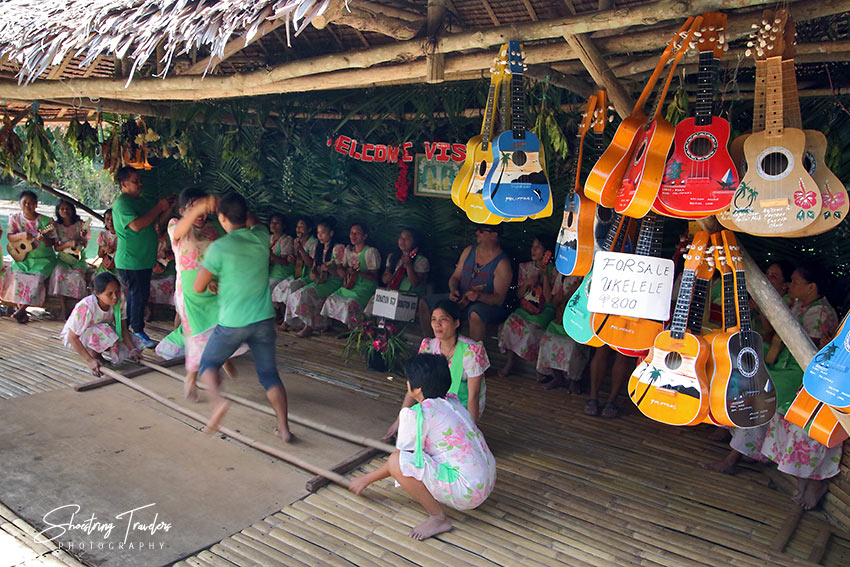 During the river tour a father-and-daughter team was serenading us with a wide range of songs from The Stylistics' Betcha By Golly Wow to Dolores O'Riordan and The Cranberries' Linger. Then, as our boat swung back for the return trip, our tour group was treated to a special dance and music cultural presentation by locals aboard a floating hut. Such is the Boholanos' love for dance and music.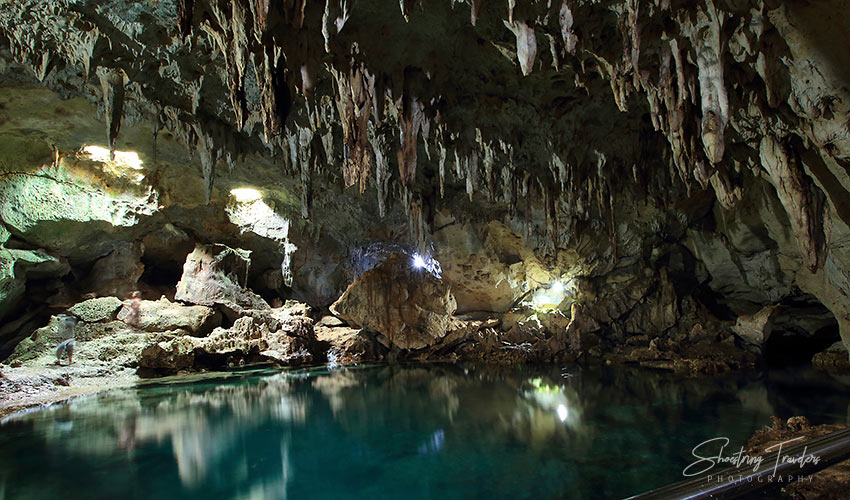 Caves and waterfalls abound in Bohol but we could only drop by the Hinagdanan Cave on Panglao Island which is connected to the main island via 2 causeways. Beautiful stalactites and stalagmites as well as a crystal-clear green pool with a depth of 10-12 feet greeted us as we descended into the cavern from an opening in the ground. The cave was is well-lit but there are no manmade lights here; all of the lighting is natural. Several holes high up on the cave's ceiling let sunlight in which then bounces off the rugged rock and crystal formations to create interesting lighting effects.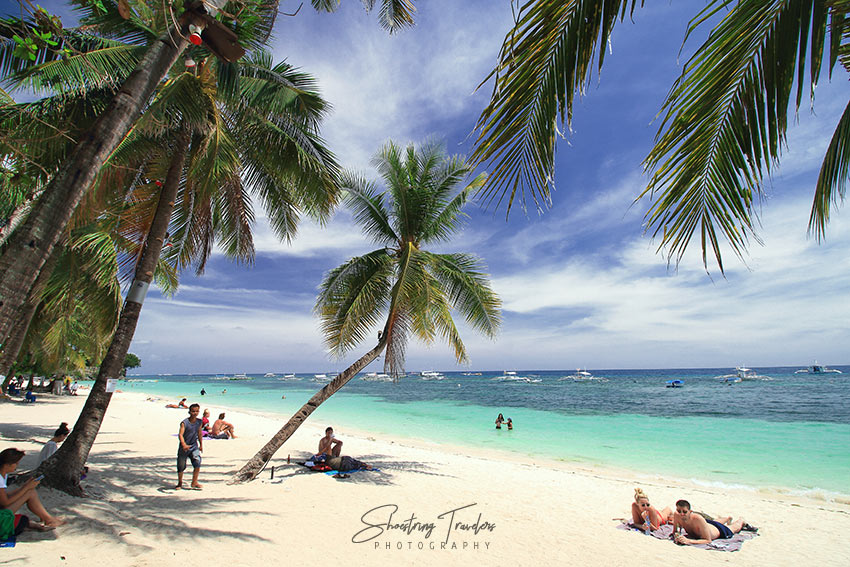 Just like all of the provinces in the Visayas, the group of major islands in central Philippines, Bohol is home to several gorgeous beaches and colorful waters. We've already mentioned Balicasag Island which has been a favorite of divers for some time now. Panglao Island has a collection of white sand beaches including Alona Beach, Dumaluan and the adjoining Libaong Beach. Alona Beach is the most popular beach in Bohol and probably has the densest concentration of hotels, resorts and restaurants in the province.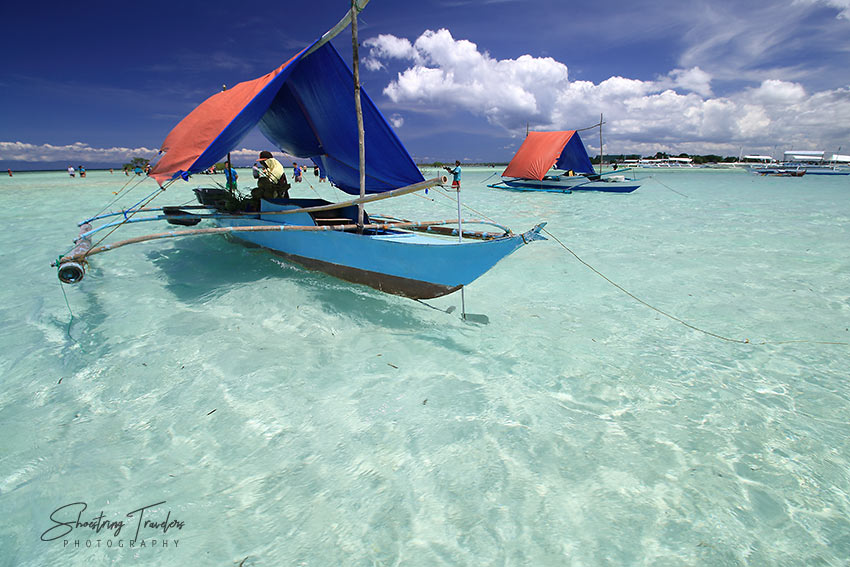 Wanting to shun the crowds and resorts at Alona Beach on our penultimate day in Bohol, we booked an outrigger boat to take us to the aforementioned Balicasag Island and Pungtud Island, the latter more popularly known as Virgin Island. Unlike Balicasag and Panglao, Virgin Island has few activities to offer but makes up for it in terms of looks. We could bask all day in its long white sandbar and surrounding crystal-clear turquoise waters. The only problem was that dozens of other boatloads of tourists had the same idea and we were soon sharing a lagoon near the sandbar with several other visitors (see also top photo).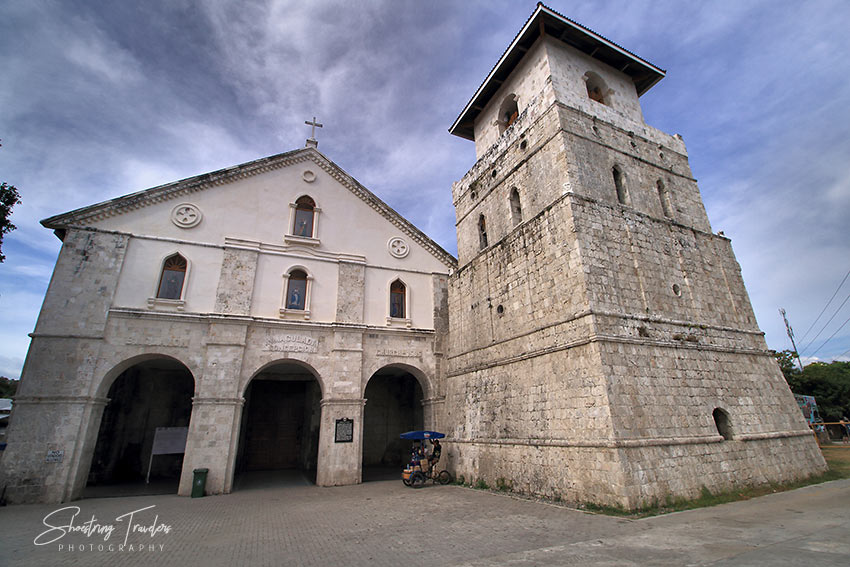 The attractions in Bohol aren't all natural. Practically each town has it its own historic church – a throwback to more than 300 years of Spanish colonial rule beginning in the 1500s. Some of these churches have been proclaimed as Natural Cultural Treasures by the government. The most famous among them is the Immaculate Conception of the Virgin Mary Parish Church in Baclayon town, often simply referred to as the Baclayon Church. First built in 1596, the present structure was reconstructed in 1727. A major earthquake in 2013 heavily damaged this building, with the portico and bell tower collapsing, but restoration works were completed in 2017.
We might have visited a wide variety of destinations in Bohol but looking back now we realized we've only scratched its surface. Our visit was confined to the western side of the island and a part of its central section. The rest of the province still contains a treasure trove of natural and manmade wonders including more beaches and coral reefs that rival those of Panglao in the coastal towns of Anda, Jagna and Dimiao; green and gold rice terraces, cobalt-colored cold springs and turquoise cave pools in Candijay and more caves and rice terraces in Jagna just to name some of them. And a large number of waterfalls scattered about the whole province. We definitely have to be back. Now if only this pandemic will end soon…