Raoul's 2 Cents
Demilitarized Zone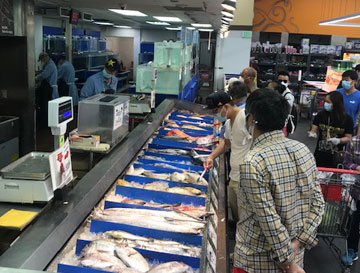 So there I was lining up to get in this Asian store in Fullerton, CA. Everyone was a respectful 6 feet away from each other and wearing masks. I looked at the cars parked outside and it was packed. "Interesting," I thought, "that there must be so many people inside how are they going to keep their distance?" The minute I got in, all hell broke loose. People were rubbing elbows with each other. You couldn't find an aisle that was spacious enough to walk through other shoppers. In the sea food section it was worse. I imagined I was in Wuhan China at the break of the Corona virus. I thought I should just walk away while I could but I ordered a Tilapia to be fried and I couldn't just leave anymore. So I stuck it out. I kept a healthy distance (a foot away) from the people passing by the aisle — just far enough to check if my order was ready.
Fortunately, I'm still alive and healthy. No apparent signs of the virus swimming in my body. But the experience made me realize how impatient we all are and how long it will take to accept the new normal. I can understand the concern of people feeling it is too early to get back to work but I still see a bigger problem if the economy is delayed any longer. I also see how politically polarized this pandemic has made our society. Whose news is true news?  Whose stats are accurate? Which opinions really matter? (I talked about this the last time.)
One thing I know for sure is there are people who love to criticize and complain but are afraid to make a decision. Ask their solution and they would rather play safe than chance being wrong. And there are people who are realistic, struggle with the situation, make their best effort and accomplish something. The complainers usually lag behind and many times reap the benefits produced by the actions of the ones who dared to make a difference. Where's justice there?
As you probably know, beyond WYNK Marketing, I have a second business  — Alpha property management  business. (That's code for "glamorized janitor"). Don't ask me why I took it. There are days I wish I didn't because all I hear sometimes are complaints. One professional complainer is Maxine. She would call me about drips on her ceiling, on her garage, on the walkways… trash on the road, topless sun bathers, etc. It is not surprising that she struggles with employment. Still, I wanted to help her. One day I asked her if she wanted to earn extra income by taking over the janitor's responsibilities. She liked the idea. The Association Board know her personality so when I suggested we hire Maxine, they turned it down very quickly. Understandably so. I shared the rejection to Maxine. She gingerly asked if it was because the board didn't feel she was capable. I only told her it would open a can of worms (which is actually true). I didn't want to make her feel even more rejected. Well, something unexpected happened. Maxine does not complain too much anymore. Maybe this is a premature conclusion but I think she understood that I stood up for her … that I cared. Maybe all she really needed was some attention.
Have you complained and worked out a solution? Or have you just complained? Hmmmm…
As usual, this is just me.
Keep safe and hold on to your faith. TGIF people!
Raoul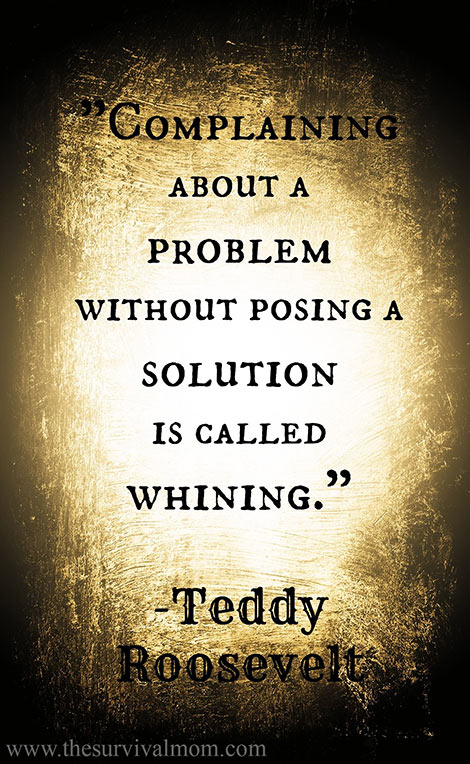 Joke of the Week
Thanks to Naomi of North Hollywood, CA for sharing this joke.

Video: Clever Face Mask
Thanks to John of Rancho Palos Verdes, CA for this video. I couldn't stop laughing.
WARNING: Disturbing image.
Video: Quarantine
Thanks to Tom of Pasadena, CA for this scene progression.
Video: No Naps in My Home
Thanks to Rick of Chino Hills, CA who empathizes with this New York Italian comedian.
Video: The New Baby Normal
Thanks to Mario of Manila for these cute videos.
Don's Puns
Thanks to Don of Kelowna, B.C.who loves puns.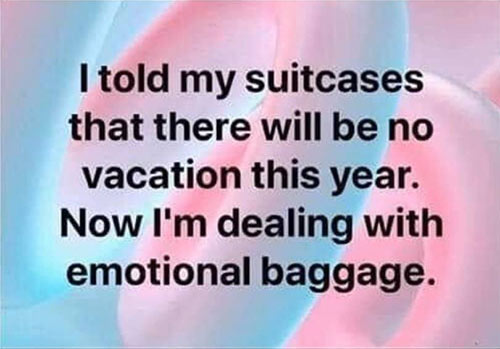 Parting Shots
Thanks to Mike of New York for this remake that fits perfectly.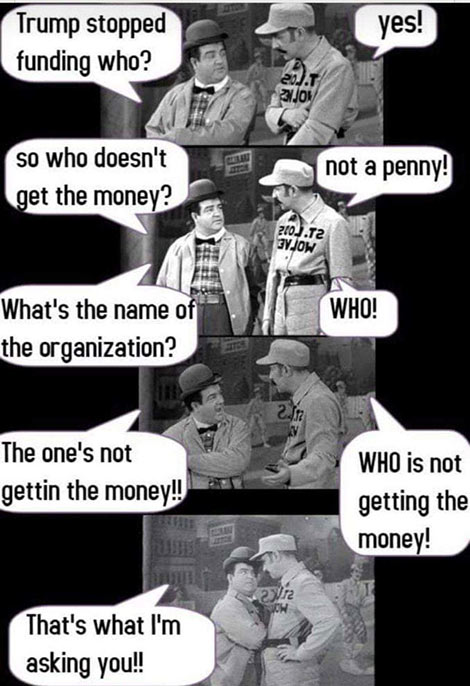 Thanks to Don of Kelowna, B.C. for this intriguing visual.