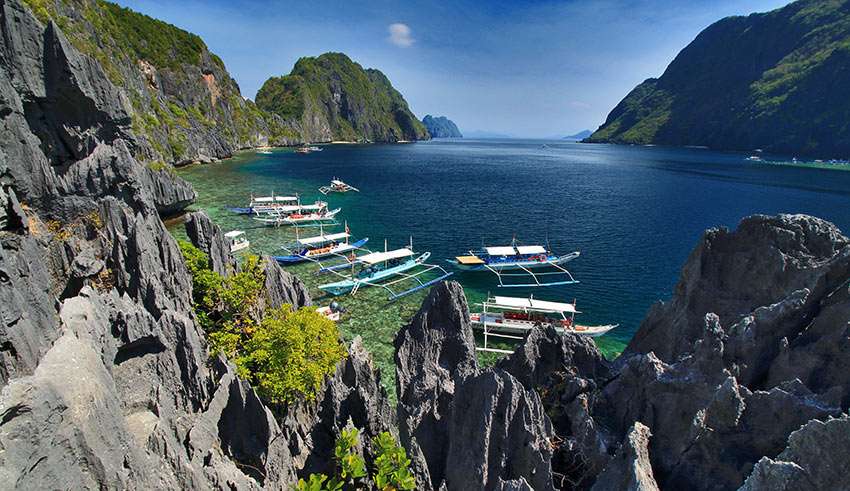 Photo courtesy of Leo & Nina Castillo.
Beginning in 2013, Palawan, Philippines, has been voted as the best island in the world by readers of Travel+Leisure a number of times in its yearly polls and in the top 3 rankings by Condé Nast Traveler. With huge limestone cliffs rising from palm-fringed white sand beaches, gorgeous seascapes, old-growth rainforests, subterranean rivers and impressive aquatic and terrestrial biodiversity, the island has been dubbed as the country's "Last Ecological Frontier."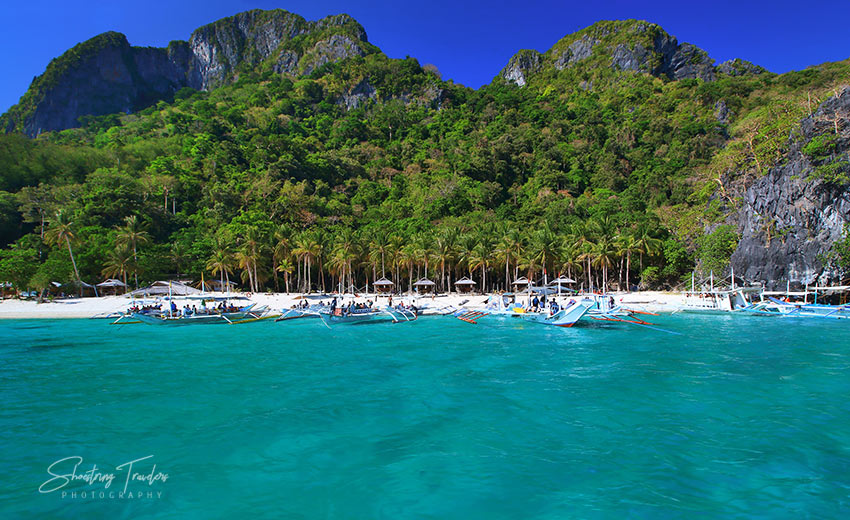 Palawan is not a small island by any means. Approximately 270 miles long but just 25 miles across at its widest point, the island province looks like an extension of the Philippine archipelago pointing southwest towards Borneo. Palawan the province actually includes 1,780 islands and islets in addition to the long and narrow Palawan main island. Which means there are a large number of destinations for the taking.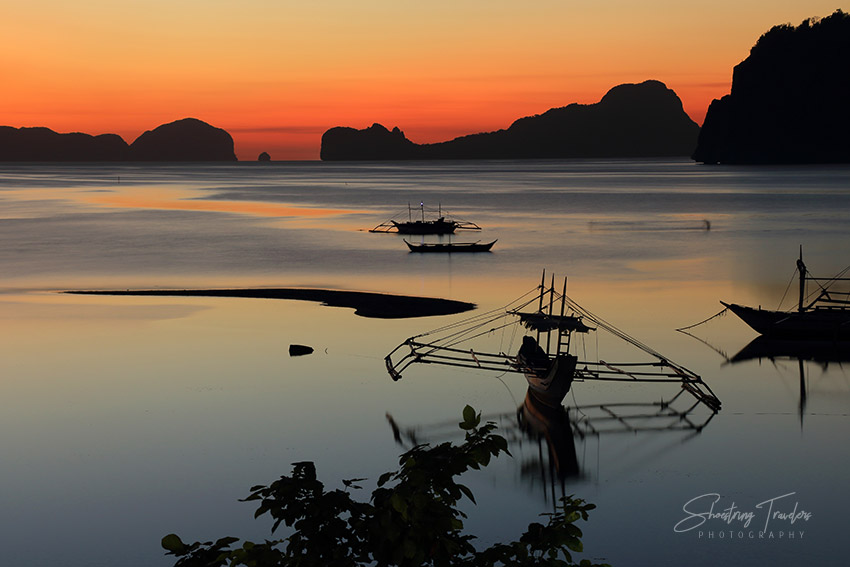 One of the more popular destinations is El Nido, a formerly quaint municipality located at the northern edge of the province. Today there is a large number of resorts in town but the real draws are the islands offshore in Bacuit Bay. Organized tours have grouped these island destinations into 4 – namely Tours A, B, C and D. Island-hopping tours may be booked at the resorts in El Nido or through any of the establishments in town. Tours A and C are the more popular of the 4 and includes the following attractions.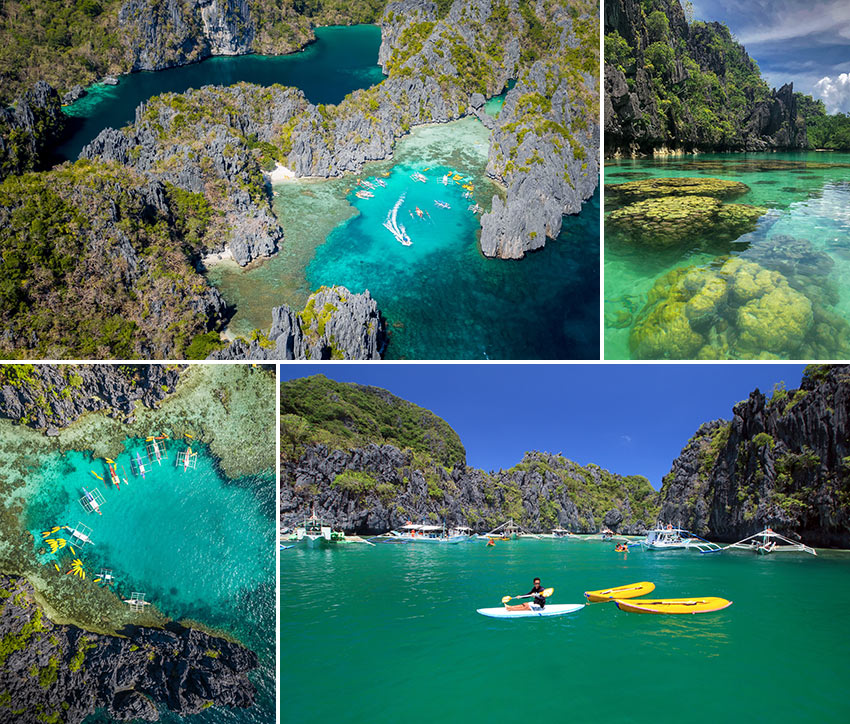 The lagoons formed by karst cliffs enclosing turquoise waters in the island of Miniloc are probably the most popular and most enthralling of El Nido's gems. During high tide the Big Lagoon may be explored using tour boats with a shallow-enough draft but to get to the Small Lagoon we had to rent a kayak and paddle through a small opening. Once you're inside any of these two lagoons be amazed at the stunning turquoise and emerald green waters and the huge surrounding limestone walls.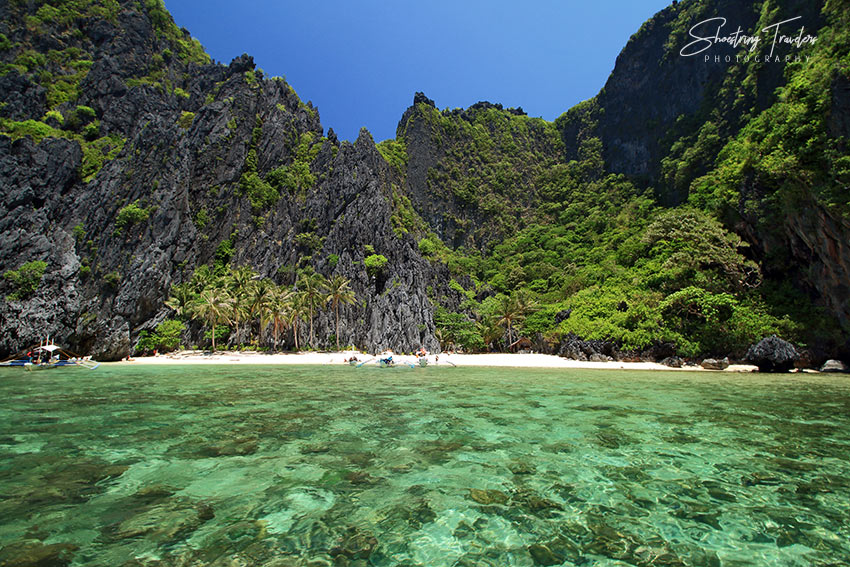 Reaching other lagoons and concealed beaches requires a little adventure. Miniloc Island also has the Secret Lagoon which could only be accessed by docking at a white sand beach on the island's southern section, walking inland and finally squeezing through a narrow opening in a karst wall. Once inside we spotted swiftlets darting in and out of the surrounding limestone cliffs. The nests of these birds are highly sought for the expensive bird's nest soup in Chinese cuisine and locals used to climb these cliffs to gather them. (The nests were called El Nido after which the town is named.) However, due to the influx of tourists in recent times many nest-gatherers abandoned their trade to become tour guides or boat operators.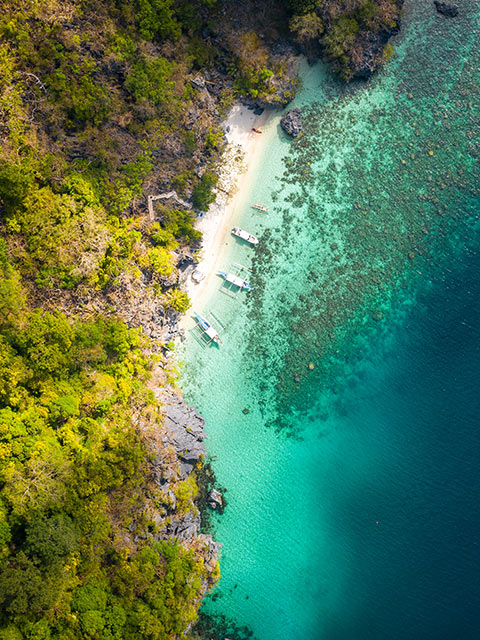 The Secret Beach – actually another hidden lagoon – lies in nearby Matinloc Island. It's even more difficult to reach as we had to swim through a hole among a line of the now-familiar karst walls. (The boatmen were a big help to the non-swimmers in our group, helping them to get across without much difficulty.) Once through the opening we were greeted by the primordial sight of a shallow, crystal-clear lagoon fringed by a white sand beach and soaring karst walls. It's as if you opened a small door in a huge wall and found paradise on the other side. Alex Garland visited El Nido and Secret Beach years ago and locals here say the latter might have inspired him to write the book The Beach (the film was shot in Thailand). Matinloc also has the Hidden Beach, only accessible during our visit by wading and swimming from our boat which could not negotiate the narrow passageway between huge karst formations. But as you can see from the photo on the right boats can dock on this beach under the right sea conditions.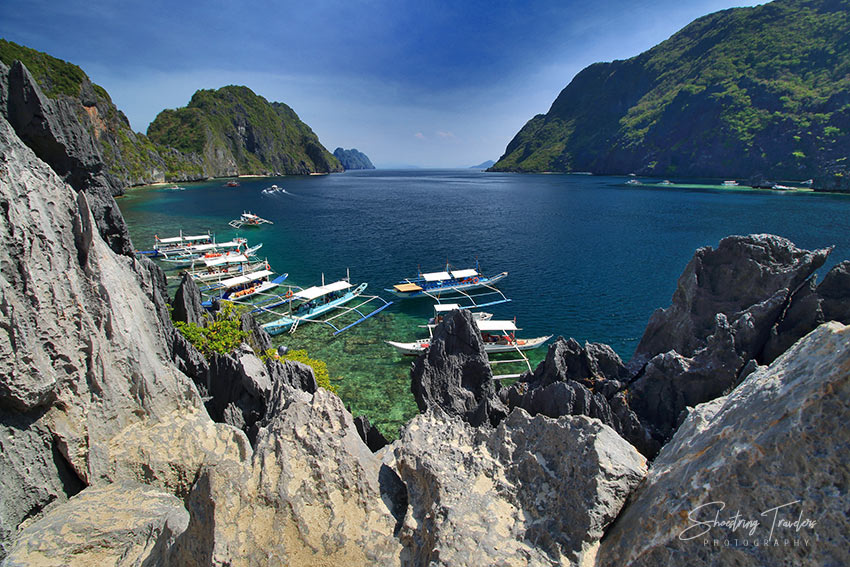 Karst landscape dominates much of the islands in El Nido's Bacuit archipelago. From a vantage point in Matinloc, one can get a panoramic view of karst formations among adjacent islands. Shimizu Island has an interesting collection of karst rocks of various sizes and shapes set among a white sand beach. We were intrigued by its Japanese-sounding name and later learned that it was named after a Japanese diver who lost his life while exploring an underwater tunnel off the island. This island also offers several excellent snorkeling spots and is often used as a lunch stopover. (Lunch is provided by the boat operators as part of the tour package.)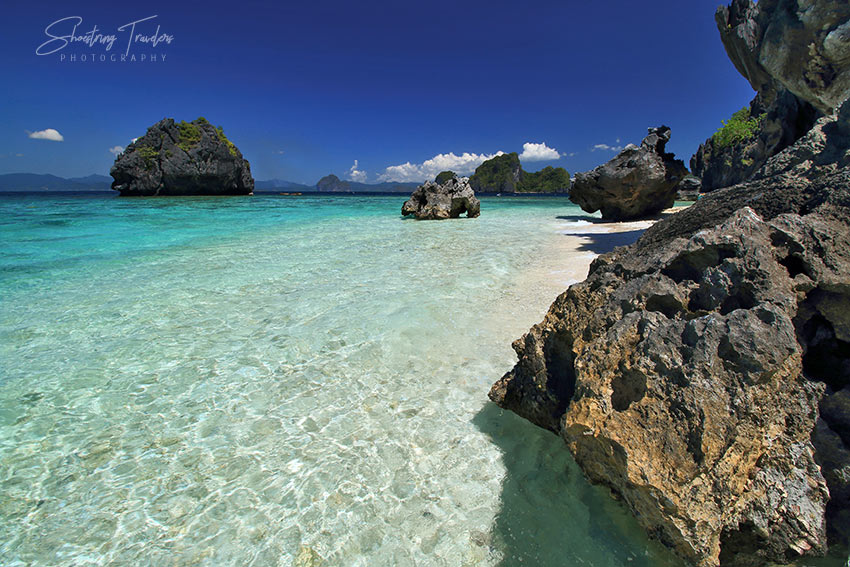 When it comes to snorkeling El Nido has provided one of the better experiences we've had. Tour C is reputed to have the best snorkeling and it did not disappoint in this regard; El Nido and the whole of Palawan has a rich aquatic biodiversity. The best snorkeling experiences we've had were at Helicopter Island and the reef at Talisay Beach in Tapiutan Island.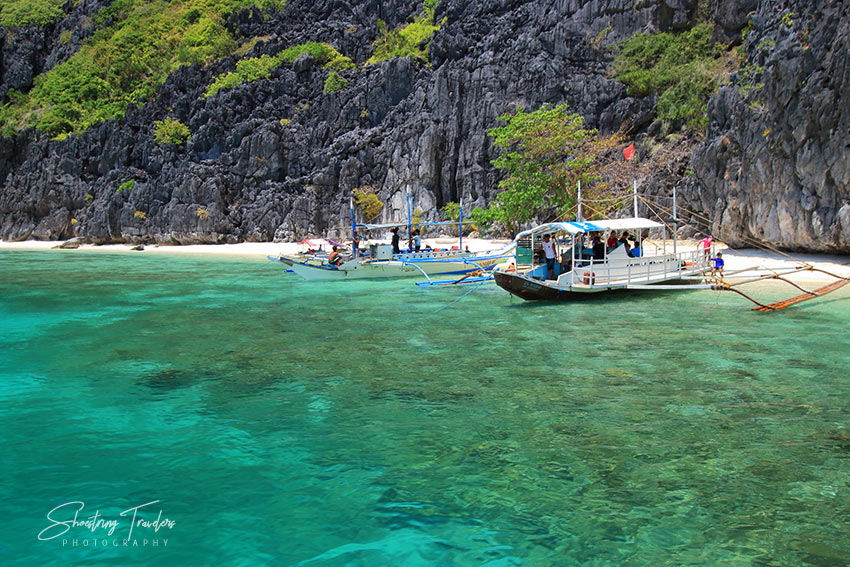 Tours A and C are the best of the lot but the remaining B and D tours are no pushovers either according to other bloggers. We would have gone on these tours last March but for Covid19. We were looking forward to touring pristine Pinagbuyutan Island, exploring Cathedral and Cudugnon Caves, beach-bumming at Entalula Beach, exploring the remarkable turquoise-hued Cadlao Lagoon and wasting time at the 4 white sand beaches of Cadlao Island.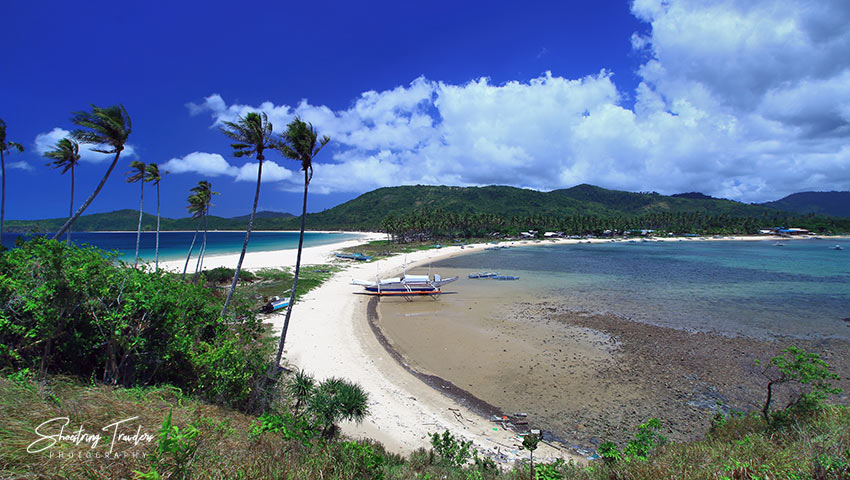 In recent years more gorgeous beaches have opened up north of El Nido town proper all the way to the edge of the main island of Palawan. The most stunning of these are probably the Twin Beaches of Nacpan and Calitang. The longer of the Twin Beaches, Nacpan is a 4-kilometer curving swath of fine, creamy white sand. You can get an impressive view of both beaches from a low hill at the end of Calitang Beach.
Beyond El Nido: Other Palawan Destinations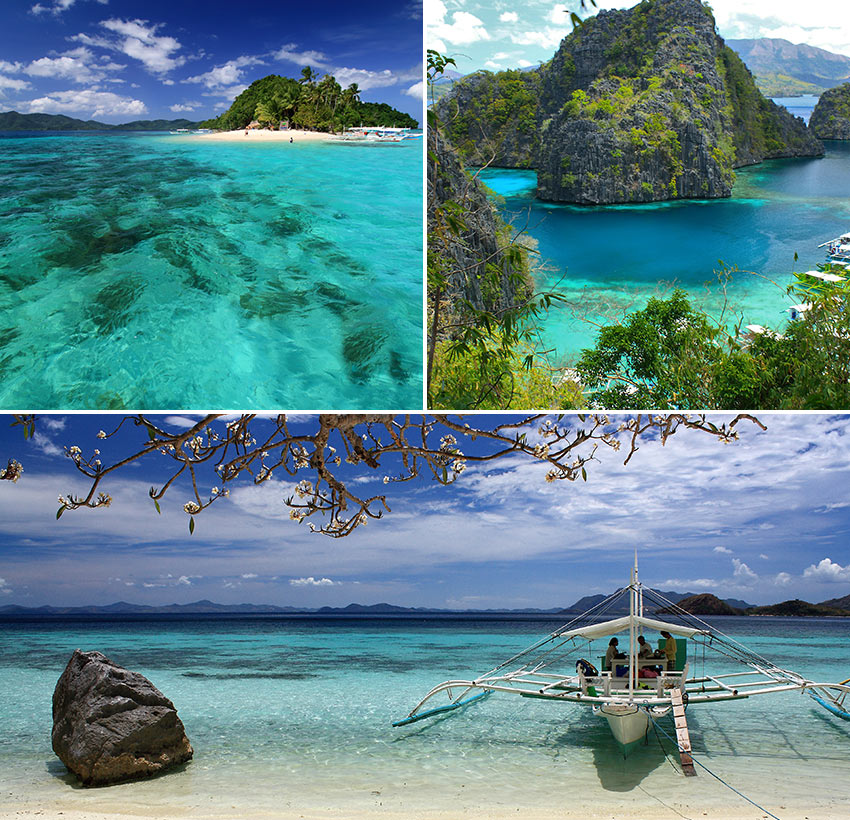 El Nido is just the tip of the tourism iceberg that is Palawan. The Calamian group of islands lies to the northeast of El Nido and includes the islands of Busuanga, Coron and Culion and the Linapacan group of islands with many more small islands and islets in between. Coron is probably just as popular as El Nido while the Linapacan Islands (also in our travel plans last March) is just gaining visibility on the tourism radar. Linapacan topped an unofficial online list of "clearest waters in the world to see before you die" a few years ago and piqued our interest so much we just had to see it but for this pandemic.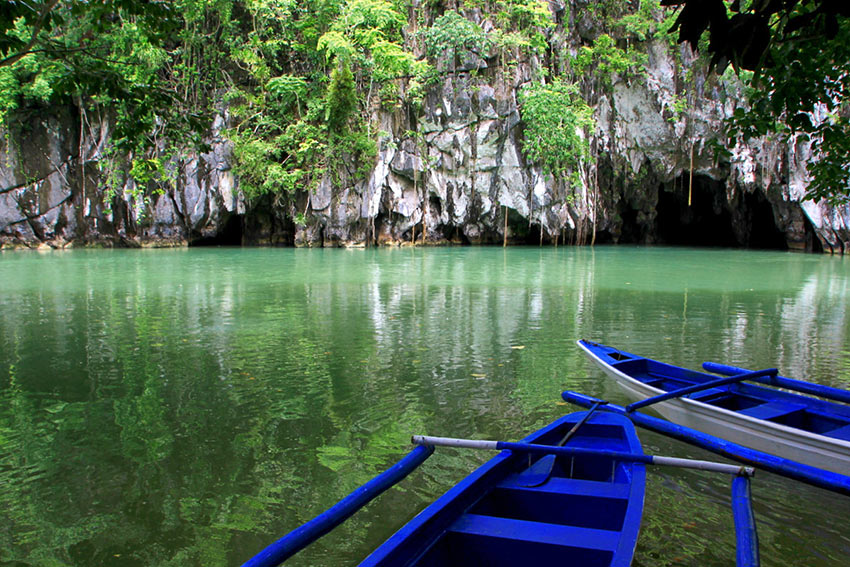 Puerto Princesa, the capital of the province is famous for the Underground River – actually the Puerto-Princesa Subterranean River National Park, an 8.2 kilometer long subterranean river system that flows directly into the sea. A UNESCO World Heritage Site, the park includes a rich forest ecosystem and spectacular karst landscape while the Underground River itself has remarkable rock formations.
Halfway up Palawan island between Puerto Princesa and El Nido is San Vicente town with the longest white sand beach in the country and the seaside village of Port Barton with its laid-back pace, lovely small islands and outstanding marine ecosystem. Snorkeling here is on par with that of El Nido and Coron with one major difference: we got to snorkel with sea turtles here.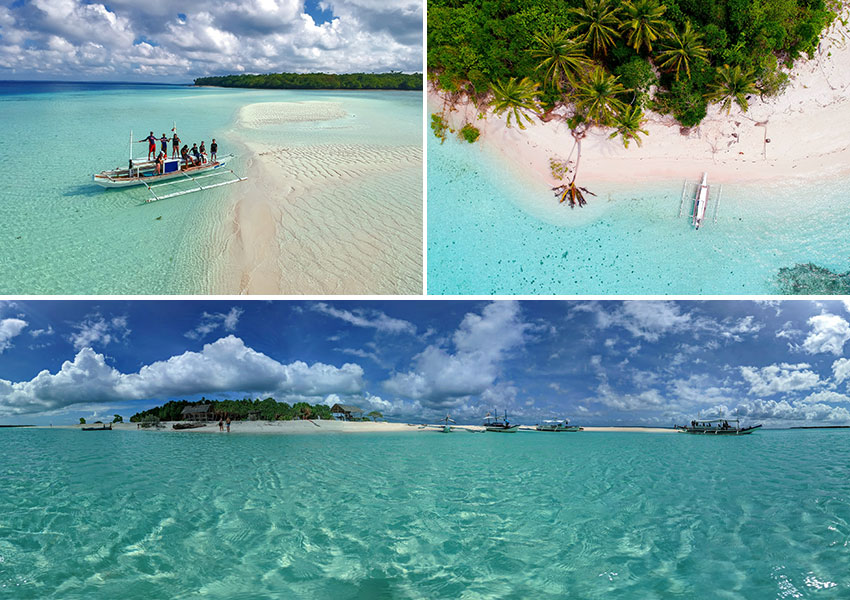 Lastly, at the southern fringes of Palawan and just a short distance from the northern tip of Sabah, Malaysia, are the islands of Balabac, another dream destination. Blessed with fine white sand with the consistency of talcum powder, dreamy coconut palms and crystal-clear aquamarine and turquoise waters, Balabac like Linapacan is only getting its share of attention in the past 2 years or so.
Although we've been to Palawan numerous times, new, formerly "secret" destinations keep showing up forever adding to our bucket list. A major concern is the preservation of the mostly pristine nature of its islands and its diverse terrestrial and marine life which increased tourism is beginning to tax. With the province temporarily closed to tourists due to Covid19, nature in Palawan can at least enjoy a much-needed break.