Raoul's 2 Cents
Open for Business? What Do You Think?
Are you looking forward to Monday? That's the day businesses are supposed to restart opening their doors. At least that's what the US Federal government  suggested at the time of this writing. It's up to each governor to decide what's good for the State. And it's up to each business to decide what's good for their company.
I was apprehensive about that. I thought it was too early because people are still getting infected and people are still dying. But then I watched an interview with a woman from the Wall Street Journal (I forget her name). And she had an insight about when to open: "You have to balance the need for health and safety with the need to bring back the economy and getting people's lives back to normal." She said the prevailing mindset is a purist mindset (which was like mine) — to open business only if every trace of that virus has been eliminated. Although it sounds good and safe, the drawback is we will be waiting forever for that to happen while the economy and people's mental state will continue to spiral downward to the point where it may never recover. A better alternative, she claimed, is to open the doors now while the epidemic continues to loose steam (accepting that there will still be people getting infected and dying) in exchange for the economy starting to revive. Does this make sense to you? What do you think?
If the health charts that I've been seeing are accurate, Covid-19 isn't as deadly as was earlier estimated. More people are dying by other causes anyway. There are also more medications and ventilators available than a month ago. More people have now been exposed and have built up their immunity, so the risks have significantly diminished. What do you think?
This balancing principle may be sound but it still needs wisdom when to implement. Nevertheless, if the shops and offices continue to take precautionary measures, if people wear face masks and wash their hands, avoid physical contact, keep their hands away from their eyes, nose and mouth … this should work. What do you think?
Come Monday, many businesses will start opening their doors. Some already have. Let's hope they will be responsible. And let's start living again. What do you think?
Keep safe and hold on to your faith. TGIF people!
Raoul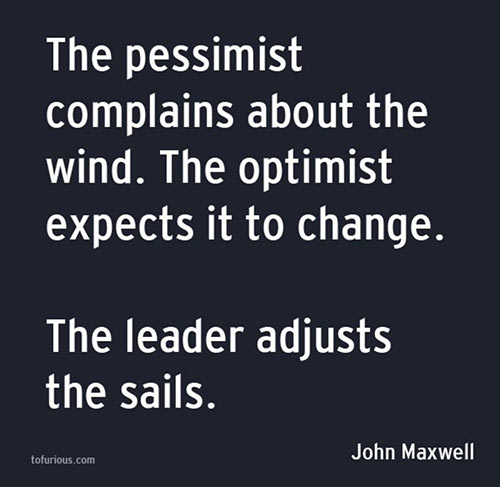 Joke of the Week
Thanks to Mike of New York, for sharing this joke.

Video: How NOT to Make a Face Mask
Thanks to Mike of New York for this video that made me cry..
Video: Love at 60 Feet Under
Thanks to Naomi of N Hollywood, CA for sending this video made by her personal friend, Paula.
Video: Archie Bunker Goes to the Hospital
Thanks to Art of Sierra Madre, CA for this classic sitcom.
Don's Puns
Thanks to Don of Kelowna, B.C.who loves puns.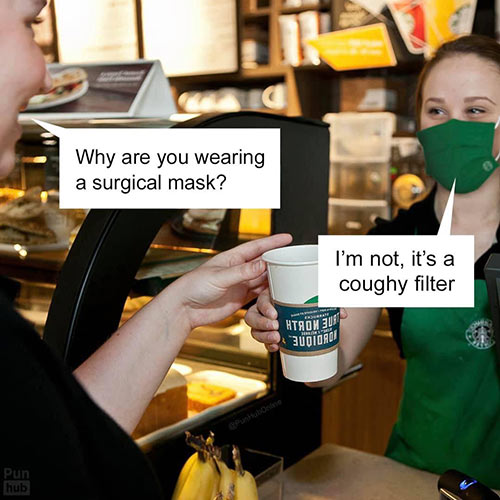 Parting Shots
Thanks to Naomi for this reminder to be more sensitive to our dogs.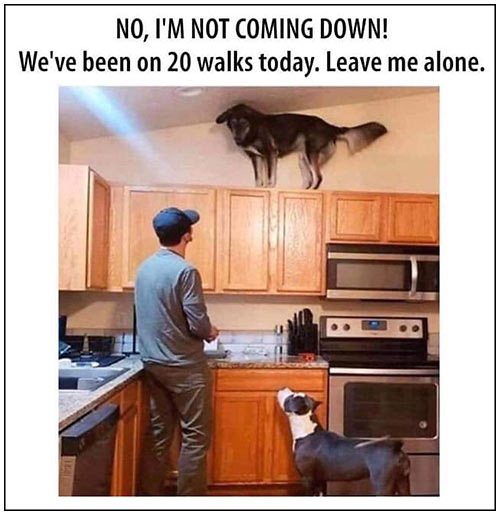 Thanks to Rodney of Manitoba, B.C. for this serious announcement.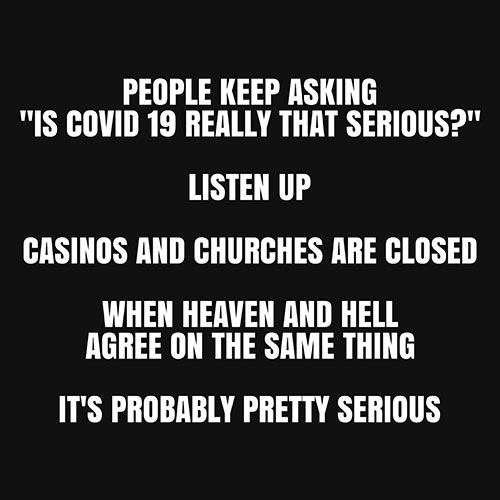 Thanks to Art of Sierra Madre, CA for this Twilight reflection.