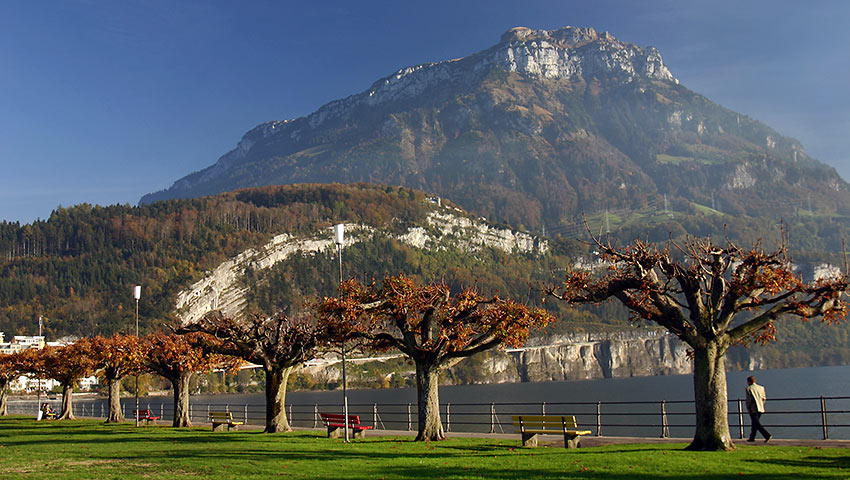 "I learned early to drink beer, wine and whiskey.
And I think I was about 5 when I first chewed tobacco."
– Babe Ruth
Dettling Kirschwelt – Lake Lucerne, Switzerland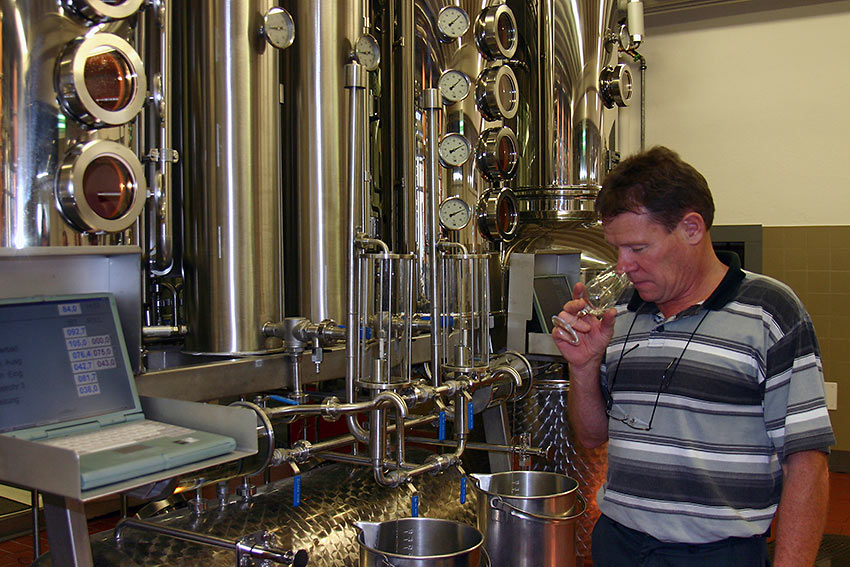 "Alcohol may be man's worst enemy, but the bible says love your enemy."
– Frank Sinatra
For many, kirsch is simply a sharp-tasting liqueur that recipes require in a pot of fondue. For the Swiss it is their national drink. For me it was an excuse to tour the Dettling Kirschwelt distillery. To be honest, just the hour-long boat ride from the city of Lucerne to the idyllic village of Brunnen on Lake Lucerne would have been worth it. But the location of Dettling Kirschwelt was not chosen for its setting on the lake; rather for its proximity to native black mountain cherries. Kirsch, once called Kirschwasser in Switzerland (cherry water), is a clear brandy made from double distillation of the juice of small black cherries. The five-generation Dettling Kirschwelt was established in 1867, and has the distinction of being the largest distillery in the world to specialize exclusively in the use of cherries. The 45-minute tour of the visitor's center is an insightful journey into all things kirsch. The taste is indescribable and, like the finest cognacs, must be felt and tasted. I left Dettling Kirschwelt with a solid kirsch education, and glad I was taking a boat back to the city of Lucerne, rather than driving.
Glenora Distillery – Single Malt Whisky, Nova Scotia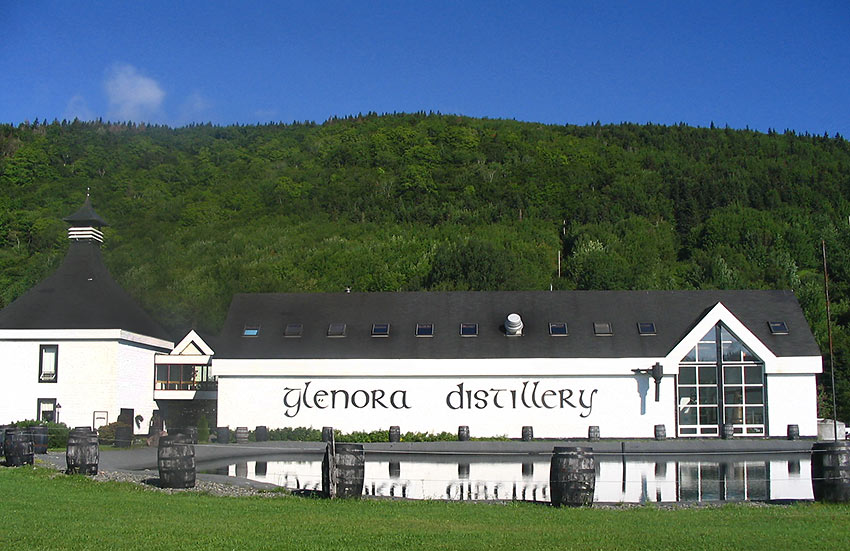 "Always carry a flagon of whiskey in case of snakebite
and furthermore always carry a small snake."
– W.C. Fields
Located on Nova Scotia's spectacular Céilidh Trail the Glenora Distillery is the first single malt whisky* distillery in North America. The distillery rests on a rural 300-acre site with buildings housing malt, kiln and milling production, warehouses, bottling and lodging facilities, constructed in a traditional style, similar to distilleries found in Scotland. Tours are offered, as well as a sampling of their 12-year-old heather and honey tasting "uisge beatha" (Gaelic for 'water of life'). Single malt is a whisky produced exclusively from malted barley that is not blended with another whisky. After my tour, I was told to expect something special, for there was to be a céilidh in the distillery's pub. A céilidh is a traditional Gaelic musical social gathering that originated in Scotland. Céilidhs flourished in Nova Scotia, where Scottish immigrants would meet with friends for an evening of song, dance and, generally, strong drink. Everyone in the room is invited to participate in the fun. I was pleasantly surprised to see one of the men sharing my table stand up and sing a song in Gaelic. It was the perfect setting to enjoy a wee dram of Glenora's water of life. I decided it best, though, to book a room for the night in Glenora's inn.
Guinness – St. James' Gate Brewery, Dublin, Ireland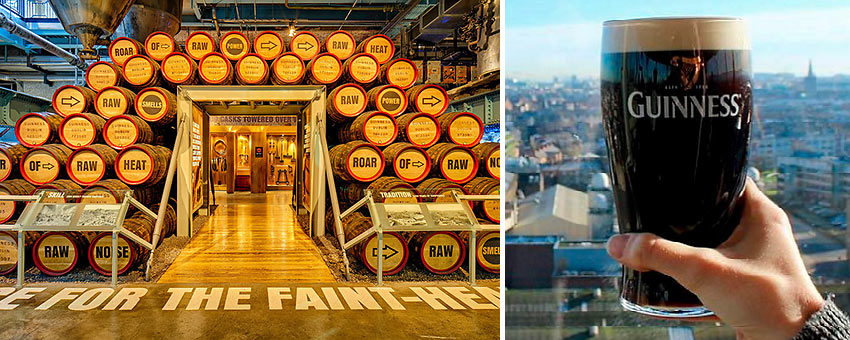 "Beer is proof that God loves us and wants us to be happy."
– Benjamin Franklin
"Guinness is good for you" might be the ultimate self-fulfilling prophesy. When Arthur Guinness borrowed money from his wealthy aunt in 1759 to establish a brewery, it was with the strict condition that it be a healthy beverage, unlike the gin mills that were ravaging 18th century Dublin. Arthur took it a step further even suggesting that his brew was so healthy that pregnant women should drink a pint of it daily. Although the theory has never been proven, a perfectly poured pint of the black stuff has always worked wonders for me. Guinness brews more than 20 varieties of beer, but is best known for its stout – an extra dark, almost black, top-fermenting beer, made with highly roasted malts. On the days of its roasting, the city air of Dublin takes on a fragrance that's paradise to the Guinness connoisseur. The best way to learn about Guinness is a trip to the Guinness Storehouse, located at the original 64-acre St. James's Gate Brewery in the heart of Dublin. The journey begins at the bottom of the world's largest pint glass and continues up through seven floors filled with interactive experiences that fuse the long brewing heritage with Ireland's rich history. As you walk through each stage of the process you'll develop a firm understanding on why Guinness is such a global favorite. And, yes, the tour ends at the rooftop at the Gravity Bar with 360° views across the city's magnificent skyline with a complimentary pint of that black stuff.
Roskamp Vineyard – Sunnyside, Yakima Valley, Washington State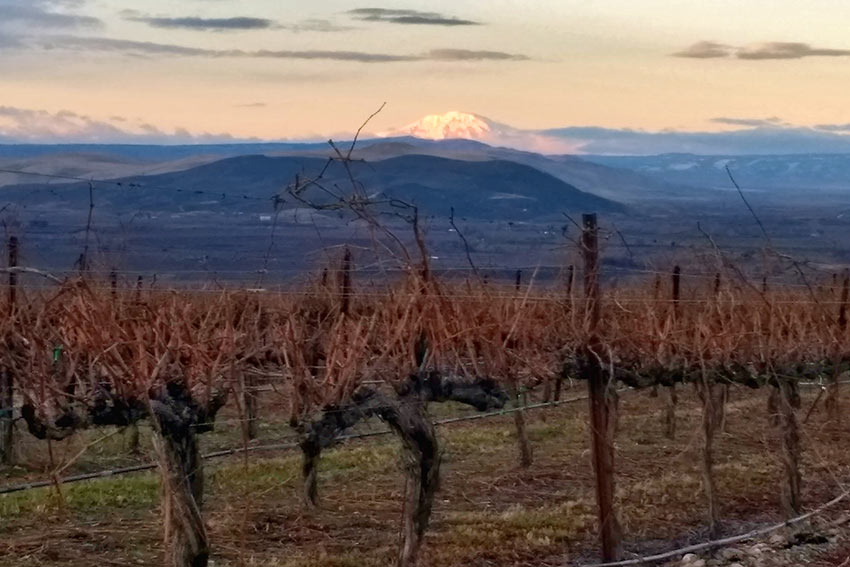 Good wine is a good familiar creature if it be well used."
– William Shakespeare
With the stars above and the lights below best describes Roskamp Vineyard's enchanting position on top of Snipes Mountain in Washington State's Yakima Valley. With the majesty of Mt. Rainer and Mt. Adams in the distance, the vineyard was the brainchild of Herman Roskamp (1922 – 2002) and his wife, Gay. They diligently dedicated themselves to the labor intensive work and patience of creating a world-class vineyard from scratch. The Yakima Valley has long been an abundant produce belt for the Pacific Northwest – not to mention its golden hops are exported to the Guinness brewery in Dublin – and it only made sense that vineyards would soon follow. Mr. Roskamp knew his vineyard would be a smashing success for the Yakima Valley is blessed with 300 days of annual sunshine and enjoys the same latitude as the great wine-producing regions of France. When the Washington wine explosion hit the market, Roskamp Vineyard was at the forefront, with their grapes widely sought after from major wineries. Recently two Roskamp Vineyard wines received national attention: The Co Dinn 2014 Roskamp Vineyard Block Two Syrah, which emotes an intense and distinctive bouquet of dark raspberry, herb and plum, and the premium Co Dinn 2015 Roskamp Vineyard Chardonnay that features a unique delicacy and complexity. Today Washington State is the second largest wine producer in the U.S. Mr. Roskamp was selected as Yakima Valley's rookie wine grower of the year in 2001 at the age of 78-years-young. Roskamp Vineyard is currently managed by Gay, son Michael and his wife.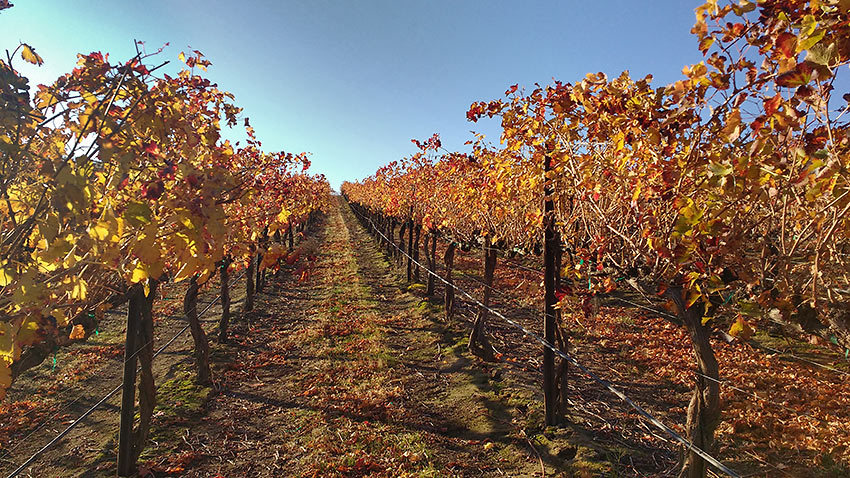 *Editor's note: The Scots spell it whisky and the Irish spell it whiskey, with an extra 'e'. This difference in the spelling comes from the translations of the word from the Scottish and Irish Gaelic forms. Whiskey with the extra 'e' is also used when referring to American whiskies.