A spectacular trumpet section anchored by John Fick is flying high, the tightly knit harmony electrifying a room packed with music aficionados and the timeless and earthy ambience of a hard-swingin' 18-piece big band. Cherished sidemen, who should each have a star on the Hollywood Walk of Fame, sit elbow to elbow, each with a tale to tell.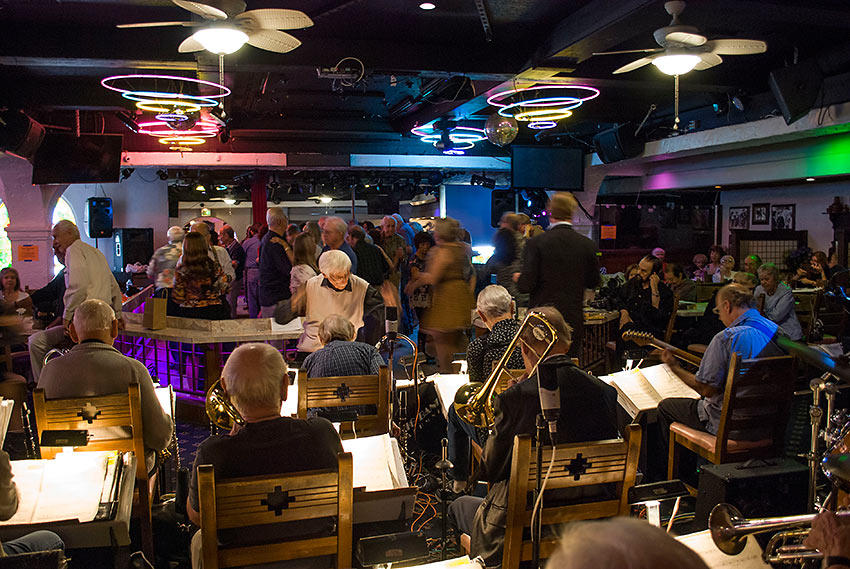 Johnny Vana's Big Band Alumni with two superlative vocalists, Bill A. Jones and Bonnie Bowden, are a cherished American treasure who come together every Tuesday, 10:30 a.m. to 12:30 p.m. at Las Hadas, a Mexican restaurant in Northridge, California where the dance floor is packed with a collection of spirited people, ages ranging from top to bottom, who love to move their feet to big band swing and electrifying jazz solos that lift the room with a radiating vitality.
The restaurant could be placed smack dab into the center of a 1930's Warner Bros. Movie set with its ceiling fans, glowing neon lights, and black-and-white photos of long-forgotten bull fighters and Mexican actors. Out front are tired rest rooms wearing makeup from another time just steps from a large front door in need of minor repair. These intricate pieces of the setting are the backdrop to the red-headed lady named Edye who sits on a stool collecting $8 from each guest and carefully making change from an envelope.
The festive morning ambience inside sweeps music aficionados into an extraordinary convivial mood, unique to Southern California, if not the entire United States. The room is a spiritual space for a collection of some of the finest swing musicians on the planet, talented artists of age performing the language of high-end musicianship and exhibiting a multiplicity of stylistic virtues.
Las Hadas is a feel-good place where upon entering the room the ills of the world are brushed away by the harmony, jazz riffs, and spectacular rhythm section that lifts the spirit. It's a place where smiles are part of the scene as servers work their way through crowded aisles to booths that line one wall while the bouquet of Huevos Rancheros mixes nicely with Count Basie's One O'clock Jump.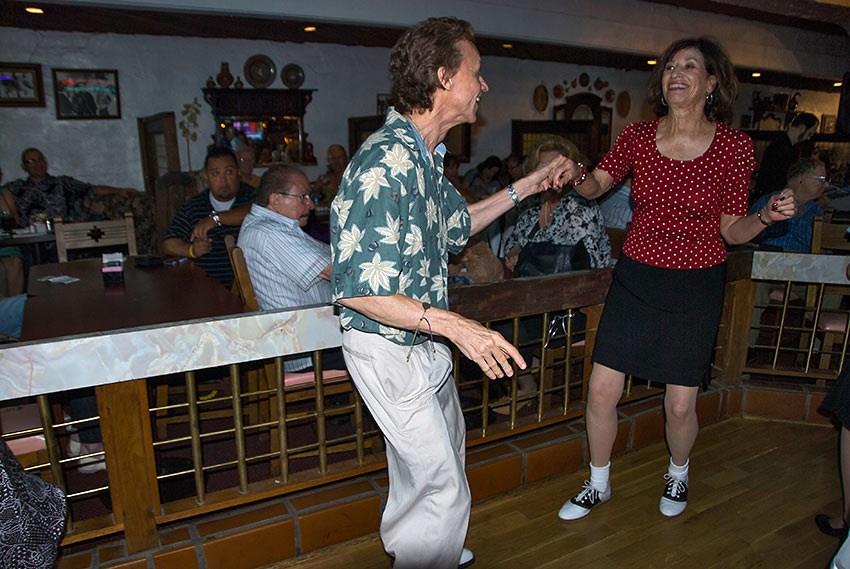 Johnny Vana, with his quick wit and enormous sense of humor, has been leading the Big Band for some 20 years. A drummer from age three when he won at an amateur show, he has enjoyed a long-lasting career, star-studded with performances with many of the top big bands of the day.
Honored with a graduate degree in music from the University of Texas, Vana was the Principal Percussionist with the Omaha and El Paso Symphonies, has backed Bette Midler, Peggy Lee, and Tony Bennett, among a host of others, and performed on television and movie sound tracks, all a short preview of his incredible accomplishments.
At 10:30 a.m., while some people are enjoying their second cup of coffee and browsing the newspaper, "Heeaaar's Johnny" is the upbeat for 18 musicians, a compilation of unsurpassed musical talent whose average age is 78. Most have played with the big bands of the past, can sight read with great skill, have worked as prestigious studio musicians, performed in major films and television, traveled the world with concert tours, and recorded countless CD's, such as tenor player Lanny Aplanalp's, Future Memories.
Vana calls out numbers from 300 charts with another 1,000 to 1,500 arrangements he rotates from time-to-time including some original compositions written by band members. The music ranges from Woody Herman's upbeat Wood Choppers Ball, to Latin arrangements and ballads, all great for East or West Coast Swing dancing, and for some of the Las Hadas dancers who originate new steps yet to be catalogued.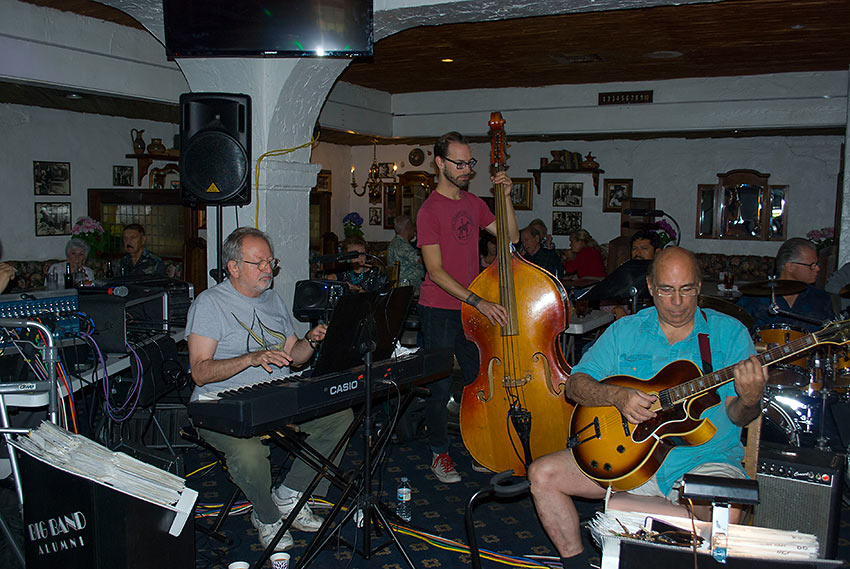 Gordon Bash, the youngest musician in the band playing a 1995 Engelhardt stand up bass, jives and sings an up-tempo, Caledonia, over a rhythm section anchored by highly-trained pianist and composer, Cengis Yaltkaya, and guitarist, Ron Hersehe. A few charts later Curt Sletten steps up front singing The Hucklebuck, and with great trumpet skill easily moves above High C with astonishing agility that rattles the ice in the Bloody Marys.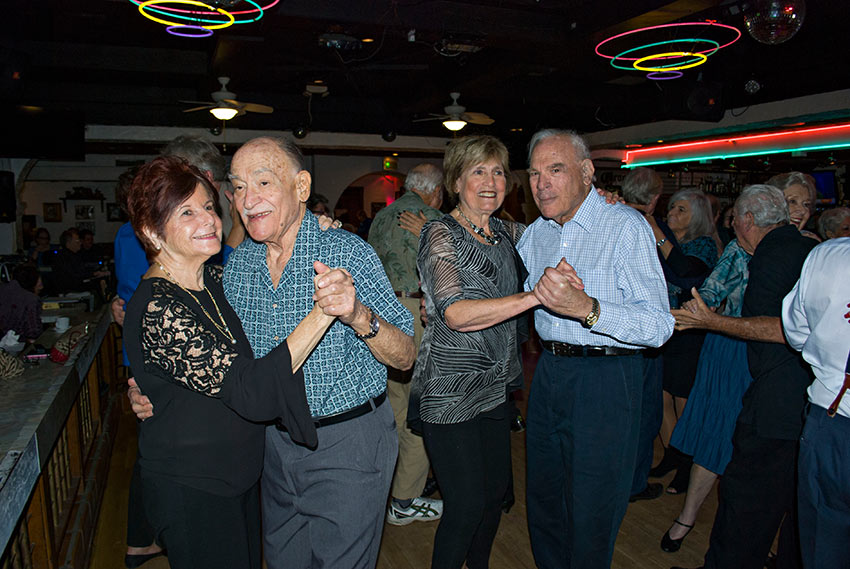 Bill A. Jones, arms spread, head back, his rich baritone voice vibrating off the back wall of the dance floor, sings the classic 12-bar blues, Every Day I Have the Blues, the band romping behind him with splendid solo jazz improvising, drummer, Gary Gibbons, holding the tempo with absolute skill. The band sounds as if it is performing in Carnegie Hall, effortlessly holding the timeless lyrics in an up-tempo goove with Jones' bluesy interpretation, "Nobody loves me, Nobody seems to care…I'm going to pack my suitcase and move on down the line."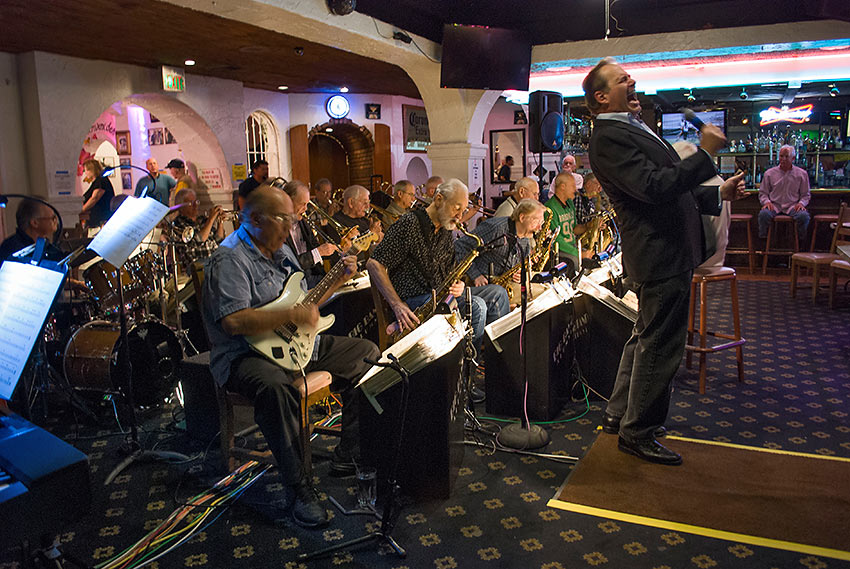 Jones, noted for his voice-overs, and named one of LA's Best Cabaret/Concert Artists, is Sinatra-influenced with a relaxed informal body language, an impressive stage presence, and, similar to Vana, an entertaining and humorous personality as he introduces his songs and chats with the dancers and listeners. His friendly and positive singing demeanor is closely related to his engaging acting career in television, commercials, and concert appearances.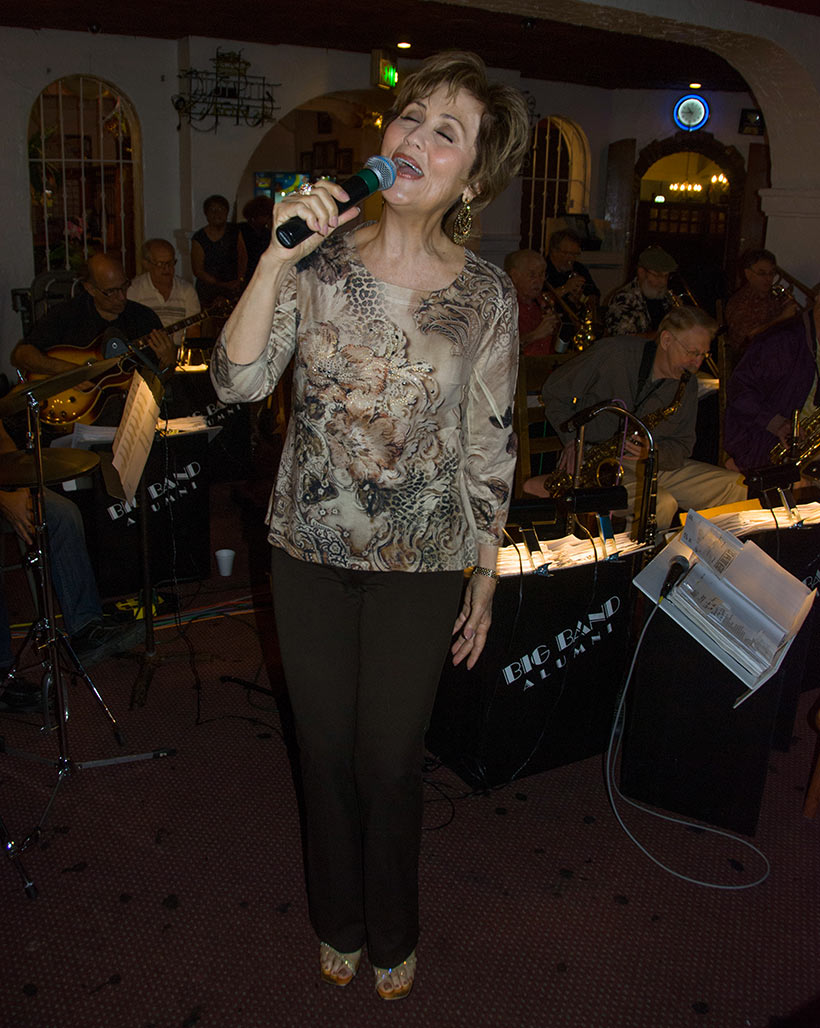 Bonnie Bowden, the other half of the dynamic vocal duo, an eye-catching Coloratura Soprano, and a regular on Tuesday mornings, sings in Spanish, Italian, Latin, Portuguese, French, German, and Japanese. Nominated for a Grammy in the Best Female Pop Vocal Category, Bowden is also an accomplished opera performer, and sings with her husband and guitarist, David Amaro.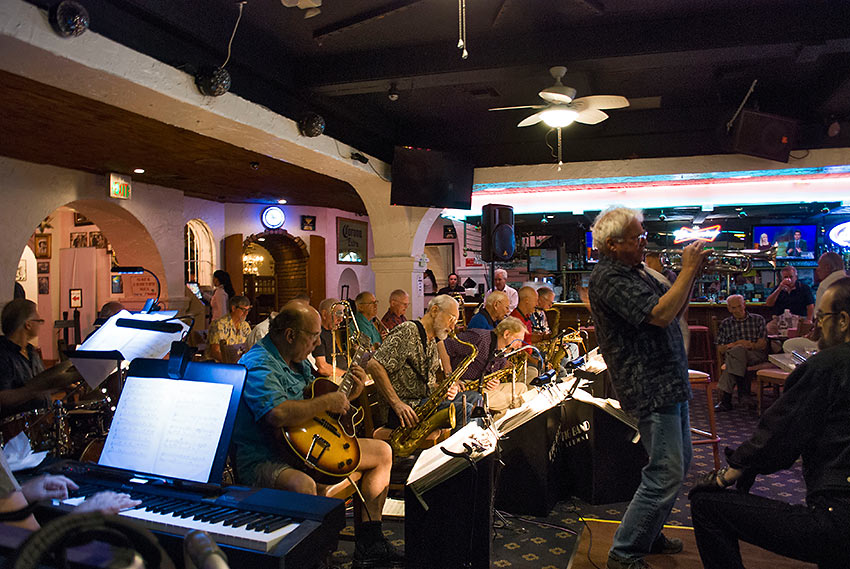 Among a number of morning highlights are Jack Redmond's inventive trombone work, and then when Bowden scat sings Just Friends in unison with the band on complex up beat riffs accentuating a four-octave range. Las Hadas listeners with a sense of melodic imagination and closed eyes can let the ambience whisk them to a dimly-lit nightclub at 2 a.m. while the band and Bonnie are deep into a session, dancers embracing, John Thomas' trumpet rearranging the ceiling tiles, Vana leading.  www.vanabigband.com
Photos courtesy of Halina Kubalski.