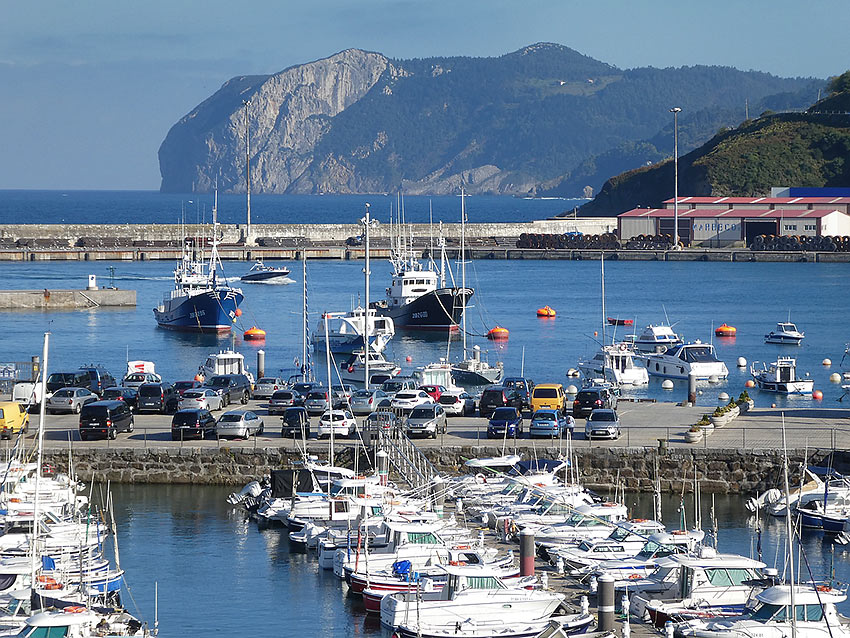 While visiting the coastal town of Bermeo, one of the oldest towns in the Basque Country of Spain, I received a most unusual invitation to dine with friends of friends. It was unusual not just because it began in a seafood market or ended in a mountaintop bodega. No, this was a rare invitation to dine at one of the Basque male gastronomy societies, those exclusive, men-only bastions of Y chromosomes called Txokos, in what is essentially a matriarchal society. Most tourists never see the inside of one, so naturally I said yes.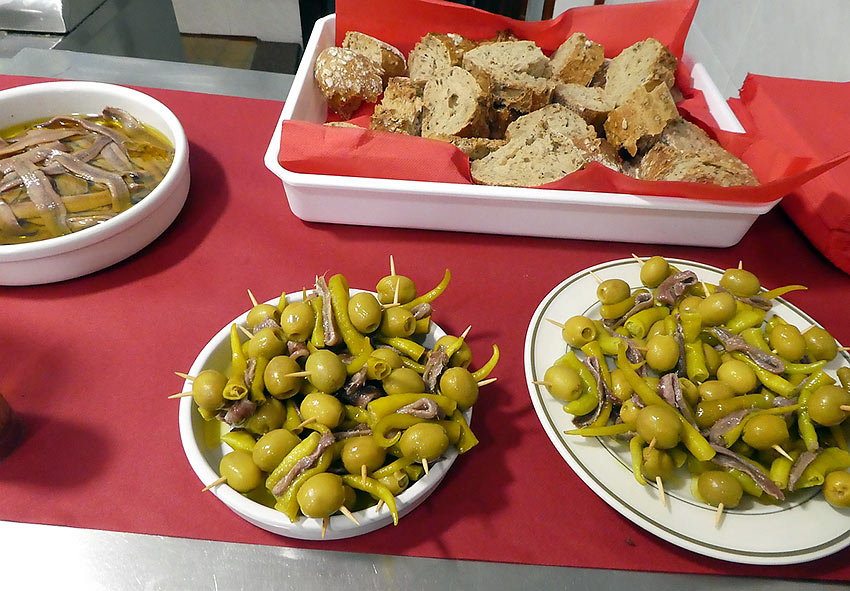 It began when Tours By Basques took our small group to a house-cured anchovy tasting at the Mari Tere seafood shop. There we met Basque Chef Mikel Garikoitz Isasi Perez when he came in to pick up his order. Over the delicious anchovies we began to talk food, the quality of the olive oil the anchovies were in (Urzante), and the benefits of fresh-cured anchovies over canned. As is so common in Spain, foreigners showing an interest in their culture and gastronomy are indulged and encouraged by the locals. My guide made introductions all around, plates of pintxos appeared (olives and fresh anchovies on toothpicks) and one shopper opened a bottle of the local Txakoli he was carrying. Before long Chef Mikel invited us all to join him for lunch.
Not My First Visit to a Txokos
Years before I was walking along the Bermeo harbor with chef friends when we happened upon an open door with fantastic cooking aromas wafting out. The most out-going among us called someone to the door. The chefs were recognized and we were invited in. Not to eat, but it was a great experience seeing the kitchen and what they were cooking. So imagine my surprise when, with 4000 txokos in the Basque Country to choose from, Chef Mikel led us back to the very same one! It was fate. This time I was invited to eat.
Txakoli from Bodega Berroja
The man with the bottle of txakoli, Jose Angel Carrero Arketa, owns Bodega Berroja, a local winery on a mountaintop overlooking Bermeo. He was prepared with an unusual flight of his wines. Txakoli is a slightly effervescent Basque white wine of high acidity and low alcohol, meant to be consumed fresh, but Jose had a few bottles from each of several years, so we would also be tasting how "green" wine aged (very well) as we enjoyed course after course of seafood.
This was a simple meal, not restaurant stuffy, but more like a family sitting around the table, and the aromas of the sea, onions, and garlic hung over the plain settings. There was nothing to distract us from the food and the wine – except the view. Because there were women with us, we dined outside on a wide porch, perched above the busy harbor where the fishing boats had recently unloaded the ingredients for our meal. This is Basque Country. Everything was the freshest and finest quality, so little had to be done to enhance the flavors.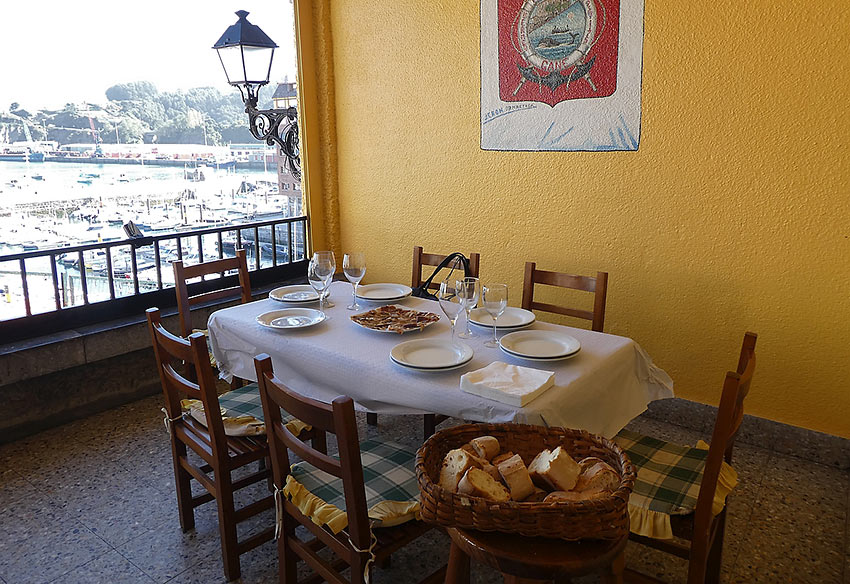 In the center of the table was a plate of finely cut Iberian Jamon (ham), served as an appetizer and as a palate cleanser between wines and courses. That and bread were the only non-seafood items.
Basque Sustainable Seafood With White Wine
Widely known for the quality of their seafood, Basques should also be known for their sustainable fishing. Chef Mikel explained that tuna has a season, with strict catch limits, and all must be line caught. He said that the excitement of the first tuna of the season creates an incredible competition as local chefs bid against buyers from as far away as Japan to procure some.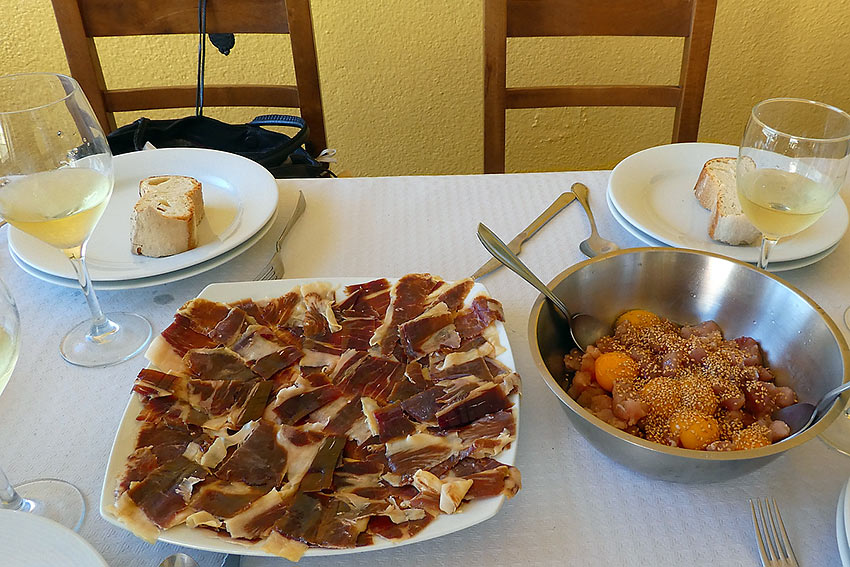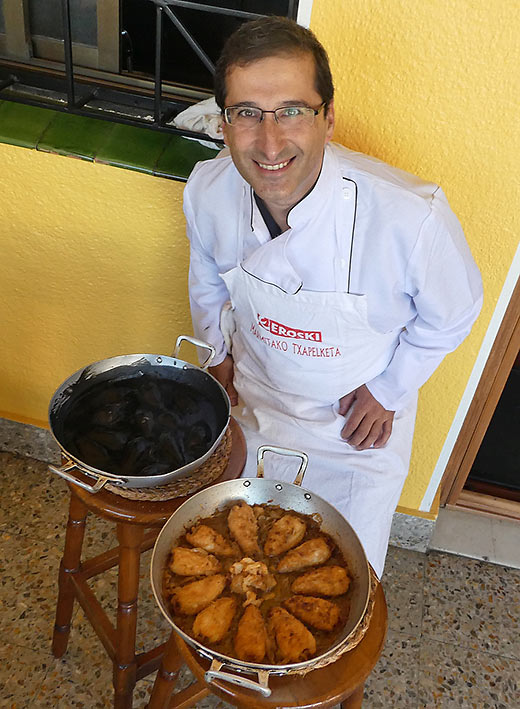 Then he served us tuna tartar. The raw, red flesh, dotted with raw egg yolks which he stirred in, was topped with truffle oil and sesame. It was a rich burst of flavor, redolent of the sea, which made me wonder why anyone would ever cook it. There was also some hotness to it, which was fine by me. Chef Mikel admitted that he put red or spicy green peppers in every dish because he liked the heat. That's my style as well. The more I got to know him, the more I liked the guy! The youngest txakoli, clearly designed for sea food, was crisp and light, the perfect accompaniment.
Many chefs have learned the hard way that squid is not the easiest seafood to cook. Chef Mikel cooked them perfectly, not once but twice! The squid two ways course had squid lightly sautéed in oil and white wine, with onions and garlic, juxtaposed with squid simmered in its own ink to a black richness. It was as visually opposite as it tasted, the viscous sea taste of the ink countered by the lightness of the wine sauce, with both squids tender and delicious in their own way. I complimented him on the very clever plating. The year old txakoli was still light and fresh, but a depth was creeping into it that the younger wine didn't hint at. This meal was getting interesting.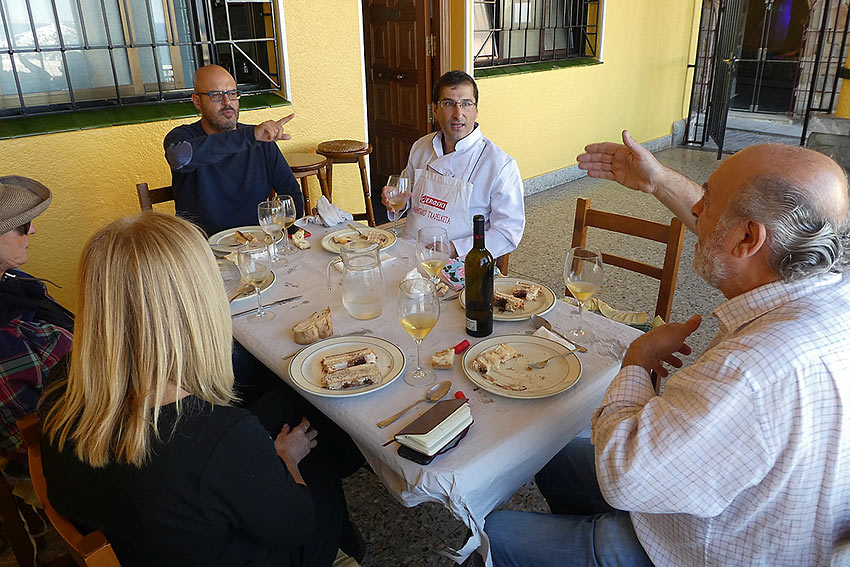 The Origins of Txokos
The ham lent still more depth to the wine as we cleansed our palates before a lighter dish of clams steamed in parsley and wine.  Throughout the meal the conversation never stopped. After I asked about the origins of txokos, if they were political, cultural or what, the three Basque men at the table explained the matriarchal nature of their society and how their clubs grew as a refuge from the home, not to a bar or a mistress, but to a place to enjoy the company of men and talk of sports, politics and food – all guy stuff.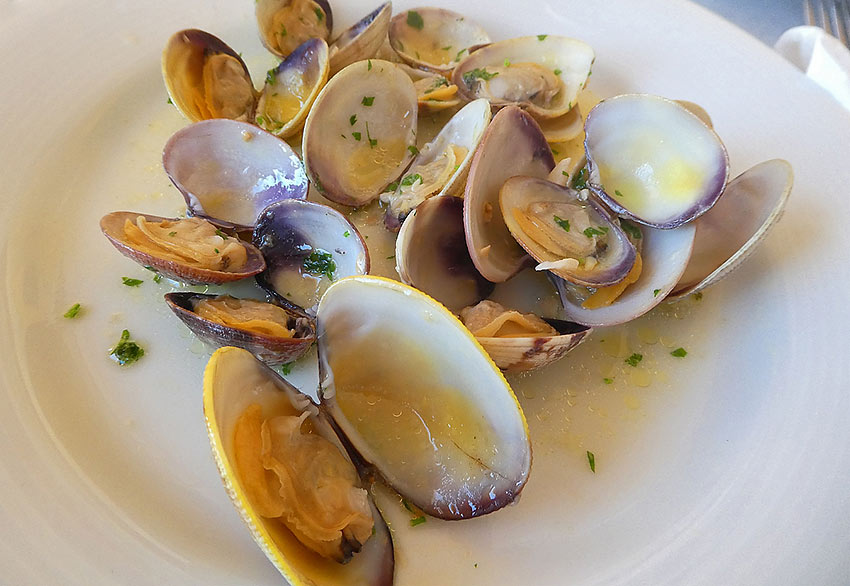 Then, the third bottle of wine came out as Mikel excused himself to check on the sea bass. He's just one guy in the kitchen who cooked the entire meal, served it, sat and ate with us, entertained us, and made it look effortless! I called him a chef, but he's really a software designer who loves to cook, and the txoko allows him to indulge his pleasure, which he in turn gives to others.  That makes him a chef in the true sense of the word.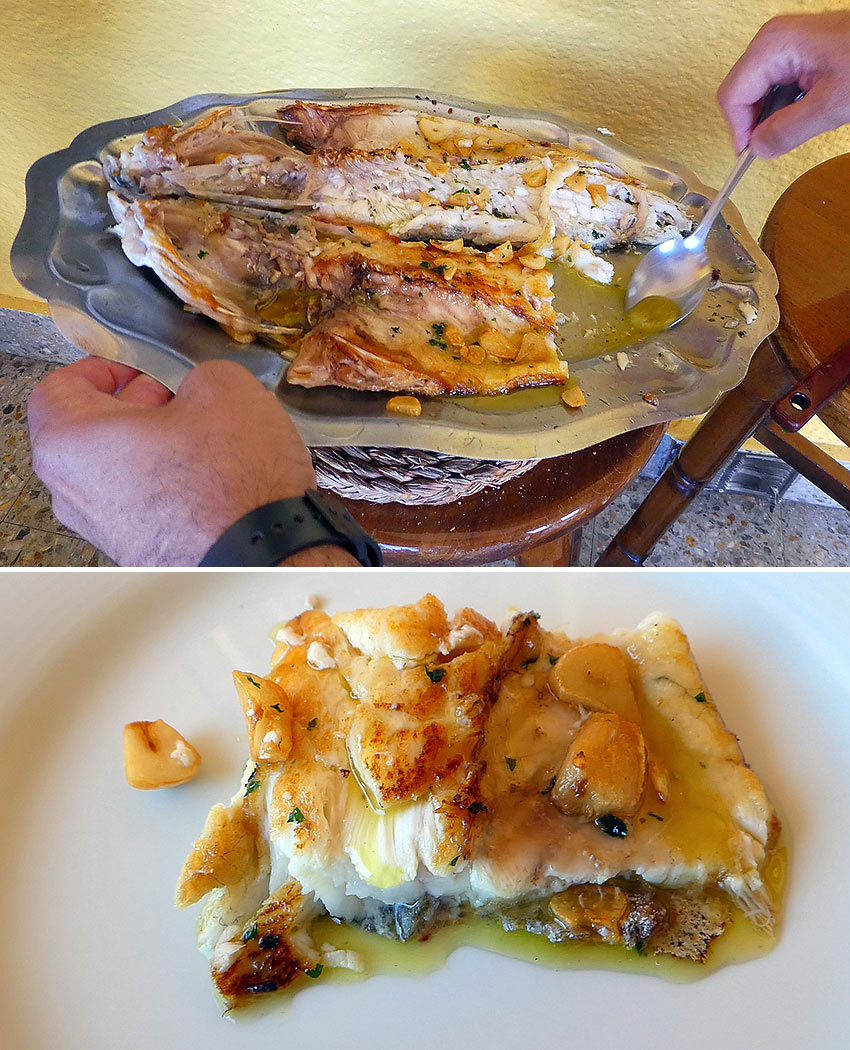 The sea bass was served whole, skin down, butterflied and boned, then drizzled with rich, garlic-infused oil. The fresh-off-the-boat, flakey, almost sweet flesh smelled as grand as it tasted.  The unheard of three year old txakoli had a murky depth and color that lent an unexpected complexity to the pairing. This was no longer a fresh young wine, but a white wine of substance which, had I closed my eyes, could easily be confused for a red wine.  We continued to enjoy it through the lively conversations following the meal, or as the Spanish say, the sobremesa.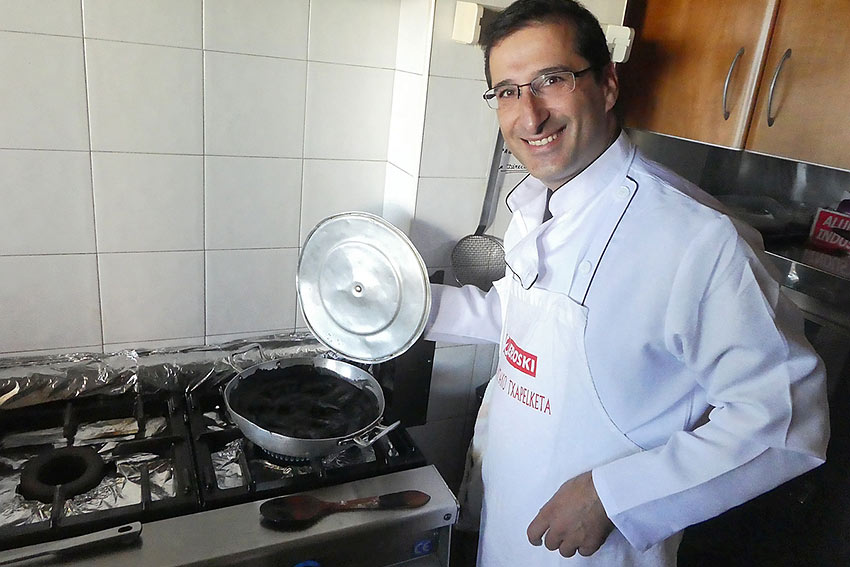 And that is, in essence, what a txoko is. It's a place where men get out from underfoot but not into trouble. They talk, work together and support one another as the women in their lives do with their girlfriends. It's simply guys, camaraderie, and good food, and it is an institution that has worked for 400 years. Today, traditions have loosened; with special days when women are invited and the men still do all the work. There are even a few txokos with women presidents, but it is largely a culture of, by and for Basque males.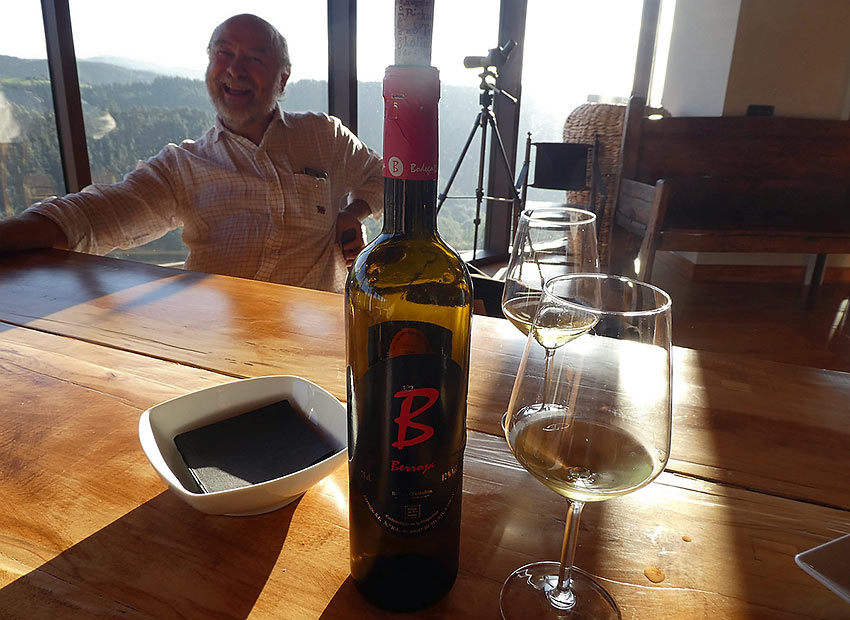 Visiting Bodega Berroja
When it was time to leave, Jose Angel Carrero Arketa of Bodega Berroja, our new friend with interesting wines, invited us to see his winery. His is a mountaintop eyrie, perched high on a bluff overlooking the valley behind Bermeo. It is overrun with cats, who keep the birds from eating the grapes, and sports sinuous lines of grape vines girdling the surrounding slopes. He has a breathtaking view fit for weddings and perhaps a future hotel, and offered us delicious wines to taste through the rest of the afternoon. You should look him up when you go to the Basque Country and definitely taste his wines!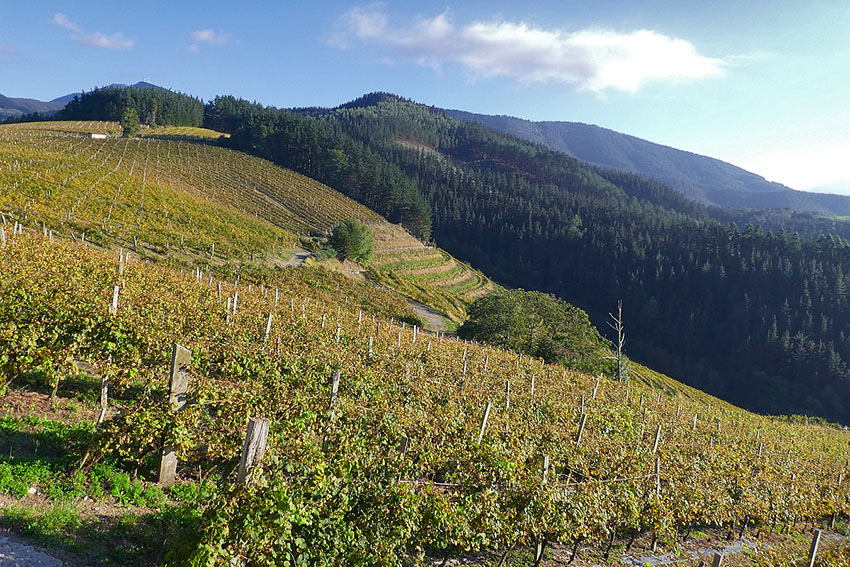 Tours by Basques provided a knowledgeable and genial guide
Berroja Wines for some great Txakoli
Hotel Miro in Bilbao within sight of the Guggenheim Museum
For more information about traveling in Spain or in the Basque Region