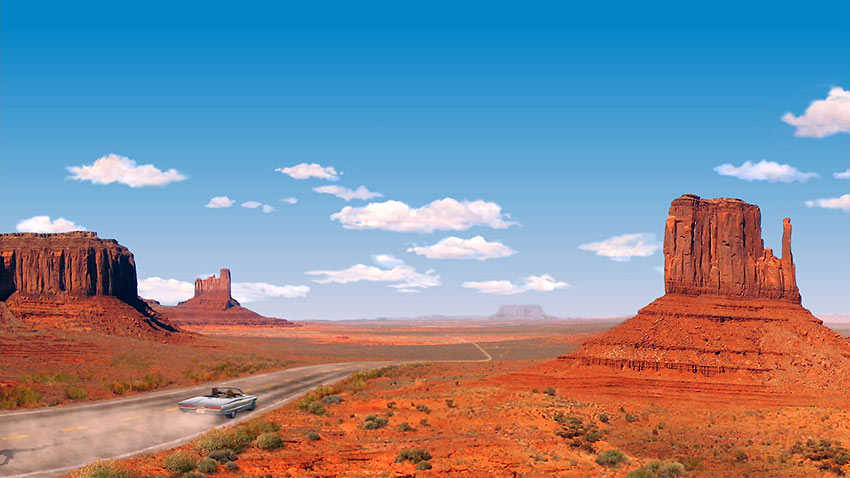 Thelma & Louise cut through majestic John Ford Country in a '66 T-Bird. The popular film raced to #4 in our poll.
By the T-Boy Society of Film & Music
Curated by Ed Boitano.
1. Viaggio in Italia (1954)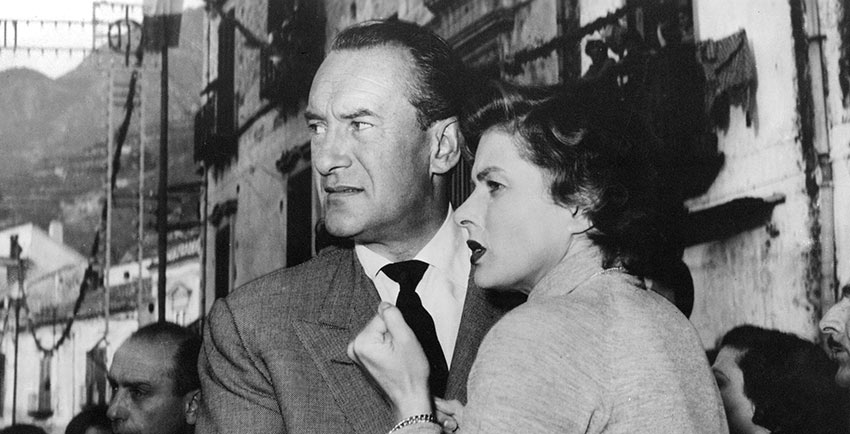 Director: Roberto Rossellini;  Story and screenplay: Vitaliano Brancati & Roberto Rossellini); Cast: Ingrid Bergman, George Sanders, Maria Mauban
Roberto Rossellini's groundbreaking spiritual masterpiece is still ahead of its time and widely misunderstood. An unhappily married English couple (played by Rossellini's wife, Ingrid Bergman; and George Sanders) drive to Naples for an inherited property. There is mundane dialogue and bickering about the collapse of their marriage.  As the film closes, they are caught in a religious procession, and an off-screen miracle takes place. All they can see is a lame man, euphorically waving his crutches in the air. Overwhelmed by the experience, they make a new commitment to their marriage.
2. Kings of the Road (1976)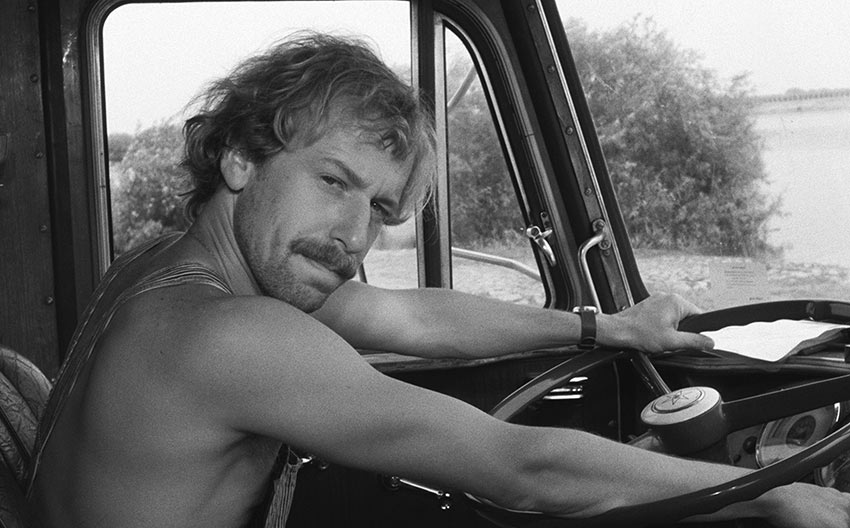 Director/writer: Wim Wenders; Cast: Rüdiger Vogler, Hanns Zischler, Lisa Kreuzer; Cinematography by Robby Müller
Wim Wenders' Kings of the Road is about a movie projector mechanic (Wenders' regular, Rüdiger Vogle), traveling the lonely backroads of pre-reunification West Germany to dilapidated movie theaters. He meets a depressed linguist, who just bungled a suicide attempt. The two decide to travel together in an attempt to come to terms with their own lives in a changing world. The final installment of Wenders' Road Trilogy, shot in stark b/w by the brilliant Robby Müller (another Wenders' regular).
3. Wild Strawberries (1957)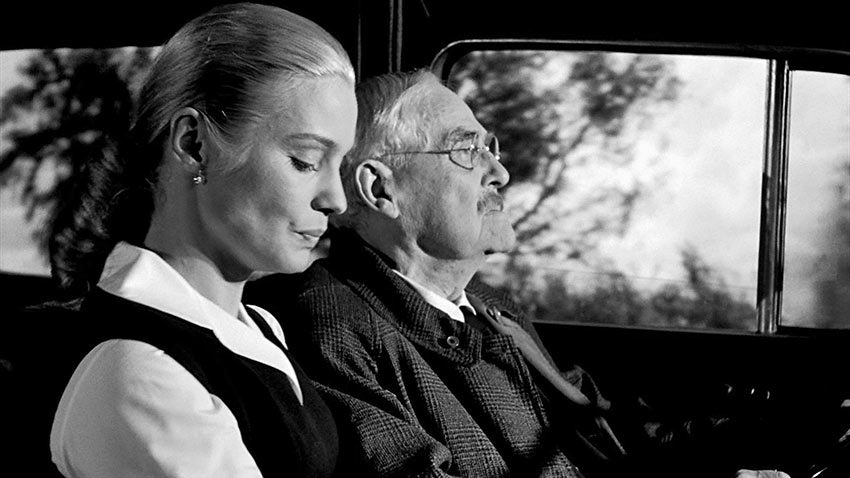 Director/ Writer: Ingmar Bergman; Cinematography: Gunnar Fischer; Cast( Full of Bergman regulars): Victor Sjöström, Ingrid Thulin, Bibi Andersson, Gunnar Björnstrand and Max von Sydow (the Seventh Seal's courageous knight in a bit part as a gas station attendant).
Ingmar Bergman's richly humane masterpiece, dramatizes one man's journey of self-discovery. Driving from Stockholm to Lund  to accept an honorary degree, an aging professor (played by veteran filmmaker, Victor Sjöström), confronts the emptiness of his existence and the inevitability of his own death. Traveling with his pregnant niece (Ingrid Thulin),  the narrative is conveyed through iconic imagery of flashbacks, dreams and nightmares. The final two shots, linked through a dissolve, are among the most heartfelt endings in the history of the cinema.
4. Thelma & Louise (1991)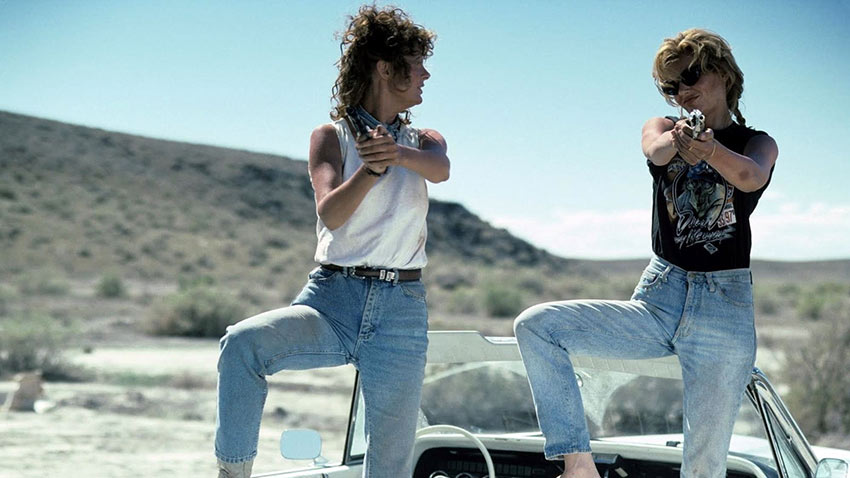 Director: Ridley Scott; Writer: Callie Khouri; Music: Hans Zimmer; Cast: Susan Sarandon, Geena Davis, Harvey Keitel, Michael Madsen, Christopher McDonald, Brad Pitt
Two working-class women (Susan Sarandon, Genna Davis) bust out of small town Arkansas life in a 1966 T-Bird to blow off a little steam. Their Road Trip transitions into a couples-on-the-run when Thelma shoots a man, stopping a brutal rape of Louise. The characters undergo a rite-of-passage and sense of self-discovery as they traverse the U.S.' expansive landscape. With sheriff's cars behind them, their road ends at the edge of a cliff. Rather than surrender, they decide to floor the T-Bird over the cliff, leaving the audiences with a freeze-framed symbolic image of them flying through the sky.
5. The Grapes of Wrath (1940)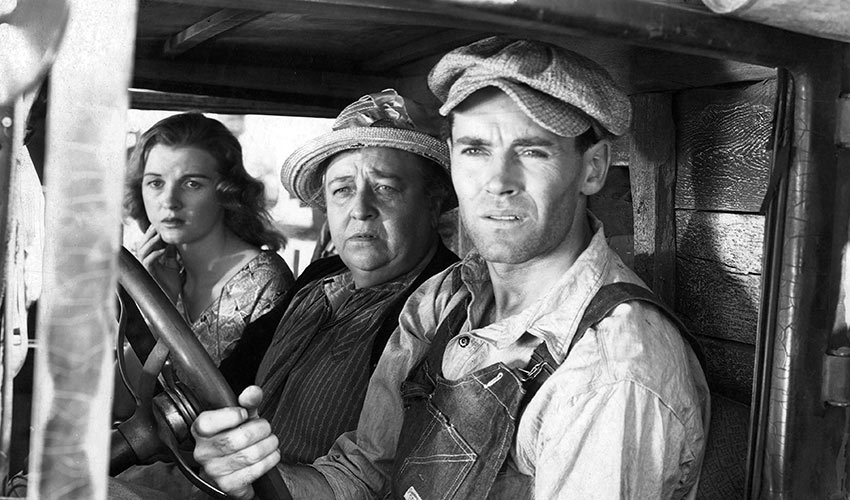 Director: John Ford; Writers: Nunnally Johnson (screen play), John Steinbeck (based on his novel); Cinematography: Gregg Toland; Cast: Henry Fonda, Jane Darwell, John Carradine, Charley Grapewin; John Qualen
The Grapes of Wrath is a film adaptation of John Steinbeck's novel, directed by legendary John Ford. The narrative focuses on the plight of the Joad family, who have been forced off their land due to the Oklahoma Dust Bowl. In a barely functional truck, the group heads to the promised land of California. They are met with inhumanely low wages, corrupt orchard owners and savage strike-busting vigilantes. The film is blessed with many of Ford's hallmarks, Tom Joad's (Henry Fonda) ending soliloquy, and the innovative use of deep-focus cinematography by pre-Citizen Kane cameraman, Greg Tolland.
6. La Strada (1954)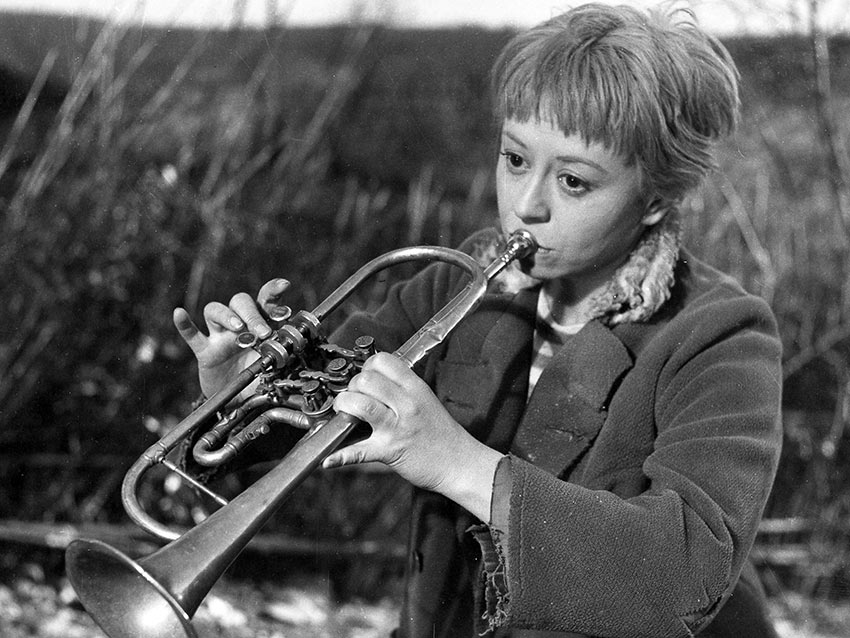 Director: Federico Fellini; Writers: Federico Fellini, Tullio Pinelli (story and screenplay), Tullio Pinelli (dialogue), Music: Nino Rota; Cast: Anthony Quinn, Giulietta Masina, Richard Basehart
Gelsomina (Giulietta Masina) is a gentle peasant girl, sold by her mother to  Zampanò (Anthony Quinn), a brutal strongman in a battered traveling circus. She endures physical and emotional abuse as his assistant, but still manages to carry on. The film ends in tragedy when Gelsomina finally breaks down and is abandoned. Later, Zampanò is confronted with his own brutality and drops to his knees at the seashore in remorse. The 'sea' and Chaplin films, where Masina plays a version of the Little Tramp, are recurring influences in the work of Federico Fellini. The film launched Fellini and Masina (Fellini's wife, seven films together) to international stardom.
7. Bring Me the Head of Alfredo Garcia (1974)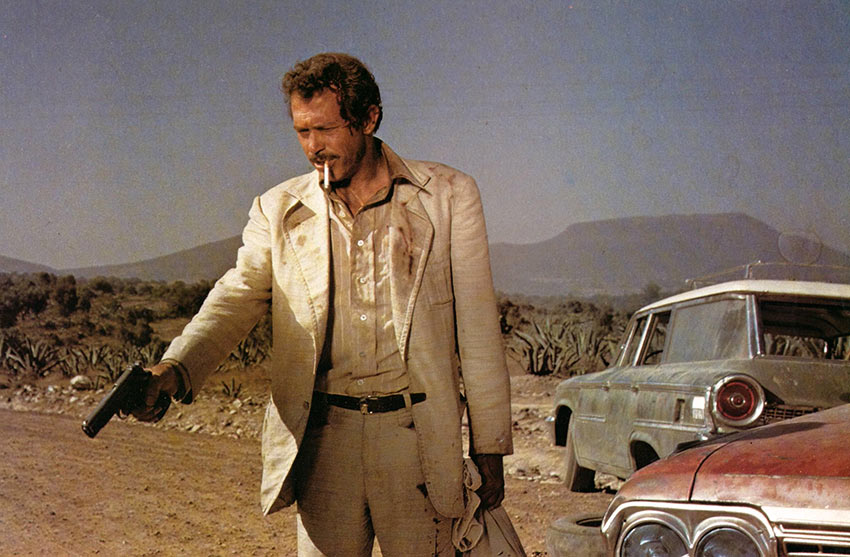 Director: Sam Peckinpah, Writing: Gordon T. Dawson, Sam Peckinpah (screenplay), Frank Kowalski, Sam Peckinpah (story). Cast: Warren Oates, Isela Vega, Kris Kristofferson, Robert Webber, Gig Young, Emilio Fernández as El Jefe
Bring the Head of Alfredo Garcia is pure Peckinpah at his best and most personal. Made on a shoestring budget with an all Mexican crew, Benny (Warren Oats), a washed-up piano player in a Tijuana bar, overhears that a bounty  has been placed on the head of Al Garcia by a Mexican Mafia Kingman (actor/director, Emilio Fernández). Benny knows Al is dead and buried; he only has to dig him up and cut off his head to earn the money, providing a new start for him and his prostitute girlfriend. But there are other unsavory characters in the mix, leading to a ruthless treasure hunt.  Benny readdresses his priorities in an attempt to regain his own self-respect and get to the top of the madness. For Peckinpah, 'the top of the madness' was Richard Nixon and interfering film studio executives.
8. Little Miss Sunshine (

2006)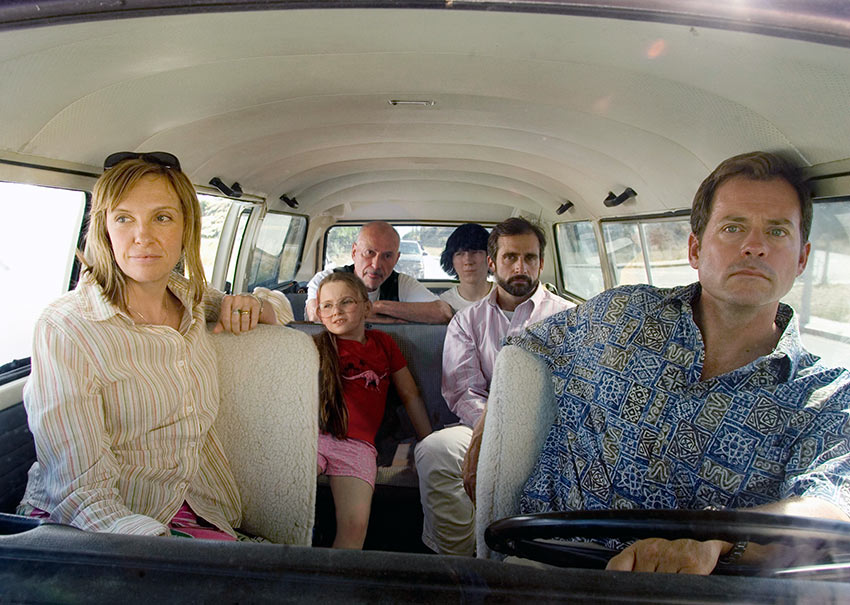 Directors: Jonathan Dayton, Valerie Faris; Writer: Michael Arndt; Cast: Greg Kinnear, Alan Arkin, Steve Carell, Toni Collette, Paul Dano, Abigail Breslin
Initially regarded as a simple family satire, Little Miss Sunshine captured the hearts of mainstream audiences and fits the bill as an uplifting American Road Movie. The directorial debut of a husband and wife team, and a first time writer; a stellar ensemble of six-players, pile into vintage VW Van for a 700-mile journey from Albuquerque to Redondo Beach. Their goal is to make it to a Ramada Inn, the location of a beauty pageant, so their young daughter can participate in the contest. On the journey, the family tries to come to terms with their own personal dilemmas and piece of the American Dream
9. The Straight Story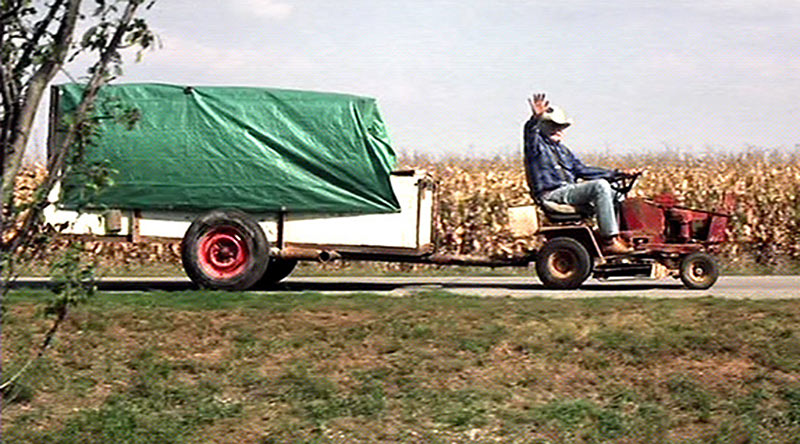 Director: David Lynch; Writers: John Roach, Mary Sweeney; Cinematography: Freddie Francis; Editor: Mary Sweeney; Music: Angelo Badalamenti; Cast: Richard Farnsworth, Sissy Spacek, Harry Dean Stanton
David Lynch made a G-rated movie for Disney, and it is as unique and Lynchian as any of his past films. An ageing farmer (Richard Farnsworth) must complete his final act of redemption: To mend wounds with his estranged brother, whom he has not seen for decades. His old truck is severely out-of-order, so he rigs up a lawn mower to make the long trek to the distant state.  Due to the comical mode of his transport, he attracts much attention, meeting a cross-section of rural Americans, facing their own problems. Former stuntman Farnsworth passed away at 80, shortly after the film was made.
10.  Green Book (2018)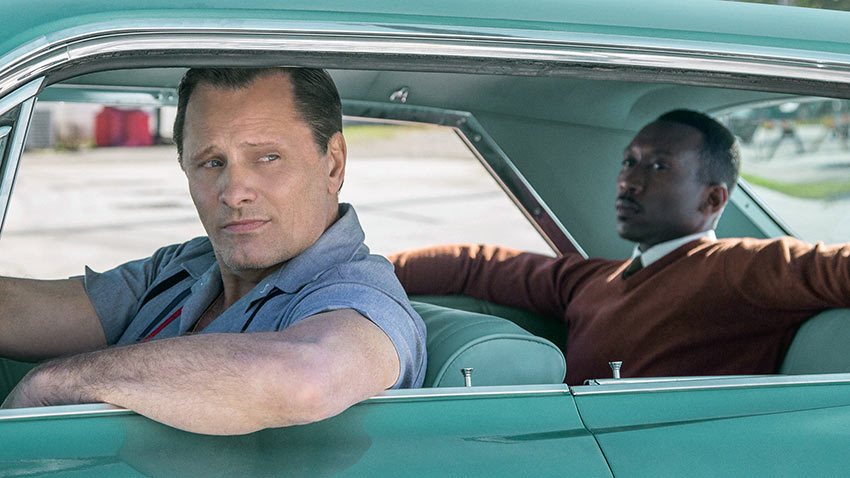 Director: Peter Farrelly, Writers: Nick Vallelonga, Brian Hayes Currie, Peter Farrelly; Cast: Viggo Mortensen, Mahershala Ali, Linda Cardellini
Green Book offers easy lessons learned about an accomplished African-American pianist chauffeured by a streetwise New York Italian-American bouncer to musical engagements in the U.S. South's Jim Crow years. At first they are ambivalent about each other, but become friends, learn from one another, realizing that they were prisoners of their own stereotypes of others. It's a safe movie, but serves as a reminder how things once were – Ali being refused service at hotels, mocked by locals as a man of color wearing fancy 'uppity' clothes. Peter Farelly captures some iconic images, and Viggo Mortensen and Mahershala Ali are a delight to watch.