Here are a few great items to have on your next travel adventure. Remember, space is limited when traveling; so consider taking these easily accessible and lightweight products along with you.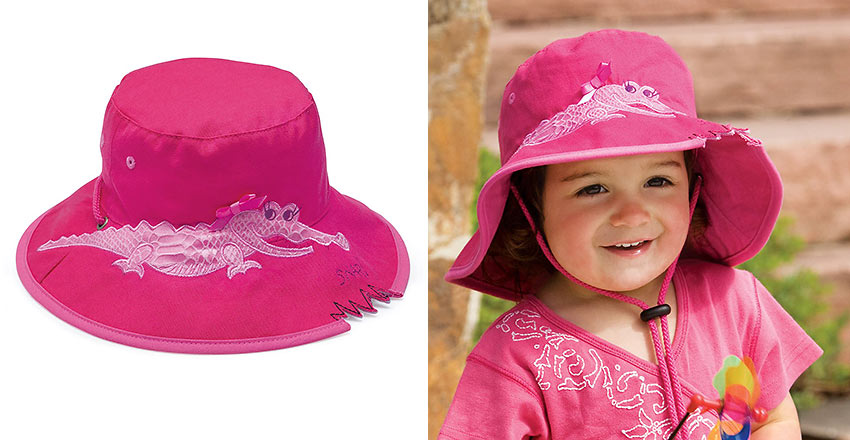 What is more important than protecting yourself and your kids from the sun? Even traveling in colder months comes with ultraviolet rays. My favorite hats are Wallaroo – ideal for the whole family. Their kids' designs are adorable and comfortable – meaning your kids, even the fussy ones, will keep the hats right on their heads.
The hats are made to block 97% of UV rays, and their UPF 50+ hats are proven to aid in the prevention of skin cancer. Wallaroo has been granted the Skin Cancer Foundation Seal of Recommendation.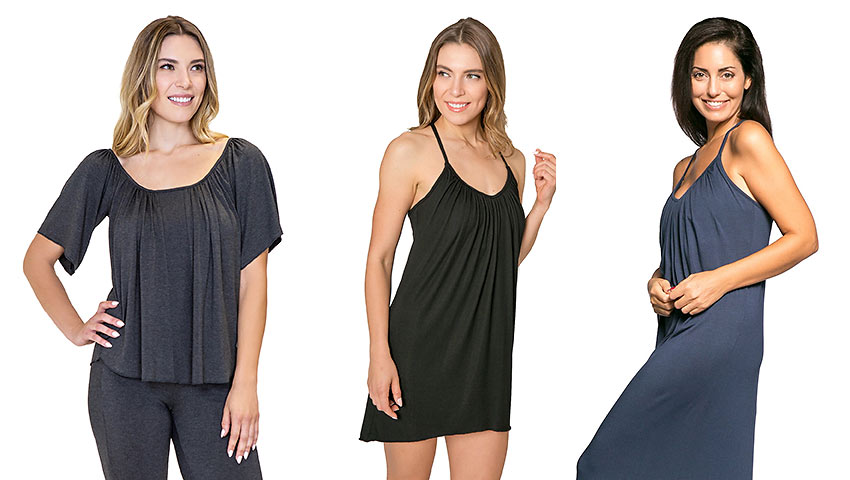 One of the most important things you can do for yourself while traveling is be comfortable. JJ Winks presents excellent options. While they market themselves as comfy PJs, they are a wonderful option for travel clothing as they are super comfortable.  Everything from the "nightgown," which looks like a dress, and the PJ pants to the yoga pants are great items to wear while on long flights or road trips. Everything is made out of Lenzing Modal fabric that offers the comfort of cotton. The eco-friendly fabric is harvested from sustainably grown Beech trees.
Also their comfortable tops have built-in bras and gives the right amount of coverage. Whether you travel with them or sleep in them – you will be stylish and comfortable. Also, JJ Winks produces their clothing in Los Angeles, so you can feel the excellent quality.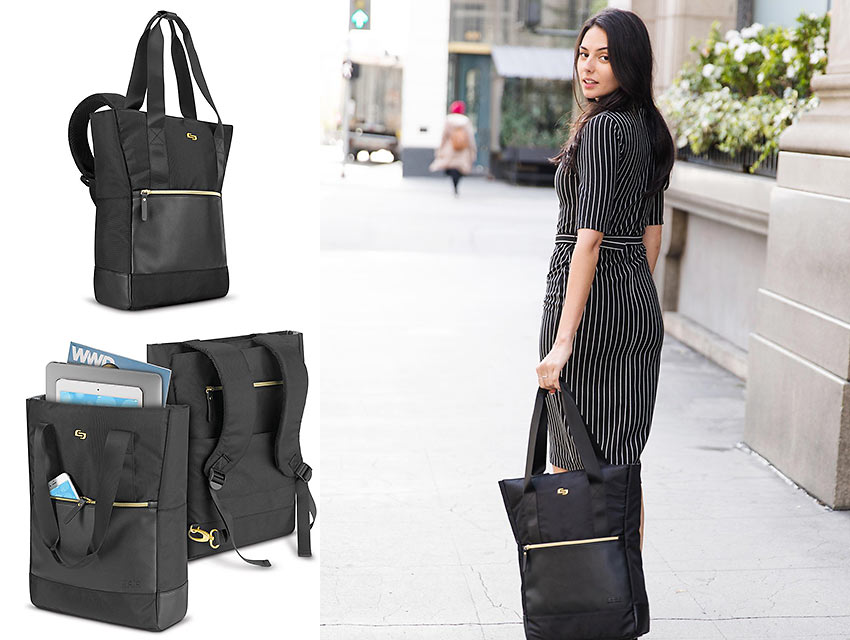 This is a fantastic bag, as it presents you with options that are both comfortable and fashionable. The tote transforms into a backpack, and it's a great "Mom" bag, too.  It has an interior organizer section, padded hideaway backpack straps and attractive gold hardware. It also has a fully padded 15.6″ laptop compartment. I like the versatility and the lightness of the bag. It's perfect for everyday use as well as a great option for day trips.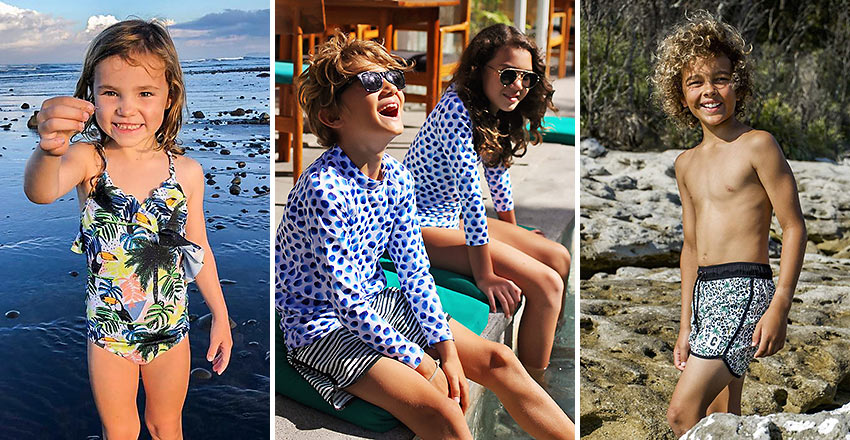 Being fashionable and eco-friendly is always a wonderful option and Cosmo Crew, an Australia-based kids swimwear brand, is now sold in the USA. The sustainable eco-luxe kids swimwear and cold climate base layers are designed in Australia, and hand crafted by Bali's finest tailors using luxury Italian recycled fabrics (ghost fishing nets and recycled plastic) and organic cotton. Trans-seasonal and hybrid use for the sea or the snow, Cosmo Crew threads are comfortable, durable, long-lasting, and designed to let individuality flow. UPF50+ sun protection is also good for young skin.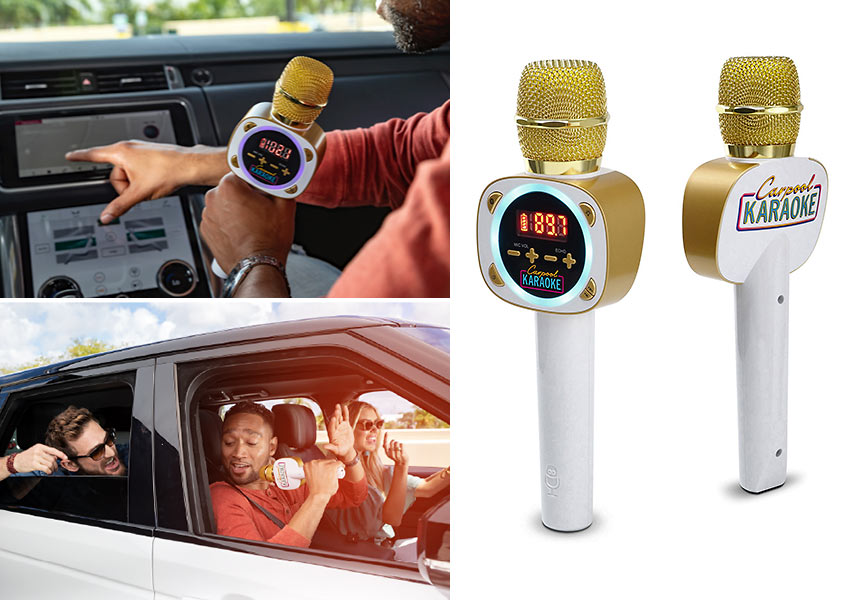 Keeping the kids and everyone entertained on a road trip just got easier. Carpool Karaoke the Mic transforms any car ride into your very own James Corden's Carpool Karaoke segment.  It's fun to use and as easy as turning on the Carpool Karaoke Mic which will wirelessly connect to your cell phone and car stereo. You will be able to hear your voice over the car's speaker system and stream your favorite songs from music apps like Spotify, Pandora or YouTube. In minutes your car ride is transformed into a mobile karaoke party.  It also has long lasting rechargeable battery and lights that pulse on the microphone itself. It's fun for adults and older kids, although the young ones will be happy to hear their voices on the radio, too.
The process of travel these days is tiring, but there is no need to let it show.  The eye area is extremely sensitive so a way to help reduce the  appearance of fine lines and wrinkles is by applying sunscreen, wearing a hat and using eye cream. The Skin Saint Dream Eye Cream is a rich and restorative anti-aging eye cream. Its ingredients include Vitamin K, Retinoid, and multiple peptide complexes that reduce dark circles and promote collagen production to improve fine lines and wrinkles. Products made by Skin Saint are free of parabans and sulfates which is an added bonus.
Traveling is never easy on one's skin. Try the Vitamin C Elixir For Wrinkles. This facial serum contains vitamin C as sell as a complex of extracts  including Japanese ginkgo, licorice, and clover which stimulate the production of collagen and elastin in the skin.  It also contains Hyaluronic acid and hydrolyzed wheat proteins retain water in the deeper layers of the skin, ensuring proper growth and building of proteins responsible for the young appearance of the skin.
Alternatively, try the Vianek Red Anti-Wrinkle Face Serum which is an oil-based serum formulated with nourishing argan oil and oils of grape, raspberry and strawberry seeds, along with natural plant-derived squalane for lasting moisture. It includes vitamin E and coenzyme Q10 to improve the skin's density and elasticity. Both products are dermatologically tested and hypoallergenic.