This installment of THREE THINGS is courtesy of Joel Reeves, Public Relations of Bern Tourism.
Question 1: What do people do for fun in Bern?
Answer:
Urban Swimming. In summer masses of Bernese citizens can be found walking along the Aare river bank in order to jump into the Aare and drift downstream back into the city. Make sure to bring your swimsuit when visiting Bern and experience this iconic swimming tradition first hand. Between June and September the temperatures are ideal to indulge in the unique bathing culture of Bern.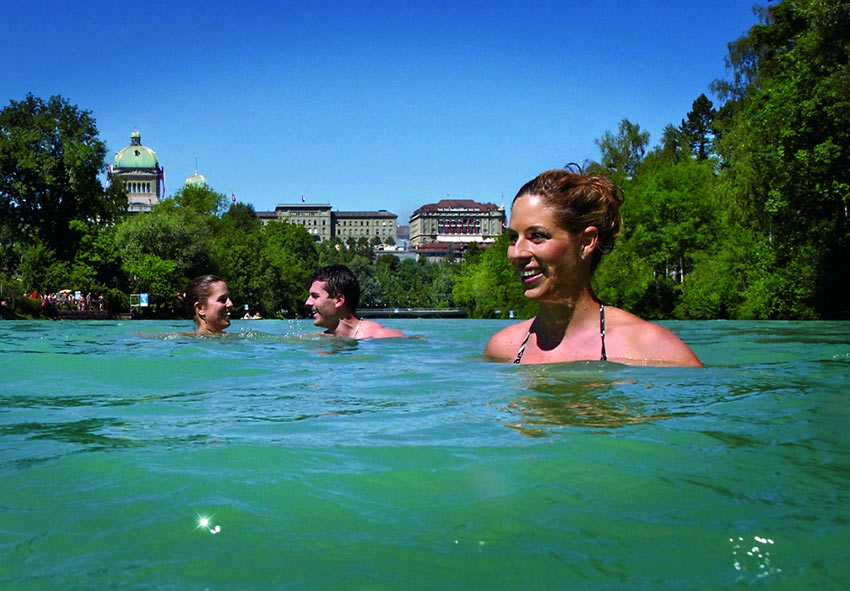 Question 2: What's one thing the public probably does NOT know about Bern?
Answer:
Albert Einstein – a name well known all over the world and one of the key figures of the 20th century. Albert Einstein (1879 – 1955) lived in Bern when he created his famous formula E=mc² in 1905 and with his special theory of Relativity revolutionized our conceptions of space and time. Einstein plays a significant role in Bern: Besides the one-of-a-kind Einstein Museum, his former residence is now open to the public and the Einstein House, the Einstein Route and the Einstein city tour, Bern is now also home to the distinct café, Einstein Kaffee.
Question 3: What has Bern contributed to the world?
Answer:
The world-famous Toblerone was invented in Bern in 1908. The triangular chocolate bar made from milk-chocolate, almonds, honey and nougat is sold all over the world and a major factor in establishing Switzerland's image as a chocolate-producing country. To this day, every single bar sold in the world is produced in Bern. Can you spot the bear, Bern's heraldic animal, hidden in the logo?
For further information about Bern, Switzerland, click-on Bern.