Curated by Ed Boitano

As we dream of carefree, alluring days on the ocean's shore, my thoughts naturally turn to fun things to nibble while at the beach.  I thought it would be fun to see what our T-Boy writers and readers' selections might be from their ancestral homelands for the perfect and most traditional things to eat on the beach. Some I knew, and look forward to revisiting, while others I was absolutely clueless about, but will give them a try, sans digging a fire pit in my kitchen.
From Tom in Puglia, southeastern Italy: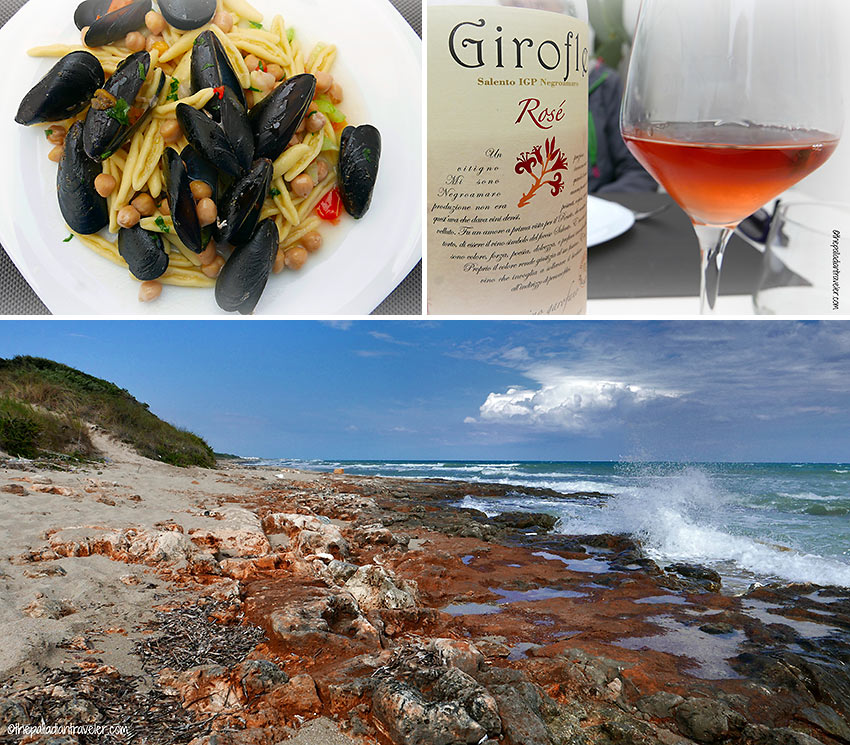 Down in the Salento sub-region of Puglia in southeastern Italy, a real crowd pleaser is a signature dish of Cavatelli pasta with chickpeas and mussels along with a glass or two of chilled rosato wine. Mmm!
From Richard in Los Cabos, Mexico:
Los Cabos and pretty much throughout Mexico, most of the beaches are near or fronting resorts and even the more remote beaches you will find little mom and pop stands offering delight food. The food varies throughout Mexico but overall, on the beach a popular choice are the famed Mexican tacos, generally served open face, not the tight taco version you see in fast food restaurants.  You will notice with the surf singing, people will be enjoying a plate of tacos which can be as varied as wild flowers — chicken, beef and camaron (shrimp) tacos with fresh slices of avocado, sometimes mango, chopped jalapeno pepper, ginger-lime dressing, chips, salsa and a slice of lime on the side. Baja is also noted for the soft Mahi Mahi tacos tucked in a large flour tortilla.
From Alex in Peru: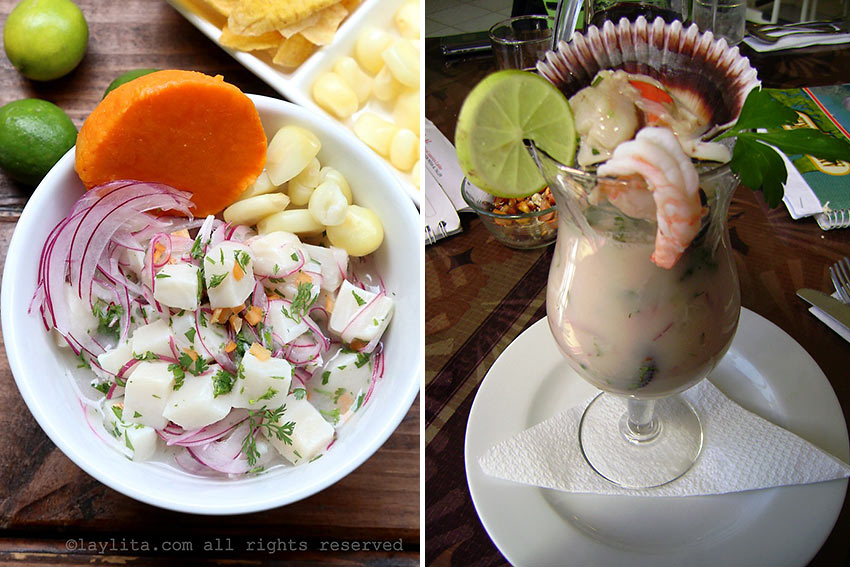 Perhaps the most beloved dish throughout the coastal regions of Peru is ceviche. You'll find it in restaurants and on the street in any coastal city, especially along the beach. The refreshing dish is made with a considerable amount of lime juice whose acidity helps cook the raw fish. The liquified juice from the ceviche, often sold separately with only a few pieces of fish, is traditionally referred to in Spanish as leche de tigre, tiger's milk, because of its white color. While vendors may offer you either dish while you lounge on the beach, I'd recommend finding a reputable restaurant, especially if your stomach has not fully adjusted to the food in Peru.
From Annie in Ecuador: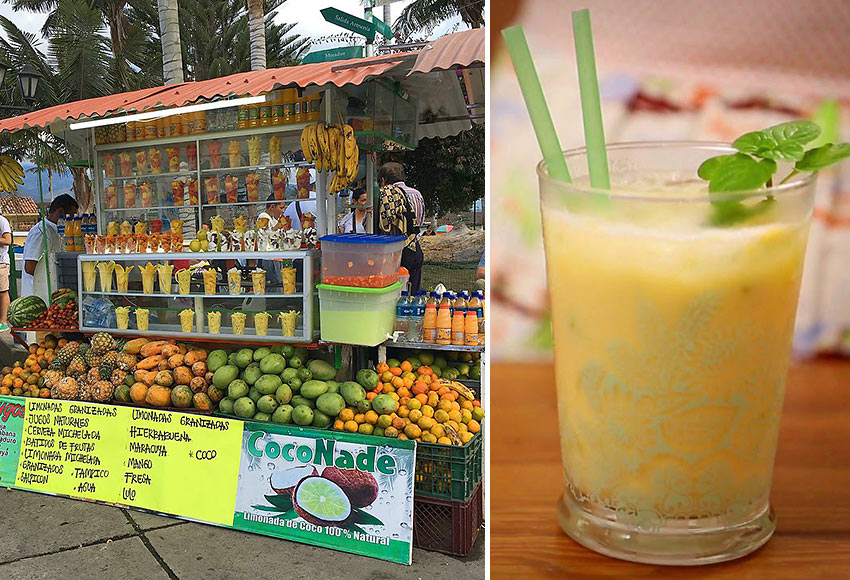 Batidos (fruit smoothies), maracuyá was the best 🙂 We had coconut shrimp and patacones for lunch normally served with rice and ceviche (cold soup) served with plantain chips and popcorn. Also Corviche, a palm-sized, heavy bun made of fried or baked un-ripe plantain, flavored with pulvarized peanuts and often stuffed with albacore. They have a hushpuppy-like texture: crunchy on the outside and steamy inside.
From Sarah in Jamaica: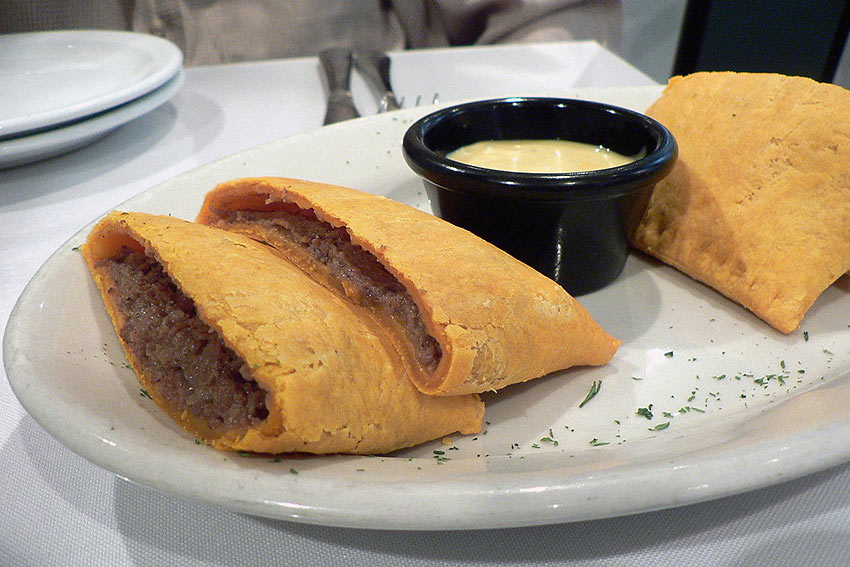 In Jamaica, the Patty is a popular snack. The Jamaican Patty is a baked or fried orangish flaky pocket filled with either curry chicken or traditional beef. On the beach, conch fritters, and if you're lucky there's a fish fry shack within walking distance. This was a good video about an authentic Jamaican beach Sunday.
From Harry in Nevis, St. Kitts & Nevis:
On Nevis, anything goes. Most beaches on the small island have luxury resorts that provide service. Lunch could be grilled fresh-caught lobster with a delicious organic salad, and of course, fries. And each resort and restaurant have their own special rum punch to accompany the lunch or snack. 🙂 You know, I did their 25th Anniversary commemorative cookbook when I was at Four Seasons Nevis. I've attached their recipe for Nevisian Spiny Lobster. The Chef's has since moved to another resort.
From Weave in British Columbia, Canada: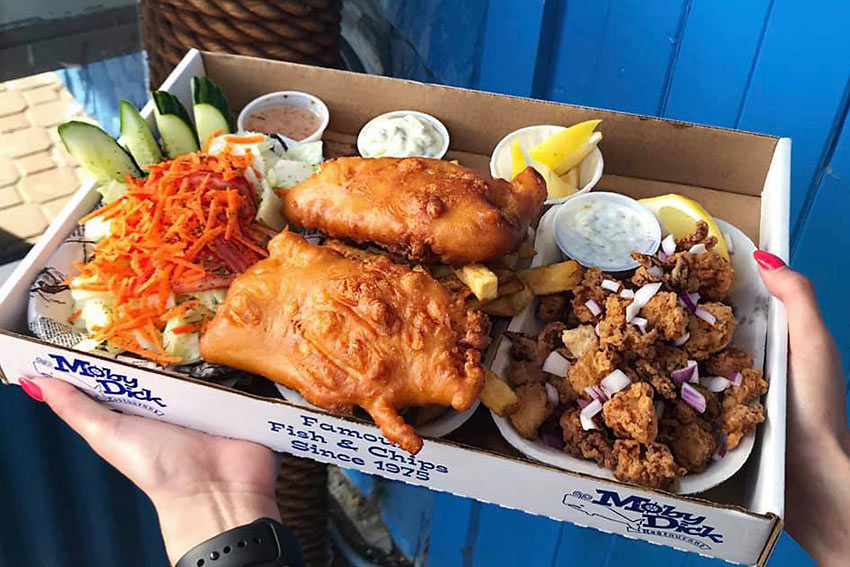 Fish & chips are really popular here as take-out with tartar sauce and malt vinegar. Their fragrance ever so slightly steals some of the sea air. Moby Dick's Restaurant is the most popular of all the fish and chip places in White Rock, British Columbia. Something interesting about Moby's — they ALWAYS give you an extra piece of fish, it's their thing. So, if you want two pieces just order a 1 pc. The beach is directly across the street.
From Robin in New England: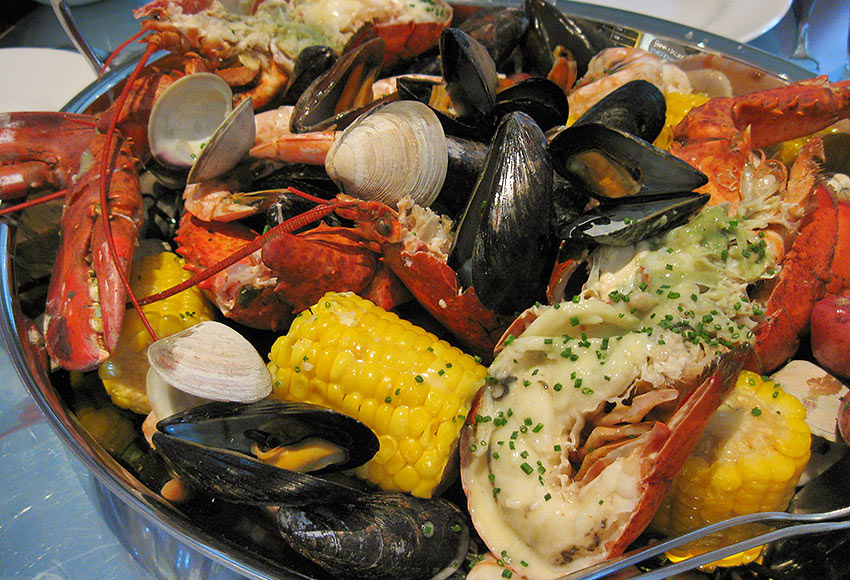 The clambake, also known as the New England clambake, is a traditional method of cooking seafood, such as lobster, mussels, crabs, soft-shell clams, and quahogs. The food is traditionally cooked by steaming the ingredients over layers of seaweed. The shellfish can be supplemented with vegetables, such as onions, carrots, and corn on the cob. Clambakes are usually held on festive occasions along the coast of New England.
A typical clambake begins with gathering seaweed at the shoreline; seaweed is an important adjunct to cooking the food. To keep the seaweed fresh, it is necessary to have a container large enough to hold both the seaweed and a fair amount of sea water.
Also important are several round medium-sized stones, or sometimes cannonballs, which are heated in the fire and used to re-radiate heat during the cooking process.
Like most other methods of steaming, a cover is necessary to allow the trapped heat and steam to thoroughly cook the food. Canvas tarps or potato sacks soaked in sea water are often used for this purpose.
Once the stones and seaweed have been collected, a fire pit is prepared. Some prefer to simply start a fire within the pit, while others line the edges with flat stones to provide support for a metal grill on which the stones may be placed.
The stones used for cooking are then placed in the center of the pit and a wood fire is started, although the exact method of heating the stones varies. The fire must burn until the stones are glowing hot. Care must be taken to ensure that the fire will burn out shortly after this optimal cooking temperature is achieved. The ashes are then swept off the stones and raked between them to form an insulating "bed." A layer of wet seaweed is placed over the stones, followed by traditional regional foods such as steamers, mussels, quahogs, and lobsters. Side dishes usually include corn on the cob, potatoes, carrots, and onions. Alternating layers of seaweed and food are piled on top and the entire mound is covered with canvas that has been drenched in water to seal in the heat and prevent the canvas from burning. The food should steam for several hours.
From Raudi in Honduras: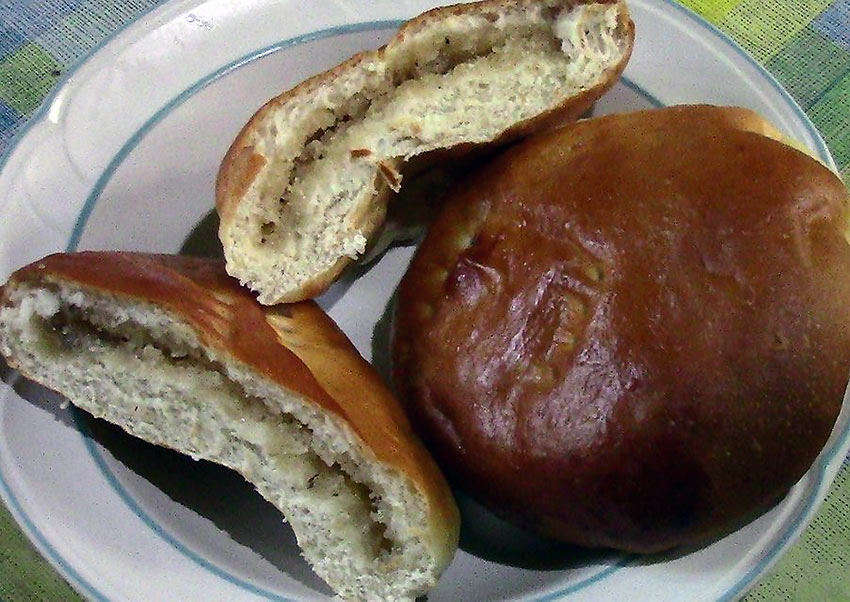 A common beach snack is coconut bread. For lunch, sopa de caracol or fried fish and plantains.
From Emily in Hawaii: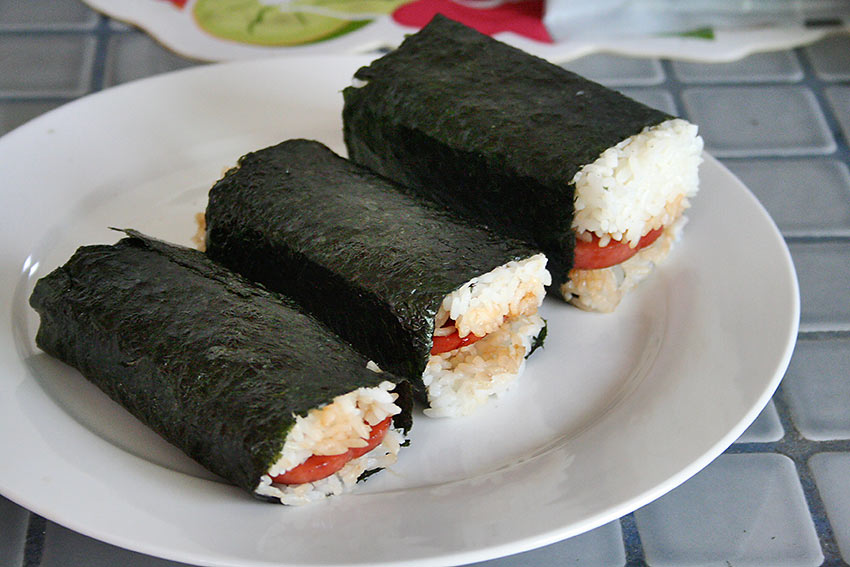 Spam musubi — We do not mess around when it comes to Spam — in fact Hawaiians consume 90% of it in the US. One slice of Spam laid onto a bed of rice and then carefully wrapped in a thin sheet of nori (seaweed) makes for a salty and hearty snack to pack in your bag.
Poké — This is a Hawaiian staple and something Haoles (once defined as 'newcomers,' but now any person in Hawaii who is not of Polynesian heritage, generally a white person) shouldn't even consider leaving the islands without trying at least once. It's a famously popular go-to snack for going beach.
Plate lunch — Inspired by Japan's bento-style meal, a plate lunch usually comes with white rice, macaroni salad, and some type of main protein, making it a fantastic meal to fill you up during a day at the beach.
Hurricane popcorn — Though you can easily pick up some store-bought hurricane popcorn on the way to the beach, it's also very simple to make your own version at home. It's a mix of buttered popcorn, some salty kakimochi arare, makes the perfect combination of flavors that will keep you going on a hot day.
Malasadas — There are donuts and then there are mouthwatering, heavenly, custard-filled, life-changing malasadas, brought to us by Portuguese ranchers.
From Celia in Brazil: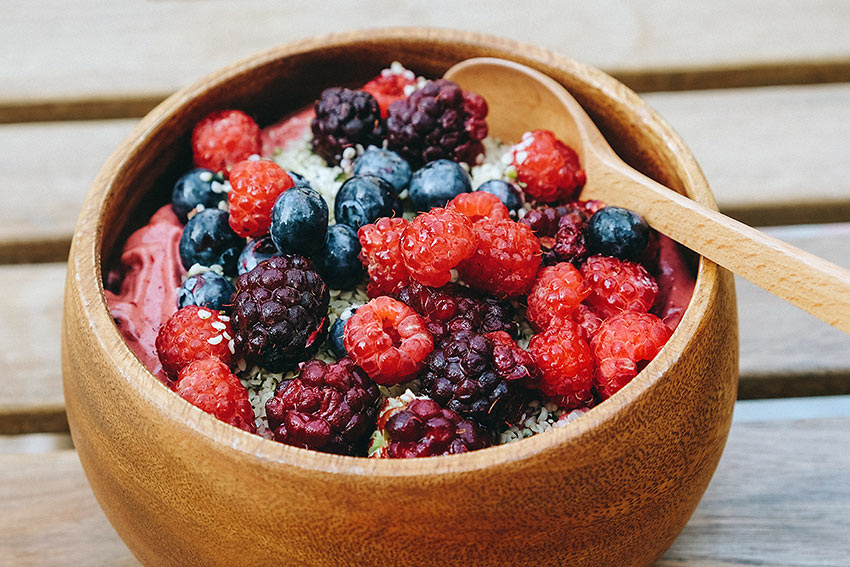 The Açaí berry grows on palm trees in the Brazilian rainforests. The lifeblood of  Brazilian surfers, Açaí bowls are extremely popular in our beach towns, and have spread across the world to even metropolitan hubs because of our surfers. They're delicious and to top it all off, they are extremely healthy.
Instructions:
Place the apple juice, banana, frozen berries, yogurt, honey and acai puree in the blender.
Blend until thoroughly combined and smooth.
Pour the smoothie into 2 deep bowls.
Arrange the desired toppings over your smoothie bowls and serve.
From Raoul in the Philippines: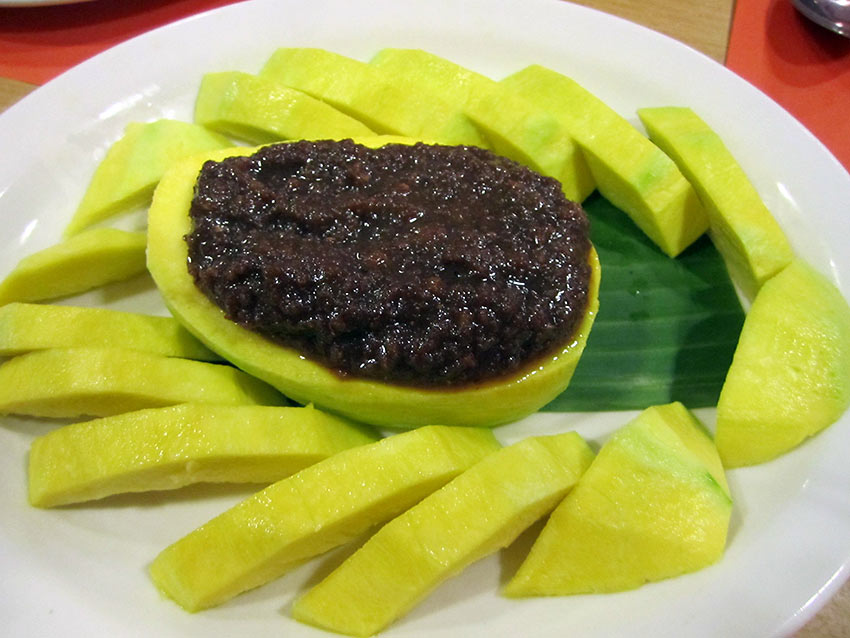 Hmmm… grilled anything — fish, octopus, pork, shrimp and of course steamed white rice. Spicy Vinaigrette with chili and lots of garlic. Coconut juice, soda and beer. Tomatoes, mango (ripe and green) with bagoong (shrimp paste).
From Deb in Cinque Terre, Italy: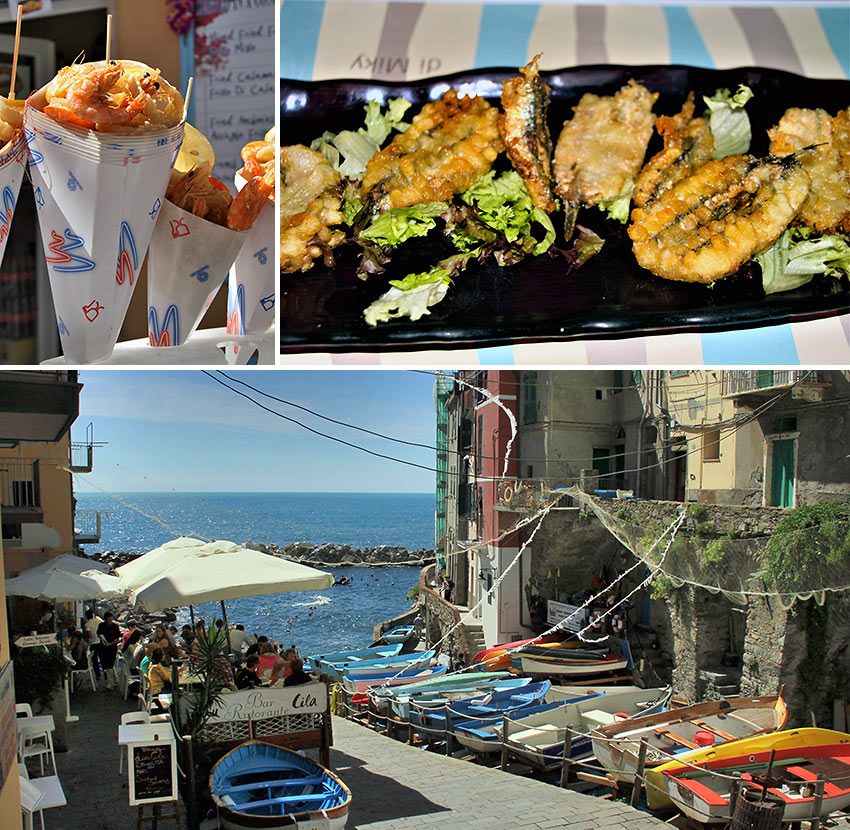 Eating reigned supreme in our five days at the Cinque Terre, and we decided to hike to each of the five hillside towns and have lunch. As of no surprise, our favorite Ligurian specialties were always found on the menu: Pesto all Genovese, focaccia (Genoa's flat bread that predates pizza), fresh seafood, which included my first taste of real anchovies, and local chilled white wines. While strolling, food was still always on our mind, and we discovered many stands serving delectable street food in a cone. My husband and I never hesitated to choose a mix of fried seafood which included anchovies, fish, calamari, chips, and petite rectangles of baked bread, definitely to be eaten by the seaside.