Curated by Ed Boitano
Joseph Robinette Biden Jr. is U. S. President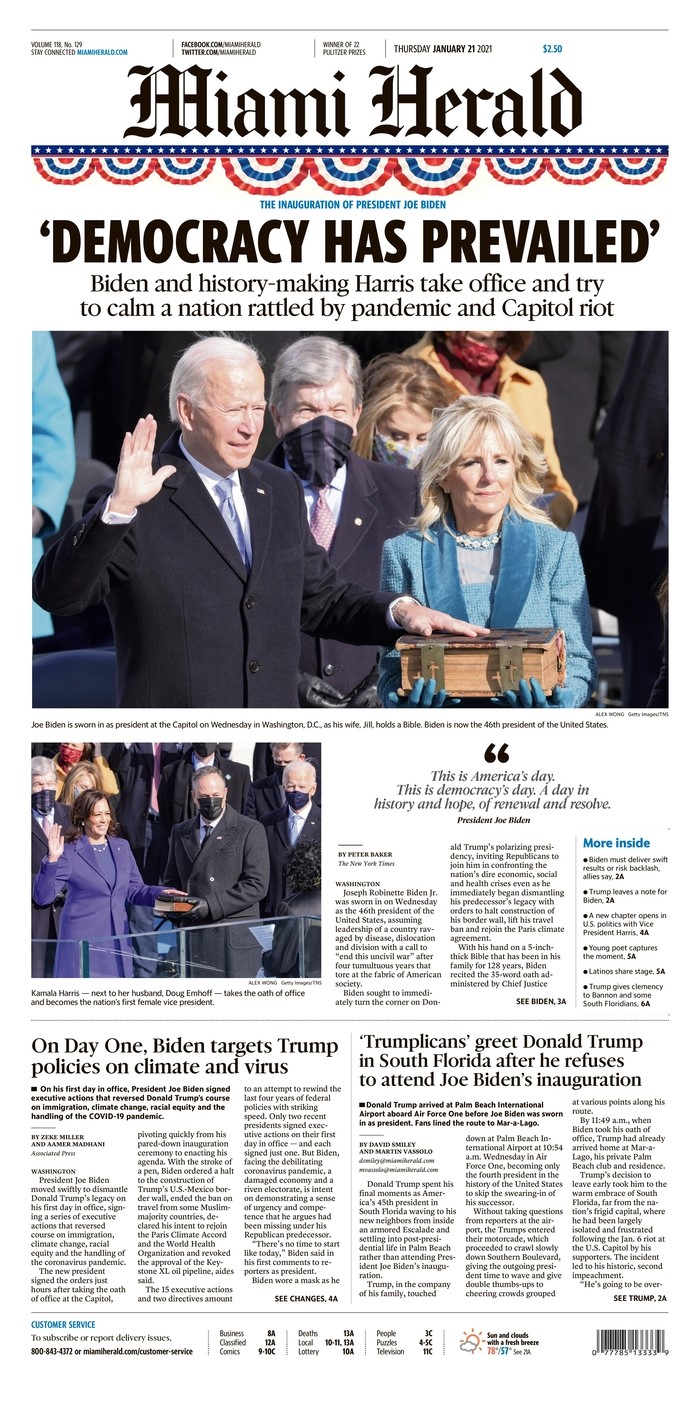 Newspaper Headlines of the Inauguration of Joseph Robinette Biden Jr.
Courtesy (The Freedom Forum Today's Front Pages – Freedom Forum)
The Freedom Forum is a nonpartisan 501 (c)(3) foundation that fosters First Amendment freedoms for all.
MORE
From a Small, Rural Schoolhouse, One Teacher Challenged Nativist Attacks Against Immigration
Courtesy Ross Benes
In the wake of World War I, rabid anti-German sentiment led to the arrest, later deemed unjust by the U.S. Supreme Court, of Robert Meyer.
MORE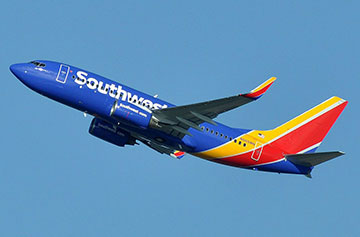 Southwest Airlines is celebrating its 50th year in operation with one-way flight deals as low as $50 this winter.
Travelers have until February 8, 2021, to book the low fares, which require a 21-day advance purchase.
The discounted seats are valid for travel within the continental U.S. from February 9 through May 26, 2021. Meanwhile, travel between the continental U.S. and Hawaii, travel to and from San Juan, Puerto Rico and international travel are valid February 9 through May 20, 2021. Some blackout dates apply.
Booking weekday flights between the airline's nearly dozen operating bases is likely to net travelers the biggest savings on spring travel. Notable routes available for $100 roundtrip include Atlanta-Nashville, Los Angeles-Las Vegas, Baltimore-Boston and Orlando-Fort Lauderdale.
Customers can also find nonstop international flights from under $180 one-way, including Houston (Hobby) to Cancun, Mexico for $175 and Orlando to Montego Bay, Jamaica from $153.
Contact your travel advisor or visit Southwest.com to search the airline's low fare calendar based on your travel dates.
Germ Protection: Pack this Next Time You Have to Go Through TSA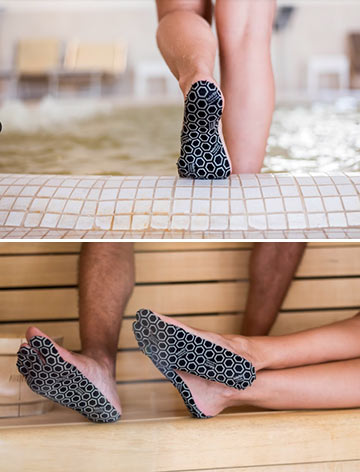 Nakefits are lightweight, waterproof sole protectors that adhere to your feet and stay on for hours to protect you from germs, fungal infections, slipping and hot surfaces. Pop them on before going through TSA to give your feet protection. Or take them on a trip and pop them on before entering the hotel spa or sauna, taking a barefoot yoga class, or using the pool or hot tub. Available in a range of sizes suitable for children and adults, Nakefits can be easily removed without any pinching, peeling, or irritation of the skin. For further information, visit NakeFit USA.
Charting the Adventure Travel Industry's Path to Recovery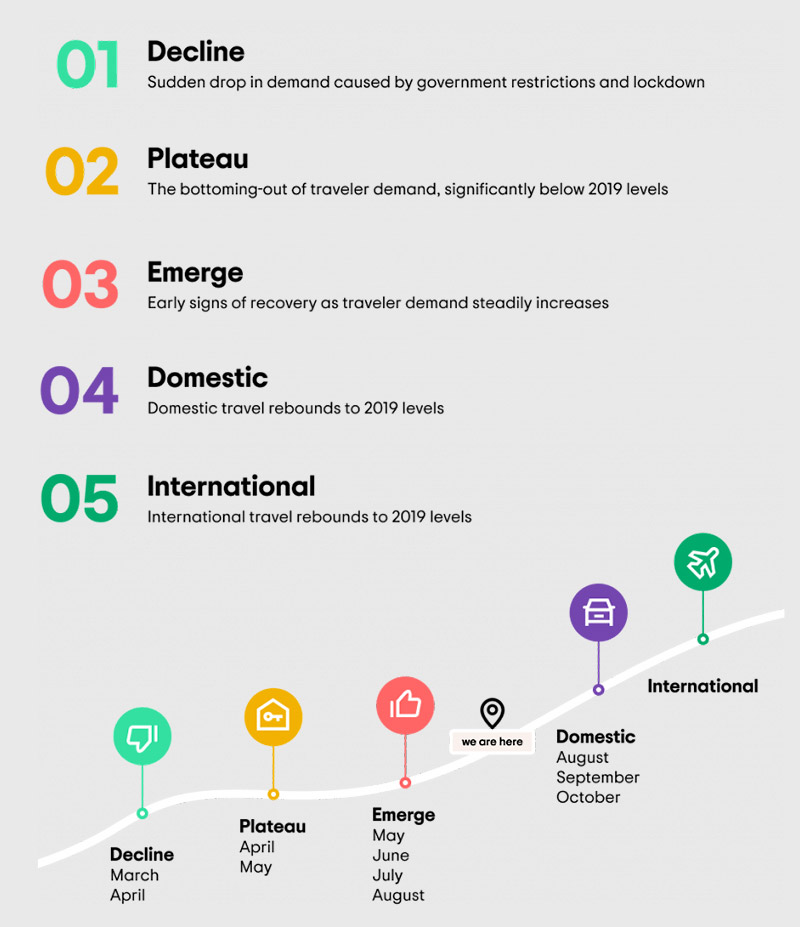 Written by Heather Kelly
Tripadvisor and Phocuswright recently released a joint report reviewing consumer travel behavioral trends throughout 2020: A Year in Travel: Charting the Travel Industry's Path to Recovery (free and publicly available). This report analyzes search and click data on Tripadvisor's website throughout the COVID-19 pandemic, offers insights based on how travelers' attitudes to travel are changing, and looks at what these trends may mean for the future recovery of the travel industry. The findings correspond with research from the Adventure Travel Trade Association (ATTA) and offer additional insights into how the adventure travel industry can adapt to changing consumer preferences.
MORE
No Two Alike: The First Photos of Snowflakes
Courtesy of Brian Clark Howard, National Geographic
Published in 1923, these vintage images highlight the beauty and mystery of snow crystals.
In the late 1800s, a self-educated Vermont farmer by the name of Wilson Bentley made the first successful image, or "photomicrograph," of a single snowflake. He used a bellows camera attached to a microscope.
Here are some of the very first photos of snowflakes.
SEE THE PHOTOS
Dublin & Galway Selected Friendliest Cities in Europe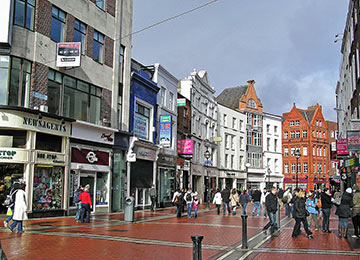 It's travel award season on the island of Ireland! In recent weeks, the island has been awarded a number of exciting accolades. Both Dublin and Galway have topped the Condé Nast friendliest cities in Europe list, while EPIC The Irish Immigration Museum has been awarded Europe's Leading Tourist Attraction by the World Travel Awards for the second year running.
Meanwhile, Lonely Planet's Best in Travel experts were wowed by the Burren Ecotourism Network's community effort, naming them one of ten winners in the new 'Community' category of Lonely Planet's Best in Travel 2021. Ireland's Burren Ecotourism Network has been named one of ten winners in the new 'Community' category of Lonely Planet's Best in Travel 2021.
By Alan J. Singer
Not long ago, history textbooks were written as patriotic fables. Examining one offers a warning about the cost of putting mythmaking ahead of historical learning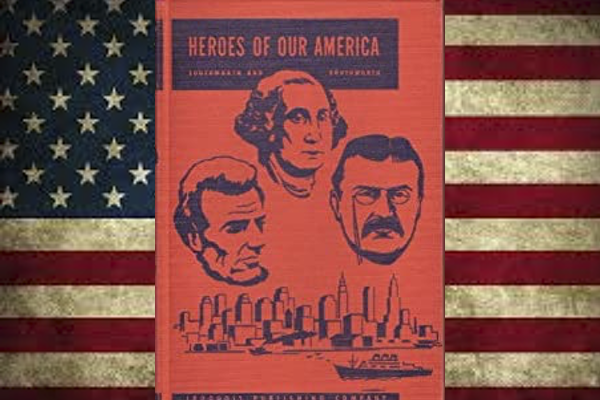 Heroes of Our America (1952) was a history book for fourth graders published by the Iroquois Publishing Company of Syracuse, New York. Its co-authors were Gertrude and John Van Duyn Southworth. John Southworth, with Harvard and Columbia University degrees, taught at a number of schools in the New York metropolitan area and was president of the publishing company. Gertrude Southworth, his frequent co-author, was also his mother.
I picked it off my office shelf after Donald Trump called for teaching "patriotic history" in American schools as a defense against a mythical radical "left" conspiracy and to ensure that  "our youth will be taught to love America." Heroes of Our America is an example of the kind of "patriotic history" Donald and I were both exposed to as children in the 1950s. I grabbed the book when it was discarded from the Hofstra University Curriculum Materials Center only a couple of years ago.
MORE
The Future of History in the Pandemic Age
By Michael Creswell
Historians need to consider and prepare for changes to the profession that will follow the COVID-19 pandemic.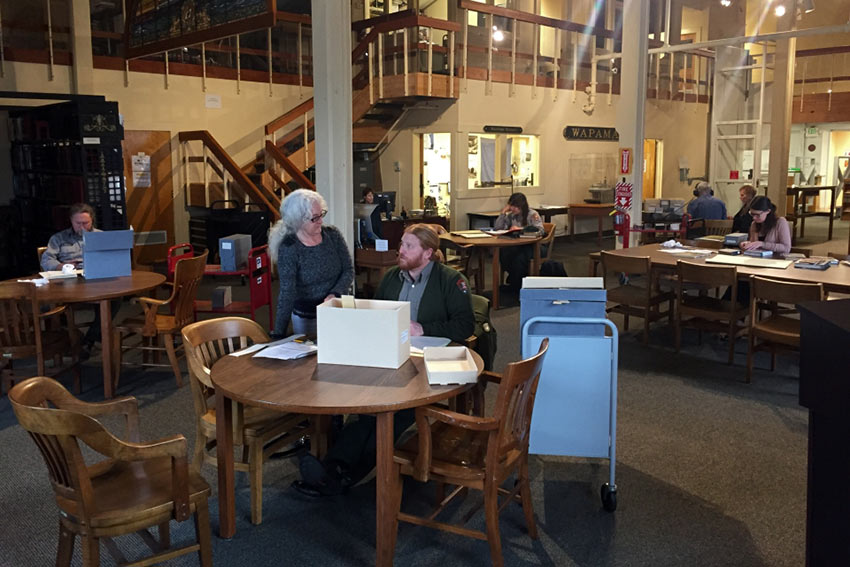 Attempting to predict the future is always perilous, and events frequently humble those who dare to try. Making predictions is especially hazardous for historians, who often struggle to explain the past. Peering into the future is not part of their professional training, and their efforts to do so are likely to fail.
MORE
Trapped in Museums for Centuries, Maori Ancestors Are Coming Home
Courtesy Ye Charlotte Ming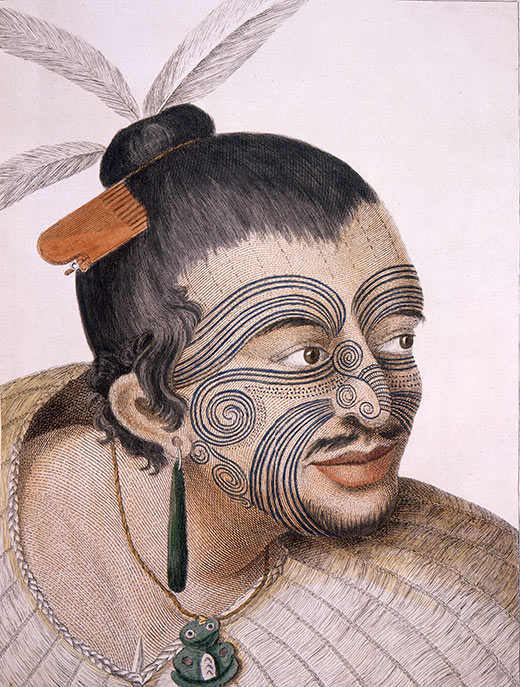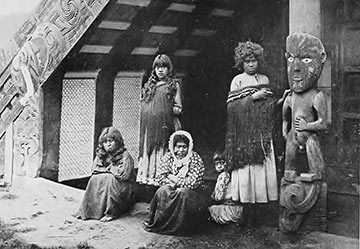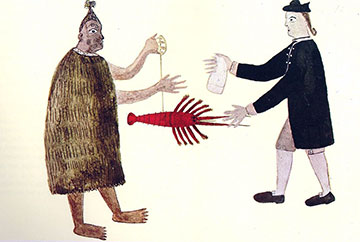 New Zealand's repatriation program brings human remains back and lays them to rest.
To the Maori people of New Zealand, the practice of preserving one's head after death was an act of love and respect. Beginning in 1770, Europeans began trading the mummified and tattooed Maori heads, also called toi moko, spurring enemy tribal groups to collect the heads of enemies for sale. Now, European museums are sending the toi moko home. Since 2003, the remains of more than 600 ancestors, including toi moko, have been returned to New Zealand.
Less Will be More in Post-Pandemic Travel: Airbnb Chief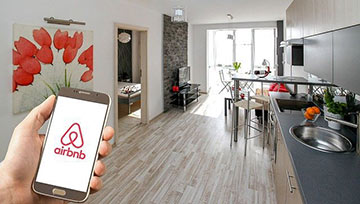 Smaller cities and more family time will gain favor over global tourism permanently in the wake of the pandemic, Airbnb CEO Brian Chesky predicts. "They're not yearning to see Times Square" after months of isolation from normal life, he observes.
MORE
What's New in Berlin: House of One – Three Religions in One House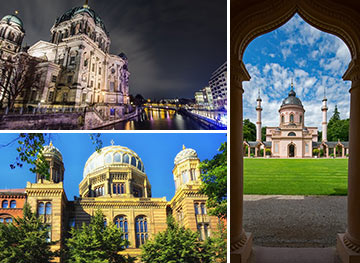 Berlin is soon to become home to something truly unique. Jews, Christians, and Muslims are planning to build a house of worship here – one that brings a synagogue, a church, and a mosque together under one roof. The three separate sections will be linked by a communal room in the center of the building. This will serve as a meeting place, where worshipers and members of the public can come together and learn more about the religions and each other. The House of One is a contemporary expression of religious life, expressed in an equally modern architectural language.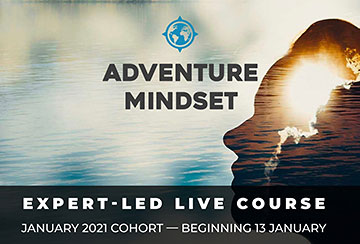 Start the Year Off Right with a Journey to Well-Being
Enroll Now
Limited Space Available — Act Soon!
Hawaii Offers Tourists Free Hotel Stays in Exchange for Volunteer Work
The program's goal is to inspire mindful travel
Written by Stefanie Waldek
If gorgeous beaches, an incredible cultural history, and active volcanoes aren't enough to convince you to visit Hawaii, perhaps the state's voluntourism deal for tourists will nudge you across the line.
As of Oct. 15, Hawaii has eliminated the 14-day quarantine requirement for visitors who partake in the official pre-travel testing program, which now means that the state is able to promote the Mālama Hawai'i initiative to tourists.
MORE
WNPA Recently Announced the Recipients of its Annual Awards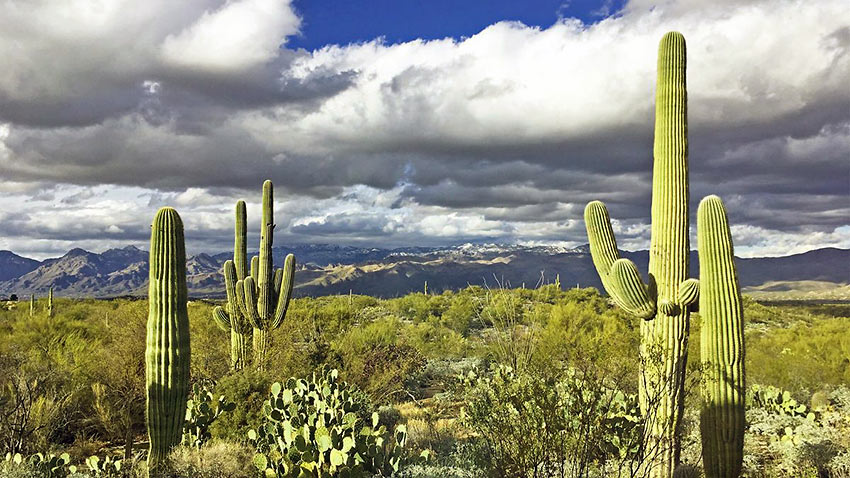 Western National Parks Association (WNPA), a nonprofit education partner of the National Park Service (NPS) since 1938, recently announced the recipients of its annual awards. For over 30 years, WNPA has recognized individuals and organizations who make exceptional contributions to national parks and increase awareness of WNPA's mission.
MORE
5 Things Science Says Will Make You Happier
Research-backed habits that will improve your outlook and positive attitude
By Nataly Kogan
Medically reviewed by Daniel B. Block, MD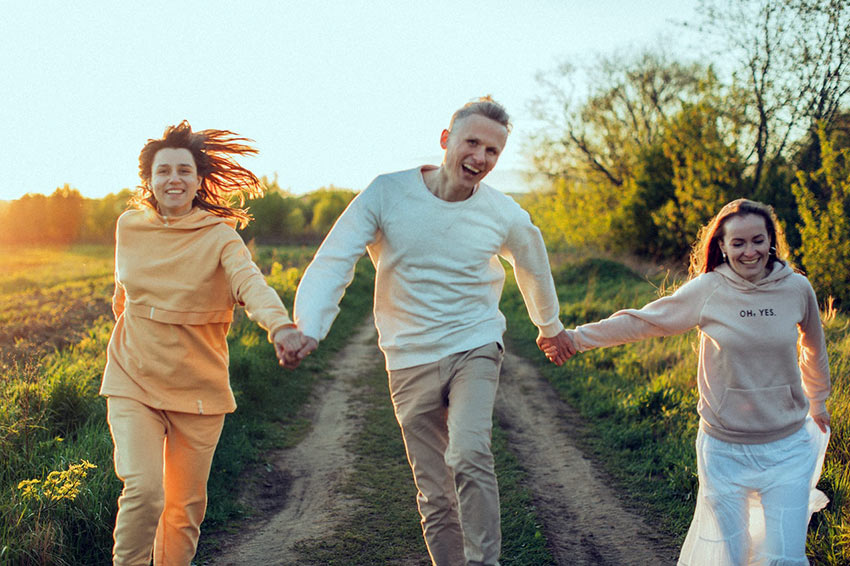 It's easy to assume that things like money and a luxurious lifestyle lead to happiness, but research shows that it's the more simple experiences — like practicing gratitude or spending time with friends — that promote a sunny outlook.
Whether you need to shift from negative thoughts or want to continue a streak of positivity, here are five ways to boost happiness every day.
MORE
What Americans Abroad Should Not Expect
Pancakes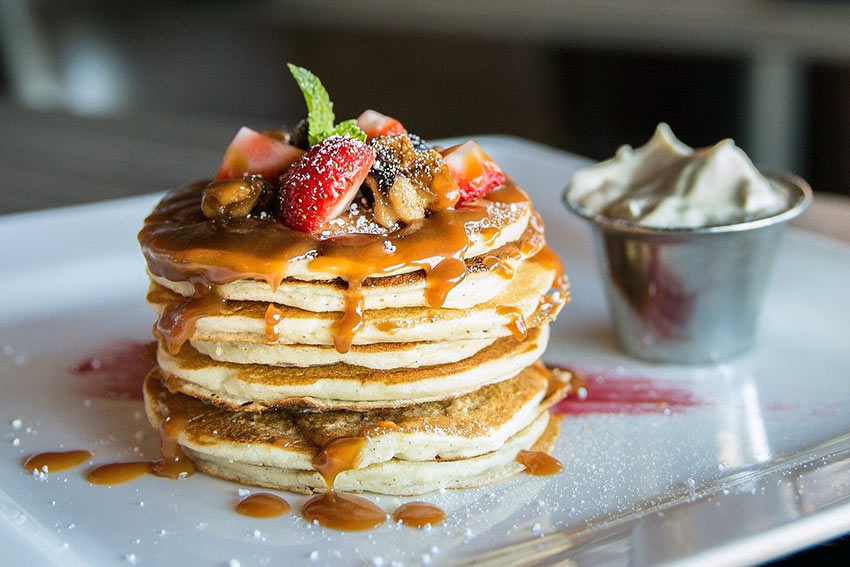 The fluffy flour-based pancakes that American's have come to love at breakfast time (or for brinner) just aren't found abroad. French crêpes are too thin. The Japanese version (okonomiyaki) is too thick and most often topped with savory things like meat, seafood, and cabbage. Australian-style pancakes are too eggy and have sugar in the dough.
MORE
The Radical History of Corporate Sensitivity Training
By Beth Blum
During these turbulent months, American corporations have responded to demands for racial justice by straining to showcase their sensitive sides. They've pledged, like Quaker Oats, to change offensive product names; they've scrambled, like Prada, nascar, and Delta, to implement emergency sensitivity workshops; and they've opted, like most of the major publishing houses, to hire sensitivity readers to vet new manuscripts for racist representations. Not so at the Donald Trump White House.
MORE
The Pentagon is Missing the Big Picture on "Stars and Stripes"
By Mark T. Hauser
The Pentagon's plan to scrap funding for the Stars and Stripes newspaper isn't just an attack on a historic military institution. It's ignoring the lessons the paper's history offers for efficient operation and integrating military operations with the economic life of the nation.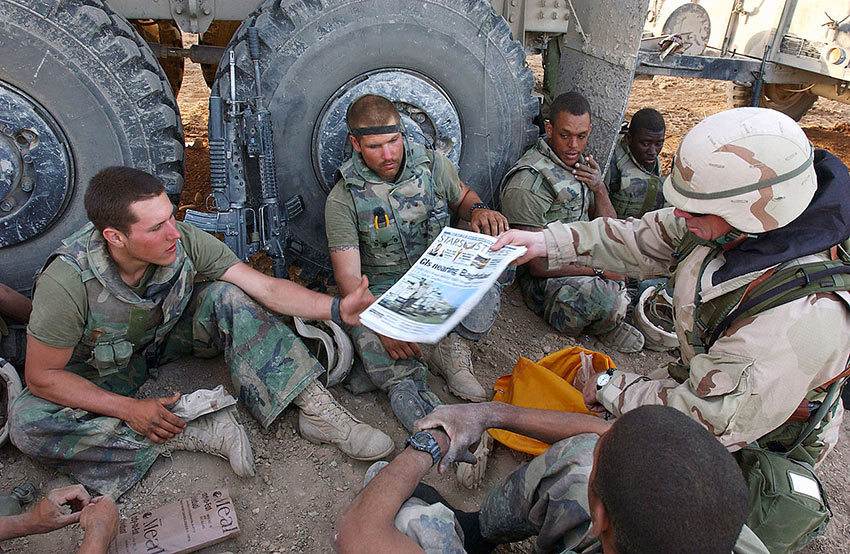 MORE