It is said that about half the Norwegians who immigrated to America came in order to escape the hated lutefisk, and the other half came to spread the gospel of lutefisk's wonderfulness.
– Norwegian-American joke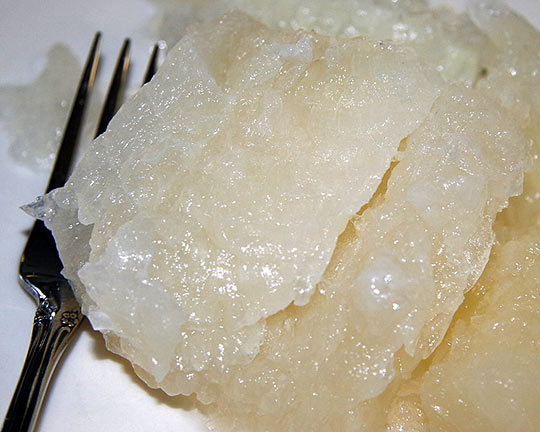 I vividly recall standing on the deck of a Hurtigruten vessel, just outside a Lofoten, Norway fishing village. While marveling at the truly one-of-a-kind scenery of the fjords,  I overheard an American passenger ask a Norwegian what those things were hanging on stilts. The Norwegian replied that it was air-dried cod for making Lutefisk. The American exclaimed, "And the birds don't eat it?" The Norwegian shrugged, "No, they don't seem to like It." Never-the-less, Lutefisk is a popular Christmas dish in the U.S. that graces the holiday table for many people of Norwegian ancestry. In Norway it's an everyday dish, with Norwegians preferring pork or beef ribs, as special treat for the holidays.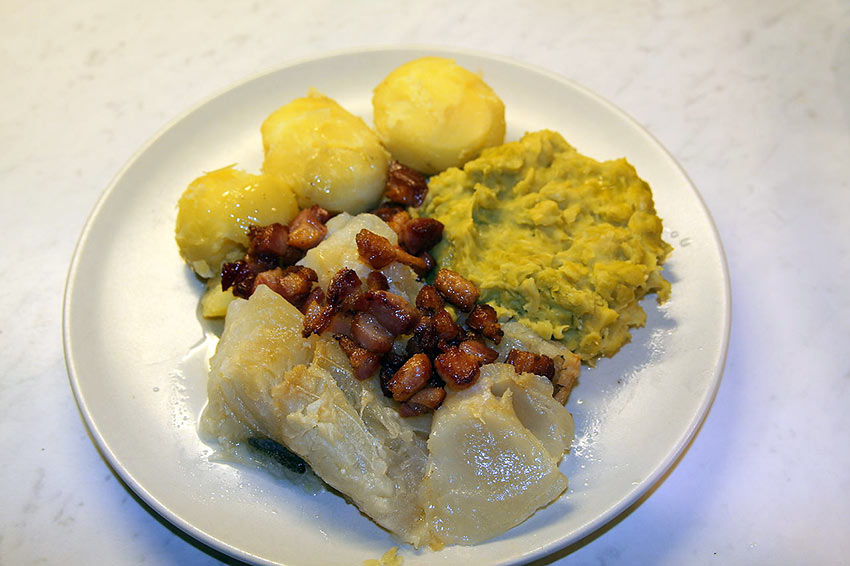 All about Lutefisk: everyone of Scandinavian heritage knows of Lutefisk (pronounced lou-tah-fisk), but for many it is more a source for jokes than actually eaten it. Lutefisk is a traditional Nordic food of dried cod or stockfish – today mostly made with dried ling – prepared in lye. It is soaked in cold water for five to six days (changed daily). In some recipes the fish is also hammered with a wooden mallet to soften it before its first soaking. It is then soaked again in another solution of cold water and lye for an additional two days. When this treatment is finished, yet another round of four to six days of soaking in cold water (also changed daily) is needed. Eventually, the lutefisk is ready to be baked in the oven for 40-50 minutes. Once cooked, the lutefisk has a very mild flavor and rather pronounced odor. People have mixed opinions of the deliciousness of the dish; some loving it, others feeling sick just from the smell of it.
It is generally served with baked potatoes and potato lefse – a flat and dense potato bread. For the record, I quite enjoy it.