Dedicated Loudoun County winemakers, working with the rhythms of time and the vagaries of Mother Nature, have created an overwhelming revelation for visitors to Washington D.C.  For those in the pursuit of pleasure, Loudoun County, a short 25-miles to the east of D. C. is a leisurely laid-back alternative from the chaotic rush and jumble of the big city where vineyards and horses combine to create a lifestyle to envy.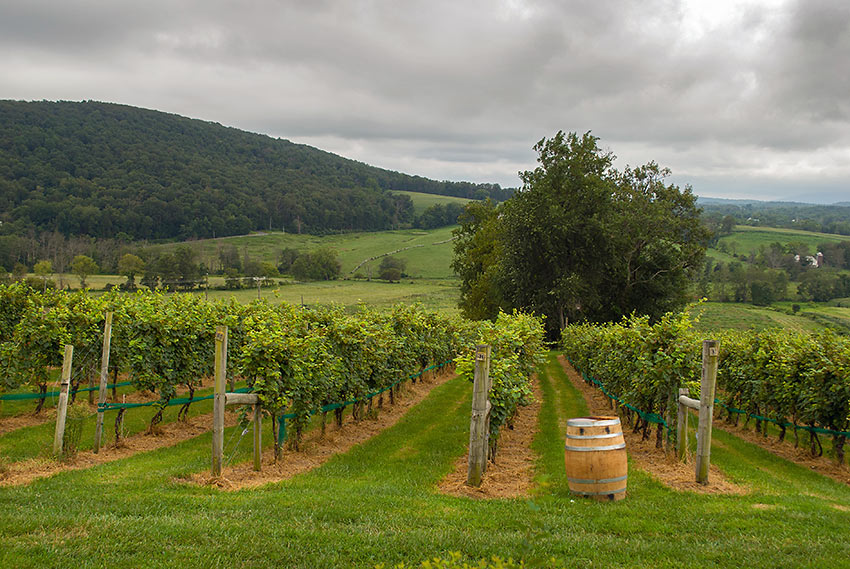 Hauntingly striking, the county is criss-crossed like a thoughtfully designed masterpiece puzzle with two-lane undulating roads that are densely lined with trees and intertwine to connect 42 organic and sustainable wineries where a world of flavor awaits. Grouped into six Wine Clusters, the 697 acres of neatly planted vineyards create a gleam from the earth that is memorable. Because Virginia wine is youthful, like a strapping teenager anxious to encounter the world, the wineries are still relatively unknown, despite the fact the State has 10 wine regions and is the fifth largest wine/grape producer in the country.
Loudoun wineries were set in motion when Willowcroft Farm Vineyards planted the first vines in 1980. While that first planting was largely unsuccessful, the second planting in 1981 was triumphant and in 1984 the winery opened its doors to the public. A host of dedicated winemakers soon followed, creating a budding wine region in Northeast Virginia.
Loudoun, noted as the most affluent county in the country, has an intriguing assemblage of family-managed wineries ranging from grand estate-like venues to smaller farm-style wineries. Several offer matchless 360* views reaching to the monuments in Washington D.C. The emerging county is taking a big step forward with their award-winning Bordeaux-style wines along with a multitude of other varietals.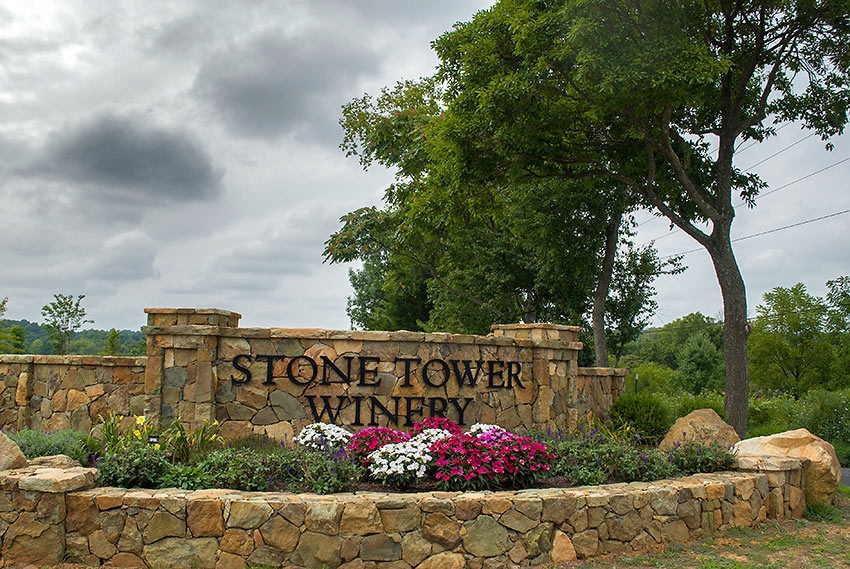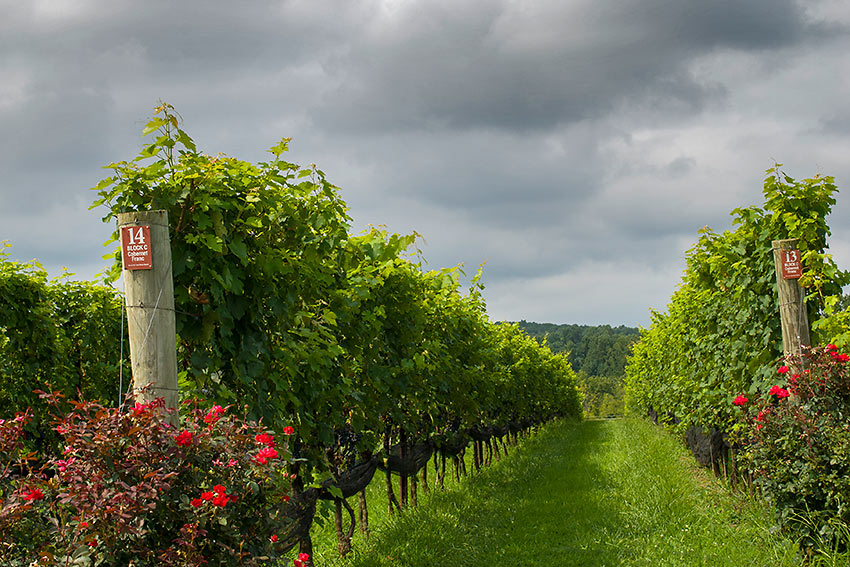 The farm-style buildings emerge amidst a glorious setting of rolling hillsides intermingled with vineyards and ponds reaching into the foothills of the Appalachians which contribute old world soil to a young wine industry. Farming Bordeaux-style, Stone Tower produces 15,000 cases a year featuring the thick-skinned Petite Verdot, Merlot, Cabernet and Viognier grapes, using traditional Bordeaux bottles and French Oak. At the end of the day, Stone Tower employees are allowed to pour a glass of their favorite wine and enjoy nature at its grandest, a nice tradition for this hard-working winery.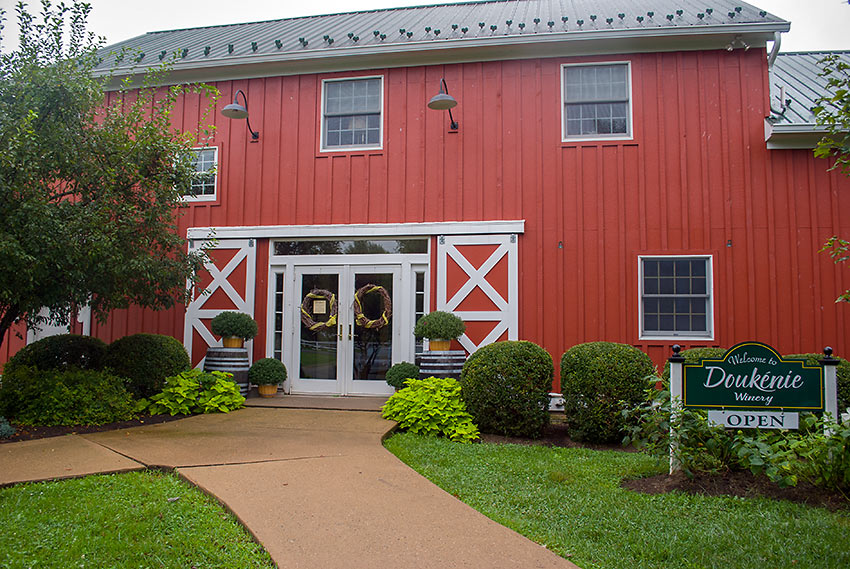 Winemaker Sebastien Marquet, 46, born in Burgundy said, "At age 14 I informed my parents I wanted to make wine. What could they say? They were all winemakers, including my Grandfather." Marquet produces 5,800 cases yearly, has been honored with a satchel full of Gold Medals, and explains that Merlot is a secret love from Burgundy that expresses itself nicely from old vines and is intense and layered after aging for three years in French Oak. Check for music concerts on weekends. Staying in touch with his heritage, Marquet leads 20 guests every two years on a seven-day Burgundy wine tour.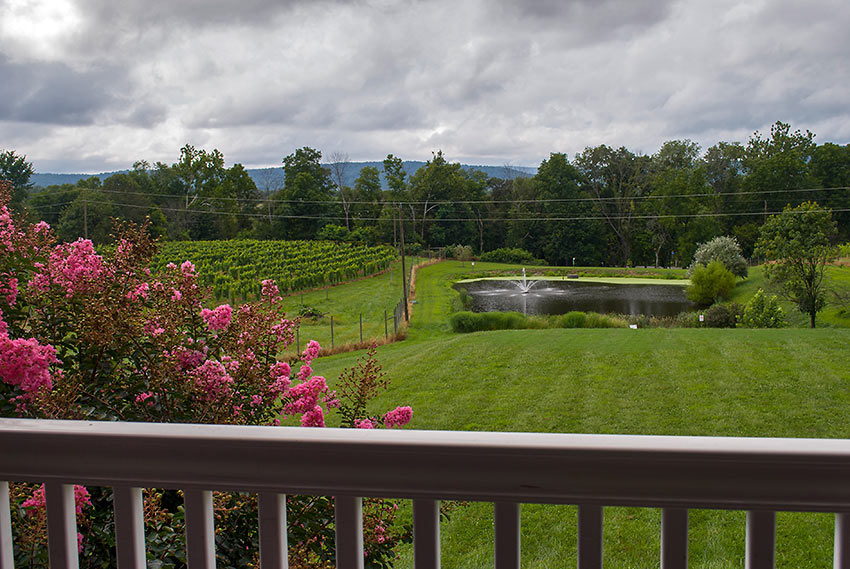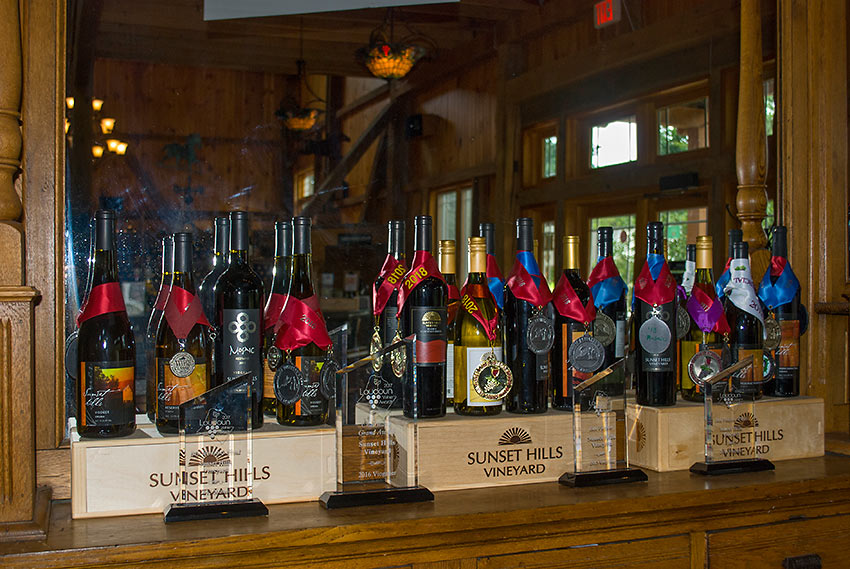 This 1870 Amish farm, recently converted to a stunning wine destination, opened its appealing two-tier tasting room in 2008, incorporating fine Amish woodwork in the design. With views of the Short Hill Mountain Range, connoisseurs of wine will enjoy a 2016 Chardonnay with nuances of green apple, hand-picked and harvested in-house along with 15 other grape varietals. Sommelier Matt Riley said, "We don't have television, so guests come here to enjoy a taste of wine, our fresh bread, and chocolate, and spend hours rediscovering the art of conversation. Our 80,000 vines produce Bordeaux-style Viognier, Merlot, and Cabernet Franc. We fenced the vineyards to keep the deer and young bears out, both of whom love our fruit."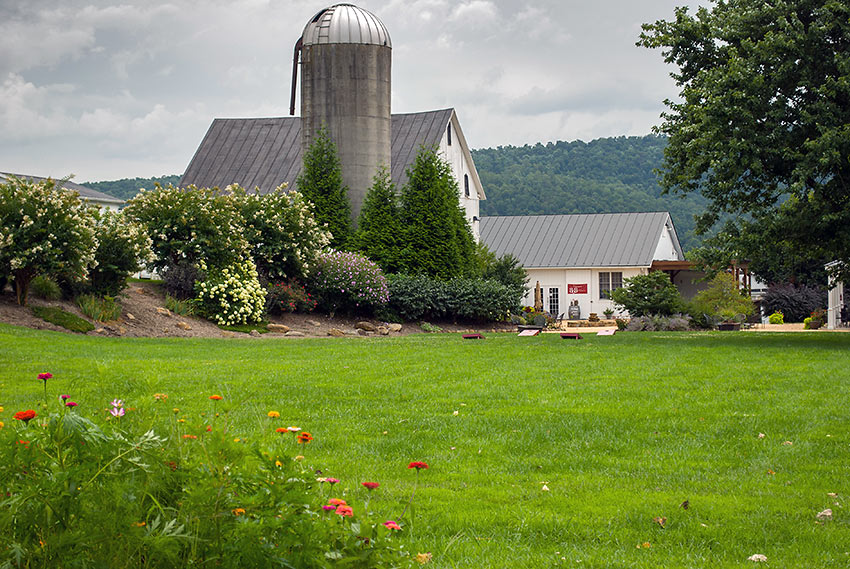 A one-stop, all-consuming destination, 868 opened in 2012 with 120-acres planted with 21 Bordeaux-style varietals. Their wines are 90% estate grown, the vineyard is dog friendly, and their barn cat, Franc, owns the place. The toasty and firmly balanced Cabernet Franc and Merlot Blends can be enjoyed in the adjoining Grandale Vintner's Table which has been honored for their sustainable wine-amenable cuisine. Expansive verdant grounds with a colorful butterfly garden host a series of summer concerts, barbecues, and weddings.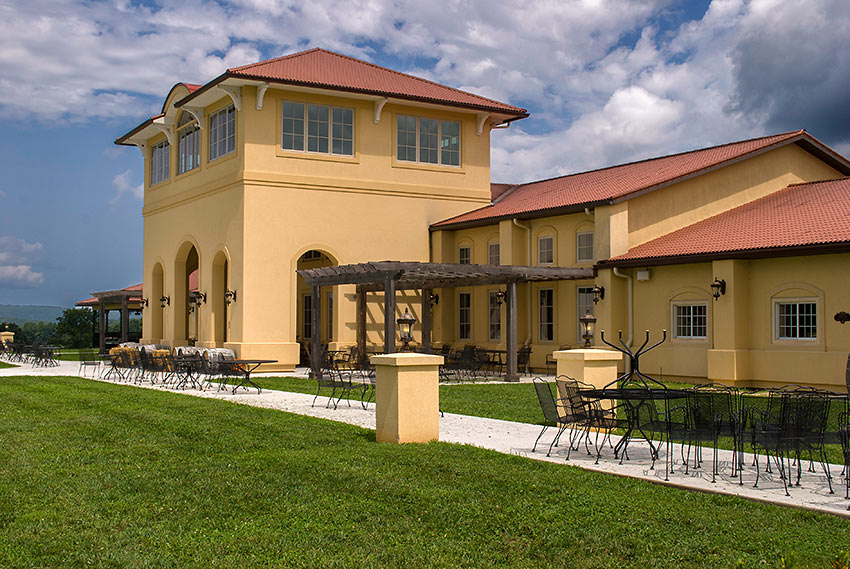 An elaborate estate-style winery with design touches straight out of New Orleans, Breaux is striking. Its amenities include beautiful vineyards, a sizeable tasting room, and for those on a winery tour a location that is only a quick two-minute drive from 868. Large sweeping patios overlook the vineyards and Blue Ridge Mountains and the sunsets are a traditional evening pleasure. Honored with 'Best of Class" at the LA Country Fair Wine Competition, Breaux considers Viogner Virgina's signature grape, while the silky smooth 2013 Nebbiolo produced from old Italian vines is a Breaux favorite.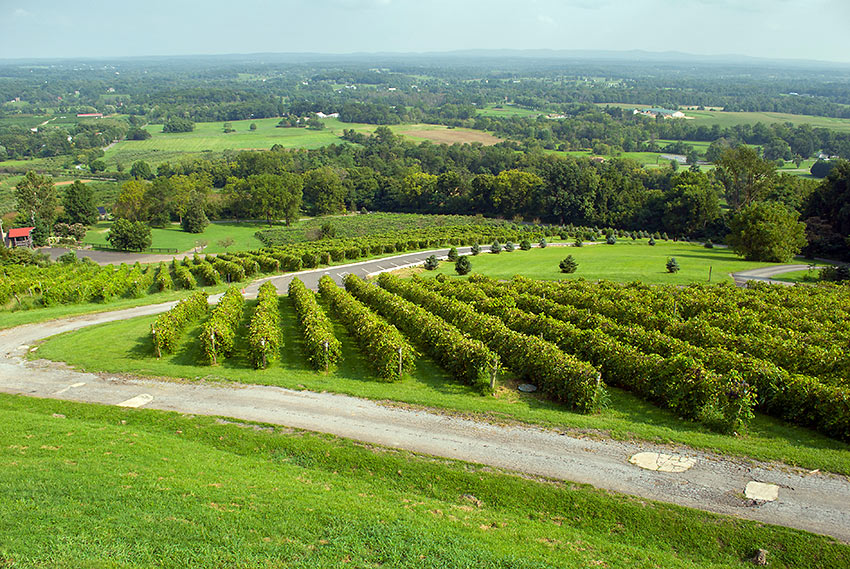 Bluemont, at the very west end of the county and the 1,000 mile mark on the Appalachian Trail, overlooks Loudoun Valley, and from the front patio those with a telescope on a clear day can spot the Washington Monument. The Zurschmeide family, farmers through and though, offer seven small-lot Bordeaux-style varietals, producing 6,600 cases each year for their Wine Club Members. Vivacious Hailey Zurschmeide said, "We have a farm-to-table restaurant, bake our own bread, have four accommodations available, and we have proposals in the vines along with wild turkeys, bear, and deer. On the 4th of July, guests can watch 13 firework shows while enjoying dinner and a glass of wine."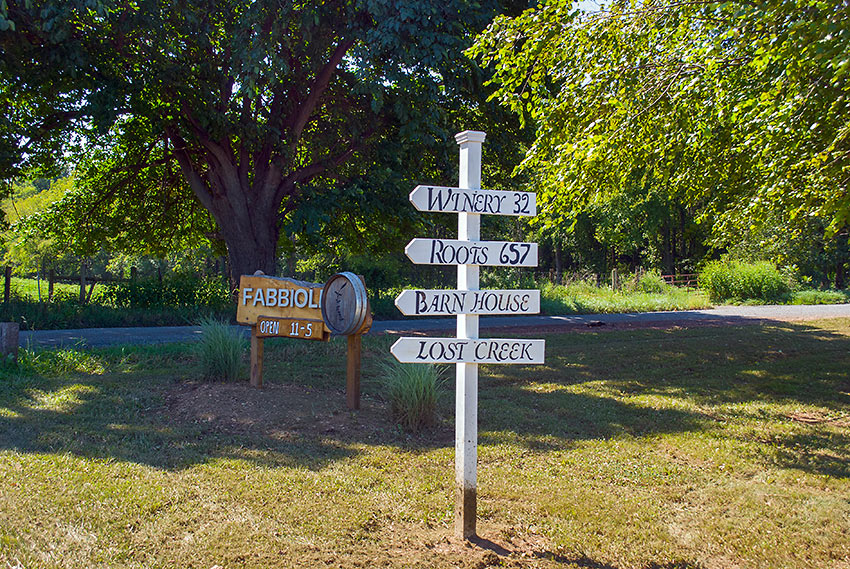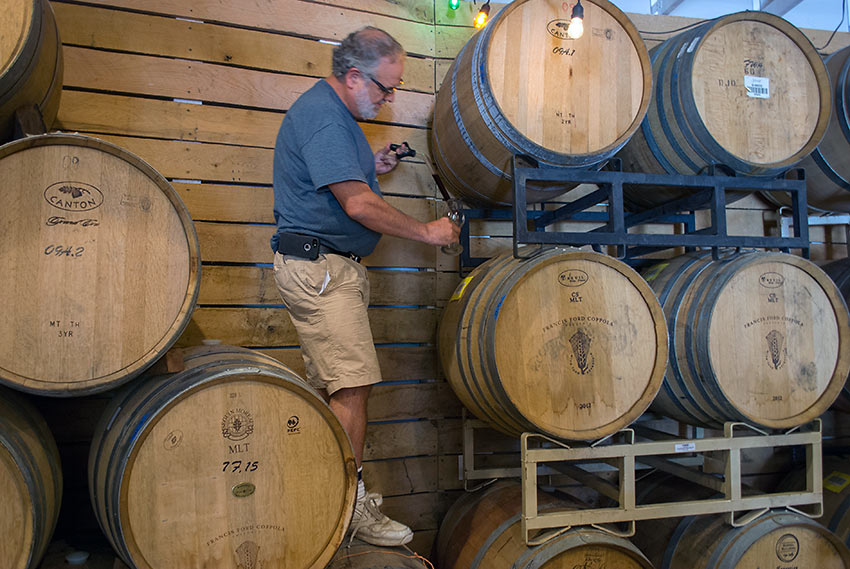 Owner Doug Fabbioli is a passionate icon honored as the "Godfather of Loudoun Wines". His heart is always in accord with the rhythm of his vines, the unpredictable weather, and the clusters of fruit ready for harvest. Fabbioli, with his Italian heritage shining, and his hands animated, explains that his 10 years at the distinguished Buena Vista Winery in Sonoma California were spent learning different techniques from different winemakers, techniques he then generously shared with a number of Loudoun County winemakers. He said, "We opened in 2005 and use what works such as the Cab Franc, the Bordeaux blends, Petit Verdot, and we do Zinfandel quite well." Softly understated, Fabbioli has won more than 20 ribbons, and is also distinguished for fine dessert wines which blend nicely with the small bites offered at the wine tasting table.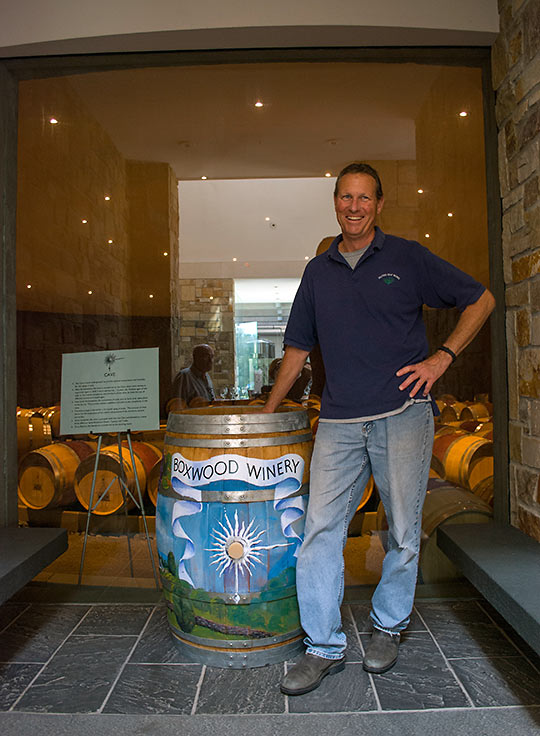 Winemaker and Vineyard Manager James Kress, a U.C. Davis graduate, produces 100% estate Bordeaux style blends with assistance from Stephane Derenoncourt, the distinguished French vigneron Bordeaux consultant. Boxwood's vines spread across one of the initial horse farms in Middelburg, a prominent Historic Landmark, which today has been transformed into an imposing AVA designated wine grape-growing area. Kress works exclusively with French clones, the fruit harvested and sorted by hand, fermented in stainless steel tanks and aged for 12 months in French oak barrels. The smooth and silky 2015 Topiary, a blend of Cabernet Franc, Cabernet Sauvignon, and Petit Verdot, has an elegant balance of fruit and earth, and a bouquet that can sweep one back to the sidewalk cafés in Bordeaux.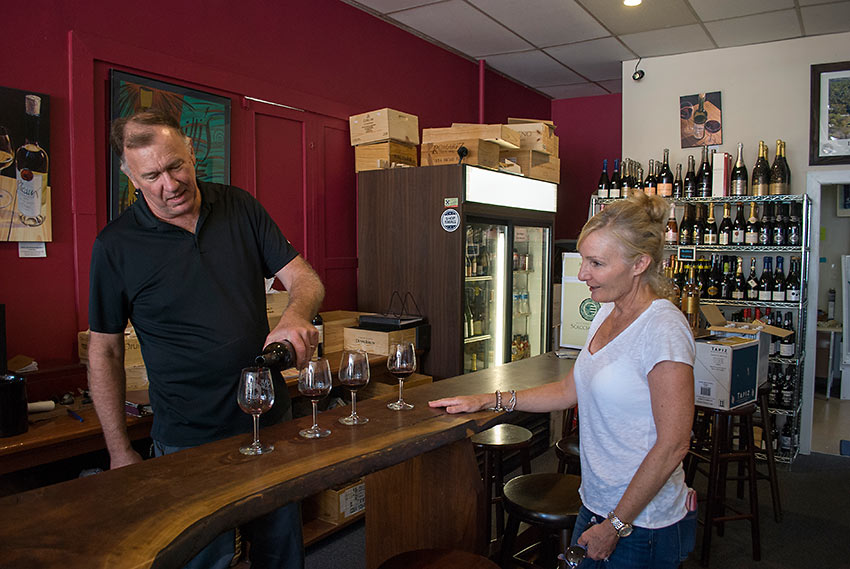 Mike Carroll (no relation) has a wine boutique on South King Street in Old Town Leesburg. In business since 1988, Carroll has a vineyard just south of town, is a great resource for travelers, and offers tastings at his wine bar.
When you go
Wine tasting from $5 to $15, live entertainment in most wineries on weekends, wine tours available, fashionable venues for wedding events, and family friendly; check for opening hours.