The World's First Floating Space Hotel is Launching in 2021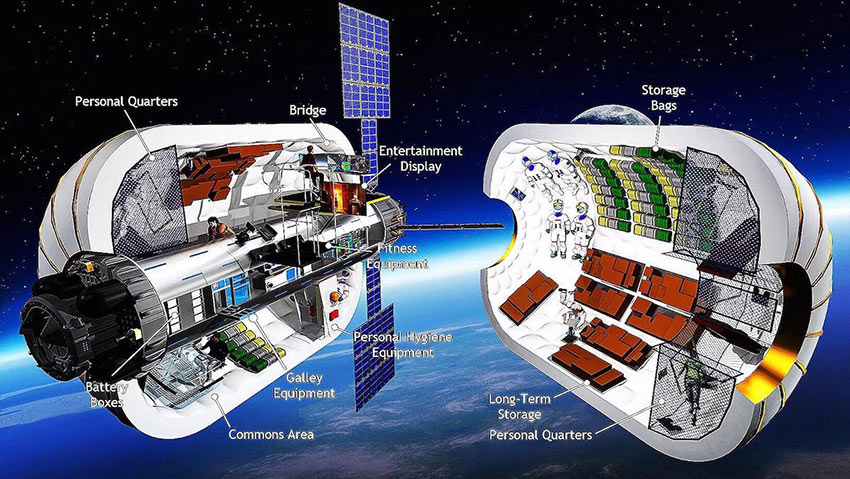 Are you always looking for something a little different when it comes to travelling? Well, booking a "room" in a hotel that floats in space would probably be right up your street.
Robert Bigelow, a billionaire hotel mogul, has announced plans to launch just that.
The 72-year-old says a 'B330' line of space stations, advertised as 'fully autonomous standalone space.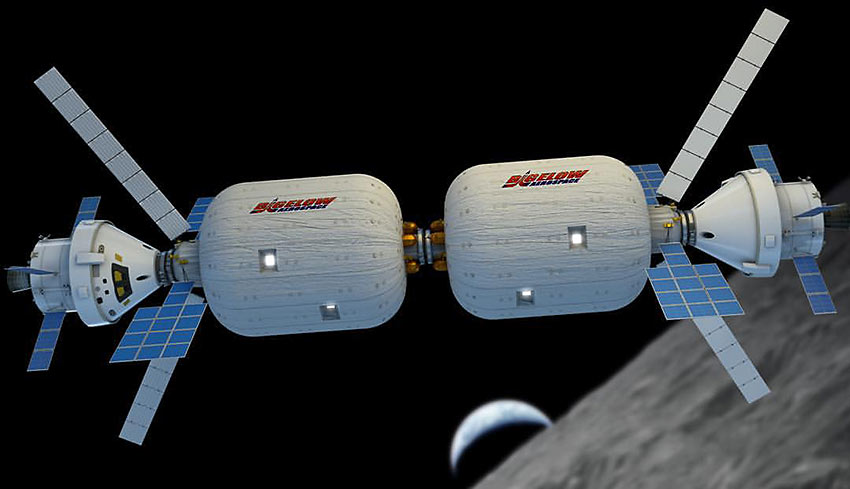 He's hoping to sell time slots to governments that need time in space for scientific reasons but also to sell "holidays" to people. The units will reportedly hold around six people each.
The 72-year-old says a 'B330' line of space stations, advertised as 'fully autonomous standalone space stations', is already underway.
Consisting of two 17-metre modules that will be linked to create outer-space accommodations – the units, once conjoined, will actually offer twice the cubic capacity of the International Space Station. The modules will be able to function in low-Earth orbit (a zone about 250 miles above Earth) and cislunar space.
Sadly for the majority though, spending a night in space won't be a reality. Reserved for the mega wealthy, Bigelow says bookings will cost in the "low seven figures" though most likely in the "low eight figure".
Bigelow made his money by launching the hotel chain Budget Suites of America in 1987 but was always fascinated by space. Growing up in Las Vegas, he was privy to science through witnessing – from a distance – a number of atomic tests conducted in Nevada.
He has previously said that at the age of 12 he "decided that his future lay in space travel, despite his limitations [in mathematics, and] he resolved to choose a career that would make him rich enough that, one day, he could hire the scientific expertise required to launch his own space program. Until then, he would tell no one — not even his wife —about his ultimate goal."
In 1999 he finally founded his private space firm, Bigelow Aerospace but this hotel is part of his new company Bigelow Space Operations. The project is reported to be costing a cool $2.3 billion.
Three Iconic Brands Partner to Create a Whiskey Lover's Dream Gift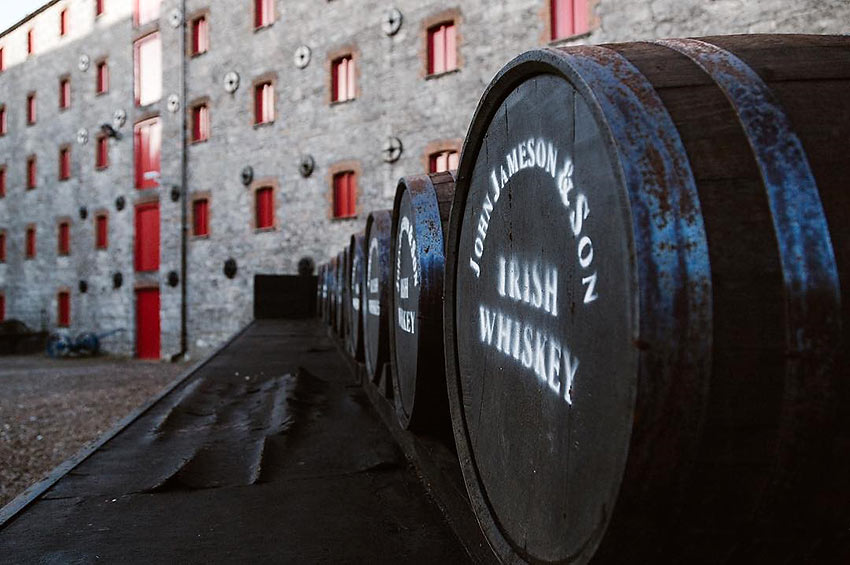 Ashford Castle, Midleton Rare Whiskey and Waterford Crystal Produce the Perfect Blend
Ashford Castle, Ireland's 800 year-old quintessential castle hotel, has announced a new and exciting partnership with Midleton Very Rare Whiskey and Waterford Crystal to launch a bespoke cask specifically for Ashford Castle, along with crystal whiskey tumblers and carafe bearing the Ashford logo.
Built in the 13th century and once home to the famous Guinness family, Ashford Castle became a hotel in 1939, hosting royalty, dignitaries and heads of state. In 2013, it was purchased by Red Carnation and the Tollman family, and after a $75 million restoration project, it was brought back to its former glory. In addition to a complete restoration, the project also added a wine cellar, billiards room and cigar terrace. Long a whiskey aficionado, owner Stanley Tollman has particular interest in this project, and has been involved in it from inception to finish.
The Midleton Distillery is home to the largest inventory of maturing Irish whiskey in the world. Its Master Distiller, Brian Nation, hand-selects the finest whiskeys for the Midleton Very Rare collection. This includes releases such as single pot stills, single cask bottlings, travel retail exclusives, special editions and prestige and ultra-prestige bottlings.
Cask #70345 is an American virgin oak barrel that was filled with a medium style pot still. A virgin oak barrel means it hasn't held bourbon prior to arriving to Midleton, thus making the contribution from the oak a lot richer and more profound. The style of pot still distillate retains the classic spicy character holding up to the significant wood element to give good balance.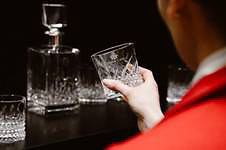 Waterford was first established in 1783 on land adjacent to Merchants' Quay in the heart of the Irish harbor town of Waterford, just minutes from the present day House of Waterford Crystal. The business thrived for 70 years before falling victim to the economy and world events. The company saw a resurgence after World War II, and has since regained its status as some of the world's finest crystal today. "We are thrilled to be partnering with two such iconic brands," said General Manager Niall Rochford, "particularly ones that so closely reflect the standard and attitude toward guest experience that Ashford Castle espouses."
Drive from Ireland to Scotland by Bridge?
Just a matter of hours after Boris Johnson announced that it was possible to build a bridge crossing the English Channel from England to France a leading architect has suggested that a bridge from Ireland to Scotland is feasible at a fraction of the cost to the England/France connection.
If such a bridge were to come to pass it would be possible to visit Ireland on a self drive tour and then drive over the bridge to Scotland avoiding the need to book a flight or ferry!
A PROPOSED BRIDGE connecting Ireland and Scotland could create a "Celtic powerhouse".
Leading architect Professor Alan Dunlop from Liverpool University has said that a combined road and rail crossing could be created between Portpatrick, Dumfries and Larne in Northern Ireland.
The expert believes that the new structure would boost the Scottish and Irish economies and help solve any longer-term disputes over the re-emergence of an Irish border post-Brexit. He spoke out after the Foreign Secretary raised the prospect of a bridge over the English Channel last week.
Carnival Fascination Returns to San Juan
Courtesy  Tom Stieghorst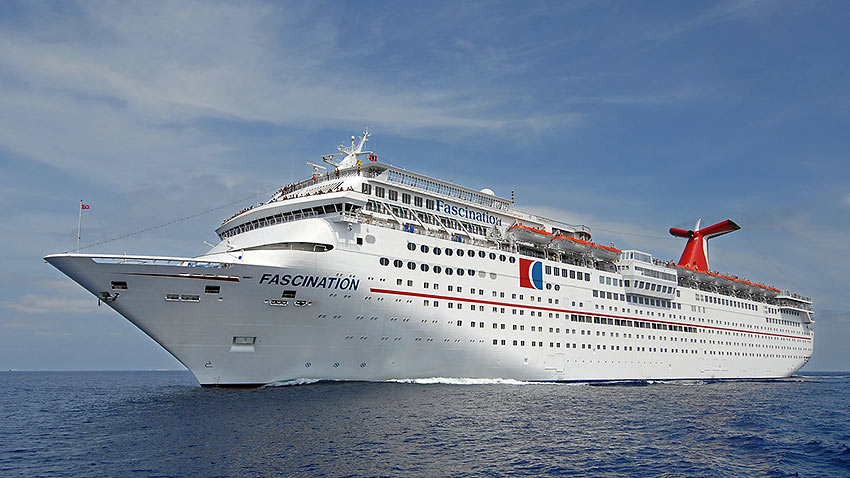 San Juan has regained its homeported Carnival Cruise Line ship, five months after Hurricane Maria knocked the Carnival Fascination out of the market.
The 2,056-passenger Fantasy-class ship was chartered to the Federal Emergency Management Agency for use by relief workers in St. Croix for several months after the storm while Carnival repaired damage to its terminal in San Juan.
The 24-year-old ship then went into a drydock to be upgraded before returning to cruising duty.  Several Funship 2.0 restaurants were installed during the drydock, including Guy's Burger Joint, the BlueIguana Cantina and Bonsai Sushi Express. Bar concepts new to the ship will be the Alchemy Bar, the RedFrog Rum Bar and the BlueIguana Tequilla Bar. The candy store Cherry on Top was also retrofitted to the ship.
The Fascination will depart San Juan on Sundays for seven-day round trip voyages stopping in St. Lucia, Barbados, St. Kitts, St. Thomas and St. Maarten.
"Out of this World" First-Ever Space Festival Coming to Las Cruces, New Mexico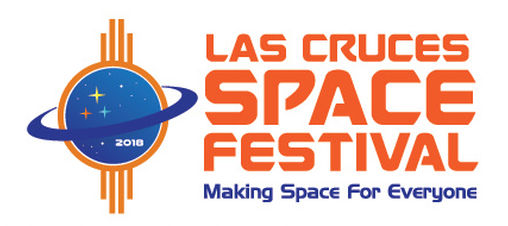 It's time to have fun and enjoy the accomplishments and importance of space in Las Cruces and the surrounding community. To celebrate all things space, volunteers have come together to create New Mexico's first ever Space Festival. It will take place over three days and nights, April 12th to 14th, across three locations. The theme is "Making Space for Everyone."
The festival kicks off on April 12th — the day of "Celebration." On this day, events will be geared toward children and families in celebration of the anniversary of human space flight. Yuri's Night, which has been celebrated worldwide since 2001, marks the date when the then USSR launched Yuri Gagarin into a single orbit around the Earth in 1961.  Events will take place on the New Mexico State University campus, including an evening event organized for youth by NMSU's Women in STEM (WiSTEM) group, a mobile planetarium in which people can experience and learn about the night sky, and a Tech Center featuring a flight simulation specifically tailored to space travel. There will also be educational NMSU Space Talks and stargazing. Las Cruces Public Schools are also planning events earlier in the week.
On Friday, April 13th, the day of "Raising Awareness," some of the greatest minds in the area will gather for a Space Showcase at Mesilla Valley Mall. Representatives from NASA White Sands Test Facility, Spaceport America, Virgin Galactic, New Mexico Space History Museum, UTEP's aerospace program, the Experimental Aircraft Association, and others will be featured. The Space Showcase will offer the perfect opportunity for budding astronauts, curious minds and science buffs to interact with and ask questions from experts in space travel, aerospace and space exploration. The evenings of the first two days will also include free space-themed movies at the Rio Grande Theater on Main St.
On Saturday, April 14th, the day of "Entertainment" will take place on the Plaza de Las Cruces and surrounding locations in the downtown area, and will be a full range of interactive events. Virgin Galactic will bring a full size replica of their suborbital SpaceShipTwo to the Albert Johnson Park, adjacent to Las Cruces City Hall. There will be many hands-on activities provided by ¡explora!, Insights El Paso Science Center, Asombro and Cruces Creative, amongst others. Experts from the Space Showcase will be back on-hand to interact with attendees. The NMSU Atomic Aggies Rocket Club will display their competition rocket, New Mexico Space Grant will have their high altitude weather balloon used to observe the recent solar eclipse. There will be at least two Challenger Center Missions, including one open to adult members of the public for the first time, and a unique space pickleball game in the afternoon, plus a 'space walk', in which participants are encouraged to dress in their best space or alien costumes.
The Las Cruces Space Festival will provide an incredible opportunity for youth to learn about and get excited about space and for older generations to celebrate the impact that space has had in their daily lives. For all lovers of space and all those with a growing curiosity, the Space Festival will bring education, entertainment and fun together in one package, with some of the key organizations behind regional space activity involved, and it will be a one-of-a-kind event, said Festival organizers, who are also aiming to set up a space tour from Las Cruces to Spaceport America as part of the event. KTAL 101.5 Community Radio in Las Cruces will broadcast special features and interviews throughout the week of the Festival.
"We all benefit from space related activity and innovations, including cell phones, GPS and weather tracking, just to name a few," said Jonathan Firth of Virgin Galactic, one of the festival's partners. "There is already much space-related activity in New Mexico, and it's set to increase dramatically over the coming years — especially with commercial space flights just around the corner. Many activities for the Festival are already confirmed, and we are now working on adding to them and confirming sponsors before April 12th."
Event partners include New Mexico State University, City of Las Cruces, Greater Las Cruces Chamber of Commerce, Las Cruces Public Schools, Big Brothers Big Sisters Mountain Region, Virgin Galactic, Jacobs Technology, ¡explora!, EAA, Spaceport America, New Mexico Space Grant, NASA White Sands Test Facility, Mesilla Valley Mall, Visit Las Cruces, KTAL Community Radio, Las Cruces Sun News, Las Cruces Bulletin, Hotel Encanto, Insights El Paso Science Center, Las Cruces Challenger Learning Center, Cruces Creatives, and the Rio Grande Theatre.
For more information, visit Space Festival. To participate in the festival, contact lcsf2018@gmail.com.
Cruise Cools to China
Courtesy  Tom Stieghorst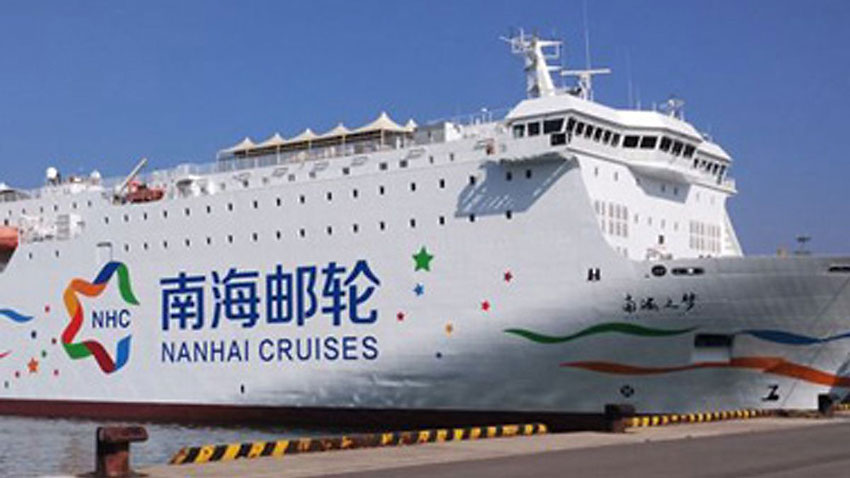 The cruise industry's gold rush to China, if not over, has entered a new phase: For the first time in at least four years, cruise capacity in China will not grow in 2018.
That means that the focus and management attention that has been lavished on the world's most populous country may now be turning elsewhere.
To hear evidence of that, listen to the list of places that Norwegian Cruise Line Holdings CEO Frank Del Rio reeled off when asked if he's ready to put a second ship in China.
"We have many other either unserved or underserved markets that we would also consider in the mix, should ships become available to us," Del Rio said in response to a question from a Wells Fargo analyst. "We don't have a presence in the mid-Atlantic states. We're not in Baltimore. We're not in Charleston. We don't have a presence at all in the world's second largest port, which is Fort Lauderdale. We don't have a presence in the Gulf States of Texas or Alabama. We don't have a year-round presence in Tampa or New Orleans or in Los Angeles."
Del Rio went on to say that the Norwegian Cruise Line brand will have three ships in Alaska this summer, where some competitors have as many as eight.
"So, given our fleet size today and the fact that we will only be taking one ship per year, it could be a couple of years before we consider adding more tonnage to China, if the conditions in the rest of the world remain as robust as they are today," Del Rio said.
The Chinese boom really got going in 2014 when Royal Caribbean Cruises Ltd. announced it would devote its brand-new Quantum of the Seas, the first of a new class of ship, to the Chinese market.
In a world full of supposedly bold moves, that one really was. And it prompted other lines for the first time to put brand new ships in China, as everyone feared being left behind in the scramble to impress the Chinese.
Being the preferred brand in a market that was projected to be the biggest in the world in a decade or so was worth the gamble of putting brand new tonnage in an unproven and opaque market.
So when Princess Cruises sent the Majestic Princess to Shanghai last year and Norwegian sent the Norwegian Joy, in addition to the Quantum and ships from Costa Cruises and others, the result was a crowded field.
Throw into the mix the spat between China and South Korea that limited itineraries out of northern China, and China became a much weaker cruise market last year.
While cruise lines insist that they're in it for the long haul, and even in the short term it has been profitable, the sense that China is going to deliver a big increase in global cruise revenues has been tempered.
Already Norwegian's focus for 2018 has turned to introducing Norwegian Bliss to the North American market, and in particular the U.S. West Coast. Who knows where else in the U.S. Norwegian ships might be coming next?
Airlines Inching Closer to Dynamic Pricing
Courtesy Robert Silk
Imagine if airlines could tailor fare offers based on who was making the ticket inquiry, rather than strictly on the search criteria. Well, industry technology and revenue-management experts say those days are fast approaching.
In fact, a few airlines have already implemented what is known as dynamic pricing on some ticket searches within their own channels, according to the revenue management software provider PROS, which works with some 80 airlines worldwide, including Southwest, Lufthansa, Emirates and Aeromexico.
"2018 will be a very phenomenal year in terms of traction," said John McBride, director of product management for PROS. "Based on our backlog of projects, there will be a handful of large carriers that move toward dynamic pricing science."
Critics of the technology warn of a growing lack of transparency if fares are priced dynamically.
Conceptually, dynamic ticket pricing is simple. An airline identifies the person making a flight inquiry, then mines its data for that person's flying history. The person could be identified if he or she is logged into an OTA or into an airline website through a frequent flyer account.
Much as Amazon does today to remember shopping histories, those sites could also set cookies at login to identify a person (or at least the device being used) for subsequent searches in which the individual is not logged in, said Phocuswright technology analyst Bob Offutt. And there are also technology companies that provide the capability to identify consumers across multiple devices without the need for login information, McBride said.
The revenue-management platform then uses an individual's flight-shopping history to generate a person-specific fare offer that differs from the offer some other shoppers might get for the same fare inquiry at the same time.
Experts say such technology is most likely to be used to offer discounts to customers with loyalty status and to generate bundled fare offerings that fit the customer's profile. But in theory the technology could also be used for different purposes, such as to induce a new customer with an especially affordable ticket or to offer a higher ticket price to someone who is likely to be undeterred by an upcharge.
Dynamic pricing platforms will also generate specialized offerings based on the profile of a fare search, even if they don't have the specific identity of the shopper, said Peter Belobaba, the airline industry program director at MIT who helped author a recent discussion paper on advances in airline industry revenue management and distribution for the Airline Tariff Publishing Co. (ATPCO), the airline-owned corporation that collects and distributes fare data.
For example, if a person were to query a one-night, midweek trip from New York to Chicago, the platform might make the assumption that the inquirer is traveling for business, then prepare fare offerings that fit the profile of a business traveler.
By employing dynamic price offerings, airlines would hope to increase conversion rates while driving incremental revenue increases, in part by showing more travelers that there is value in paying a bit extra for a more comfortable flight.
"I believe a lot of consumers are so focused on the lowest fare that they end up buying a degraded product, then complaining when they don't get a seat assignment," Belobaba said.
But according to the recent ATPCO paper, prepared by PODS Research, moving into a world of dynamic price offerings has proven technologically difficult for the airline sector, in large part due to the legacy distribution system that was put in place after deregulation in 1978.
That distribution system allows for just 26 fare classes, one for each letter of the alphabet. Airlines assign prices and restrictions to each fare class, then file those classes with ATPCO for dissemination to GDSs. At present, carriers are able to update prices in each fare class four times per day on domestic flights and hourly on international flights, said Tom Gregorson, vice president of products and solutions for ATPCO.
But in practice, Belobaba said, most airlines typically keep their set of price points for weeks at a time and mainly manage fare offerings by altering the fare classes that are up for sale at any given time. To move into a world of dynamic price offerings, the airline distribution industry will have to get away from the legacy fare-filing system or institute a hybrid solution, Gregorson said.
Under a hybrid system, airlines would still do fare filings, but then revenue-management programs would be able to offer price changes from those base fares depending on who is doing the fare search.
The key to enabling such technology is the development of a working interface that would enable the shopping engine of a GDS or OTA to communicate with an airline's own pricing engine, which would be doing the adjustment, Gregorson said. He added that ATPCO's Dynamic Pricing Working Group, which reconvenes for three days this week, has implemented a pilot project to work on protocols for such an interface.
In a purer version of dynamic pricing, however, airlines wouldn't file fares at all. Instead, a fare offer would be generated from scratch, in real time, based on who the shopper is, the nature of the inquiry and existing demand and availability for a given flight.
McBride of PROS said that 11 of the company's airline clients are already using its software to generate real-time dynamic offers within direct sales channels, including their websites. Several of those airlines are making the price offers by adjusting from their published fares, while others are generating offers from scratch. 
Though he wouldn't identify the airlines for contractual reasons, McBride said they are mainly major carriers and are based around the globe.
Rollout of dynamic pricing by those carriers has been cautious and segmented, with much of it concentrated on group travel and on routes that compete against low-cost carriers, including against Europe's Ryanair and EasyJet, neither of which files fares with ATPCO.
"Our customers have definitely seen increased conversion rates of up to 50%, and it has enabled airlines to achieve incremental revenue in the 7% to 10% range," McBride said. "Dynamic pricing clearly speaks to the opportunity for airlines to service a wider range of customers with a broader set of fares."
Gregorson said it's unclear when dynamic pricing will become a possibility through GDSs and other indirect sales channels. But he added that ATPCO's working group meeting this week could provide more clarity on that question.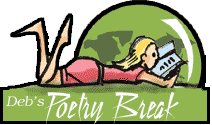 Easter, 1916
I  have met them at close of day
Coming with vivid faces
From counter or desk among grey
Eighteenth-century houses.
I have passed with a nod of the head
Or polite meaningless words,
Or have lingered awhile and said
Polite meaningless words
And thought before I had done
Of a mocking tale or a gibe
To please a companion
Around the fire at the club,
Being certain that they and I
But lived where motley is worn:
All changed, changed utterly:
A terrible beauty is born
That woman's days were spent
In ignorant good-will,
Her nights in argument
Until her voice grew shrill.
What voice more sweet than hers
When, young and beautiful,
She rode to harriers?
This man had kept a school
And rode our wingèd horse;
This other his helper and friend
Was coming into his force;
He might have won fame in the end,
So sensitive his nature seemed,
So daring and sweet his thought.
This other man I had dreamed
A drunken, vainglorious lout.
He had done most bitter wrong
To some who are near my heart,
Yet I number him in the song;
He, too, has resigned his part
In the casual comedy;
He, too, has been changed in his turn,
Transformed utterly:
A terrible beauty is born.
Hearts with one purpose alone
Through summer and winter seem
Enchanted to a stone
To trouble the living stream.
The horse that comes from the road,
The rider, the birds that range
From cloud to tumbling cloud,
Minute by minute they change;
A shadow of cloud on the stream
Changes minute by minute;
A horse-hoof slides on the brim,
And a horse plashes within it;
The long-legged moor-hens dive,
And hens to moor-cocks call;
Minute by minute they live:
The stone's in the midst of all.
Too long a sacrifice
Can make a stone of the heart.
O when may it suffice?
That is Heaven's part, our part
To murmur name upon name,
As a mother names her child
When sleep at last has come
On limbs that had run wild.
What is it but nightfall?
No, no, not night but death;
Was it needless death after all?
For England may keep faith
For all that is done and said.
We know their dream; enough
To know they dreamed and are dead;
And what if excess of love
Bewildered them till they died?
I write it out in a verse —
MacDonagh and MacBride
And Connolly and Pearse
Now and in time to be,
Wherever green is worn,
Are changed, changed utterly:
A terrible beauty is born.