8 Hours of Health Care Hell
Last Saturday, Martha, an elderly friend of mine, fell down a steep staircase. She fractured a few ribs and I believe a crack on her skull. A split second imbalance caused all of that grief.
Yesterday afternoon I was feeling weird. Either it was a strained muscle on my left chest or it was some heart palpitation. Remembering Martha and the outcome of a wrong decision, I wondered if I should go to the ER just in case. With much hesitation, I dragged myself to the ER and that was the start of an 8 hour ordeal.
Dr. H, came in smiling. He spoke softly and walked softly. Reminded me of a sinister James Bond Villain: "Good afternoon, Mr. Bond. How are you feeling? Palpitations? Hmmm … do you have trouble breathing? Does your chest feel heavy? Have you had an EKG? Hmmm … you'll love my EKG," he insisted with a smile.
All they did was give me tests: checked my blood pressure, took blood samples, took an x-ray … but strangely, they did not give me any kind of medication. Not even water.
But I saw through their dastardly grin. I know what they were really thinking: "How much money can we squeeze out of this poor unfortunate soul?"  
I was there since about 4pm. At about 6pm, Dr, H comes back in. "Your tests seem to be pretty normal … except for your blood pressure!" (Thunder clapping in the distance.)
"Great! So … can I go now?" I asked.
Dr, H just looked at me intently … sizing me up from head to toe. Searching for a flaw … a face twitch or a stammer. "Actually," he said, "I want to have you stay overnight and observe your condition." (Thunder clapping in the distance.)
"What?!?! No way! I have too much to do." I shrieked. "Not even for your famous EKG!"
Dr. H just looked at me like a raptor about to snap my heart out. He told me to wait in the ER. And so I did. During my "imprisonment" he would come by but he would never say anything to me. Deliberately avoiding eye contact. I think he was secretly observing me — waiting for me to fall off my chair! But I didn't. At 1:30 they decided to release me from confinement. Actually, I was having too much fun joking with the other patients — their plan backfired. So $155 and 8 hours later, I finally made it back home.
That's why I am so tired and sleepy. I only had about 4 hours sleep last night. I can't go on writing. I certainly don't want to meet Dr, H again. Good night.
"Do you want to speak to the doctor in charge or the nurse that knows what's going on? 
—  Anonymous
TGIF people!
The Young Doctor
Shared by Don of Kelowna, B.C.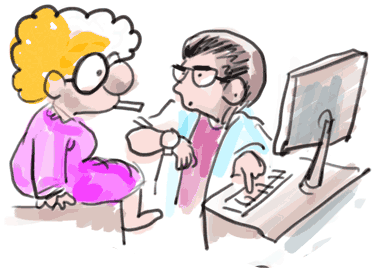 A woman went to the emergency room, where she was seen by a young new doctor. After about 3 minutes in the examination room, the doctor told her she was pregnant. She burst out of the room and ran down the corridor screaming.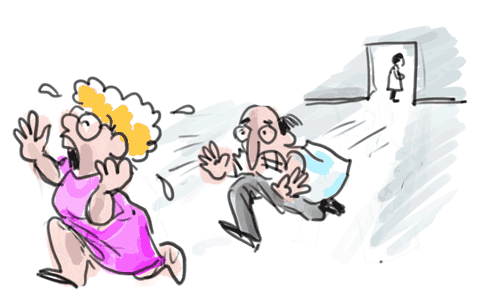 An older doctor stopped her and asked what the problem was. After listening to her story, he calmed her down and sat her in another room. Then, the doctor marched down the hallway to the first doctor's room.
"What the hell's wrong with you?" he demanded. "This woman is 68 years old, she has two grown children and several grandchildren, and you told her she was pregnant?!!"
The new doctor continued to write on his clipboard and without looking up said, …"Does she still have the hiccups?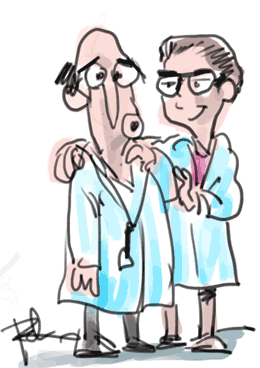 Bladder Problem
Shared by Mel of Washington, D.C.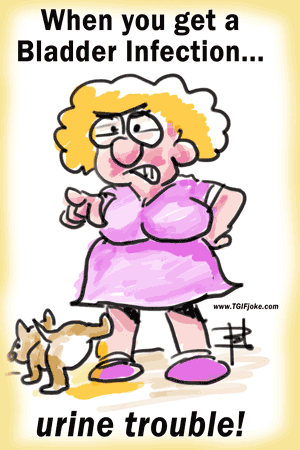 Cats vs. Cucumbers
Sent by Rodney of Manitoba, B.C.
If you've got a cat, have you tried this? Does it really scare them? Poor kitty. I asked my son about it and he said the video's old and that he would never traumatize his cat like that. What do you think?

Amazing Heartwarming Magic
Sent by Sent by Tom of Pasadena
Heartwarming Magic? Is that even possible? Decide for yourself.
Don's Puns
From Don's collection of puns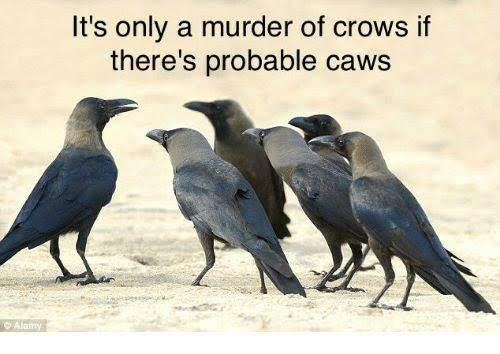 Parting Shot
Thanks to Tom of Pasadena who shared this photo