Raoul's 2 Cents
Cabin Fever
I think we are in week 5 of the Covid lockdown. People are processing things they would normally have no time to consider. People are getting into each other's nerves. If you are beginning to have conversations with inanimate objects, you know what I mean.
I just recently got into a conversation about the inhumane condition that this government demands of its citizens. A friend's Dad is in a locked down retirement facility but she wants to be physically present with her Dad to comfort him. She is even willing to get infected and die in the process. She is thinking of crashing the doors to get him. However, from the medical logistical point of view, If she gets sick, she will be stealing resources (man power, medications, ventilators, etc.) from innocent others.
I can understand that the government is still grappling with uncertainties. What is the nature of the "beast?" Does it spread through animals? Does it live longer on metal surfaces? Is it airborne? Do we have enough resources to win this war? If it really is that deadly and that contagious, should someone dictate what is good for you and the rest of society? Should we be forced to isolate? Should doctors and nurses care for the foolhardy victims? My daughter is a nurse who is going through very real trials due to the pandemic. Is it fair for us to squeeze even more out of her to care for people who choose to be sick?
This is just one of the topics that have sprung up. To be honest, I'm not sure where I stand on this one. But one thing I do know is we need to be sensitive to the other person. You may think you have the right answer but I think the better approach is to understand where the person is coming from. Why the need to talk about it? Perhaps it isn't an answer he/she is seeking. Perhaps it is the need for someone to listen. I do not mean we should give up our convictions. Rather, I'm suggesting there will be other opportunities to engage … not when everyone's nerves are already frayed. We don't want to get out of our bunkers hating each other, do we?
Recently, a friend who works in an organization that helps the homeless asked me what I thought about their program. I told her that many programs merely exacerbate the problem with temporary relief rather than provide long term solutions. Later that night I couldn't sleep because I gave her what she asked rather than give her what I now believe she needed. She needed someone to listen and thank her for all her hard work. I didn't do that. I need to apologize.
Of course there are limitations. Sometimes, the best thing to do is just smile and walk away to your corner of the cabin. But this is just me.
Let's keep our distance and keep our sanity and hold on to our faith. TGIF people!
Raoul
"Be wise in the way you act toward outsiders; make the most of every opportunity. Let your conversation be always full of grace, seasoned with salt, so that you may know how to answer everyone" — Colossians 4: 5-6
Joke of the Week
Thanks to Mike of New York for sharing this joke.

Video: Sophie Sings Fly Me to the Moon
Thanks to Debbie of Moreno Valley, CA for sending this adorable 5 year old's rendition of Sinatra's classic tune.
Video: Dog Hugs
Thanks to Don of Kelowna, B.C. for these heart warming clips of the love between dog and master.
Video: Grocery Shopping
Thanks to Naomi of N. Hollywood and Terry of Santa Monica, CA for this video. A great way to shop!
Video: Visita Iglesia
Thanks to Leo of Toronto for sharing his personal video of churches during his travels. Even the background music is from his own choir, the Madrigals of the University of the Philippines. I should have shared this last week but it's better late than never.
Rodney's Puns
Thanks to Rodney of Manitoba, B.C.  who sent this collection of puns. Sounds like this is original.
Parting Shots
Thanks to Naomi of N. Hollywood, CA who sent this image: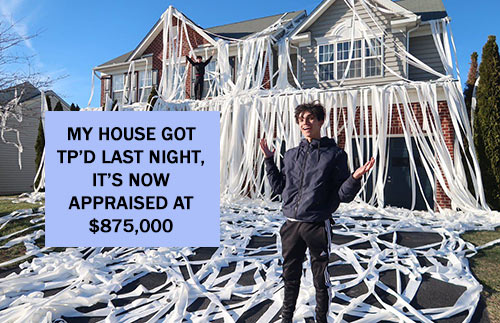 Thanks to Cheryl of Arcadia, CA for this picture: