Curated by Ed Boitano
The T-Boy Society of Film & Music's first poll for 2021 is dedicated to favorite domestic destinations: Cities, Towns and Sites. We felt this would be an appropriate theme as traveling to domestic destinations is slowly opening up.
You'll find members' selections to be deeply personal, reflective and educational; experiences that helped shape their lives. I know I did. Here's looking for a spectacular year of travel.
— EB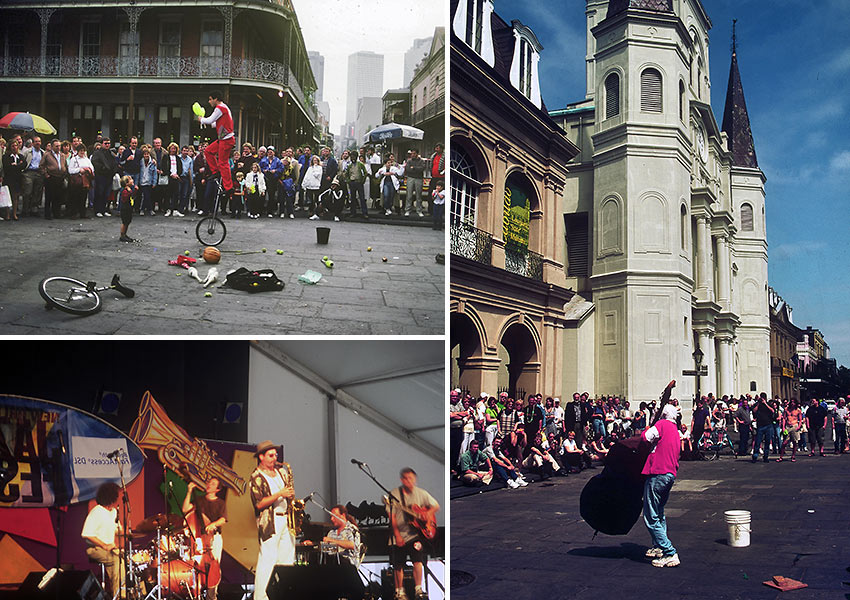 Richard Carroll — T-Boy writer:
For me New Orleans is like a spirited island unto itself. Music swirls about the city in a marvelous mix of church gospel, the 12 bar blues, R&B, Zydeco, Cajun, Latin, and timeless New Orleans jazz, all captured throughout the day and night in Jackson Square, and free concerts in the St. Louis Cathedral, the oldest continuously operating Roman Catholic Cathedral in the country dating to 1720 when New Orleans was a Spanish colony. I feel the Square resembles Paris along the Seine or Prague in summer. Artists sit jauntily under umbrellas displaying their work as the ubiquitous street entertainers juggle, tap dance, play the tuba, strut and mime, and work one-liners off the audience. It's such a blast to dance to Tuba Skinny or Superband or the Smoking Time Jazz Club, all New Orleans' street jazz bands, usually performing on Royal St. with great passion.
I believe New Orleans is the most European of U.S. cities with convincing Caribbean influences hovering about. With the Mississippi River a stone's throw away, the city has the feel of a vibrant 1860's seaport town, where mystical voodoo shops flourish, and music, art, and dining are revered aspects of the city's lifestyle. After numerous visits I discovered there are more than 50 historic locations in the Quarter, eight museums, tree-lined parks and aged churches with character. It's exciting to feel that the Vieux Carre or French Quarter is a heady concoction of Paris, Trinidad, and the Caribbean spiced with a touch of other cultures including Italian, Spanish, Irish, Central America and Africa, and yet remains purely American.
I've observed that the Quarter and Bourbon Street are a setting for a youthful adult playground with a dress code beyond a fashion queen's worst nightmare. College kids deep in their "Go Cups" sporting T-shirts, jeans, seven inch platform heels, and leopard skin mini-skirts roam the Quarter in a mesh-mash of rampaging hormones, and new best friends, though the excitement fades into the mists of the fast-moving Mississippi River when reality sets in.
With each visit I notice that New Orleanian's have stubbornly refused to release their heritage and the city has retained a distinctive character that is reflected in their language, cuisine, music, architecture, neighborhoods, and celebrations. New Orleans with character to share is among my favorite domestic destinations for sure.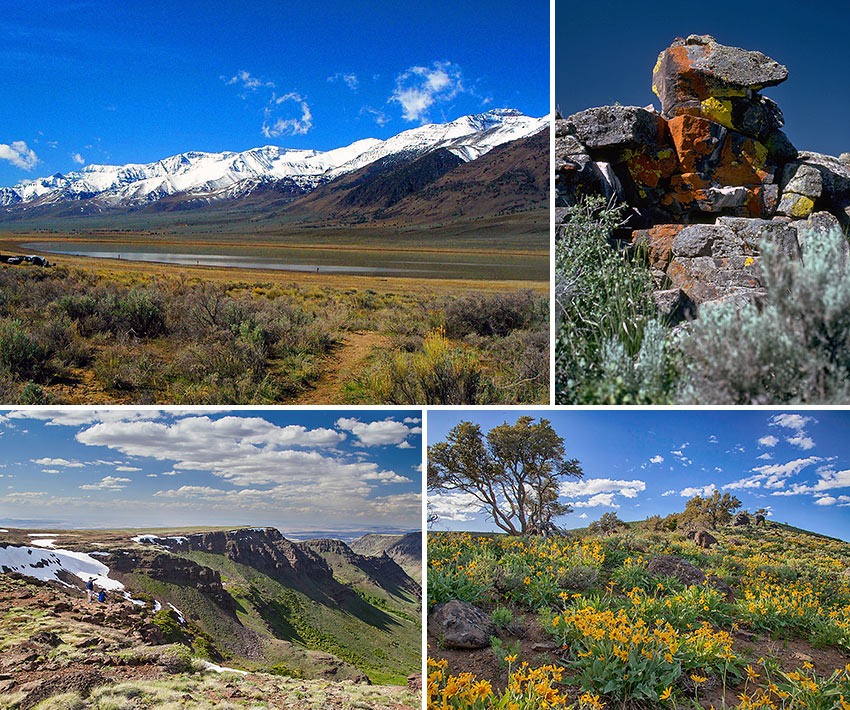 Stephen Brewer — T-Boy writer:
A Trip Up Steens Mountain, Oregon
According to the official count, only 12 people live in Frenchglen, way over in the southeastern corner of Oregon. I would have guessed that with so few neighbors for company, you'd be eager to chat with just about anyone who crossed your path. Then again, you're probably pretty taciturn by nature if you choose to settle in such a remote spot.
Or so I've learned over the years. On my last visit I arrived just in time for dinner at the Frenchglen hotel (served at 6:30 sharp, no exceptions). The paneled, brightly lit, linoleum-floored room feels like a homey ranch kitchen, and heaping platters of baked chicken and roasted potatoes were set out on the long trestle tables. An aproned woman who seemed to be in charge of things came within earshot, so I informed her that a rather large rattlesnake was stretched out under a tree on the front lawn.
"Yep," she said, "better eat those biscuits before they get cold."
Another conversational gambit was no more productive.
"Think I could have another piece of that marionberry pie?"
"Nope."
The other business in Frenchglen is a general store with a gas pump out front. This is where you top up the tank before heading out on the 50-mile-long gravel loop road that crosses the flank of Steens Mountain. It's slow going up the rutted track, through steppes covered in aspen and mountain mahogany, but the leisurely pace makes it all the easier to enjoy the sights along the way. Cowboys on horseback and herds of grazing cattle appear as silhouettes against the horizon. A cloud of dust and the thud of hooves signals the fleeting appearance of a herd of wild horses. Pronghorn saunter onto the road, apparently  with no intention of moving along anytime soon and seemingly mindful that most of us have no idea how to get a huge, furry, fearsomely horned wild animal out of our way. A faded marker identifies a pretty little patch of greenery as Whorehouse Meadow, where enterprising women used to set up tents to service Basque and Irish shepherds. Just shy of 10,000 feet the road comes to a viewpoint. Far, far below, at the bottom of a sheer precipice, spreads the Alvord Desert, the dried-up bed of an ancient lake that's now a glaring expanse of white, crinkled earth.
A little farther along another turnoff leads to the edge of Kiger Gorge, a cleft in the mountain half a mile deep and more than twice that in width. Looking over the snow-dusted furrows and folds I sensed a slight disturbance and turned my head to see an enormous eagle just over my shoulder, floating on some unseen current. I had time to notice a keen eye and the delicate ribbing of an enormous wing, then the creature was far away, high above the gorge.
I was still experiencing a rush of excitement when I sat down to dinner that night. "I saw an eagle," I reported to the serving lady when she set a heaping platter of carved ham on the table. "So close I could almost touch it."
"Yep," she said. "The baked beans will be out in a minute."
A little later, unsolicited, my friend brought me a second piece of pie, this time blueberry. I like to think she was helping me celebrate that magnificent creature soaring over those timeless landscapes.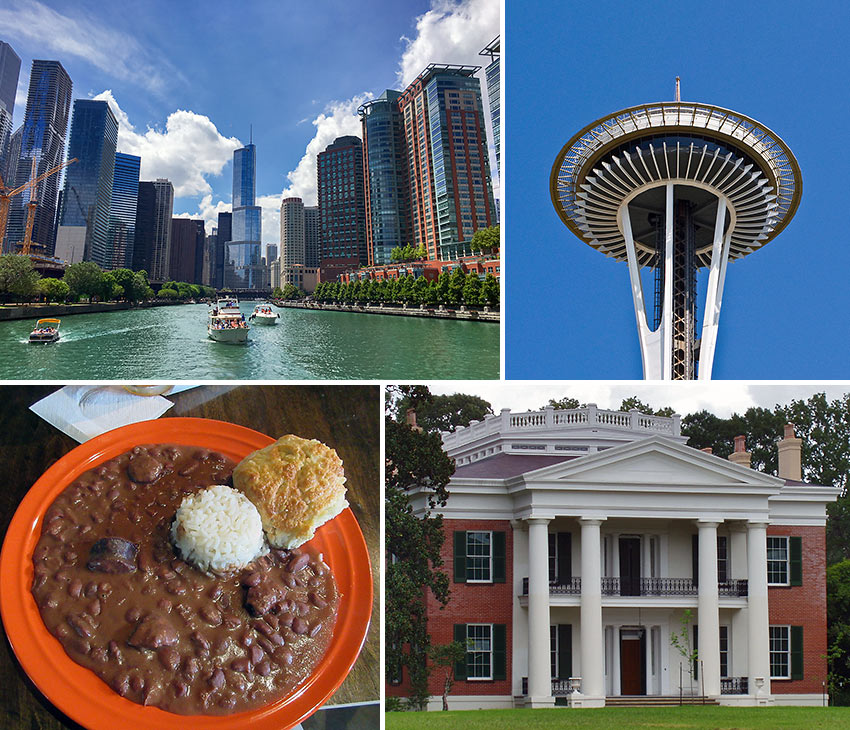 Ed Boitano — T-Boy editor:
Chicago, IL: Isn't Seattle a super city, Dad! This I proclaimed to Louis Boitano while driving through downtown Seattle as a young adolescent. It was a magical summer evening. Illuminated by neon and city lights, the fleet was in town and furloughed sailors marched past Pike Place Market and down First Avenue in search of unknown pleasures.
My father finally broke the news, Seattle is not a city, Eddie. Chicago is a city. He knew the BIG city well after receiving months of technical training at Chicago's Navy Pier in preparation for his involvement in WW2.
Years later, I found myself riding the 1.79-mile Chicago Loop, with no intention of ever getting off. That is until a gaping hole in my stomach told me it was time for an exploration of the city's delectable food scene. I was not conflicted upon the choice of my first meal, Uno Pizzeria, the birthplace of the deep-dish pizza. The following days included more deep-dish at Gino's East, Lou Malnati's Pizzeria and my personal favorite, Giordano's, which offered a Northern Italian interpretation. A walk to the South Side led me to Little Italy for Italian beef and ice, with stops in between at vendor carts, selling the Chicago Dog or Chicago Red Hot, an all-beef frankfurter on a poppy seed bun, topped with mustard, chopped white onions, sweet pickle relish, a dill pickle spear, tomato slices and absolutely no catsup. After all, I did need to keep my strength up.
At night, entertainment consisted of the riveting blues clubs: Kingston Mines, B.L.U.E.S. and Buddy Guy's Legends. By day, Millennium Park; the Magnificent Mile; the Art Institute of Chicago; the Museum of Science and Industry; Lincoln Park Zoo; and two major league baseball stadiums (if you live north of the Chicago River, your team is the Cubs at Wrigley Field, south the White Sox at the new Guaranteed Rate Field). Then, the unequivocal  highpoint of my Windy City experience; miles upon miles of Chicago's architectural treasures witnessed on a Chicago Riverboat Tour. We can thank Mrs. O'Leary's cow for that.  And all this with a BIG midwestern sense of politeness and hospitality.
Baltimore, MD: It's pronounced Balamor or Balmer, explained Joel, my lifelong Baltimore friend. Then, beaming with pride, It's also the birthplace of the Coddy — salted codfish cakes, cheaper than crab, served on two saltines with mustard; the Snowball — crushed ice and syrup served with liquid marsh mellow or ice cream; Chesapeake Blue Crabs, Fort McHenry and Babe Ruth. Joel's insider tips were helpful as I prepared for my first trip to this Mid-Atlantic city, just south of the Mason-Dixon Line. I was a goner upon just setting my eyes on the now pristine Baltimore Inner Harbor. In the neighborhoods beyond, blocks of white marbled stepped rowhouses; Lexington Market, the oldest market in America circa 1782 and home of the Faidley crab cakes; and the retro-modern Oriole Park at Camden Yards, with my seat on the hotel room deck overlooking the baseball stadium. Baltimore loves its artist and personalities, and Edgar Allan Poe dominates much of the old city with his last house, now a museum, and the Baltimore Ravens football team naming itself after his narrative poem, "The Raven." I was a tad disappointed with the city's bus tour, but was enthralled upon discovering the Baltimore Harbor Taxi, with stops at the National Aquarium, a real working Little Italy, and the terraced waterfront homes of former maritime captains at Fells Point, dating from the 1790s. In its middle, the must-eat eclectic restaurant, Bertha's Muscles. Though still shrouded in mystery, many believe Poe himself was found lying in a Fells Point gutter on the day of his death at Washington College Hospital. But, no one really knows for sure.
Natchez, Mississippi: You came all the way over here from Los Angeles California to see us… well, I better get you a good room, said the kind woman at the hotel's front desk. Moments later on the elevator, I turned to the quiet teenage Africa-American bellhop. You certainly live in a beautiful city! His under the breath reply, Get me out of here. I took pause, realizing that a Yankee boy from the West Coast had much to learn about the duality of the polite bellhop's Deep South City. Located high on the bluffs of the Mississippi River, Natchez  is home to more than one thousand structures that are listed on the National Register of Historic Places, with a number  of Antebellum ("pre-war," "pre Civil War") mansions with many open for tours. Characterized by neoclassical and Greek Revival architectural style, they were once the lavish dwellings of prosperous plantation owners, built by the hands of slave labor. I decided to take a pass on the tours and save the analysis of the city's duality for later, and chose to simply lay around on the lawn in a quiet little park, basking in Natchez's sublime ambience.
Seattle, WA: Kennedy was shot, whispered my grade school friend, Ricky Meyers. Many of us know the exact time and place when we first heard this horrific, almost incomprehensible news. My place was the sacred playground of Magnolia elementary school on Nov 22, 1963. Its holy grounds also offered a spectacular view of the building of the Space Needle. As a first-grader, each day at recess Ricky and I would rush out to the playground and watch this architectural wonder's construction, marveling at its new growth and futuristic space age splendor. And with its completion for the 1962 Century 21 Exposition — Seattle World's Fair, my little maritime town, seemingly hidden in the northwest corner of America, became a world-class city for the rest of the planet to see.
New Orleans, LA: Red beans and ricely yours, was how former Black Storyville resident Louis Armstrong would often end his letters, due to his passion for New Orleans' traditional Monday night meal of red beans and rice. Passion and emotion  screams New Orleans with its unique fusion of Spanish and French Creole, Amerindian and Afro-Caribbean history and culture, music and architecture; relished by tourists and locals, who seem to live in the moment with plenty of free time. This includes its regional cuisine, a diverse mix of the culinary traditions of French Acadians, Spanish, Sicilians, African-Americans and Afro-Caribbean slaves, and AmerIndian nations. It's hot and humid in Nola, and with the blending of local produce and seafood from the Gulf, its recognizable cuisine is justifiably known throughout the world. Personal favorites include  po' boy and Italian muffuletta sandwiches, Gulf oysters fried or on the half-shell, boiled crawfish and seafood etouffée (smothered), jambalaya, gumbo and yes, Satchmo's favorite, red beans and rice. But why on Mondays?  It's wash day, of course, and the ovens and stoves needed space for boiling water.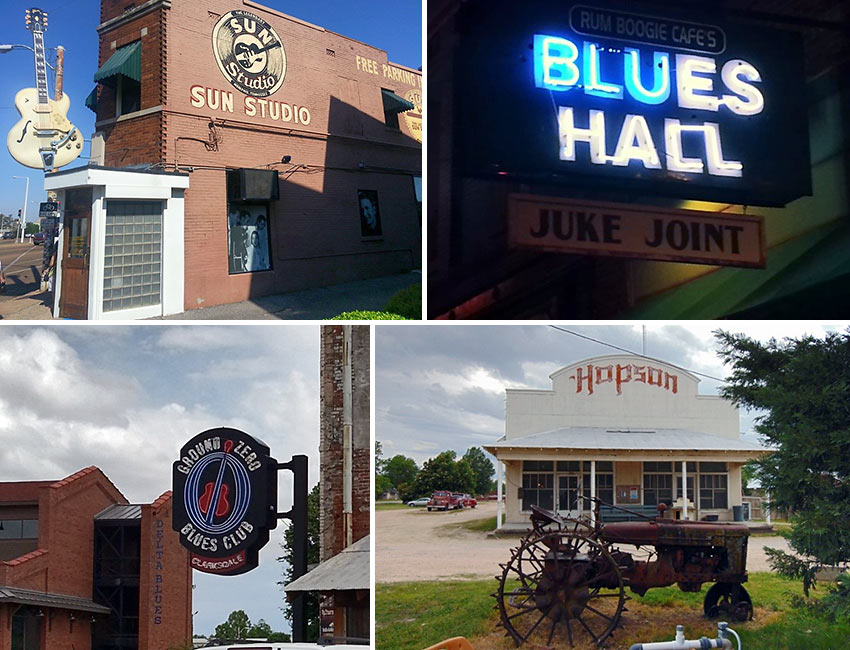 T.E. Mattox — T-Boy writer:
1. Memphis — B.B.King said it best, 'Memphis is the Home of the Blues.' Spend an afternoon visiting the Blues Hall of Fame, and just across the street is the Civil Rights museum. Then take in the night life along Beale Street. The Rum Boogie Café and a hundred other jukes and bars will truly enchant. Sun Studio's and the Memphis Recording Services, Stax Records… Gospel, R&B and Rock and Roll… Memphis is a musical wonderland.
2. About an hour south down Highway 61, you'll find Clarksdale, Mississippi — better known as the Blues Crossroads. Legend has it that's where Robert Johnson sold his soul to the devil. Visit the Hopson Plantation and spend the night at the ShackUp Inn. The evenings are filled with blues at Ground Zero, Red's or the Juke Joint Chapel. An amazing cultural and musical emersion you'll want to experience again and again.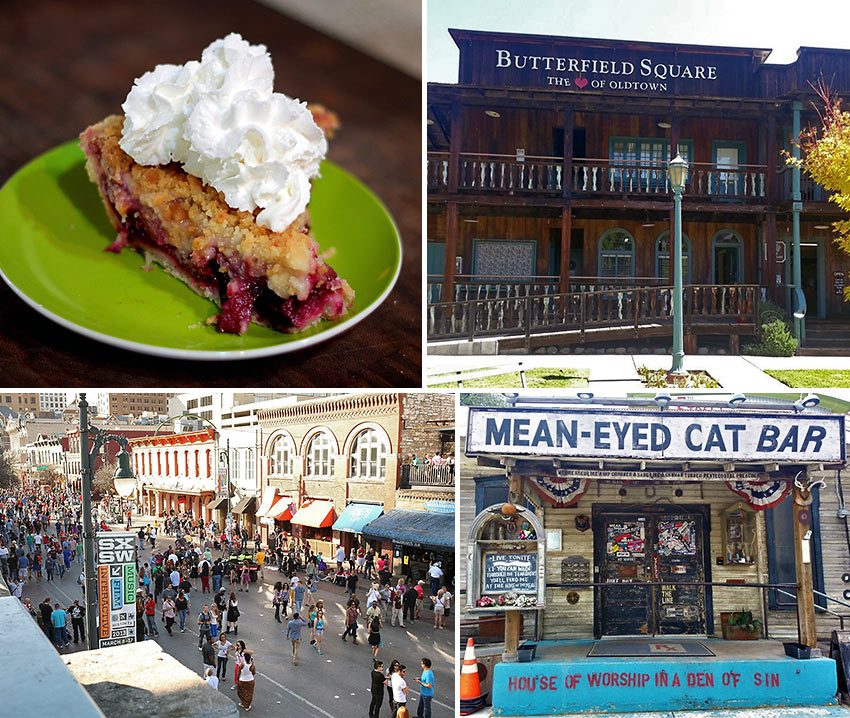 3. Julian, California — an easy drive east of San Diego. A step back in time. The local drugstore still serves egg creams like they had in the 1800s. You can still pan for gold and tour the depths of a gold mine. Julian Pies are the stuff of legends. A fun day for the whole family.
4. Old Town Temecula, California — Old Town Blues Club is known for its appearances of national and international artists and some of Southern California's finest musicians. The boardwalk runs through the entire town and is lined by antique shops and restaurants for every appetite. Temecula vineyards provide world-class tastings. Guaranteed you'll take home at least a bottle or two.
5. Austin, Texas — Where BBQ lives and the music scene thrives. A college town, Austin is known for its high energy clubs, bars and entertainment. The Continental Club, Antone's and the Saxon Pub are but a few must-experiences. The party rarely stops so plan to have a little fun.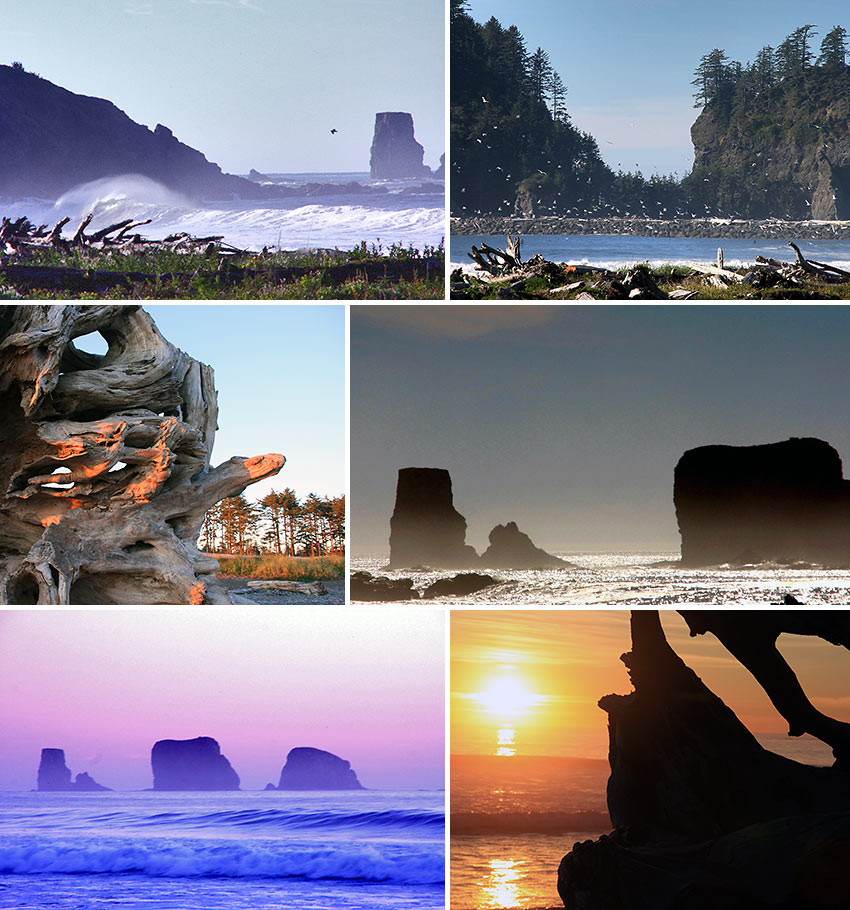 Allan Troy Smith — T-Boy writer & photographer:
A few years ago, I discovered the Quilieute Oceanside Resort located on the Quileute Nation, at La Push, Washington.
In the northwest corner of the United States, alongside the Pacific Ocean, it is one of the most peaceful, majestic ocean vacation sites there is in North America.
With an assortment of lodgings ranging from RV parking, cold-water A-frame cabins, small cabins with wood-burning stoves, to deluxe accommodations with stone fireplaces and floor-to-ceiling views of the mighty Pacific, there is something to please everyone.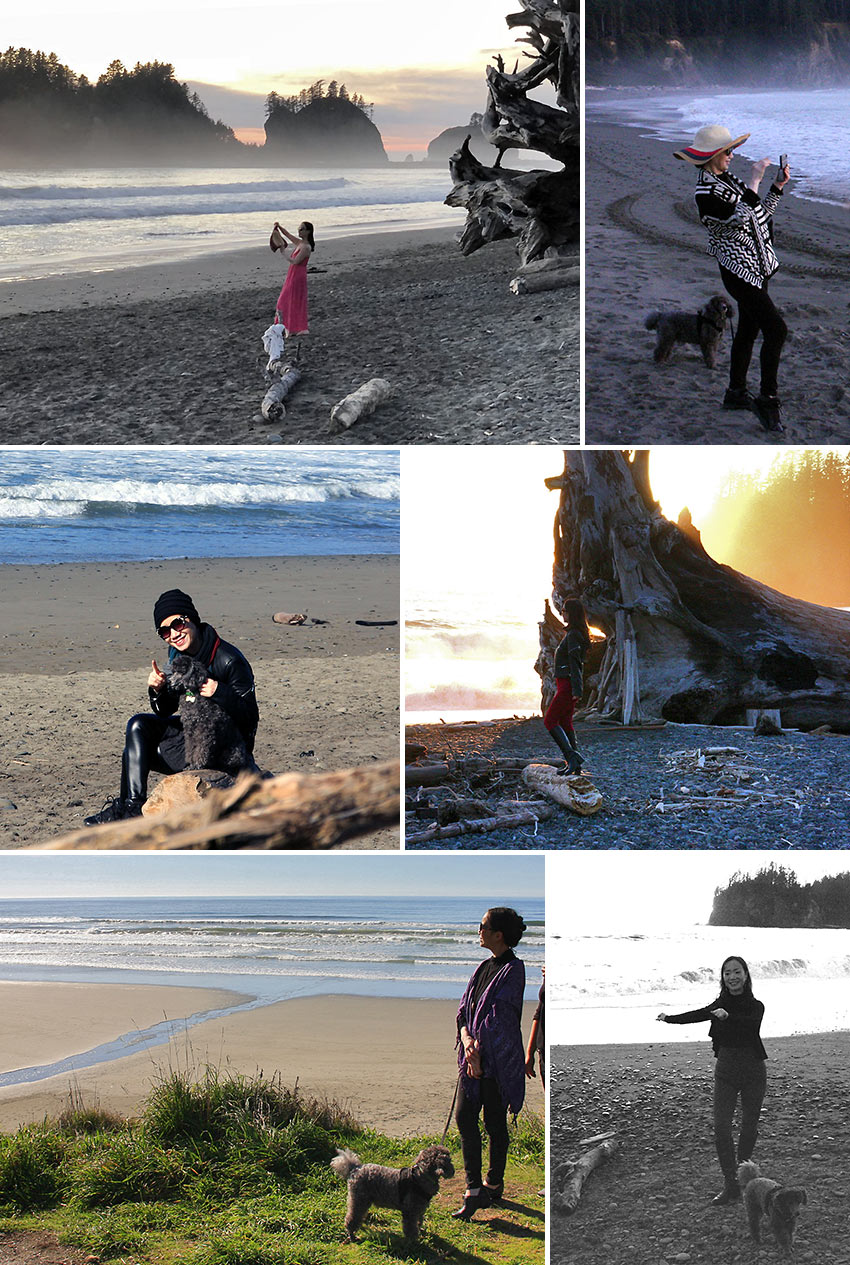 No wi-fi ensures a completely relaxing stay. Huge pieces of driftwood litter the beach, which is covered with rounded stones of all sizes worn smooth by millennia of waves crashing on the shore.  The sunsets are memorable. I guarantee you will start thinking of your next visit as soon as you return home.
It's a long drive from anywhere to get there, but well worth it. Although currently closed to visitors due to the pandemic, hopefully they will reopen soon. I have stayed there several times in different seasons, and it is always a wonderfully relaxing experience. I recommend a two-night stay because one is just not enough.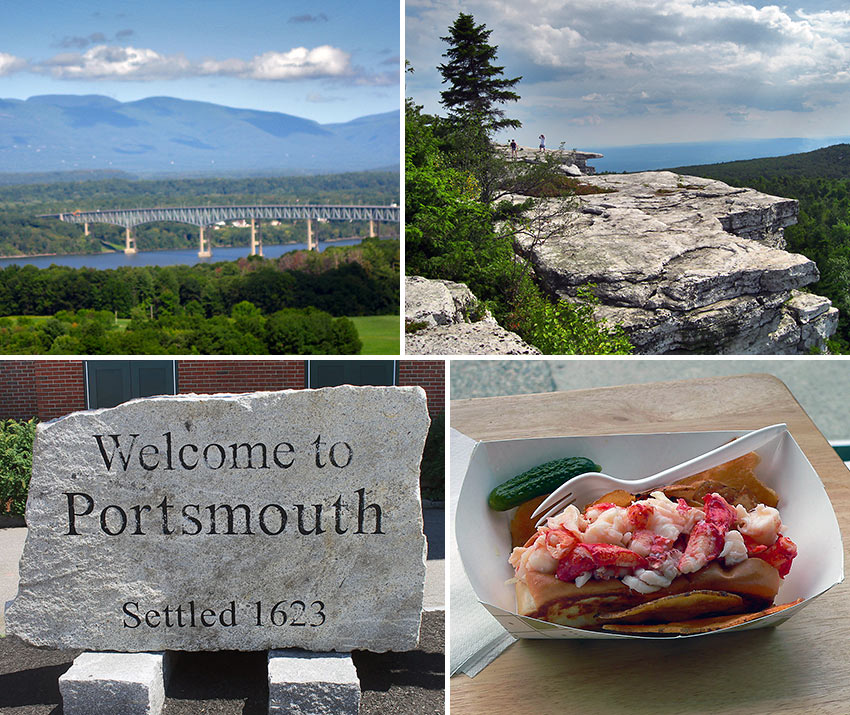 Richard Frisbie — T-Boy Writer:
I love to travel internationally (an impossibility this pandemic) and rarely travel domestically. Still, there are a few places in the US I go every year or so just to veg out.
A summer visit to Portsmouth New Hampshire and Southern Maine is a MUST. The seafood and seacoast are the main reasons, but family ties to the area round it out. I've even been known to take a day-trip there (8 hours round trip from New York's Mid-Hudson Valley) just for a lobster roll and the rejuvenating smell of the salty sea air.
The exhilaration of walking the streets of Manhattan in all-weather day or night, soaking up the sights and smells while people watching, gets me on MetroNorth several times a year. I rarely spend the night in the city, unless an event makes me miss the last train, but the lure of a concert, a show, or an important museum opening is impossible to resist.
Finally, I love Ithaca and the Finger Lakes Region. That college town has so much action, and the natural beauty of the surrounding area begs to be viewed from a boat or a hiking trail. When that builds an appetite, I'm lucky, because the food scene is fantastic there, with an unlimited variety of great wines to wash down the creative dishes.
Mostly, though, I stay home. My town in the Mid-Hudson Valley is on almost every "Best Village", "Most Charming Weekend Trips", and "Best Destination" list every year. The Mid-Hudson Valley is beautiful, the art & culture scene is second only to Manhattan, and the overflow of chefs graduating from the Culinary Institute of America keeps this foodie very happy. I just stay here and let the world come to me.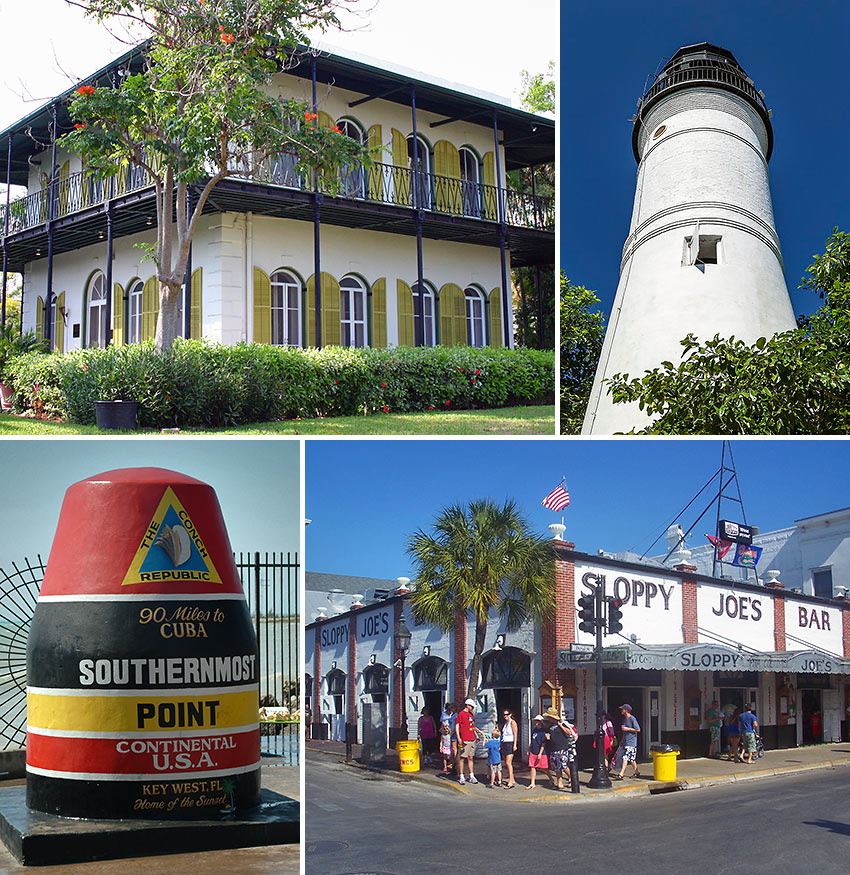 Fyllis Hockman — T-Boy writer:
Key West, Florida
I don't think Key West would ordinarily come to mind as a town worthy of being a domestic favorite but having just visited it is at the forefront of my mind.
Key West, Florida is more than a place. It is a spirit, a funky energy that enters your soul and takes residence in your worldview as well as your inner vision. A state of mind more than a city; a way of life more than a place to live. It's a lifestyle, not a destination. All expressed in the absurdist poetry that is Key west, a language not spoken anywhere else in the country.
Renovated cigar factories share space with Victorian mansions laced with gingerbread trimming; upscale art galleries reside next to tacky t-shirt shops. Fashion, funk and frivolity define the town; art and shlock and whimsy co-exist on the same bar stool. And yes, those stools are there in abundance, many of which claim that Ernest Hemingway, the most famous Key West resident, occupied that seat as well. But even recognizing all this, I didn't fully have a grasp on the essence of the town until I spotted several elderly old men playing Bocce ball. I asked another observer if lawn bowling is popular because many people of Italian descent live in Key West. "Oh no," she chuckled. "It's popular because you can play Bocce with one hand and hold a drink in the other." I bet Hemingway loved Bocce ball. Welcome to Key West!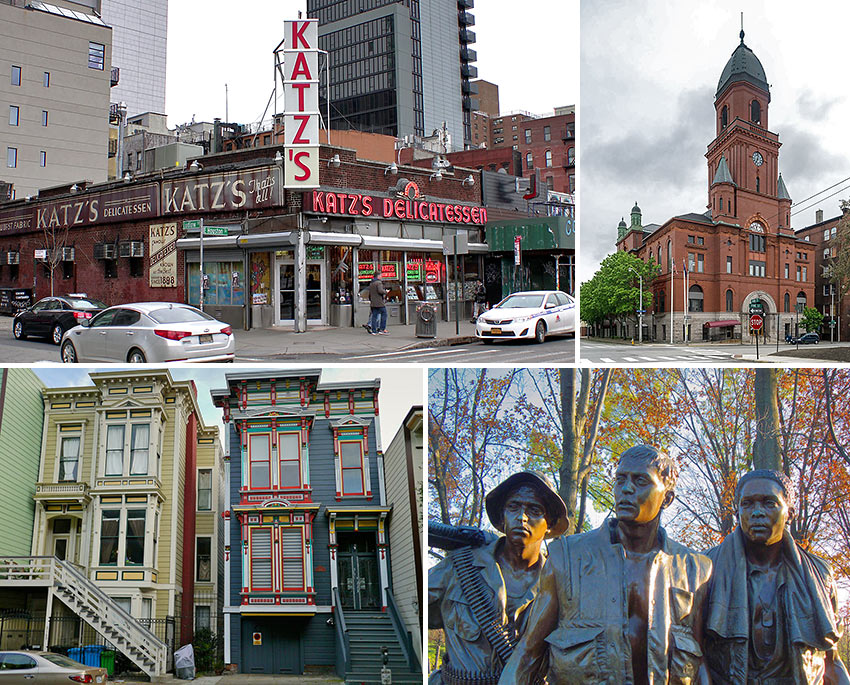 Rourke — Musician & composer:
Lower East Side/Greenwich Village, New York City — This would be home if I hadn't married a small-town girl who hates traffic and noise.  There's never a dull moment here.   I've spent many days trekking the neighborhood to see where Charlie faced off with Beg Bug Eddie (Pope of Greenwich Village), or where Johnny-Boy blew up a corner mailbox in (Mean Streets).And then there's Katz, with corned beef and pastrami cured up to 30 days.
The Mission District, San Francisco — Easily the coolest area in S.F. (the Castro is a close 2nd).   There's really no reason to leave the Mission District.  It has the best food, the coolest bars, the best cultural mix in the Bay area.
The National Mall, Washington D.C. — I'm a geek for politics and American history.   I remember posing for a picture with Barry Goldwater when I was eleven, and marching for the environment in 2017.   I remember going to Brad Sherman's office to check-in for a tour of the Capitol and the son of a bitch didn't even shake my hand.   I walked every inch of every museum to suck up every ounce of American pride until my feet bled.  And I would do it every year if I could.
Maine — It's quiet up there.   That's probably why George and Barbara loved it so much, that and the seafood.   And all the small little towns, each one with their own lobster shack, and many of those lobster shacks closed for the off-season.  Driving through Maine is about as American as it gets.  There's no left or right, no red or blue, just good people living a good life.
Wailea, Maui — Yes, all the islands are a treasure in their own way, and there are other parts of Maui that are amazing too.   But sometimes in life you just want to curl up in the lap of luxury, drink Mai Tai's all day, stare at the bluest ocean, watch the sunset, not lift a thought for anything else in the world, and do it all again the next day.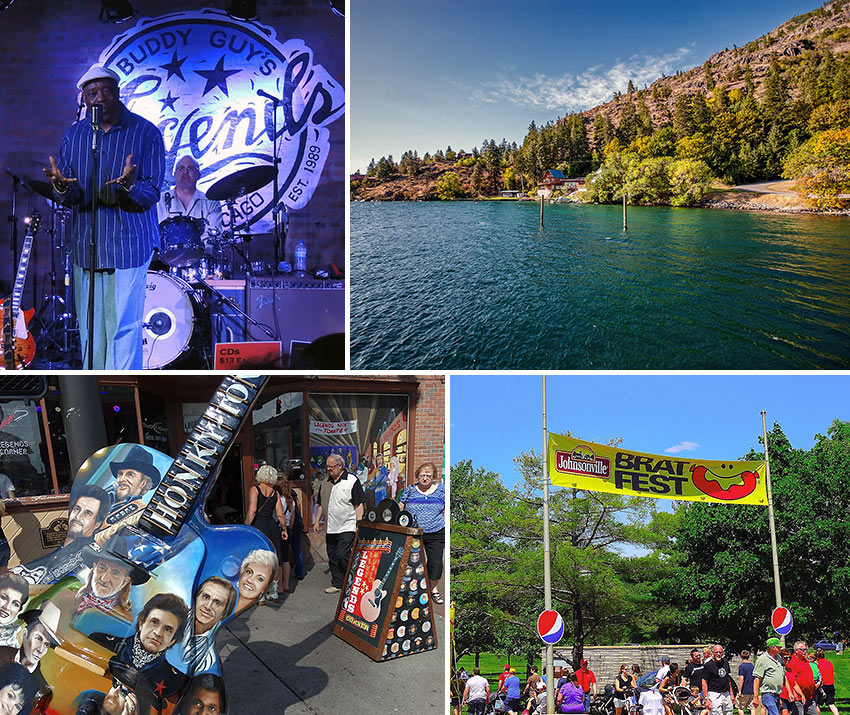 Brent Campbell — Musician & composer:
Big Domestic City — Chicago. I love NYC but Chicago has a very special place in America. It is the heart of America. Great museums, history, restaurants, and of course, the blues. Check out Buddy Guy's club just south of the city and you will know what I am talking about.
Mid-size American city — Nashville. This mid-sized city has it all. Free music on every street. A great country music museum. Schedule a week in Nashville and it will take a while to stop smiling.
Small American city — Madison, WI. I call Madison small because they have no national teams (go Badgers). I have only visited on several summer weeklong stays, go to Madison any time. There is a constant energy in this place! The student union terrace is amazing in the summer. Dancing in the streets till dawn! Since 1983, Memorial Day the World's Largest Brat Fest has sold more than 4 million brats to help raise almost $2 million to benefit 100+ local charities.
Tiny American city — Chelan, WA. Although the world has discovered Chelan, I can still claim it as a favorite. I went there often as a kid with my family. There was an old wooden roadhouse next to where we stayed. NW music ruled the night(s). It influenced my early exposure to music. Imagine sleeping on a cot next to the Sonics, the Wailers, the Kingsmen, etc, night after night.
Chelan's climate is typical for Eastern Washington. Located behind the rainshadow of the Cascade Mountains, it receives a near-desert amount of precipitation each year.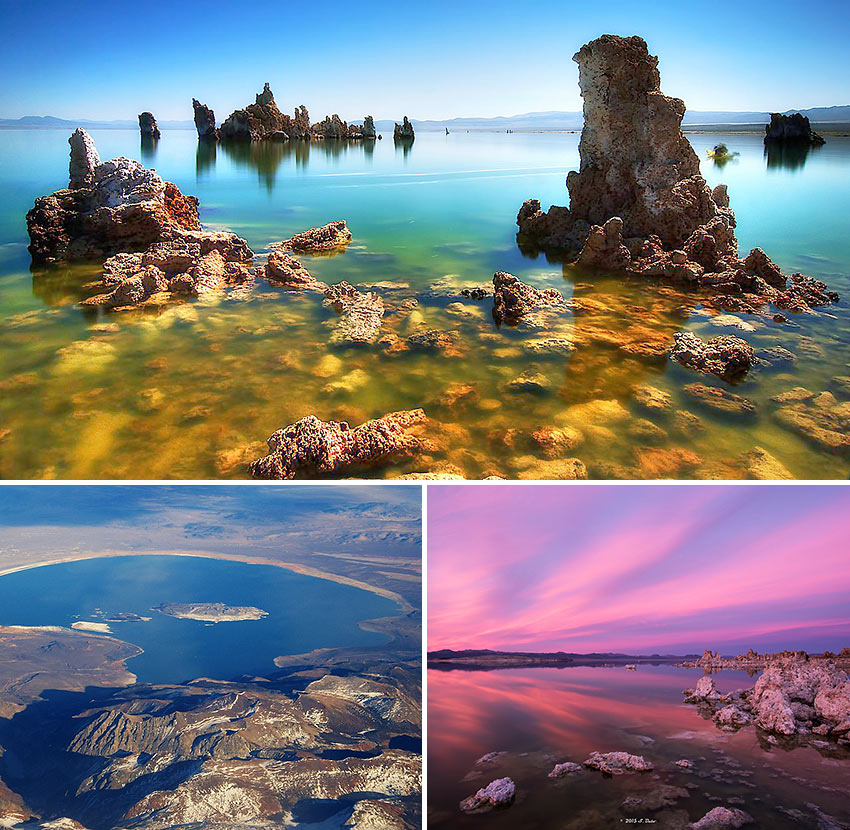 Tony Chisholm — The Canadian Connection:
The Lost Boys
"The road to oblivion is easily traveled, the road back hard to follow." — Chinese Proverb
A California Trip to Yosemite and Mono Lake
Chris, Steve and Andrew flew in from Canada and met up with me in San Francisco over a US Labour Day weekend  a few years ago to try some mountain biking at Mammoth Mountain and kayaking on Mono Lake.
From the coast of California, we traveled through the Central Valley and 105ºF temperatures then into the foothills of Yosemite National Park and spectacular mountain vistas.  Can four men with three maps get lost when there are only two roads?  Of course not, but our group of Lost Boy Canadians did manage to see an hour more of Yosemite then we had to.  In an effort to make up lost time, or just for the thrill of it, Chris managed to set the rental car brakes on fire flying down the mountains.   From the eastern side of Yosemite, Mammoth was only a short 20min drive away.  The Lost Boys had managed to make it from Toronto to exotic Mammoth Mountain is a mere 10 hours.
I was considered the experienced tribal elder, and immediately hauled the young braves to the best little restaurant in Mammoth for the local delicacy of "Chicken Fried Steak".  A brick of Crisco would have been more nutritious and probably more tasty.
Friday, our first full day in California, the tribe set out to Mono Lake for a two hour kayak.  This was Steve's and Chris's first kayaking experience.  Mono Lake is a deceptively huge mountain lake laden with calcium bicarbonate.  The calcium forms into weird mineral towers of formations called "tufas."  The only life in the lake was brine shrimp so thick that the water was cloudy with them.  The few seagulls and ospreys were their only visible predators. The lake is so base that the water is said to "eat your clothes".
The four seasoned kayakers headed straight out to an island in the middle of the lake formed of mud that had been pushed up from the bottom.  Having not looked back to shore to take our bearings on the trip out, the four Lost Boys went a little off course on the way back (but definitely not lost).  The problem was that the lake was round and so was the island. After hitting shore, we decisively headed in the wrong direction until a solo paddler turned them around after several hours of wasted paddling. A two hour paddle had turned into a four hour paddle.
Chris's custom paddling technique had managed to cover him in dried calcium.   Steve, who shared a double kayak with Andrew on the return trip, had a curious technique that managed to cover Andrew with calcium.  The calcium got into Andrew's eyes and partially blinded him for the rest of the paddle.  Andrew was the group's first casualty on our growing injury list.
Looking like guest stars from Gilligan's Island, the Lost Boys dragged their sorry, stiff muscles back to their condo in Mammoth for their mountain bike adventure.
None of us will ever forget the strange landscape of Mono Lake.
Canadian Destinations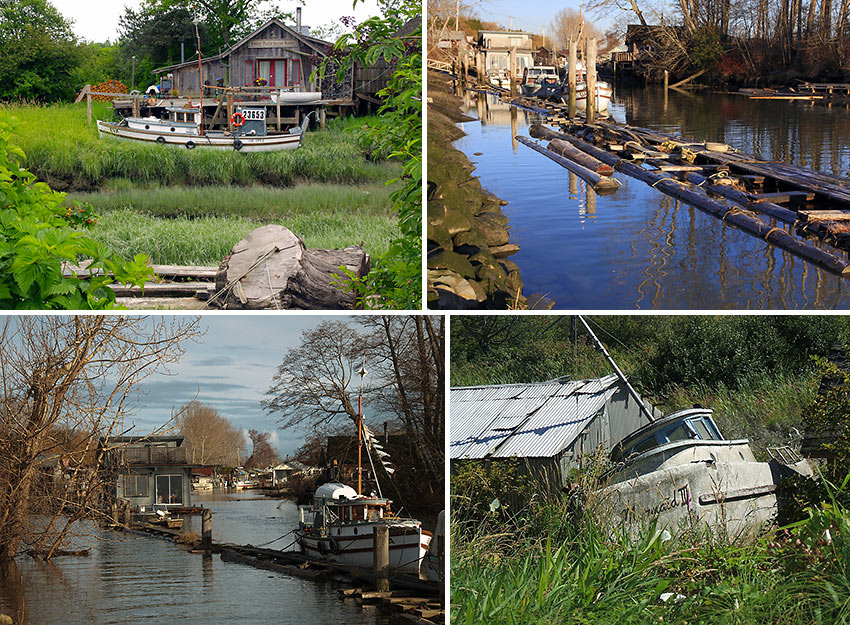 Weave Cleveland of British Columbia — Musician, composer and Travel Guys cinematographer:
If I ever pick up a visitor to Vancouver at the airport [YVR] and we have a little extra time, I will take them to discover this interesting gem. It is a dilapidated old fishing village just inside a little spit of land on the banks of the southernmost tributary of the Fraser River. The tide ebbs and flows and affects everything inside the little water channel.
In the 1890's a group of Finnish people found their ideal spot. They cleared farming fields for the land owners and earned their access to easy fishing. By the 1920s people were taking to putting motors on their boats. There were no bridges to help make one's way to Vancouver. For the Finn's it was an entire day's trip to go to Vancouver and back by boat.
As the century passed the Finn's left and squatters moved in. They're not all squatters, some are fairly old people who want some solitude. It has been a sometimes contentious issue as they have been provided electricity but they don't pay taxes. This is the romantic story I have been told and I do not care if it is true or not. It is always a special singular adventure for people to come and see Finn Slough.
Though not as isolated as it once was it's still a little hard to find which is why it is a special secret discovery.
The village developed without the organization of property boundaries, city ordinances, provincial regulations or any governing body.
It's the length of a football field, it's falling apart at the seams and it's home for some people.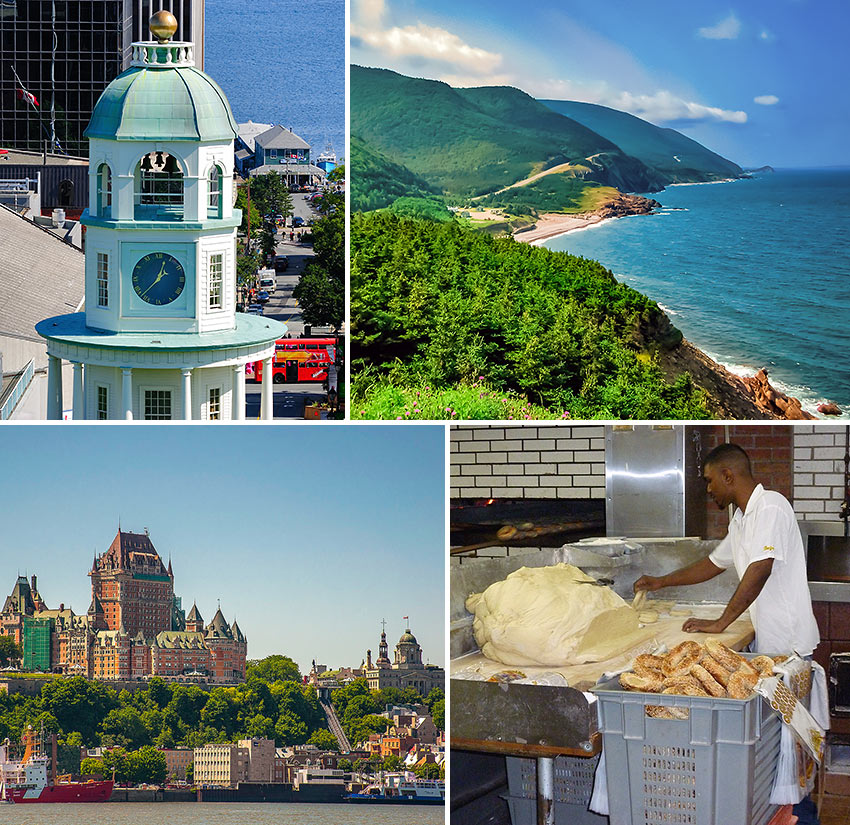 Ringo Boitano — T-Boy writer and feeling rather Canadian today:
In Montréal you will you hear it pronounced "bah- gal" and yes, they are different.  In contrast to the New York-style bagel, the Montréal bagel is smaller, thinner, sweeter and denser, with a larger hole, and always baked in a wood-fired oven. It contains malt, egg, and no salt, and is boiled in honey-sweetened water before being baked. You will also hear from locals that they are the best and most authentic bagels in world.  I once took a homeless man, a Montréal expat living in Vancouver, for coffee and asked if he would like a bagel, too. He declined, adding that they were not real bagels; only Montréal has real bagels. His favorites and now mine: the bagels from Montréal's historic St.-Viateur Bagel and Fairmount Bagel.
Québec City was named a UNESCO World Heritage Site in 1985 and is the only walled city in North America. The best way to explore this historic city is to stroll its narrow, cobblestone streets lined with stone houses, cathedrals and cafes. The city itself is nothing less than a living museum. Québec City has embraced its history, which is reflected with more than 32 museums, exhibition halls and interpretation centers. Pedestrian streets are populated with local artisans and musicians in this city were 95% of the residents are French-speaking. A quick journey down the funicular leads you to Lower Québec, the birthplace of the city. A ferry ride on the St. Lawrence River is mandatory for stunning photo opportunities; in particular the Château Frontenac which towers over the city and is, in many respects, the iconic symbol of Québec City.
Cape Breton Highlands National Park consists of 366 square miles of magnificent highlands and rugged coastal wilderness. Established in 1936 as the first national park in the Atlantic Provinces, it is for many the highpoint of a journey to Nova Scotia. The Cabot Trail, named for Italian navigator and explorer, Giovanni Caboto, (John Cabot), runs through the park, offering seemingly endless hiking opportunities. On foot, I spotted whales, bald eagles and even a moose, swimming across a lake. From the car I enjoyed picturesque valleys and unforgettable vistas of the Gulf of St. Lawrence.
On the other side of the park is the Acadian town of Chéticamp. La Société Saint-Pierre is a cultural center whose main objective is to preserve Acadian heritage in Cape Breton. The French-speaking Acadians pre-dated the arrival of the English, but most fled the area after the defeat of France by the British in the French and Indian War. Many headed down to Louisiana to an area now known as Acadiana, where the Acadian name evolved into Cajun. The center features traditional crafts and food items. I made a note that Acadian chowder, unlike New England chowder, consists of a clear broth.
Halifax's Old Town Clock sits on a grassy bluff, overlooking its historic downtown and waterfront. Erected in 1800 for the British garrison at the Citadel, it is the most important symbol of Halifax's rich historical past. As I rested on the lawn below the octagon tower, I could see a hybrid city of elegant 18th-century architecture alongside modern buildings of glass and steel. Groups of tourist, locals and laughing school children strolled past me, while ships glided in the distance on the world's second largest natural harbor. As the September sun shone down, I realized I could sit there forever.
Vancouver Island is located in British Columbia, along Canada's West Coast. It is a region renowned for spectacular coastlines, rolling fields, old-growth rainforests, quaint towns and seemingly unlimited recreational activities. The only thing better than hiking in a rain forest is following a trail that leads to an ocean beach, and that is what you will get on the East Sooke Coast Trail. The park features 3512 acres of natural and protected coastal landscape and is considered one of the premier day hikes in Canada. The trail leads you through a dark, second growth forest of Douglas Fir, Sitka Spruce and Western Hemlock to a protected beach, lined with driftwood and massive boulders. There's even a little waterfall that cascades onto the beach. This is a west coast wilderness experience unlike any other. The hike takes approximately six-hours roundtrip. Leave early and remember to pack a picnic lunch for the beach.
Back to Livin' in the USA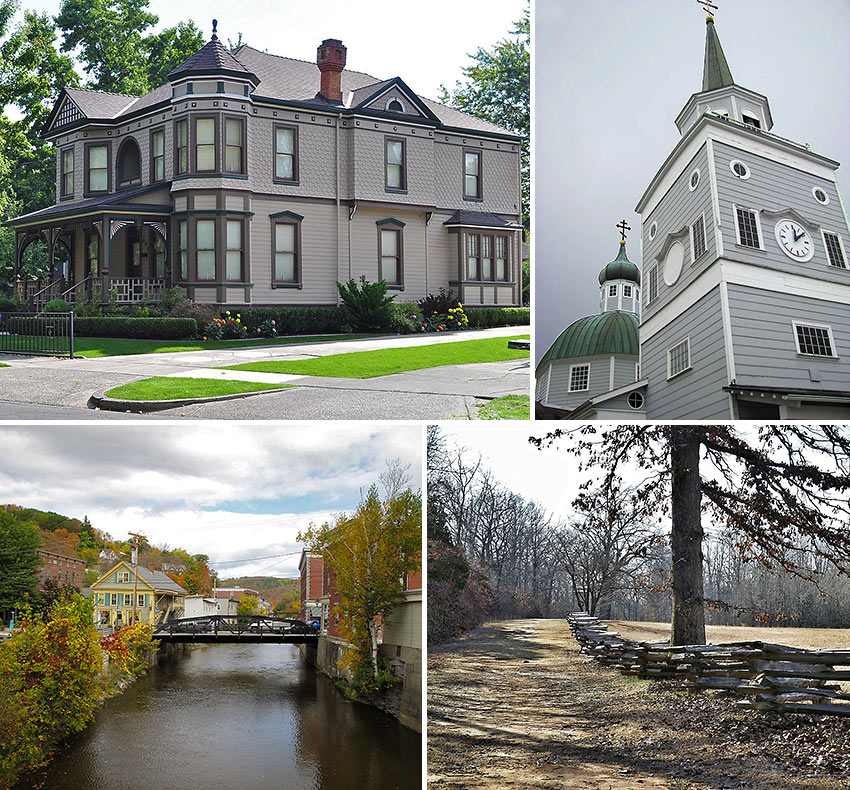 James Boitano — T-Boy Writer:
Favorite Domestic Cities
San Francisco
New Orleans
Boston
Washington DC
Favorite Domestic Small Towns
Walla Walla, WA
Solvang, CA
Sitka, AK
Montpellier, VT
Favorite Domestic Sites
Steptoe Butte State Park, WA State
Shiloh National Battlefield, TN
The National Mall/Smithsonian Museums, Washington DC
Yellowstone NP, Wyoming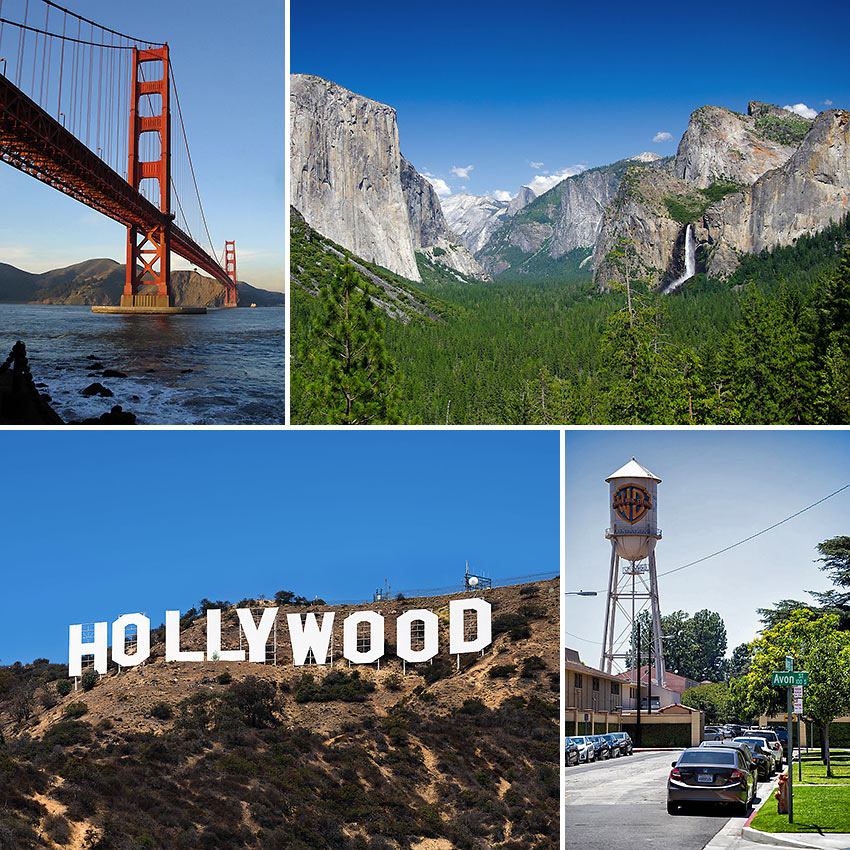 Raoul Pascual — T-Boy illustrator, webmaster:
California:
beaches
golf courses (I don't normally go because I don't play, but I would like to just walk around there)
parks
orchards
mountainous areas like Big Bear
swimming pools
camp grounds
vineyards
parades
fishing
Specific local destination:
Huntington Library
Disneyland
Knotts Berry Farm
Yosemite/ Redwood
San Francisco
Carlsbad
Hollywood
Palm Springs
Orange County Fair
Sea World
Universal Studios/Warner Bros Studios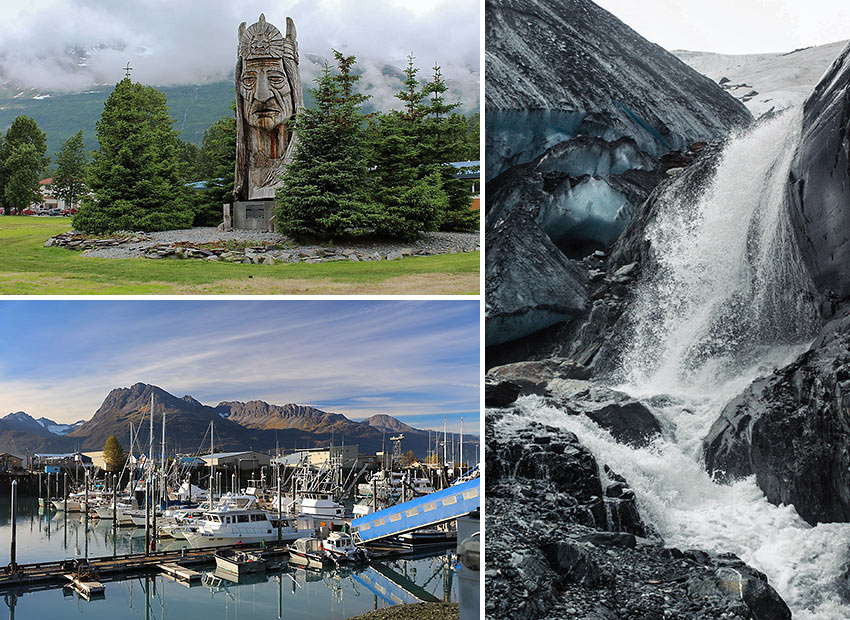 Sandy Lorrigan — Former director of Sitka Tourism:
Valdez, Alaska
There are hidden small towns that are full of robust adventure and Valdez, Alaska is one heck of unforgettable experience! Boat tours, kayaking and halibut and salmon fishing excursions entice adventurers from around the world and Valdez should be on your bucket list for outdoor fun! Jagged glaciers, seals, sea lions, porpoises, and huge whales are just part of the exciting ocean scenery! Surrounded by lush, deep green forested mountains, Valdez is tucked at the end of a fjord and the destination can be a trek to reach. The population is just under 4,000, and with several campgrounds, hotels and bed and breakfasts in the downtown area, the variety of visitors compliments the friendliness of the locals. The sea walk that aligns the harbor is a magnet each afternoon as boats unload their day's catches and skilled boat crew filet fish with fast precision. Valdez is a pristine playground!
See Readers' Poll Favorite Domestic Destinations