Toys are a wonderful way to inspire travel, imagination, creativity and spark ideas on how to view the world. Here are a number of toys that will bring out the engineer, architect, fireman and artist in your kids, not to mention the budding archaeologist, athlete and journalist.
These toys help kids learn to think in new ways, problem solve and are also fun. Of course these are the attributes that the serious traveler must have. They need to view the world through a new lens, navigate their way around language barriers, new places and new rules.
Thames & Kosmos
I Dig It! Rocks — Real Minerals Excavation Kit
This is a fabulous activity to do with your kids, it's simple, fun and educational. It is a fun way to teach patience, foster curiosity and an activity that can be replicated at archaeological dig sites around the world. In the kit, kids can emulate geologists and dig up five different minerals from out of the soft plaster blocks. Included is the name and characteristics of the minerals and where they came from.
Tinkering Labs
Electric Motors Catalyst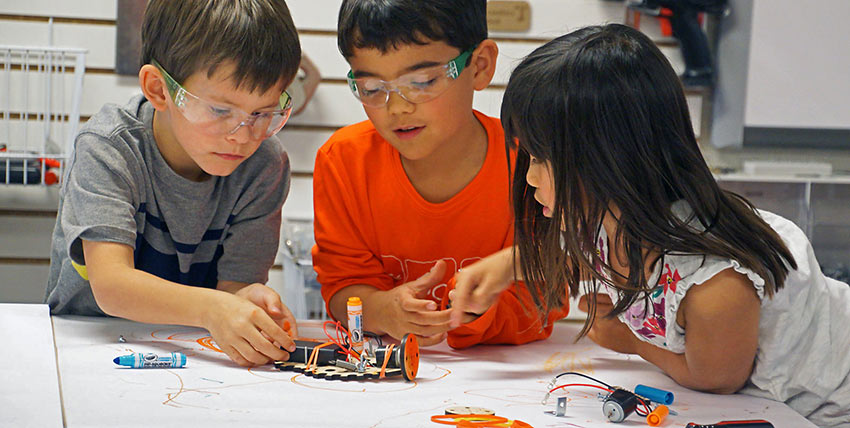 Tinkering Labs' Electric Motors Catalyst is for kids 8 and older, and it  focuses on creativity and problem-solving capabilities. It allows kids to build doodling robots, power electric model cars and add motors to legos. The kit comes with easy to understand instruction and is filled with opportunities for kids to become inventors of their own creations.

Buy from Tinkering Labs ($55) and Amazon ($59)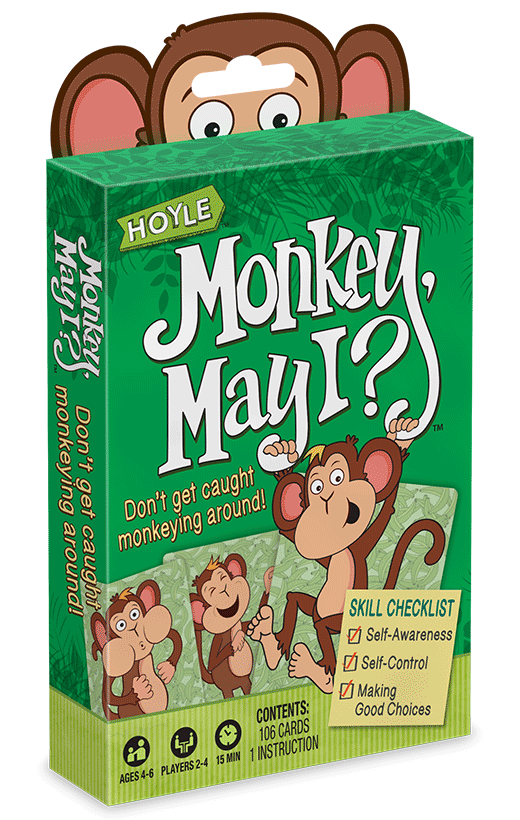 Playing Cards
A simple old time past time of playing cards is always entertaining and the award-winning card company Hoyle®, which created games like Go Fish has now created a new line of cards that teach different skill sets.
Check out is Hoyle Monkey, May I?TM helps kids 4 to 6 years old to learn about making good choices, self-control, and self-awareness. Another one that is educational is Hoyle Catch'N FishTM   which reinforces simple addition and subtraction while helping kids 4 to 6 years old to understand values.
Magformers
For your budding builder and architect, a favorite toy that happens to be engaging for adults too is Magformers which is a magnetic construction toy. It comes in a variety of styles from simple blocks to ones that create specific items. So if your child loves to build cars and trucks check out the Amazing Rescue 50-Piece Set. It is a Rescue 50-Piece Set where kids can build a fire station and a fire truck. The Rescue set is a 50 piece set  that comes with 24 magnetic pieces, 2 characters and emergency vehicle accessories and much more.
Spring Ages 3+ MSRP $59.99
Thames & Kosmos
KF Coding and Robotics
Thames and Kosmos knows how to make science interesting. With Sammy a cute little peanut butter and jelly sandwich they teach new skills as he is actually a robot that teaches coding principles and skills to children in grades K-2.
What I like is that there is no need for a tablet, smartphone, or computer to program this robot; programs are created by simply laying down a sequence of physical code cards. As the robot drives over the code cards, an OID optical scanner on the bottom of the robot reads the code cards one by one and loads the program.  It has plenty of options and is creative and fun. MSRP: $129.95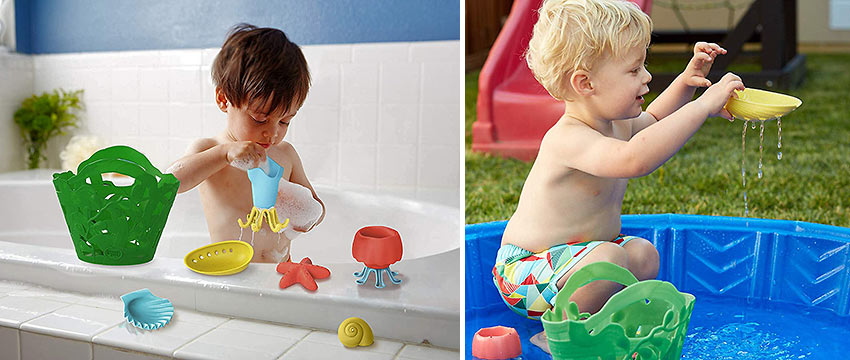 Green Toys are made in the USA- and are quality, sturdy, well made products. Their trucks are creative, fun and one of their newer products the Green Toys Tide Pool Bath set is perfect for the bath, beach or pool.
Goliath
Phlat Ball V3
Want to learn about gravity? The Plat Ball is a fun way to do it. This ball transforms from a flying disc to a catchable ball via a suction mechanism in the middle so it stays squished down. Its fun and funny — and no matter the age it will make you smile.
SMART PIXELATOR
Create a pixelated, beaded masterpieces out of any photo they have on a smart device with the smART Pixelator, from Flycatcher. Creations are made out of colorful iron-together beads! The toy also comes with a storage tray and organizer for your beads. And while there is also a tool to help you pick up the beads, you need little fingers and lots of patience — which travelers always must have.  The smART Pixelator comes with an SD card with preloaded projects,. A way to combine travel with this toy is to connect it to a smartphone or tablet via Bluetooth and use your own photos of say the Eiffel Tower or the Sydney Harbor bridge and create those images. Using the smART Pixelator app, kids can pick any design from the activities loaded into the app, or engineer their own project using any photo from their device.
Thames & Kosmos
Crystals, Rocks and Minerals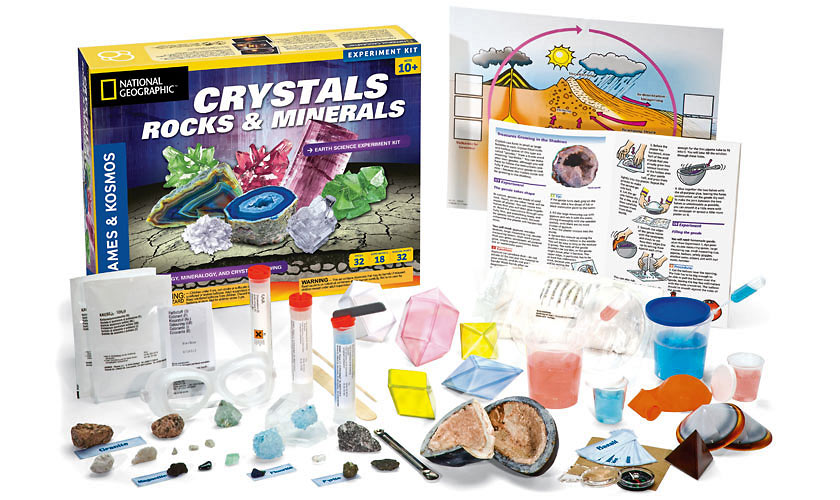 IT is a big world around us filled with beautiful rocks and the minerals that form them.  If one digs deeper, there is a fascinating crystal structures for these minerals. The kit provides a way to learn about  the chemistry of crystals and the geological science behind rock formation with more than 18  different projects such as building a three-dimensional geometric models of common crystals shapes including octahedrons, tetrahedrons, and rhomboids. Learn where and when to search for your own minerals in nature to grow your collection. Specimens include amethyst, rose quartz, flint, quartz, amazonite, apatite, mookaite, labradorite, pyrite, and a desert rose. Ages: 6 & Up. MSRP: $54.95.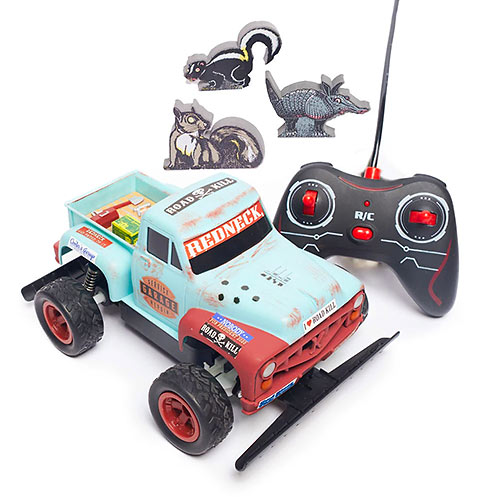 Redneck Roadkill
Raging Bull Pickup Truck
A fun throwback car with a fully functional remote control that is sure to make you smile. It looks like an old school pickup truck with a weathered body and fenders, beefy tires and working suspension. It comes with roadkill pieces that will give your youngster a chance to use their hand-eye coordination to try to knock them down or weave between them. It also includes Roadkill games with instructions such as Split the Squirrel – Grill the Armadillo – Plunk the skunk.
This fully functional battery operated remote controller drives forward, back, left and right to tickle tight turns and smoke straight-a-ways.