Raoul's 2 Cents
Age Adjustment
It's hard to believe the Christmas break is over… hard to believe 2020 is over… hard to believe I'm not as young as my mind thinks I am.
There is a saying that people's self-image is transfixed on their prime years. We think we can still jump and run like we did back in our twenties. That's why it's always a shock to see the old person in front of the mirror. I confess that I often dream about my childhood years and the characters in my dream are people from my youth. In my dreams I still live in my childhood home. How weird is that?
Hollywood is a prime source of age-deniers. Can you blame them?  Maybe they hear me when I watch old movies and point out how much older the actors are today. Maybe that's why actors are suckers for plastic surgeries.
I admit I too was a denier. When that bald spot started to expand its boundaries I researched for hair solutions. When I started to look like a frog with a bad case of botox because of the puffiness around my eyes, I asked my ophthalmologist to have it removed. But he looked at it and said it would require an expensive plastic surgery.
He uttered a key word — EXPENSIVE. Only Holly-weirdos do that! And that slapped me into accepting the inevitable force of gravity.
I figured out a strange balance of scales: With age, our physical bodies go down but wisdom from experience goes up. (At least we like to think so). We have a choice: 1) to devote our time searching for the fountain of youth or 2) to embrace our age and share our life lessons with friends and the younger generation. Maybe that's why I love conversations. With older people, I have so much to learn. With younger people, I have so much to share.  Life is exciting no matter what age. How cool is that?
Be safe, be healthy, and remember: You can't help getting old but you don't have to get old. TGIF people!
Raoul
"I'm not getting old. I'm getting better!"
— Shirley Bassey
Joke of the Week
Thanks to Don of Kelowna, B.C.  for sharing this joke.

Video: Family Photo Session
Thanks to Naomi of North Hollywood, CA
Pun Time
Thanks to Don of Kelowna, BC who sent this pun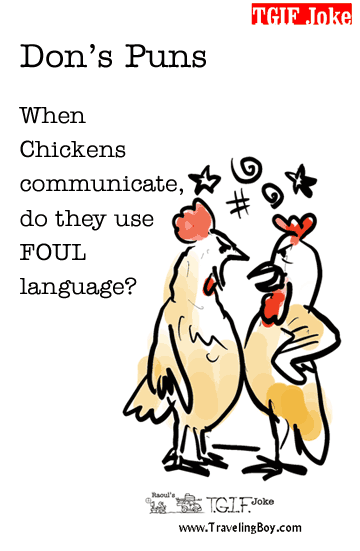 Parting Shots
Thanks to Tom of Pasadena, CA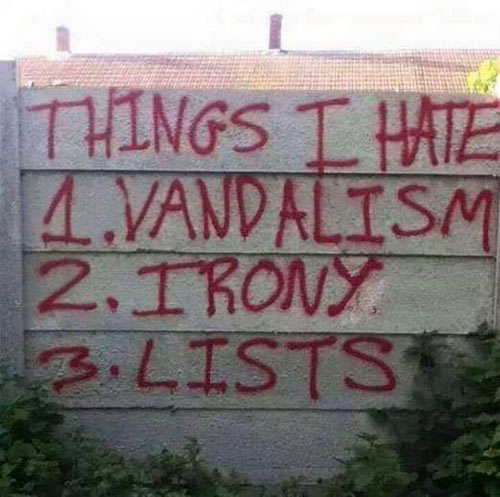 Thanks to Rodney of Manitoba, B.C.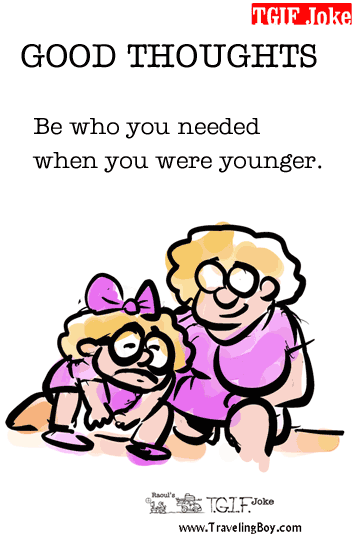 Thanks to Mel of Washington, D.C.