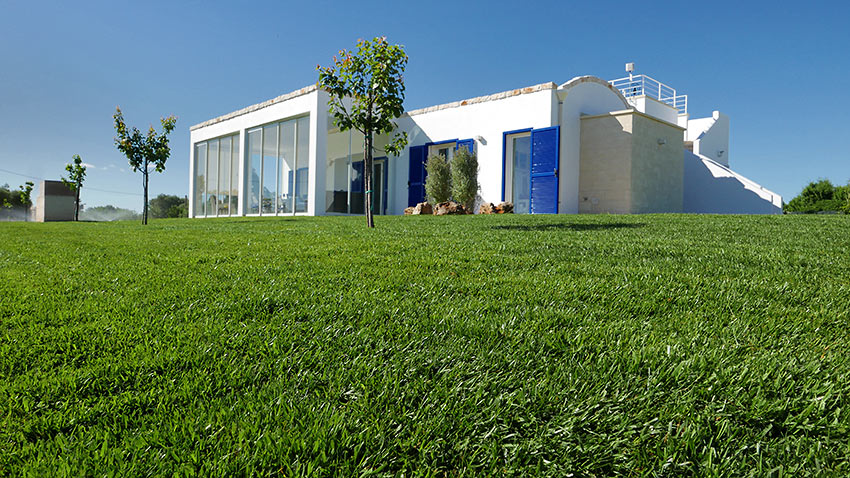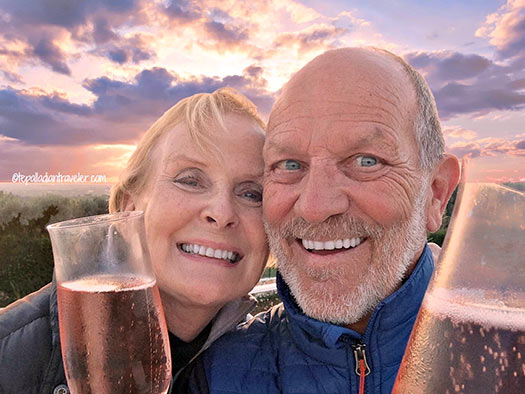 For 85 days, between March and June of this year, my wife, Orna O'Reilly, aka Chef Double O, and I hunkered down inside Villa Allegra, our little bright-white house with Santorini-blue shutters tucked inside the Valle d'Itria just outside of Ostuni, as Italy imposed a nationwide lockdown of biblical proportions to combat the Covid-19 pandemic. We only left our humble abode — kitted out like we were cast members on an episode of CSI — for the bare necessities: grocery and wine shopping. There was no dining out. No socializing with friends and neighbors. Nothing!
While she cooked and baked up a storm for nearly three straight months, I photographed most of the tantalizing dishes she prepped, selected their wine pairings and chronicled our lockdown on all of our social media platforms under the heading What's Burning Tonight (WBT). In a relatively short amount of time, we established a steady fan base of like-minded foodies who wanted to dine with us virtually. Here's a baker's dozen of the highlights ripped from the WBT diary.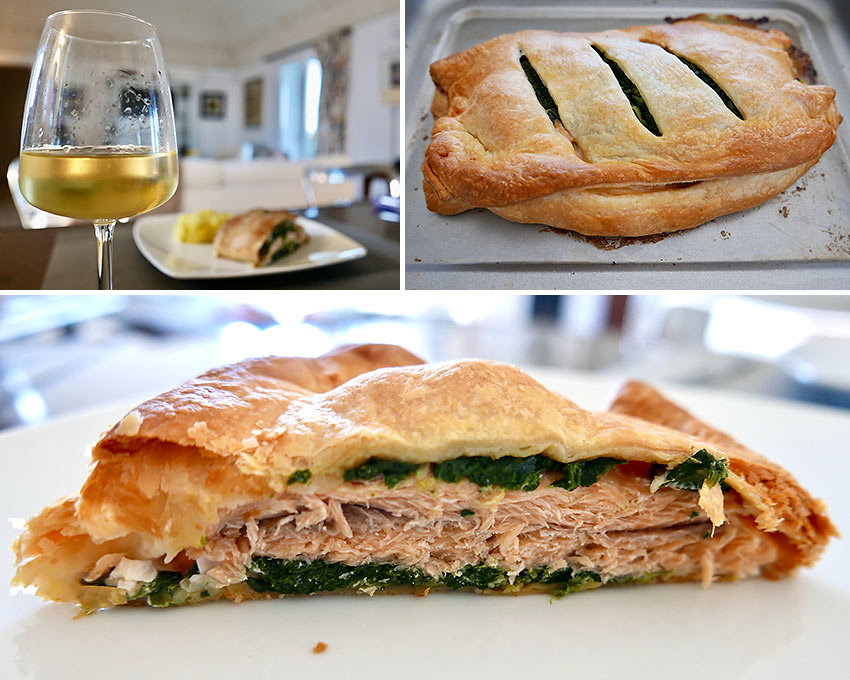 (Mar. 15th) Day seven of the nationwide lockdown in Italy hasn't stopped Chef Double O from performing more of her magic in the kitchen. How about salmon en croute, a whole-grain puff-pastry filled with salmon and spinach accompanied by fluffy mashed potatoes.
And, in the glass? Talò Fiano, a palate-pleasing, floral-scented varietal from the San Marzano Estate in the province of Taranto, here in Puglia.
Buon appetito!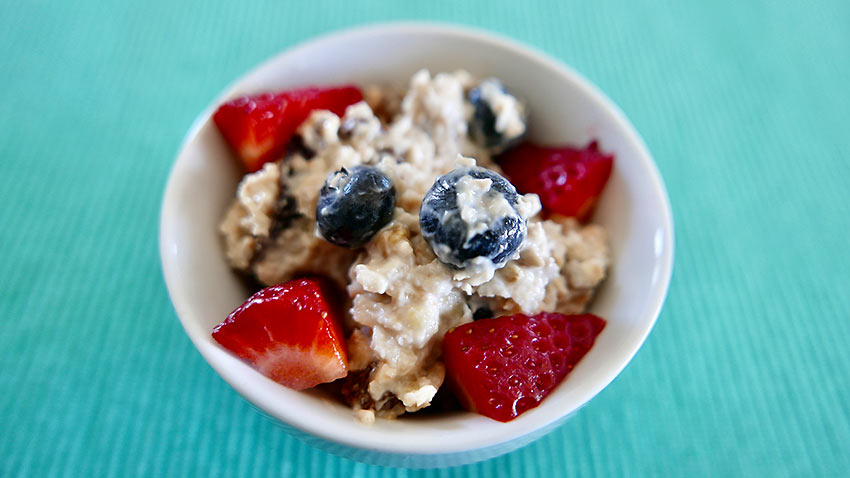 (Mar. 30th) It's a beautiful Sunday morning around Villa Allegra, the 21st day of Italy's nationwide lockdown and Chef Double O's 21st consecutive chowdown. As I hoist myself up on one of the stools surrounding our kitchen countertop, she places a small bowl in front of me filled with her variation of a popular Swiss breakfast food: Bircher Muesli. It's a mushy mix of grains, seeds, dried fruits, grated apple, yogurt and honey topped with blueberries and strawberries. It's just what the doctor ordered, actually Dr. Maximilian Bircher-Benner, a Swiss physician and nutritionist from Zurich who created this "rise and shine" healthy dish. Yodel-ay-hee-hoo!
Buon appetito!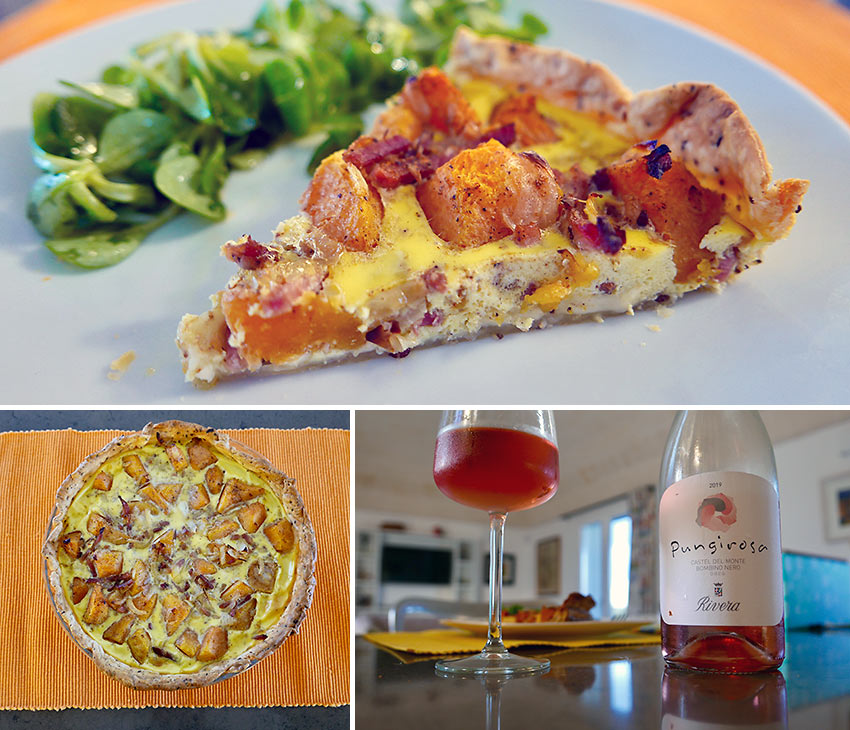 (Apr 2nd) It's the XXVth day of the nationwide lockdown here in the Bel Paese and the XXVth edition of Chef Double O's chowdown. Orna put our neighbor's recent gift of farm-fresh eggs to good use as she prepped and plated a multigrain "quarantine" quiche filled with roasted butternut squash, caramelized onions and speck, accompanied by a green salad of valeriana (lamb's lettuce) tossed in a Dijon mustard vinaigrette. It was "lock the door and throw away the key" delicious.
And, in the glass? One of the top wines of Puglia: Pungirosa, a DOCG-rated Castel del Monte Bombino Nero rosato from the Rivera Estate in Andria.
Buon appetito!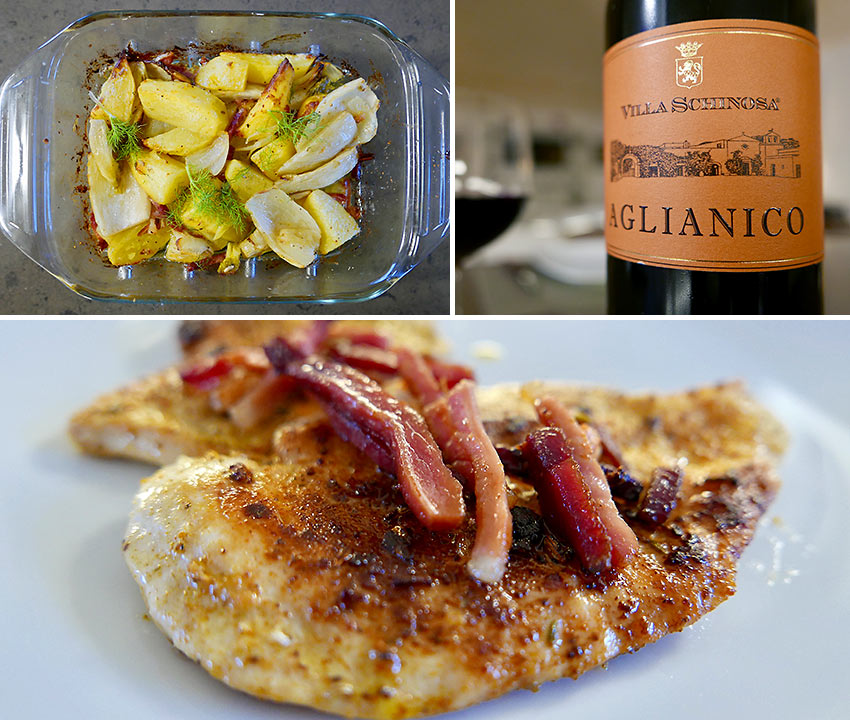 (Apr 14th) On this the 37th day of Italy's nationwide lockdown, I donned a mask and surgical gloves and braved a trip into Ostuni for a much-needed wine run. Frankly, I'll brave just about anything when our cellar nears red on the stockpile meter.
I was the only wino, I mean customer, in the enoteca and had Silvestro, Elena and Francesco running around helping me find everything on my list and then some. When the dust settled, I filled the boot of the car with six cartons of wine, or 36 bottles. Ripping the mask off my face, I gunned the Fiat 500X out of town and into the safety of the rolling countryside.
Meanwhile, back at Villa Allegra, Chef Double O prepped her 37th chowdown dish: pan-fried, bio chicken breasts with strips of smoked speck accompanied by roasted fennel and taters. It was a meal fit for a guy just returning from hazardous duty. 🙂
And, in the glass? Aglianico, a superb ruby-red varietal from the Villa Schinosa Estate of Trani in the province of Bari, here in Puglia.
Buon appetito!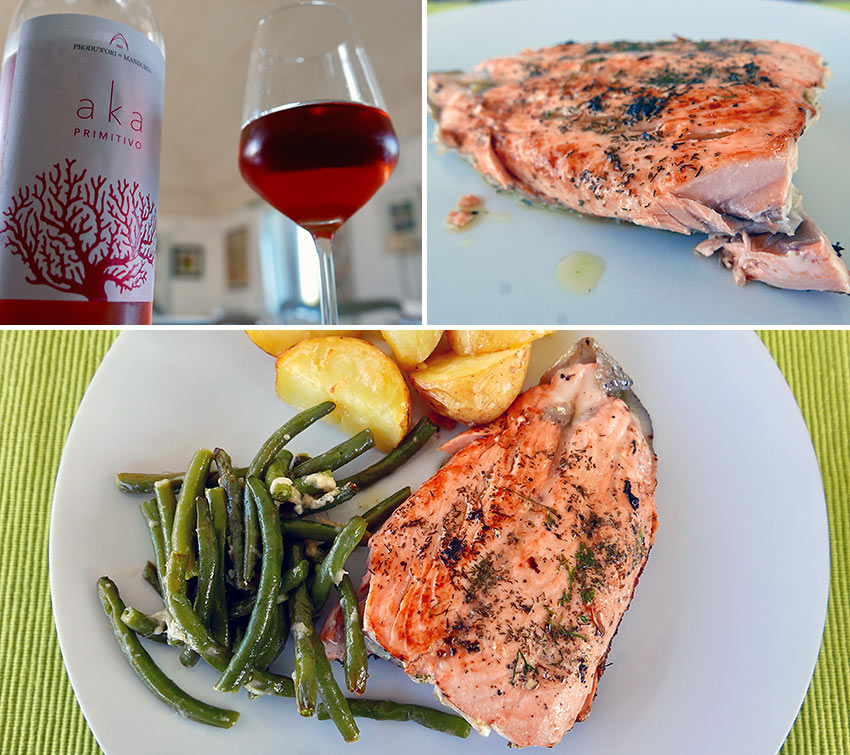 (Apr 17th) The nationwide lockdown here in the Bel Paese has reached 40 days, and like Noah's Arc that floated about for the same amount of time, Chef Double O pulled a pair of thick salmon fillets out of the deep freeze to star in her 40th chowdown dish.
She pan-fried the fillets then plated them with roasted new potatoes and string beans. This 40th day chowdown dish was devoured by yours truly in just 40 seconds. Yes, it was that good!
And, in the glass? Aka, a bright, deep-pink colored Primitivo rosato, just like the color found in the rare Japanese coral of the same name, from Produttori di Manduria, the so-called "Masters of Primitivo," in the province of Taranto, here in Puglia.
Buon appetito!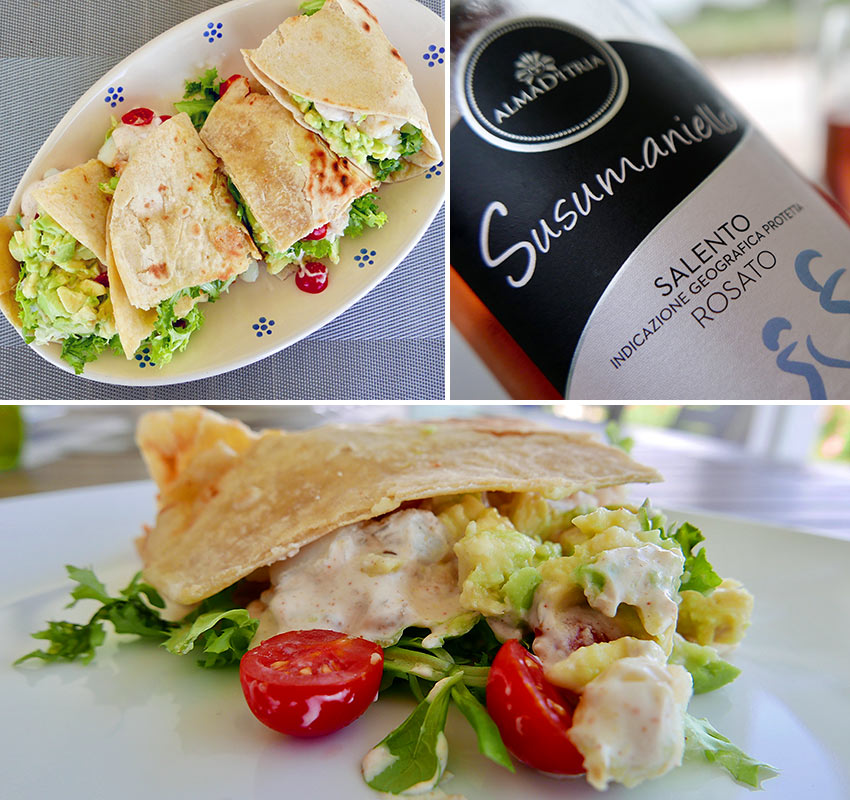 (Apr 27th) Under happier circumstances, today would be the 50th anniversary of something for somebody. Instead, today marks the cinquantesimo giorno of the Bel Paese nationwide lockdown.
Not to worry, Chef Double O is on the prowl in the Villa Allegra kitchen searching high and low for her secret ingredients to go into her secret sauce to plate her fave beer-battered cod and crunchy greens, tomatoes, and avocado-filled fish tacos, a handheld staple of the beach bums that occupy the space up and down Baja California. Surfs up and so are my fish tacos!
And, in the glass? Susumaniello, a splendid varietal rosato from the AlmaD'Itria line of wines produced by the Upal Wine Cooperative of Cisternino, here in Puglia.
Buon appetito!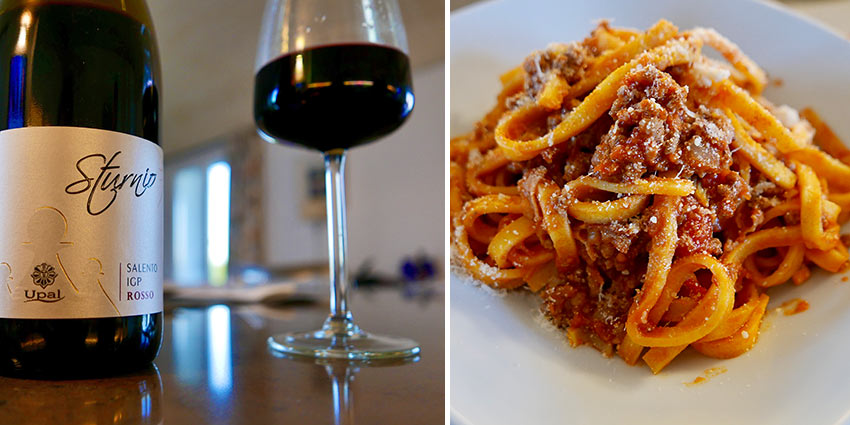 (May 7th) On this the 60th day of Italy's nationwide lockdown, the Villa Allegra cupboard is showing more open space than the state of Montana. Well, almost. Not to worry though, Chef Double O, with meager supplies on hand, has managed to whip up a delightful dish of fresh tagliatelle al ragù with a sprinkling of grated Parmigiano Reggiano on top. She calls it comfort food, I call it deeeelicious!
And, in the glass? Sturnio Rosso Salento, a vibrant Negroamaro-Malvasia blend from the Upal Cooperative of the Valle d'Itria, here in Puglia.
Buon appetito!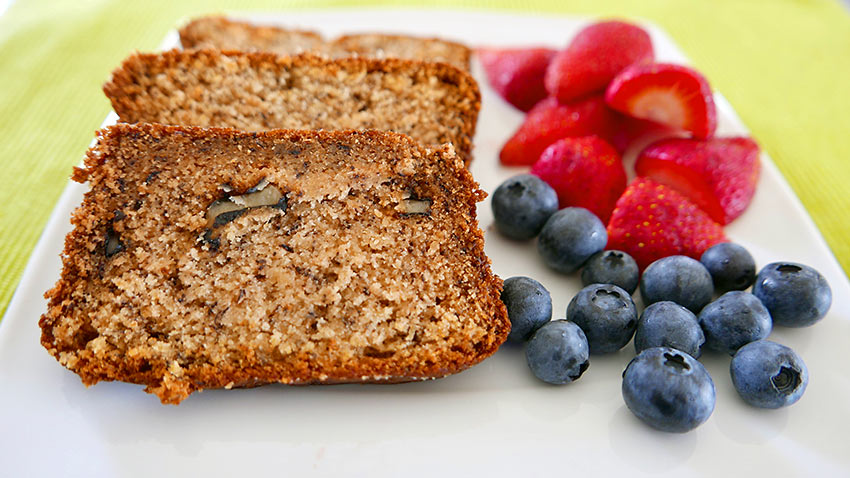 (May 15th) We're now up to the 68th day of Italy's nationwide lockdown. While the world has hunkered down, for the most part, to combat the Covid-19 pandemic, one dish, more than any other, is seeing a renaissance with wannabe stay-at-home bakers: banana bread. And, Villa Allegra is no exception.
When a bunch of our musa sapientum becomes overripe, Chef Double O flies into action and preps another loaf of 'nana bread with walnuts, and my breakfast is pretty much set for the next four days. Add a side of fresh berries and a cup of strong French-press coffee with cream and I'm good to go until sundown.
Buon appetito!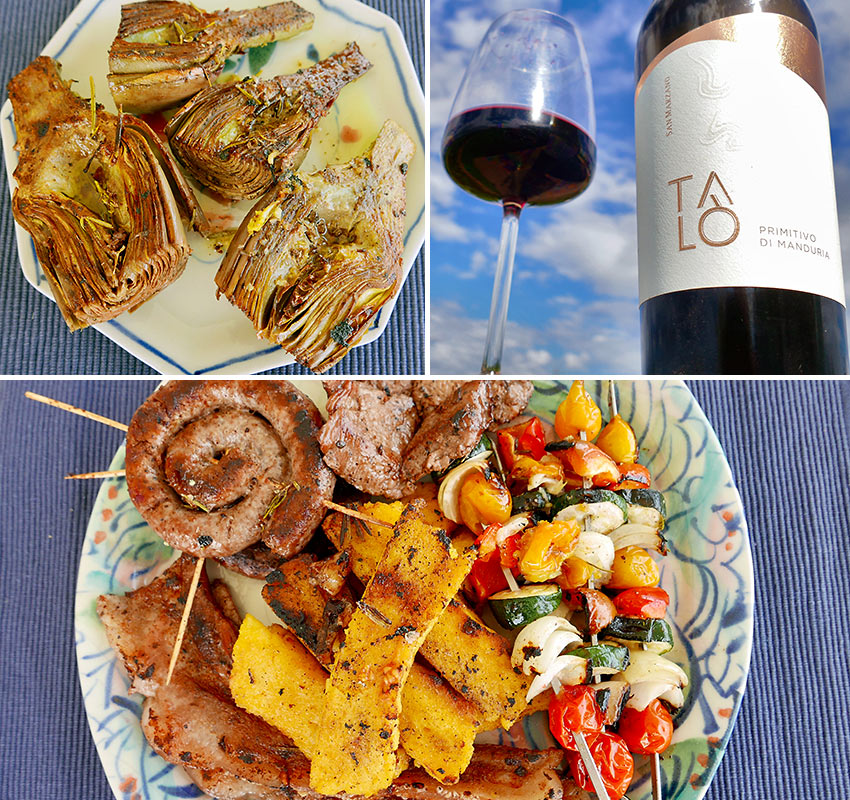 (May 17th) Seventy days. Ten weeks. That's how long Italy has been in a nationwide lockdown. And, for her latest culinary trick, Chef Double O painstakingly prepped our homegrown artichokes, polenta and veggie skewers for the barbie to grill up alongside sausage rounds filled with fennel, thick slices of pancetta and cuts of bone-in Capocollo from Martina Franca.
And, in the glass? Talò Primitivo di Manduria, the king of Pugliese reds, from the Cantine San Marzano in the province of Taranto, here in Puglia.
Buon appetito!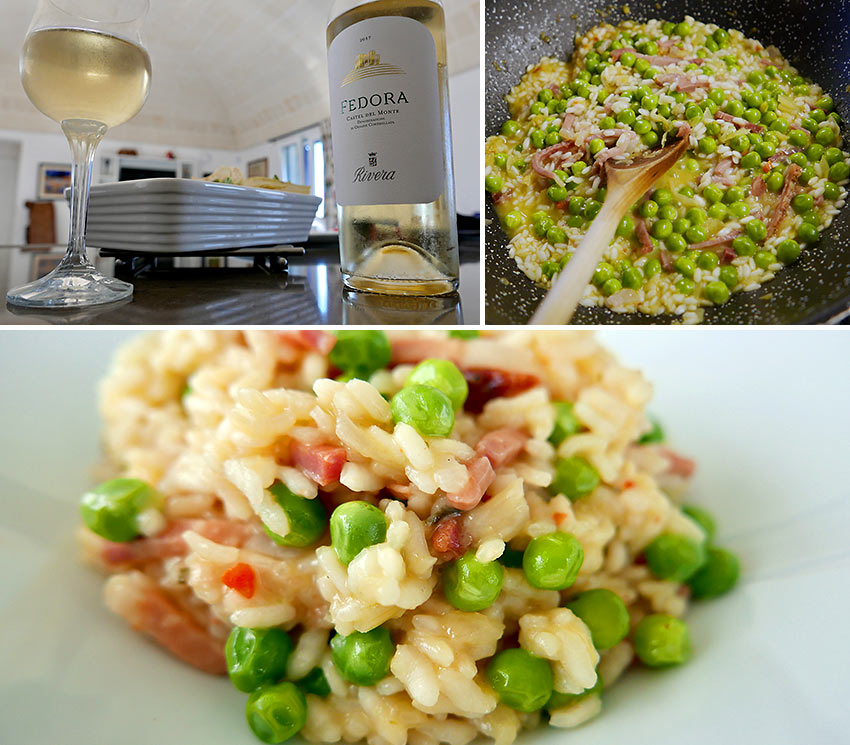 (May 18th) Today is the 71st day of Italy's nationwide lockdown. With no desire to travel and with plenty of time on our hands, Chef Double O shucked peas today from organically grown pods and prepped one of our favorite dishes when we lived up north in the Veneto: risi e bisi (rice and peas) with a touch of smoked speck. It was stay-at-home delicious!
And, in the glass? Fedora, a DOC-rated Castel del Monte blend of Bombino Bianco, Chardonnay and Pampanuto varietals from the Cantine Rivera of Andria in the province of Barletta, here in Puglia.
Buon appetito!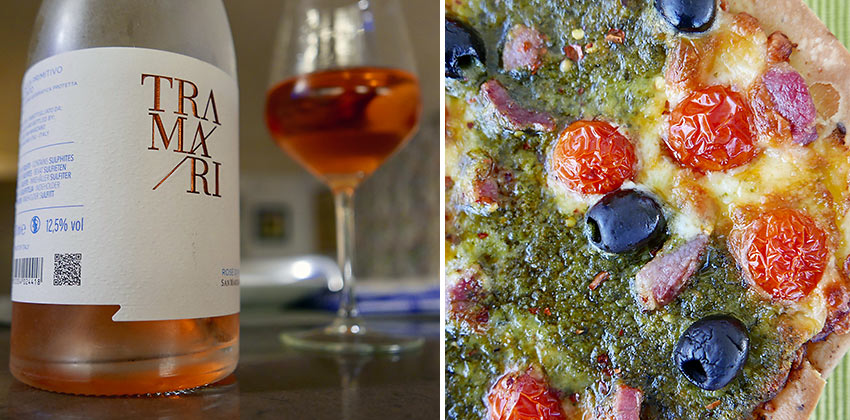 (May 22nd) We've now arrived at the 74th floor of Italy's nationwide lockdown. While we're here we might as well wish Sir Arthur Conan Doyle — creator of master sleuth Sherlock Holmes — a happy birthday, as he was born on this day back in 1859.
Meanwhile, in the Villa Allegra kitchen, Chef Double O deduced that tonight's dish should be whole-wheat, flatbread pizzas topped with pesto, salame Milanese, cherry tomatoes and toasted black olives. The pies were so tasty that they were worthy of home delivery to 221B Baker Street.
And, in the glass? Tramari (Between the Seas), a light and elegant Primitivo rosato from Cantine San Marzano in the province of Taranto, here in Puglia.
Buon appetito!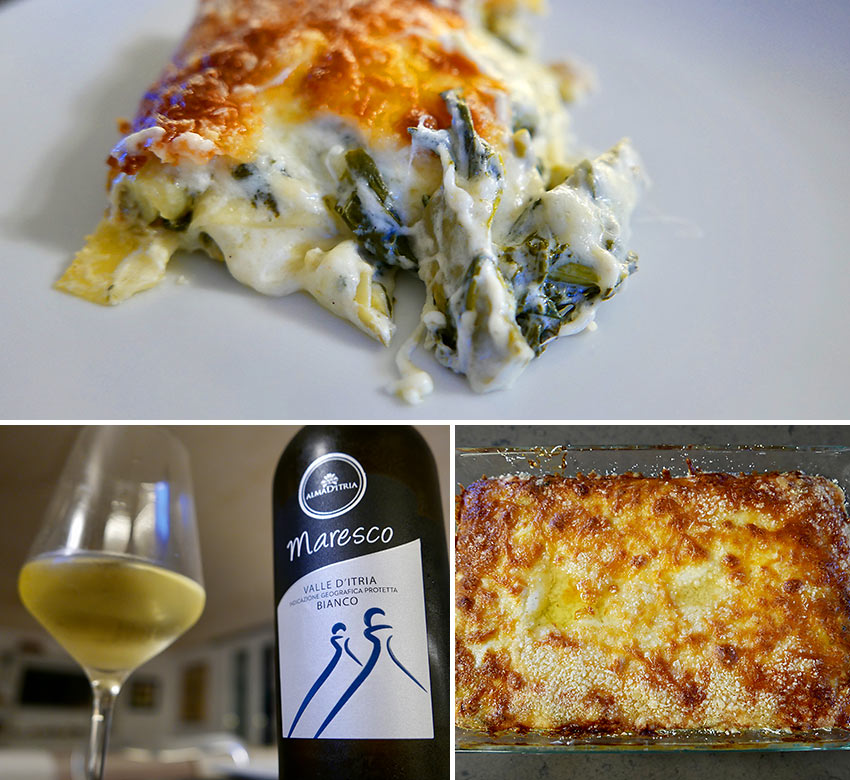 (May 28th) The only thing that I have in common with Phileas Fogg, a London-born aristocat, and Passepartout, his French valet, is that I've spent 80 days now in Italy's lockdown while the aforementioned pair circumnavigated the globe in 80 days through the imagination of Jules Verne.
Meanwhile, down here on terra firma, Chef Double O plucked several handfuls of our homegrown artichokes from the garden and made them the star of tonight's menu: a baked lasagne filled with artichokes and spinach. After the first bite, I felt like I was sailing high above in the clouds with Messrs. Fogg and Passepartout aboard their hot-air balloon.
And, in the glass? Maresco, a Valle d'Itria varietal of the AlmaD'Itria line of wines at the Upal Cooperative in Cisternino, here in Puglia.
Buon appetito!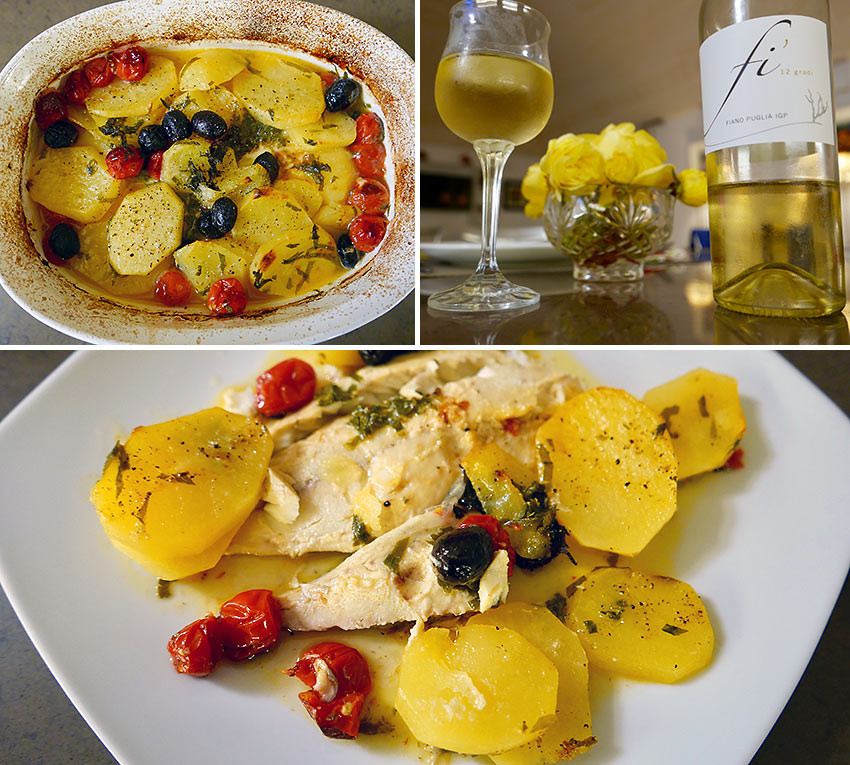 (June 2nd) Eighty-five days ago Italy came to a screeching halt, but tomorrow we'll all be allowed to move freely from one region to another without purpose, but with caution, i.e. masks and social distancing, wherever we roam. Chef Double O and I, however, will remain in place, here at Villa Allegra, as if the lockdown never ended, just to err on the safe side.
We've enjoyed keeping you company at dinnertime with her creative dishes and my photographic documentation of the same. So, without further adieu, here's the final WBT offering: baked swordfish Livornese style with potatoes, cherry tomatoes and black olives.
And, in the glass? Fi, an excellent Fiano varietal from Cantine Risveglio in the province of Brindisi, here in Puglia.
Buon appetito!