Curated by Ed Boitano
Weave Cleveland – Cinematographer Travel Guys TV:
The Royal British Columbia Museum, Victoria, BC – Amazing! One floor is an old English-style city downtown at night (supposedly Victorian in colonial times). I used to sit in the theatre and watch Buster Keaton silent movies, etc. all afternoon. This really is an incredible museum.
The Royal London Wax Museum, Victoria, BC – Royalty and celebrities upstairs or go down to the dungeon to see the chamber of horrors.
Kelvingrove Museum and Art Gallery, Glasgow, Scotland – Like many great museums, you could take all week and still not experience everything. Outstanding!
Fare Pote'e Maeva Huahine – One large thatch-roofed hut on stilts over the water on the island of Huahine, French Polynesia. Unmanned, no fee – just walk in and look at Polynesian history and artifacts.
Pompeii, Italy – So, it's not a museum as much as a real-time excavation site but it is INCREDIBLE!
Honorable mention: The Ulster Museum, Belfast, Northern Ireland – Viking lore, Small Medieval thrones chiseled  out of a single piece of stone, Egyptian mummies; The Titanic Museum, Belfast, Northern Ireland – WOW!!; The Crocker Art Gallery and Crocker House, Sacramento, CA – Just go. Enough said.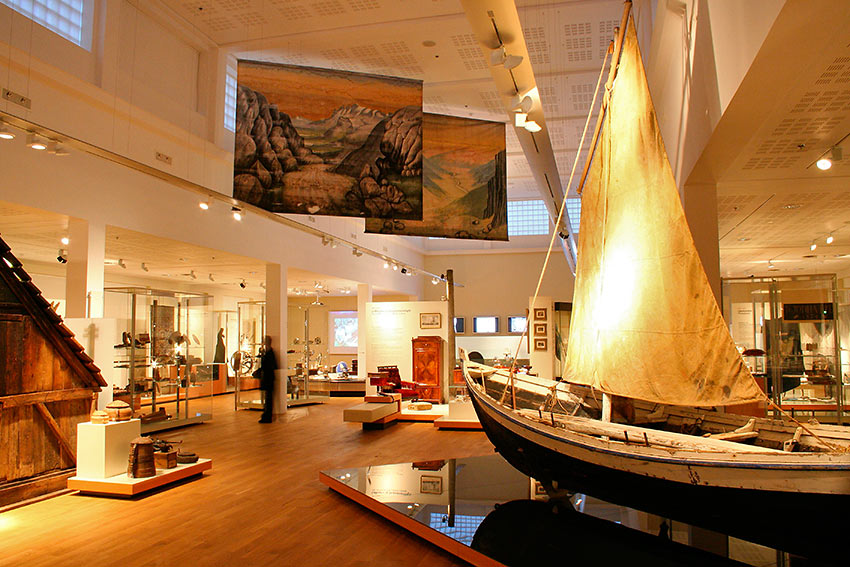 James Boitano – T-Boy writer:
Musee d'Orsay, Paris
The Van Gogh Museum, Amsterdam
Rijksmuseum, Amsterdam
The National Museum of Iceland, Reykjavik 
Skansen Open Air Museum, Stockholm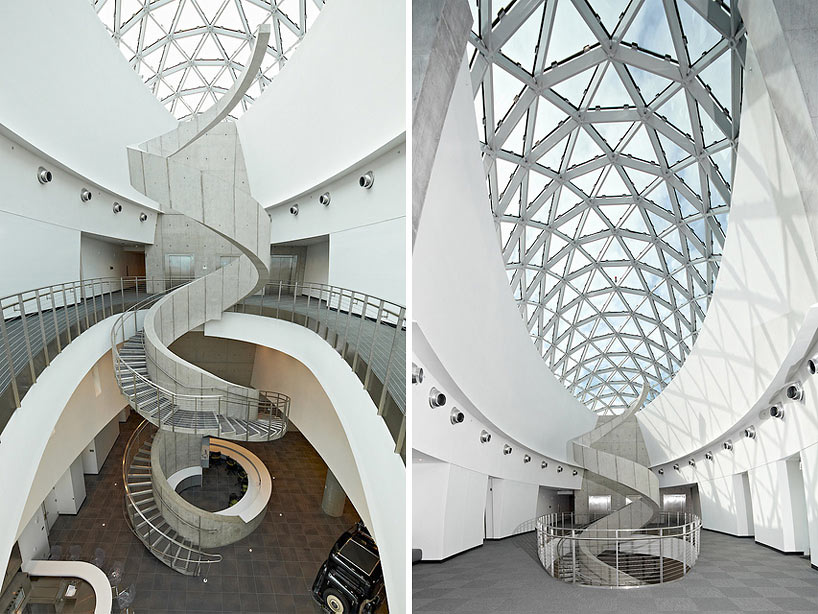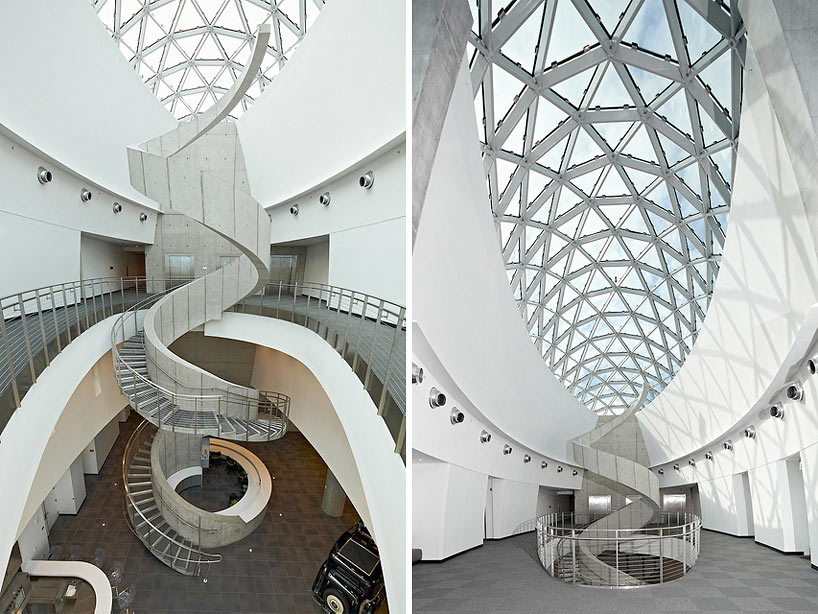 Allan Smith – Artist & T-Boy writer:
Salvador Dalí Museum, St. Petersburg, Florida
The Louvre, Paris, France
Metropolitan Museum of Art, New York City
The Norton Simon Museum, Pasadena, California
The Uffizi Galleries, Florence, Italy
Honorable mention: Hermitage Museum, St. Petersburg, Russia; The National Gallery, Washington, D.C.; The Smithsonian, Washington, D.C.; The Palace Museum, Beijing, China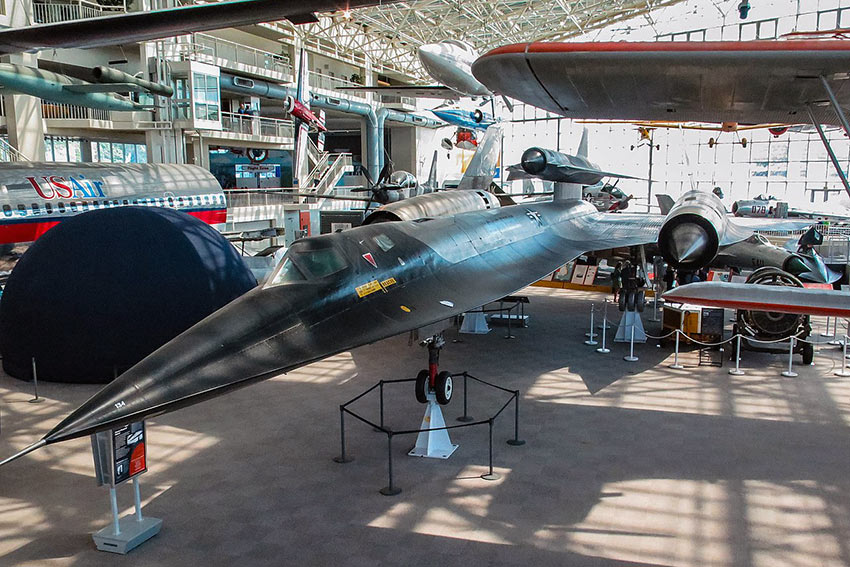 Brent Campbell – Musician and composer:
The Metropolitan Museum, NYC
The Museum of Flight, Seattle
Lemay, America's Car Museum, Tacoma, Washingon
The Louvre, Paris
Country Music Hall of Fame and Museum, Nashville 
Museum of History and Industry, Seattle (newly expanded and c'mon Bobo is in the house)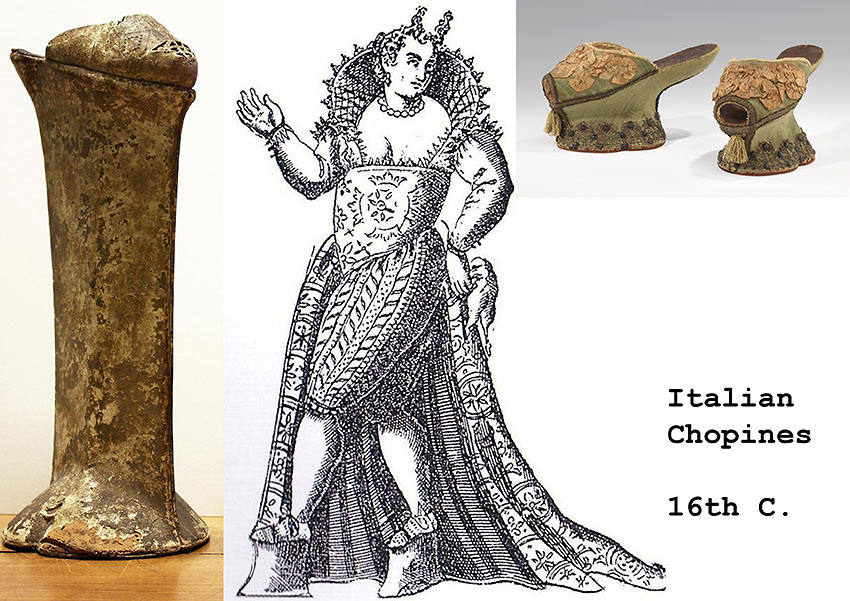 Ringo Boitano – T-Boy Writer:
Bata Shoe Museum, Toronto – The 4,500-year history of footwear is explored through 13,000 shoes, making it the largest collection of historic footwear in the world. You'll find everything from Napoleon's shoes, John Lennon's Beatle Boots and Akan chief's sandals to Inuit sealskin boots, kabkabs worn by Turkish women and chopines from the Italian Renaissance – so outrageously high that they make today's tall stiletto heels seem almost like classical footwear.
The National World War I Museum, Kansas City, Missouri – It is the only American museum dedicated to remembering, interpreting and understanding the Great War and its enduring impact on the global community. The Exhibit Hall features the Panthéon de la Guerre mural, depicting the figure of Victory, surrounded by thousands of French heroes, and colorful flags of the 22 Allied nations of World War I, arranged in the order in which each country entered the conflict. A recreated trench illustrates the brutality of the war. The exterior is decorated with mosaic tiles that convey a night sky strewn with gold stars, representing the sacrifice of Gold Star Mothers during the Great War.
The Rock and Roll Hall of Fame, Cleveland, Ohio – The museum documents the history of rock music and the artists, producers, engineers, and other notable figures who have influenced its development. The museum's library and archives is the world's most comprehensive repository of materials related to the history of rock and roll. The Hall's temporary exhibits have featured Elvis Presley, hip-hop, the Supremes, the Who, U2, John Lennon, the Clash, the Grateful Dead, Bruce Springsteen, Women Who Rock, and the Rolling Stones. I recall an exhibit which featured John Lennon's white piano used in the song Imagine, and his 1955-56 (age 15) report card: He has too many of the wrong ambitions and his energy is too often misplaced. – Liverpudlian Headmaster
Museo Casa natale Arturo Toscanini, Parma, Italy – I was primed and ready for a tour of maestro Arturo Toscanini's former home, now a museum, after having spent the previous day at Milan's La Scala Opera House. Arturo Toscanini (1867 – 1957) was renowned for his performances of Beethoven, Brahms, Wagner, Richard Strauss, Debussy and his own compatriots Rossini, Verdi, Boito and Puccini. His interpretations were notable for detail of phrasing, dynamic intensity, and an essentially classical conception of form. I felt a sense of warmth as I visited each of the rooms, filled with important original artifacts, documents, letters, photos, artwork, posters, and programs. Initially Toscanini  was a cello  player until his reputation as a conductor of authority and skill supplanted his cello career. His epitaph is taken from his remarks concluding the 1926 premiere of Puccini's unfinished Turandot: Here the opera ends, because at this point the maestro died.
The Scotch Whisky Experience, Edinburgh, Scotland – Not really a museum, but after a couple of wee drams of sublime single malt whisky, does it really matter? Located at the top of Edinburgh's Royal Mile, just below Edinburgh Castle, this is a delight for those with a discriminating taste in single malt whisky.  For over 30 years the Scotch Whisky Experience has been conducting educational tours and tastings of uisce beatha (water of life), with the guarantee of a very sensational experience. As I walked out the door, I realized I was now ready for a bout with haggis.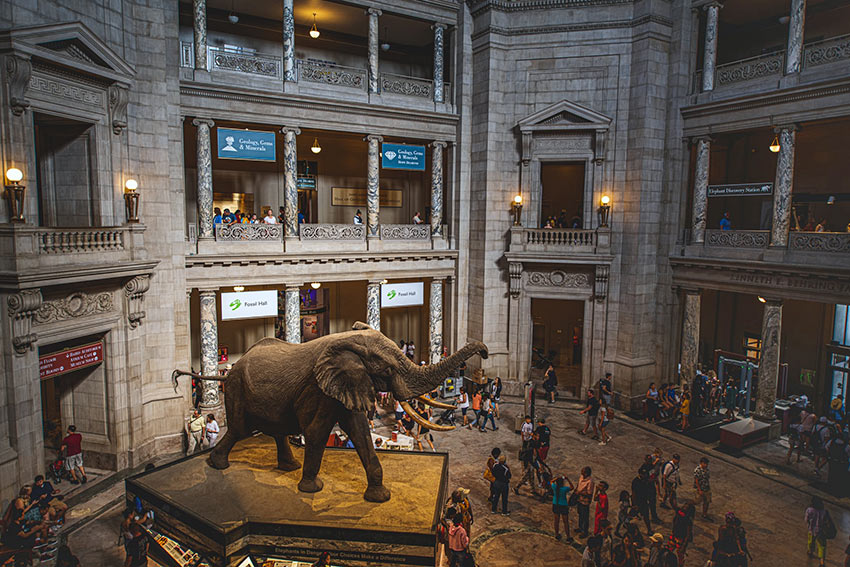 T. E. Mattox – T-Boy music critic:
Smithsonian National Museum of Natural History and National Air & Space, Washington DC – So many buildings, so little time. But these are just two of my faves.
Musée d'Orsay, Paris – So fun. The whole environment is unique. Some of my favorite paintings live here.
The Louvre, Paris – Much like the Smithsonian, overpowering! Most people just head for the Mona Lisa.
The Vatican, Vatican City – Room after room full of amazing art and sculptures and then… the Sistine Chapel!
LACMA (Los Angeles County Museum of Art), Los Angeles – Love, LOVE the Wolf head room and Sabertooth tiger display. Amazed at all the animals they continue to dig out of the tar pits. Crazy.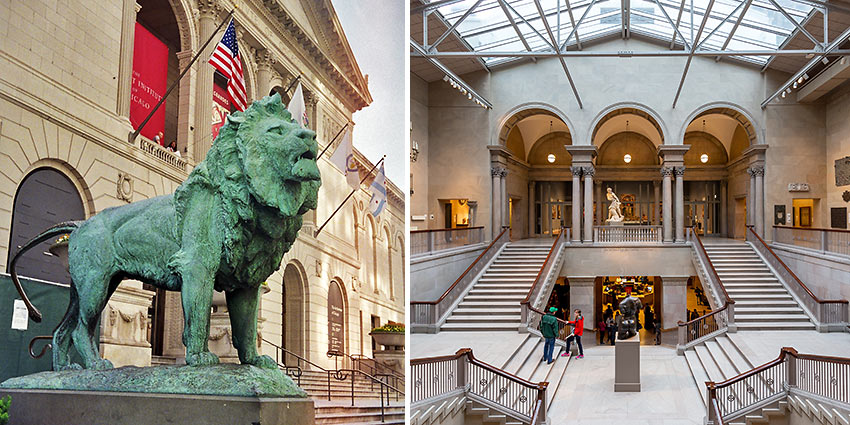 Rourke – Musician & composer:
Art Institute of Chicago, Millennium Park, Chicago
Uffizi Gallery, Florence, Italy
Galleria dell'Accademia di Firenze, Florence, Italy
Metropolitan Museum of Art, New York City
National Gallery of Art, Washington DC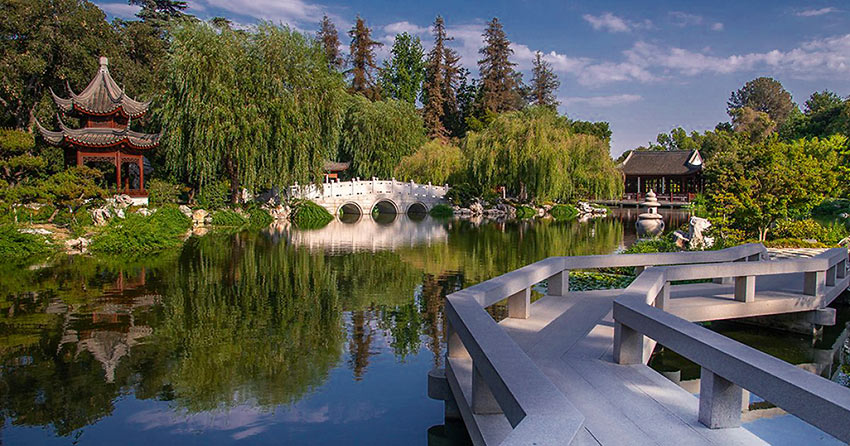 Raoul Pascual – T-Boy co-founder, illustrator and art director:
Huntington Library, San Marino, California – For the vastness and the variety – Library of Bibles, Japanese and Chinese garden, Cactus, Green Room, paintings, sculptures, etc.
Smithsonian National Air & Space, Washington DC – Exhibits of aircraft, spacecraft, missiles, rockets, and other flight-related artifacts.
Museum of Tolerance, Los Angeles – Designed to examine racism and prejudice around the world with a strong focus on the history of the Holocaust
The Brooklyn Museum, New York City borough of Brooklyn – An art museum which holds an art collection with roughly 1.5 million works.
Smithsonian National Museum of Natural History, Washington DC – Larger than 18 football fields and home to the largest natural history collection in the world.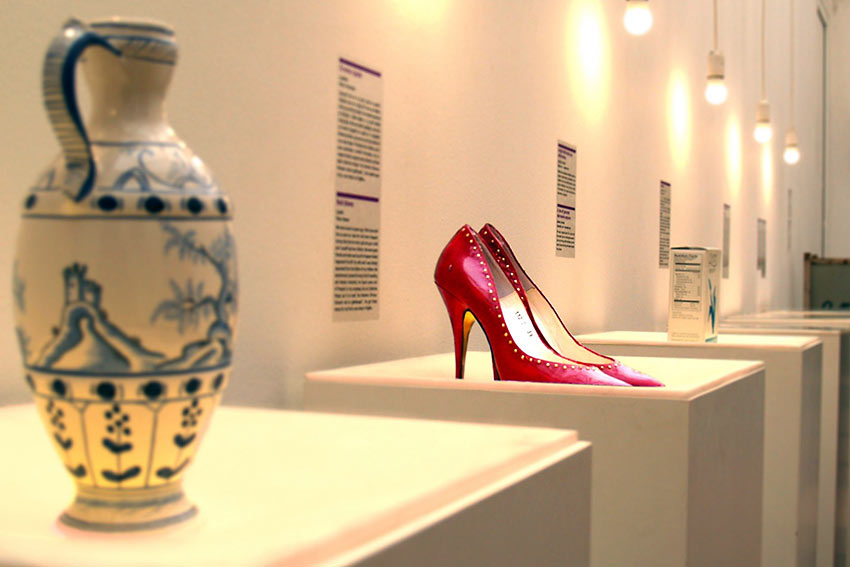 Fyllis Hockman – T-Boy writer:
Museum of Broken Relationships

in Zagreb, Croatia

– Dedicated to failed love relationships, its exhibits include personal objects left over from former lovers, accompanied by brief descriptions. The museum began as a traveling collection of donated items. Since then, it has found a permanent location in Zagreb. In May 2011, the Museum of Broken Relationships received the Kenneth Hudson Award, given out by the European Museum Forum. The award goes to "a museum, person, project or group of people who have demonstrated the most unusual, daring and, perhaps, controversial achievement that challenges common perceptions of the role of museums in society."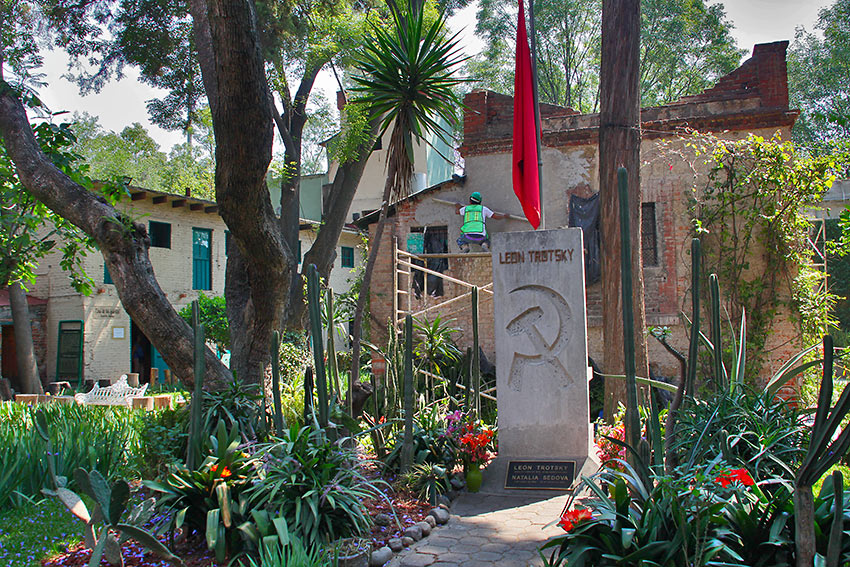 Phil Harper – Political fundraiser:
Leon Trotsky Museum, Coyoacan, Mexico – The Leon Trotsky Museum is located just a few blocks away from the Frida Kahlo Museum in Coyoacan, a small city now surrounded by Mexico City. Trotsky was a Russian Marxist revolutionary and theorist, Soviet politician, and the founder and first leader of the Red Army. As one of the original Russian Bolsheviks, he was considered the heir to Vladimir Lenin, chairman of the Council of People's Commissars of the Soviet Union. Lenin shared Trotsky's ideal of worldwide Communism, but believed it was more pragmatic to consolidate the victories in the Russian Revolution rather than actively spreading military revolution to other countries. Lenin felt that Josef Stalin would be dangerous to their goals and should be removed from the position of General Secretary of the Party. But his words came too late, and, after his death, Stalin forced his way into power. Trotsky was exiled, and eventually hunted by the tyrannical Stalin regime as a threat to his de facto dictatorship. While on the run with no place to hide, Trotsky was eventually given political asylum in Mexico, sponsored by Diego Rivera and Frida Kahlo. Along with his wife, Natalia, he lived in the Rivera/Kahlo house for a few years, but later relocated to a new fortress-life home with guards and watchtowers.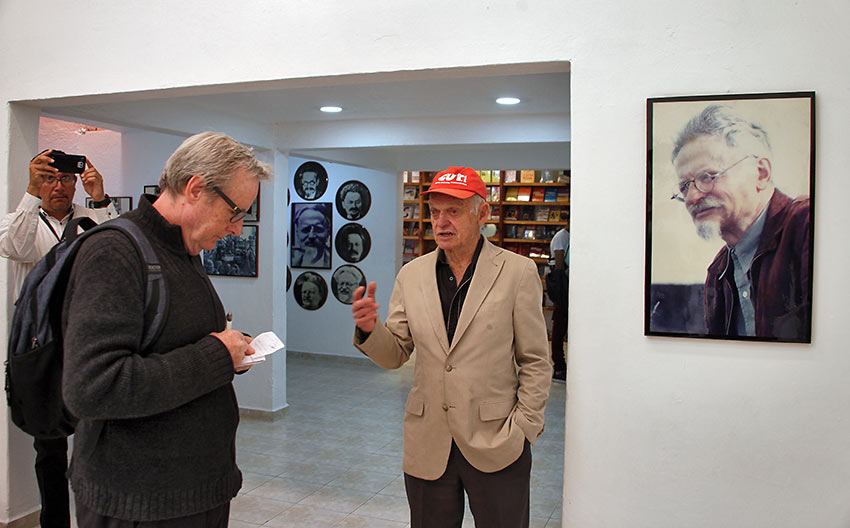 As I entered the museum I was told that I was to have a private tour by the museum's director. To my surprise, the museum director was none other than Trotsky's grandson, Esteban Volkov. A remarkably spry and dashing man in his early 90s with impeccable manners, Mr. Volkov had lived with his grandparents,  Leon and Natalia, at age thirteen, and was wounded himself as a result of the Stalin operative's failed machine gun assault. The bullet holes are still in the walls.  He walked me through the museum, patiently explaining in detail the history of photos from Trotsky's lifetime, his participation in the Bolshevik Revolution, family tree, books and newspapers.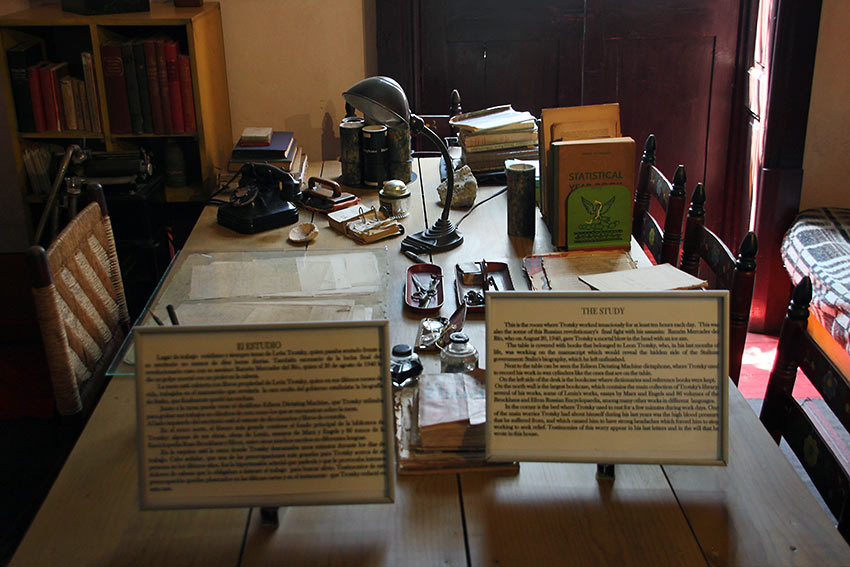 The centerpiece of the museum is Trotsky's study, where he was fatally wounded by Ramón Mercader, who had posed as a family friend. While engrossed in a Mercader manuscript, which he had asked Trotsky to read as a favor, the assassin snuck up behind him and struck him in the back of the head with an ice axe. Mercader was a Spanish communist and probable agent of Stalin. Trotsky died from his wounds the next day. The Soviet government denied responsibility, and Mercader was sentenced to 20 years in prison by Mexican authorities.
Mr. Volkov ultimately raised his own family in the house, and then turned it into a museum on the 50th anniversary of the assassination of Leon Trotsky.
Museum lovers, If you have a museum/s that you'd like to share, please send to Traveling Boy. We'll post and do all the work!
Favorite Museums
Readers' Poll